" You've got to be able to be at peace even when you're at war y'know" ,watched the evenings vegetable curry being prepared over a wood fire in the " Chi and Chapati Cafe' , visited the shrine to the Guru Mahara Ji and been assured that everything was ' cool '.
However this proved to be only part of the story , as the weekend developed into a something for everybody event .
Cross-section
Cool was one thing it wasn't , as the sun blazed down on the dramatic scenery and one staggered from one Samoza stall to another ,gulping home made ginger beer and listening to the many different " sounds' coming from the main stage. Peaceful it certainly was , however , and enjoyed by an incredibly broad cross section of people , with everybody there from groups of bikers to local farmers out with the family.Children made the biggest difference between this and toher festivals I have been to , as there were literally hundreds of them .They quite happiliy mingled , although there was a special children's area complete with a large inflatible to bounce around on , and one very determined young man spent all day dragging his kite through the good humoured crowd .
Hard Edged
Photo © Trevor Reed
The music varied in quality as well as style, with the inevitable Bob Dylan impersonators being sandwiched between heavy metal and R & B , but at its best it was very , very good. Of those that I saw the best was undoubtedly a brand new Newcastle / Gateshead band called Dutch playing only their second concert. In a very professional performance on Saturday night they delivered a hard edged Springsteen sound , complete with excellent saxaphone and guitar breaks and fronted by an energetic Johnny Hutton .
The heavy rock band Ogre were also very impressive and gave a rendering of 'Hey Joe' reminiscent of the great man himself. For the more esoteric tastes " events' were going on all day in the marquee at the top of the site, with acts like " bedazzled", "Bits and Bobs" ,"Moving Lines" and the Tibetan Music Band who played on late into the night ." Everybody enjoyed themselves and thats the main thing" said Mr Richard Crabtree of Pry House , Nenthead , who was one of the organisers . He said that there had been fewer people than had been hoped - an estimated 1.500 in all - but added that there could well be another " Blue Moon Festival" at Nenthead next year .

Surprise

Local reaction as a whole semed to be one of pleasant surprise.

"In the first instance I was opposed to it "said Mr Kenneth Dowedeswell, landlord of the Miners Arms at Nenthead '" I thought there would be a too many people, but as not all that many turned up , there was no bother ".

But the Crown Inn was not so lucky . Landlord Mr Ray Hall said that for the most part all those who came to his pub were well mannered and reasonable, but he did have a cash box from the juke box stolen , while the pub was open and said that this had spolit the weekend. A small number of arrests were made in connection with possible drug offences" said a police spokesman afterwards. But he added that generally , people had been well behaved andf that there were "very, very few problems ".

John Davidson

Photo © Trevor Reed
---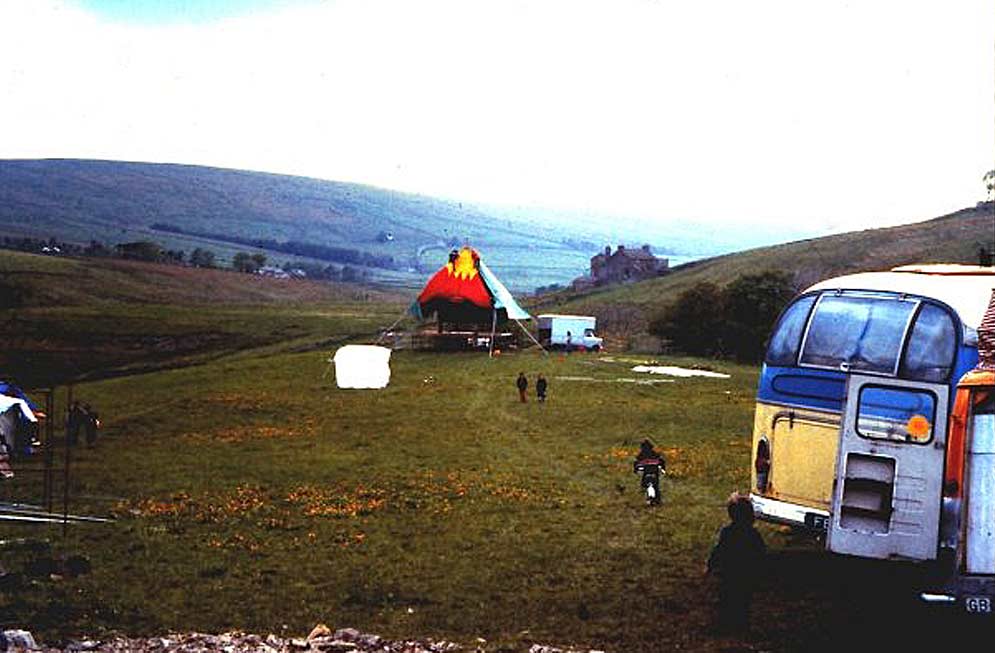 The dear old Pyramid stage © Janet Thompson
Hiya
I remember that one. I was there as a punter.
As I recall, the same bands played the same sets 3 days running. Not that we cared.
But who were the bands? There was one all girl rock group who did a song that Jimmy Buffett later recorded as 'Cairo' - "can't get no giro, smoking in a bar in Cairo" - thing is - in 1999 when Jimmy Buffett records it, would that mean anything to a US audience?
I've discovered this morning that the Alston Moor Historical Society holds a set of plans for the site layout.
http://www.alstonhistory.org.uk/archives.htm
Andy
---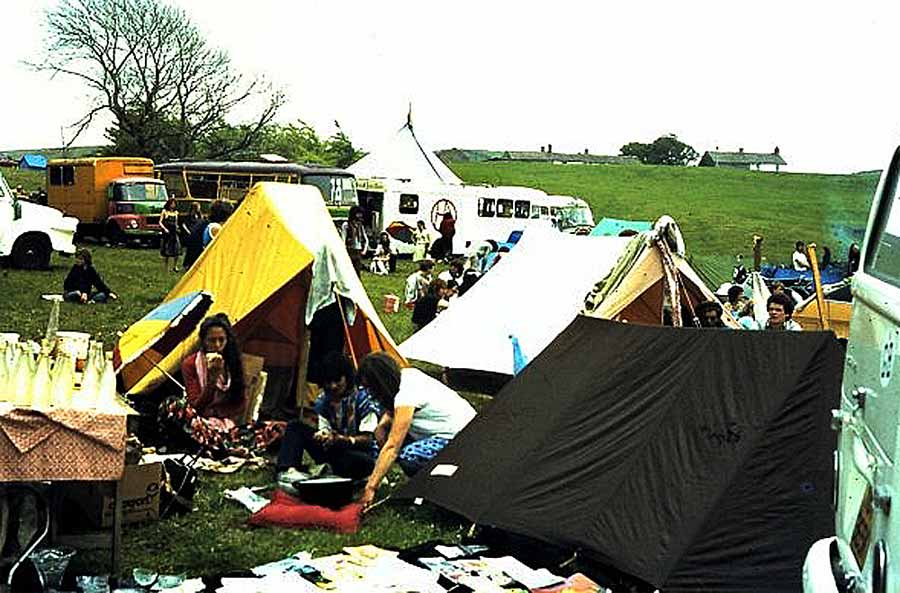 The anarchic hordes who followed in the train of the Tibetan Ukranian Mountain Troupe rest after a bit of pillaging :-) © Janet Thompson
Great to see pics and read about the Blue and Green Moon Fayres. I was there for a week before the Blue Moon started, helping set up (ie dig the sh*t pits etc) with friend Angus from Glasgow. ( I met Greg, Sally, Graham etc in Amsterdam, on their way back from a Guru Maraji gathering in Italy - they rescued me, not with religion but with a Transit van) I also helped out briefly on their Chi and Chapati stall at Glastonbury and Greenham.
Most vivid memory of that week was being woken up to find a herd of determined goats jumping on top of and trying to eat my tent! I was on my own by then so was rescued by Tumtarella (duo attached to TUMT) (eternally grateful btw,)
Apparently, when they had the idea for the Fayre, Ted the candle maker across the valley played Blue Moon very loud on his electric guitar so Richard could hear it in Pry House. They were a great bunch of people, I bet they still are! (R.I.P. if not)
It was amazing to watch the site and whole area change from quiet near-deserted valley to bustling festival full of amazing vehicles and serious party animals. I think that's me in the uncool beret and duffle coat watching a bus pull onto the site. I'm sure I got into the party spirit later, or it got into me... I'm afraid the music is a bit of a blur - I know I enjoyed it, but couldn't give you a running order!

I met Amazulu in the barn (or was that the Green Moon?...)- I already knew them from Oxford, as with Steve the Bean, (apparently so called for burning the Tibetans beans on a regular basis) who lived at Hayring for a while.

The Green Moon legendary hailstorm was literally ground breaking, the stream changed its course and apparently semi precious stones were exposed (lots of old lead mines there) Tents were washed down hill, full of stuff maybe even people (maybe my memory is slightly warped) someone went into labour in the barn, there was no way out as all roads flooded etc the atmosphere after was much more like a free festival, sharing food etc. (shared a spliff with Nik Turner in someone's truck) Not sure if this is the sort of thing you want on the archive, but its been fun staggering down memory lane!
Liz
---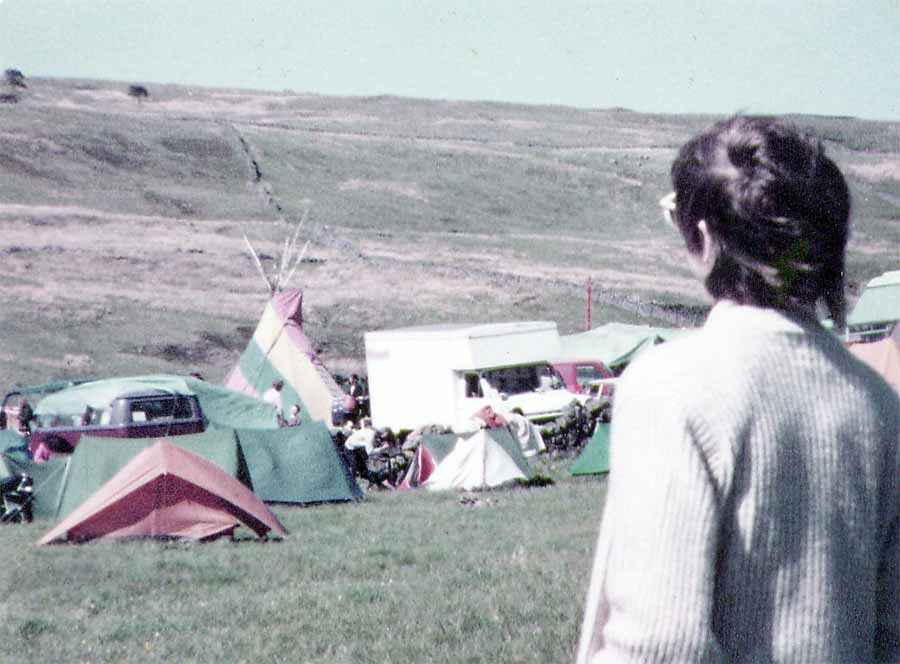 Photo © Trevor Reed
Wow mad to see these photos after all this time.. It's like yesterday

Fantastic to Pete's old Bus Pranarm and Levi's Bus, Cid's Truck and Jerries Albert.. Tree Beards Library Truck and that Pyramid stage we all took down is the most amazing thunder and hail storm.
never forget the end of festy party with all the mushrooms either... mad even the dogs where off their heads

So Hi from Leyline Tom
www.spiralwave.co.uk
---
Hi, just found your site.. wow, i wish there were more pictures from these festivals.
I was at the Blue, Green and Silver moon festivals as a child (aged 8, 9, 10 ). My parents were involved in organising the Blue Moon at least and maybe the others. We were part of the local hippie scene based in Nenthead / Alston at that time. The Green and Blue moon were situated at our friend Richard Crabtree's farm Pry House (though i remember it being Pryor House??). I believe Richard now lives in New Zealand.
Being a kid at the time, many parts of the festivals blur together and i cant remember which is Blue and which is Green but i'll share the few scattered memories i have.
I remember the early ideas for the posters (i may have some of the original drawing somewhere) and I remember the pre festival set up, the toilets being dug, the site being cleared, the stage being built (i think?), the gate being organised with a great big search light to help people on site. The endless games of frisbee in the afternoon sun.
I remember the intense excitement when the Tibetan Ukrainian Mountain Troupe (The Tibetans) arrived in convoy at the gates and we rushed up the field to watch them drive on site. I seem to remember climbing on board one of the busses for the trip down the track.
I remember watching Nick Turner on stage.. because my mum knew him from back in London and i really wanted to watch him perform. I don't remember much of the set or other bands but i remember being up far too late and being really tired but not wanting to go to bed. I'm pretty sure i remember the sun coming up, i guess i must have slept somewhere in between.
I remember Chi and Chapatis, I remember being given a few mushrooms and the taste of warm hash cake...
I remember the huge hailstones and running for cover under a tarp and coming out again in the calm after and seeing the damage they had caused. I remember the packs of unshod children running wild.. just a fantastic place / time to be a Kid!

Theres a festival in them thar hills ! © Janet Thompson
The Silver Moon was less fun but still, i remember climbing up on the roof of the main stage with Freddie? and looking out over the site. Do i remember Amazulu playing?
I remember the Convoy turning up and and the vibe changing a bit. They stormed the police Portacabin/Truck? at one point.. the local hippies were very pissed-off as they had a good relationship with the local police nurtured over many years.
I remember careering madly around site in an old 2CV with some crazy guys from the Convoy. We got half way down Haggs bank at breakneck speed before i chickened out and asked to be let out.. what a bunch of nutters! There were some amazing spiced doughnuts being sold that were just fantastic, i was always hassling my mum for 'just one more'! I got my ear pierced and lost my best pen-knife after some rough and tumble with some convoy kids.. i was very upset at the time!
I think that i might be the child in front of Trevor (Reed) halfway down the Blue Moon page.. i had a jumper and hair just like that and thats pretty much where i was watching from.. i also lived in the house (Moorlands) in the snowy pic for a while.
Anyway, its a blast from my past for sure... haven't been back to Nent in years and years. I'd love to see another Moon festival happen.. to take my kids and show them where i spent my childhood!
Keep up the good work
Jack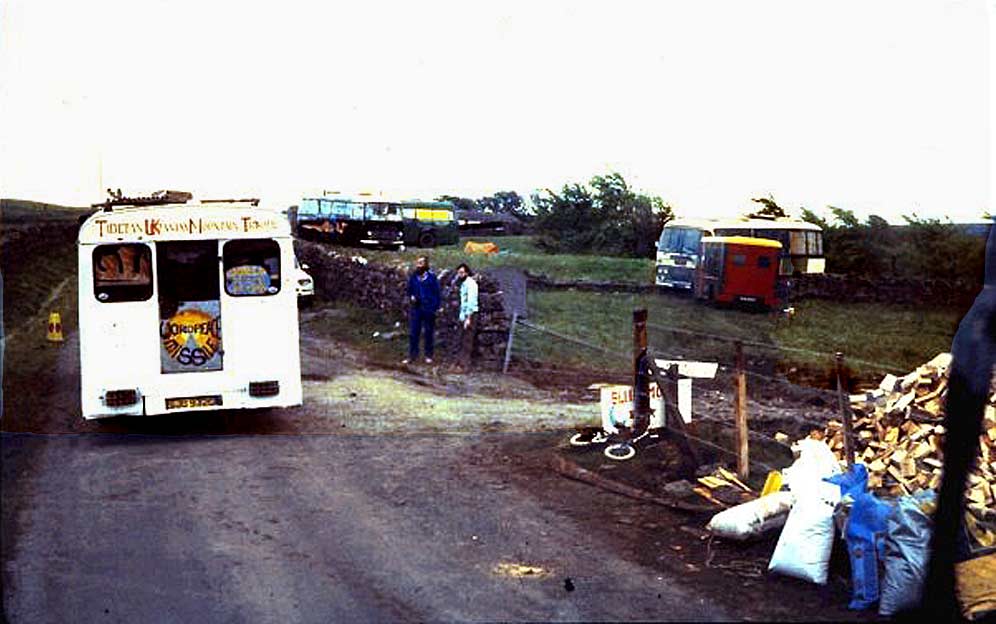 An uncharacteristically white TUMT bus passes the wood supply © Janet Thompson
---
Recordings
The Wystic Mankers
Tibetan Will " The Lugless Slog " who graces our pages holding the "Don't Panic" sign has sent us this information
The Blue Moon recording isn't from the night when Big Steve joined in. It's of the opening gig on the Friday afternoon on the pyramid and I've just finished rehashing the original edit tape. The story is told in the sleeve notes thusly -

ONCE AT A BLUE MOON on the Friday afternoon a dozen
or more of them invaded the stage and someone went
up to the man on the mixing desk and gave him a stereo
tape deck with a tape in it and said can you record the
band for us and he tried his best but it wasn't easy trying
to work out what these mankers were doing up there on
which mic or instrument and to whom and with what
purpose AND keep an eye on the recording so if a
channel peaked he just turned it down sometimes a long
way down and then forgot to turn it back up again while
he was trying to work out who was doing what to whom
and with what and to what purpose and out of all this
came a very serendipitous recording...and Glenda saw
that it was good and edited a tape from it on Janet's
twin deck and then made some copies of it that others
might also see that it was good and Janet kept the
original edit for 25 years until Will found out and said
can I have a look at that and he turned back up the bits
the man on the mixer had turned down and did some
other stuff with it but not too much because it was the
very fact that the man on the mixing desk couldn't work
out who was doing what to whom with what and to what
purpose that made it such a delight in the first place....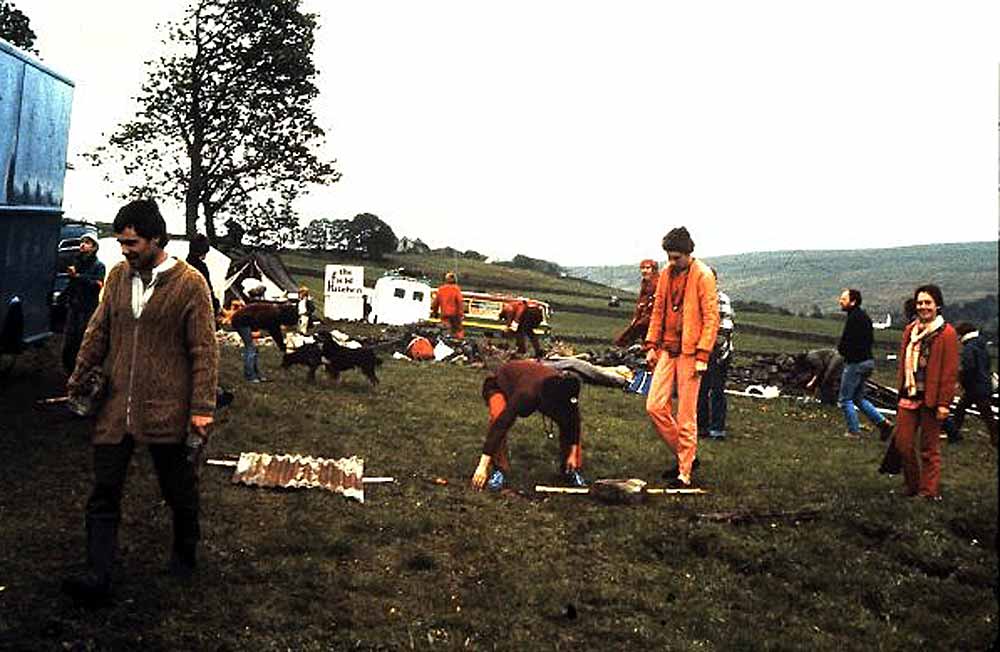 © Janet Thompson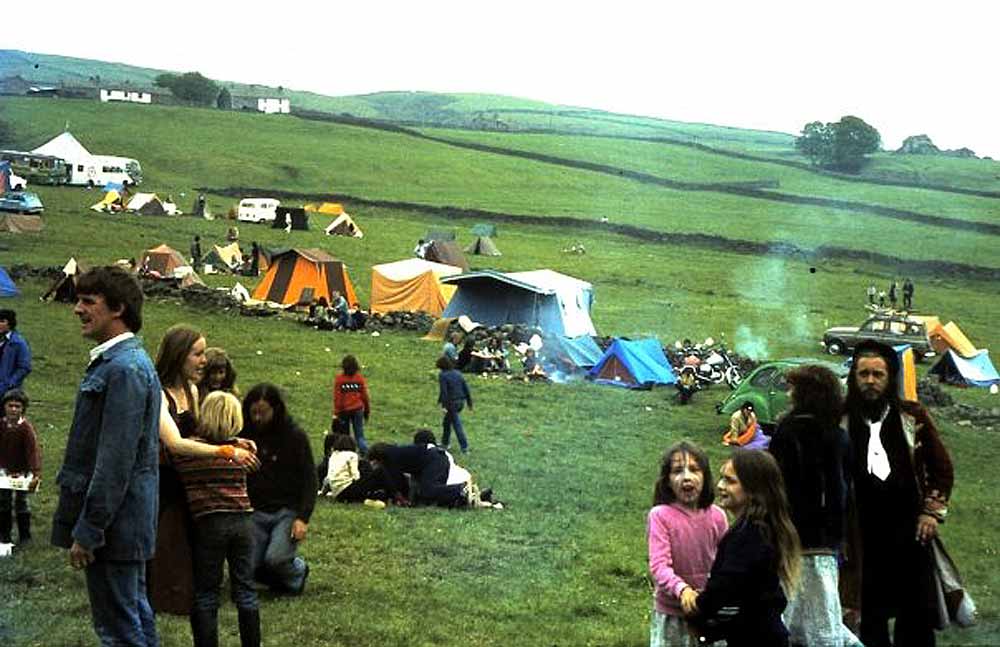 © Janet Thompson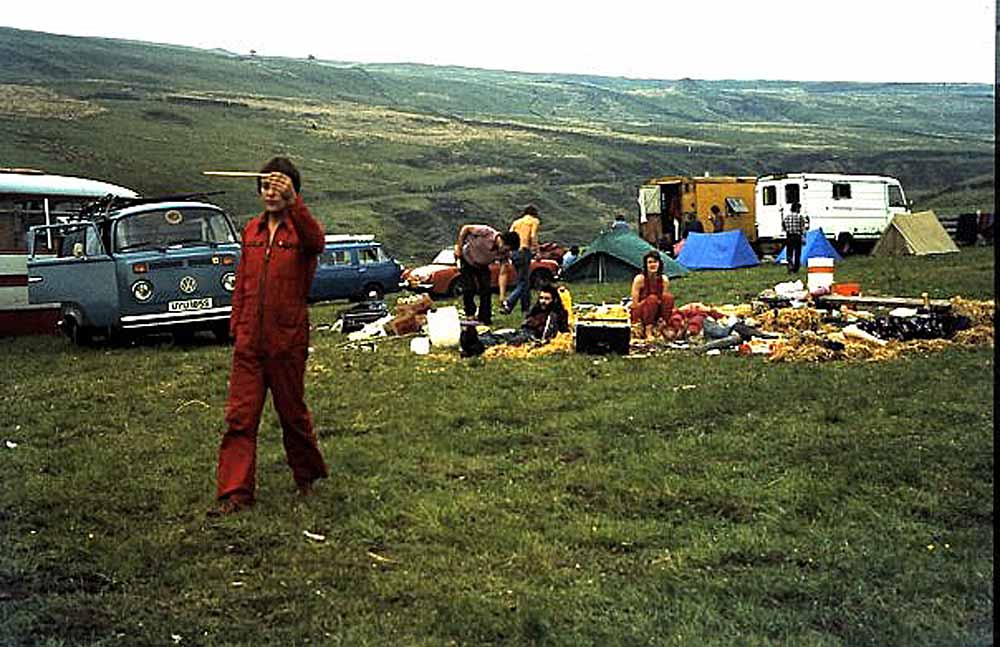 I may be thick, but the purpose of this exercise eludes me .... © Janet Thompson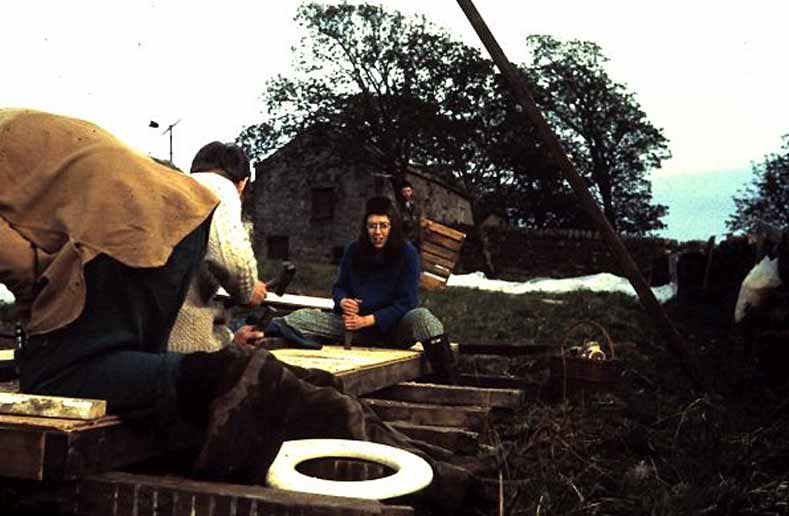 Constructing de bogs © Janet Thompson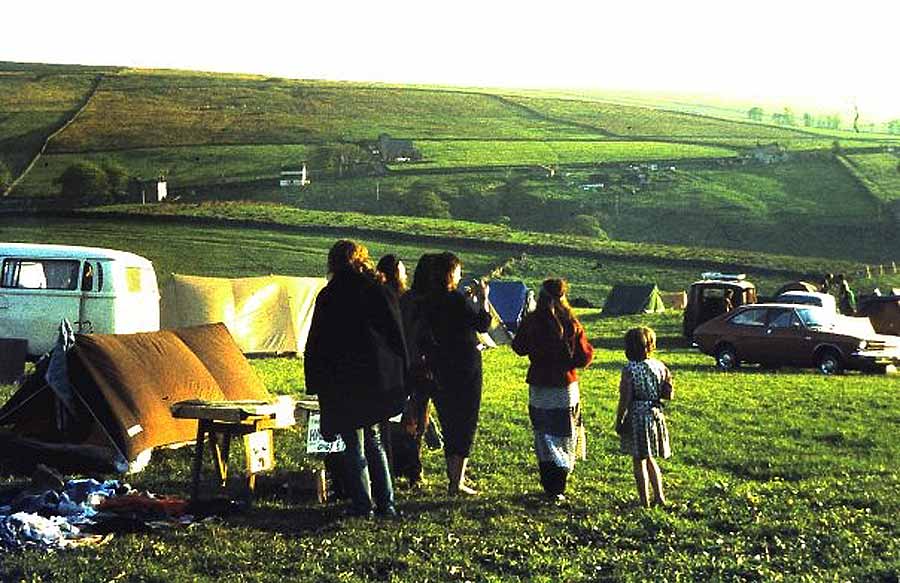 When the weathers good, theres no better place for a festie than the hiil country ... © Janet Thompson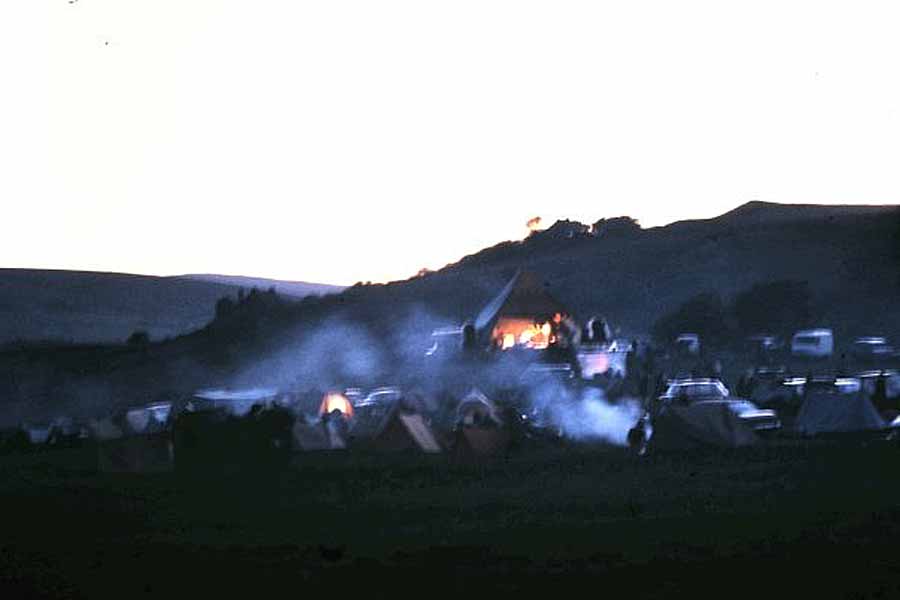 © Janet Thompson