The Archive.
Updated Jan 2015 : John Martyn setlist
Formatted at 1280 X 1024 res, lower res will result in some formatting errors in page display .
---
Greater London Council Festivals
1985.
June 1st-2nd 1985
more info needed on this festival which seems to have slipped under the radar

John Martyn accompanied by Foster Patterson

June 2nd 1985


Setlist-

Don't Want To Know

Johnny Too Bad

Sweet Little Mystery

Root Love

Could've Been Me

Big Muff

One World

Mad Dog Days

Solid Air

John Wayne

Dealer

Outside In

---
"Jobs For A Change", GLC Festival
Battersea Park
London.
The Blues Band, Billy Bragg , The Beat Farmers, Men They Couldn't Hang. Wreckless Eric, Boot Hill Foot-Tappers , Hank Wangford, The Pogues , The Opposition, The Communards
07/07/85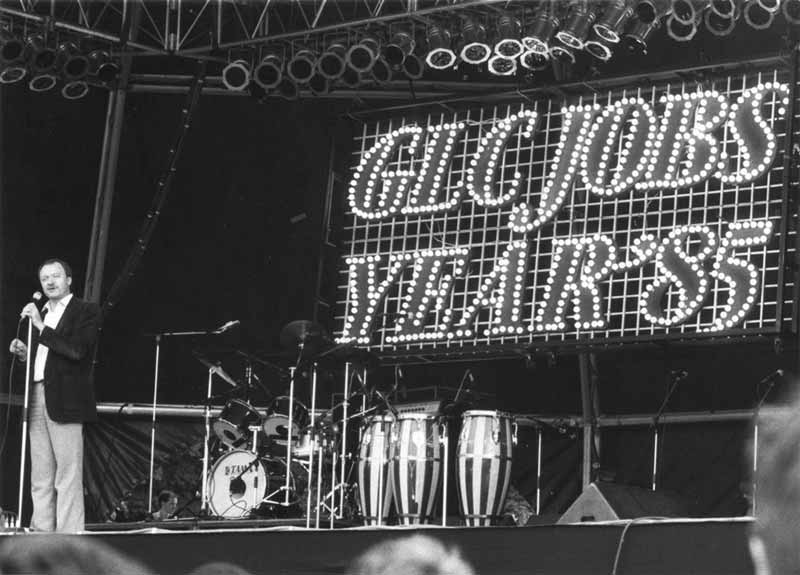 GLC supremo Ken Livingston with sign - Battersea Park 1985 © Nick Hider
( visit Nicks Flickr site to view more great photos from this era )
The Opposition onstage at Jobs for A Change - 7-7-85
Recordings and setlists
Billy Bragg 7-7-85

Folk stage

You Don't Miss Your Water
The Tatler
Racing In The Street
Pretty Boy Floyd
He'll Have To Go
There Is Power In A Union

The recordings for this show are said to be from the soundboard




Billy Bragg 7-7-85

Main stage

Man In The Iron Mask
There Is Power In A Union
Springsteen Tickets
A New England
Island Of No Return
It Says Here
People Get Ready
A Lover Sings
Jeane
World Turned Upside Down
Which Side Are You On ?
Between The Wars
Days Like These
To Have And To Have Not
A13
The Pogues

Streams Of Whiskey
Repeal Of The Licensing Laws
Boys From The County Hell
Greenland Whale Fisheries
Whiskey You're The Devil
Transmetropolitan
The Old Main Drag
A Pair Of Brown Eyes
Wild Cats Of Kilkenny
Dark Streets Of London
Billy's Bones
Sally MacLennane
Kitty
The Gentleman Soldier
Dingle Regatta
Poor Paddy
Waxie's Dargle
Muirshin Durkin
The Wild Rover
The Band Played Waltzing Matilda


20 min. Bootleg video exists of the set from Dark Streets of London onwards , otherwise audience audio exists for the whole show.

Attendance for this show is supposed to be 80,000. this appears unlikely from the stills we have seen , although there were four stages, which would have spread out the crowd .can anyone confirm or provide more information on this event ?
The Opposition onstage at Jobs for A Change - 7-7-85
---
The Anti-heroin Campaign.

8-25-85

Crystal Palace Bowl

Vera Lynn

Hawkwind.

Spear Of Destiny .

Armory Show

The Enid

Dr and the Medics

The March Violets

Comsat Angels

Balaam and The Angel

Eddy Armani
The late inclusion to the bill was was none other than WW 2 legend Dame Vera Lynn , who presumably wanted to lend her voice to the anti heroin message, the Dame lead the audience in a rendition of ' Old Lang Syne as a finale to the concert, accompanied by the assembled players .

Right : Hawkwind onstage at Crystal Place 1985

Starfarers Hawkwind site has this transcript regarding this show. Ex Hawks bassist Lemmy joined the band for this gig :
DB: "Yes, along with Vera Lynn! Amongst other people. It was good fun, because we were going to be doing it anyway, they asked us to do it and we said 'Yes, sure'. I mean, it's good that Vera Lynn should do something like that, as well."
What happened, did she just sort of come along and compere it?
DB: "Yeah, well no...she sung 'White Cliffs Of Dover' and..."
HLL: "I played the drums..."
DB: "Yes, Huwie played drums for her, you know!" (Laughs)
Huw Lloyd-Langton here, blowing his credibility by actually admitting that he played drums for Vera Lynn!
HLL: "This is it..."

DB: "As she was singing...I think she must be about in her 70's. I mean, she's a real character. My old man - I told my Dad because during the war he was, he used to think she was wonderful..."
HLL: "I suppose to an extent it wasn't much different turning out with a bunch of rock bands than it would have been, like, turning out with the forces in the war... Much the same sort of thing, a bunch of hooligans, you know!" (Laughs)
Fatreg has a review of this event on his site
GLC Festivals
---
If you have photos, recollections, set lists, newspaper reports or tapes of this event then Contact us if you can help.
---