The Archive
Formatted at 1280 X 1020 minimum - failure to view at this res may cause weird formatting , you have been warned !!!!!!!
Updated Jan 2016
This site is dedicated to the memory of Roger Hutchinson, who inspired me to delve deep into the magic of the free festival and who passed away Sept 3rd 2010.
R.I.P. Roger .....
For information on today's festivals see eFestivals.co.uk

Big BIG thanks to our sponsor Neil !

"Andy Roberts (author of Albion Dreaming) is now writing a book specifically about psychedelics and free festivals. He would welcome any information on this topic such as info on dealing psychedelics at festivals, prices, types available, methods of smuggling psychedelics in, photos of dealers' signs and basically anything related to psychedelics and free festivals. All contributors will be credited and no compromising information will be revealed! Please contact Andy
---
Elan Valley Free Festival

Rhyader

Mid Wales

July 1976.
---
© photos Janet Thompson

Very little info on this one, we have four photos from the esteemed Janet T, we know that Solar Ben played and that the site was invaded by the usual hordes of plod , which resulted in everyone being evicted and thats it , can anyone help with more details ?

Left-: Fun in the sun before the Old Bill arrive.

Above: the Old Bill arrive and the fun ceases
The valley is the home to some of Wales largest dams ,which provide water for much of England, perhaps this was why the freaks were moved on so quickly, the tabloid like spectre of LSD dumped in the water may have loomed large in the authorities fevered brains......
Recollections .
The festival was to be the next one after the henge and was due to run for the whole of july, I hitched down there on the 7th/7. On the 13th at 6.30am 400 coppers had encirceld the site and woke everyone up and evicted us, it was a bit of a shock, most people were still in bed. I think they had bussed in coppers from all over wales. everyone got themselves together and moved off 'up the road' to another site which became the first mushroom festival at pontrhydygroes. In my diary it says 'very beautiful but stoney' - there was a river bed running through the site.
Back to the Elan festival, quite a few bands played there, I think the stage was outside of Solar Bens bus. Solar Ben had a flautist name of Michael Wilding - Elizabeth Taylors son, he was a hippy back in those days. Can't remember any of the names of bands that played except Solar Ben. At some point during the festival some officials from the water board had come out as Birmingham's water came from the Elan valley and they were very concerned about all the 'dirty hippies' camping there even though sheep were everywhere pissing and shitting in the streams.
Janet Thompson
---
Hippies were refusing last night to move from their Elan Valley camp site, despite a High Court order to evict them.
The order was made on Friday because the site near Rhayader in mid-Wales is within the gathering grounds of the reservoirs which provide a public water supply to the Midlands.
The Birmingham Post, July 1976
---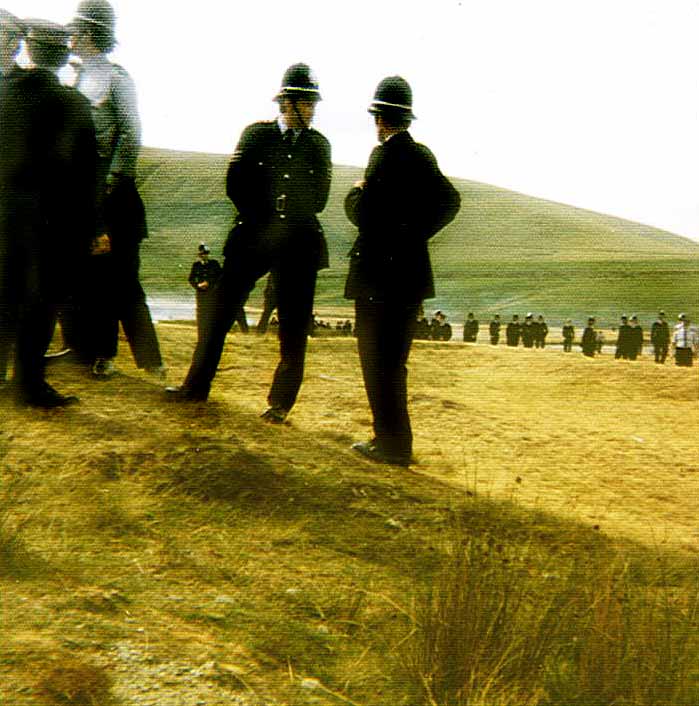 Welsh plod were instructed by special branch to speak only in their native tongue when near hippies ,in order to foil the drug enhanced hearing of the unwashed hordes.
We helpfully translate the following conversation between the two Welsh speaking plods featured above .
First plod , "Dyfal donc a dyr y garreg sarge "(tapping persistently breaks the stone sergeant )" to which the older and more experienced Sargeant replies sagely "Tyfid maban, ni thyf ei gadachan bach " - (the child will grow, his clothes will not boy).
To which the plod replies wittilly "Tri chysir henaint Sion : tân, te a thybaco"(three comforts of old age John: fire tea and tobacco ) following this pithy reposte with the killer phrase "Mae tegell yn ferwi and ty'n barod." -(the kettles boiling and i'm ready ).
In the face of such cunning intellect and crushing repartie , the hippies were forced to retire in a state of confusion.
Final match score :Plod One , Hippies Nil :-(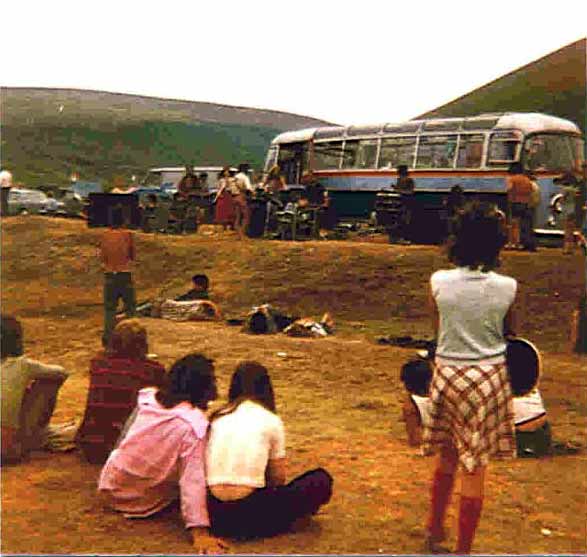 Solar Ben play for the masses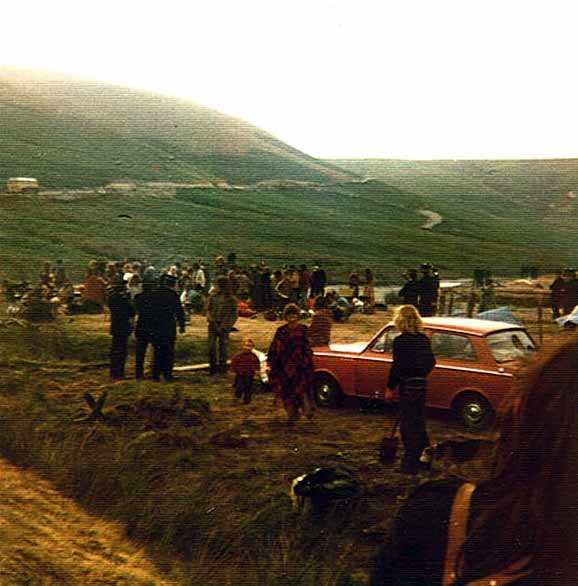 The eviction - Bah Humbug ! © All photos Janet Thompson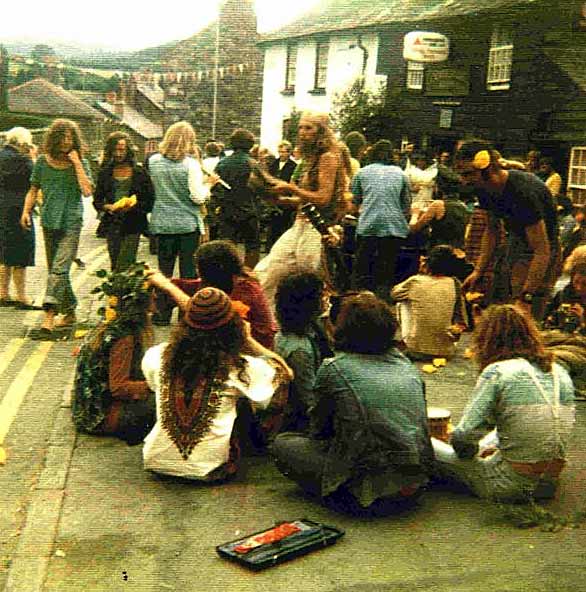 After the eviction some festival attendees hung out in Rhyader © Janet Thompson
I can clearly remember the event .the girls were selling knitted peg dolls to make a few quid. the pub in the last picture is the cornhill I think its pedal bike hire shop now. There was a big hand painted sign saying some thing about hand your drugs in here? it was a wHile back, I think the water board was concerned about them bathing in the river. was this around the time of Operation Julie was busted?
I visit the site many times when riding my motorcycle around the Elan valley I usaLly ride down the Abergwsyn pass to Tregaron and on to Aberystwth before heading back along the A44 and home Leicestershire.
regards Gaz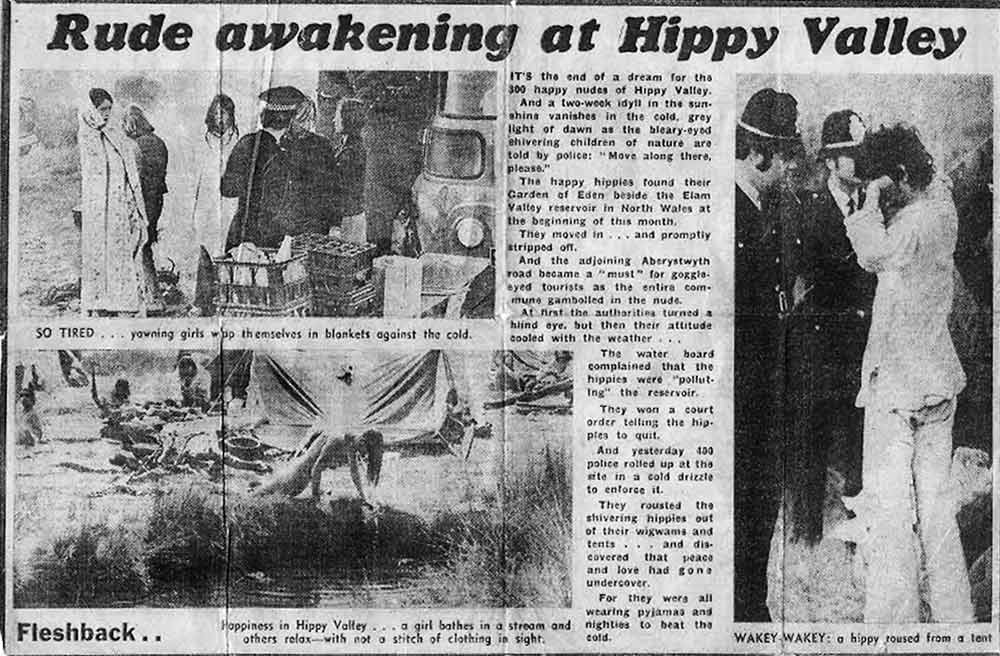 Typical naff crappy tabloid shit article on the festival , we laughed so much our brains fell out .... clipping courtesy Gaz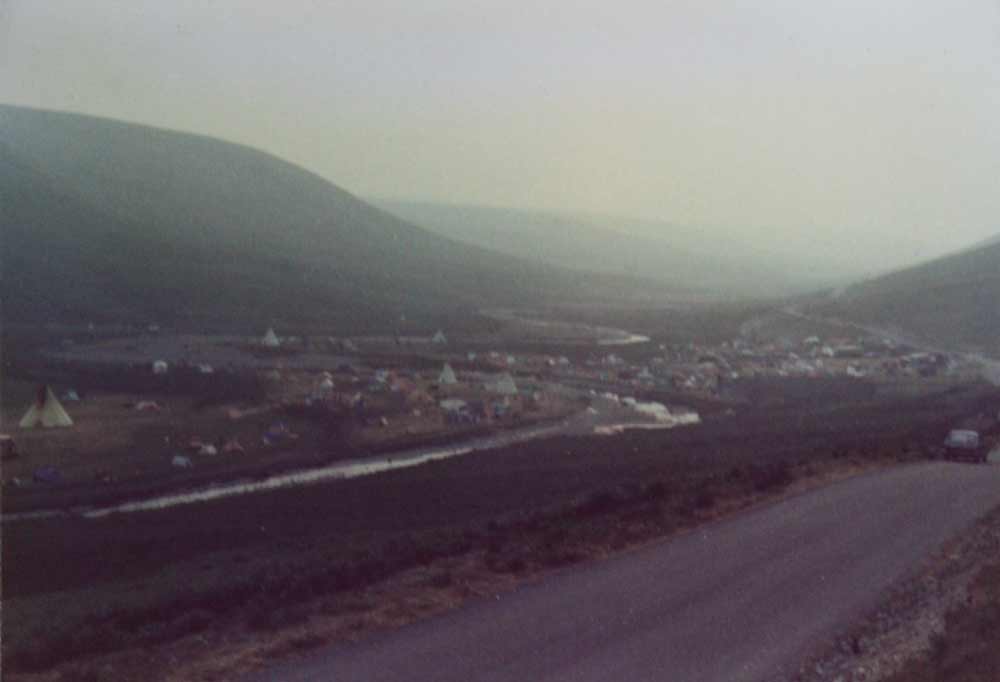 Panoramic view of hordes of drug crazed nude hippies relaxing in the baking Welsh sun .... @Gaz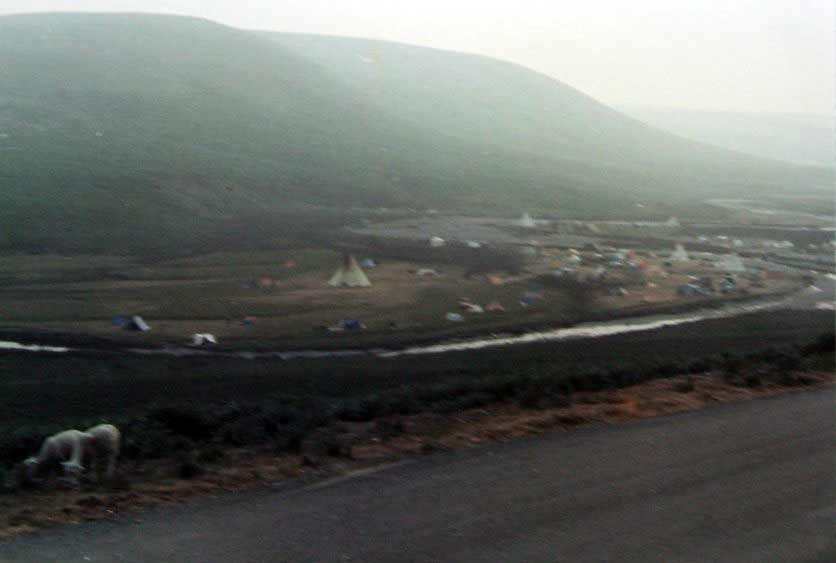 Panoramic view of a pair of deranged nude ( under the fleece ) drug crazed Welsh sheep eating magic mushrooms on the roadside .... @Gaz
---
Any info to add- well don't just sit there ! Contact us
Free festivals and small fayres held in the United Kingdom between 1967-90.
1967-69.
Main list of Free festivals 1970-1985
Free rock festivals of the 70s and 80s
Related Articles
The aroma of a free festival -by Roger Hutchinson
Dome construction instruction sheet (download-140k)-by Roger Hutchinson
Travellers Tales Convoy Steve's tale of how the freaks outsmarted the fuzz at Greenham common.
Zorch -House band for the free festival set ? A fanzine page on the UK's first electronic band .
Tibetan Ukranian Mountain Troupe-surreal pranksters of the Traveller community .
Acidia Lightshow Lightshow for Windsor festival and Stonehenge in the 1970s.
Traveller Daves Website - Chock full of of free festival photos !
Many, many thanks go to Roger Hutchinson , Big Steve , Roger Duncan, Celia, Will , Chazz, Jeza ,Chris Hewitt ,The Fabulous Time Tortoise , Peter Piwowarski - ( 70s music site/photos ) Martin S, Steve Austin ,Traveller Dave, Herb, Tim Brighton, Vin Miles, Haze Evans , Noddy Guevara, Chris Brown, Janet Thompson, David Stooke, Gary Gibbons , Nigel Ayers, Rich Deakin ,Glenda Pescardo,Justin Warman,Brian F, Steve Bayfield, Kev Ellis, Paul Seaton and many other minor contributors for their help in providing the archival material related to these free festivals which has at enabled us to construct the site .
Any info to add ?-well don't just sit there , Contact us
---