Papa Wemba
2-17-01. stage 1.
Papa Wemba is legendary. We miss the first portion of his set as we are marvelling at the superb musical agility of Bob Bozman on nearby stage 3 .After his gruelling set we definitely need some refreshment and to reconnoitre the site. Wandering through the darkness - punctuated by floodlights ,creating immensely long green shadows, which flirt over and around the trees - we float through the edge of the huge crowd gathered by stage 1 to watch the Papa ,drink in the gorgeous flags created by Angus Watt and finally come to rest opposite a giant face projected on a huge conifer near the main gate. The sounds of WembaÕs opening numbers mingle with those from the other stages , the stars gaze coldly down on our little haven in the park , the face winks at us cheekily and it occurs to me how lucky we are to be here on a perfect night such as this , listening to such beautiful music from so many nations , and it also occurs to me that ,when it all comes down to it , it is during the nights that Womadelaide is at its magical best .

View from the outer reaches of the crowd -

Papa Wemba on-stage 2-17-01

Papa Wemba and moon , stage one- Sun 18th February 2001.
As if to emphasise this magic , Papa Wemba begins a new number, and we both begin to gravitate towards the stage , drawn by the music like moths to the flame .The Papa is wearing a white linen jacket and is spot lit , so I focus on his tiny frame and aim directly for the stage , never taking my eyes off the man . The journey to the front is effortless, the crowd is by no means tightly packed and I just slide into gaps , deviating only occasionally from my forward progression to sidle sideways into a new space and then back onto course into another naturally occurring open patch . I eventually find a nice dancing spot about 10 rows back and watch the rest of the set from there.
Wemba sings in French and he does his announcements in that language too, so only a small portion of the crowd ever understand anything he says, but its immaterial , the message is in the music and its a message to dance and have a good time. A goodly portion of the crowd does just that , but they are very well behaved. This crowd is into listening , not talking through the set like some of the stage one crowds I've known over the years. Many dance continuously , whilst others alternate between dancing to gazing raptly at the stage , but whatever the mode, people are mesmerised by this band ,who move seamlessly from a late era Steely Dan- jazz-Afro-funk like perfection on some numbers, to anthem like call and response items where Wemba attempts to get the crowd to sing along. This is not always 100% successful as the language barrier is a bit of a problem , but we get the picture most of the time and we do manage a few timely responses, most notable when he exhorts us all to raise our left hands , cross our right over our breasts and to sway in time to the music- a great moment of togetherness.. Wemba has now discarded his white jacket and is wearing a red t shirt and blue baggy trousers , occasionally throwing back his head to emit some of his trademark high pitched vocal cries .To his left are his two cute female vocalists, both in their twenties . The band are tight and talented. Its mostly an ensemble effort, with a few solo spots, the most interesting being the keyboards of the black dude on the left , a hot bass solo from the white bass player , who has considerable chops -and a nice percussive interlude from the grinning , portly drummer and the turban clad percussionist.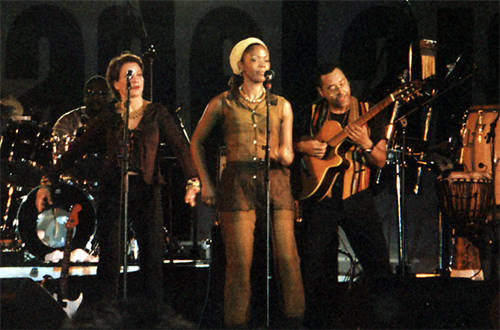 The guy on the dias on the right alternates between keys and rhythm guitar and the lead guitarist lays down some very tasteful background licks, but is is mainly a band that locks into groove and exploits it for all its worth together, rather than falling into the extended solo trap -and its all the better for it as the entire audience are carried with them to the climax of the set .The band leave the stage to warm and mighty applause and Wemba surprises us by returning for a short encore which is a joint effort between him and the African keyboard player .A lush ballad, it is a measure of just how respectful this crowd is towards the performers that its delicacy is not spoilt by intrusive crowd nattering or hooting .
| | |
| --- | --- |
| | |
We would all like more, but thats our lot , Papa does return to the stage , but only to to give us a delightful "God Bless you all "before he strides off into the backstage area leaving us all drained from our constant dancing and our voices strained from hollering for more . We now have to consider whether its now time to depart. IÕm ravenous and IanÕs in dire need of a cup of Chai .We both satisfy our needs although most food shops are beginning to run down their stocks at this time. There's a guy from Cambodia on stage two, but most people are on their way out of the park and we join them after a few minutes watching , its too late and weÕre too tired to take much more in the way of music tonight , as there's still two days more to come . Just outside the gate we come across a familiar figure, its Andrew , busy selling his glassware. Well organised , he has a little light to illuminate the cases and he has some people interested in his wares , so after a few words we leave him to get on with business and a promise to catch up with him later on during the weekend - which turns out to be Sunday !
---
Womadelaide 2001 menu
The Artists
The festival grounds ,crowds, personal Womad stories.
---
Womadelaide 1992-2010 menu
*Donates page still under construction
If you have info to add please -Contact us
---