The Archive.

View at 1280 x 1020 min res
---
Last updated April 2008 .
NB: this site is not affiliated in any way to the official Womadelaide organisation and is a non profit making tribute site documenting the history of the festival , no images or text used on this site should be distributed or reproduced for commercial purposes .
Womadelaide 2003.
7-9th March 2003 .Botanic Park. Adelaide.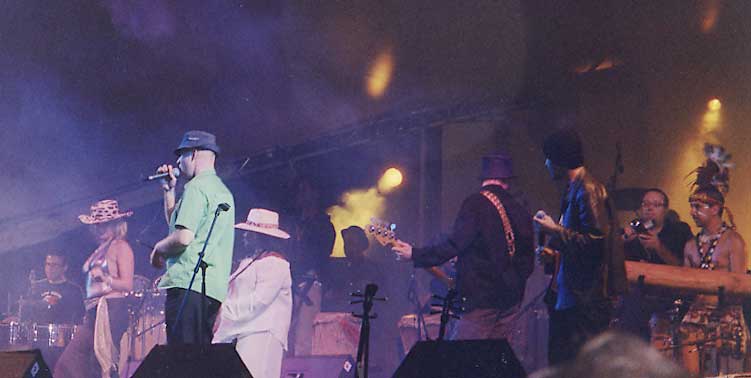 The Grand Finale- Temple of Sound and others © Ianto F
The 2003 WomAdelaide festival was the last year that the festival was scheduled to be held bi-annually , so since this date, we've had a feast of great artists playing in the park every year, its been a total gas !.

It was pretty civilised temperature wise, perfect weather in fact ( didn't go over 30c from memory, for a change ). No rain, a lovely weekend.

This Womad was a great success, overall it was a strong lineup, and there was the first attempt to get a large number of artists to play together onstage, manfully directed by Matthew Barley and assisted by Bob Brozman.

Bob Brozman © Old Boll Weevil
The highlights were the lovely Cara Dillon, old favourites Shooglenifty, Amjad Ali Khan, La Voile d'Castors, Cheikh Lo ,Rzwan Muazzim Qawwali and the Temple Of Sound, The Waifs, and the great Rachid Taha !. There were very few duds, as usual the organisers introduced us to a wide range of new sounds and they rarely disappointed . I remember being a little dubious as to the weekends potential before I walked through the gate on Friday, but I was enthralled much of the time and rarely bored. Since then I have just taken on trust that 75 % off the bill will be great and the 25% I don't like gives me time to go off and eat and rest if needed . Its still an amazingly good deal.
Its worth remebering that the clouds of war were hovering over us all at this time, with the Coalition Of The Willing's invasion of Iraq about to take place, many of us who were at Womadelaide had marched in protest against the war in the preceding months . Throughout the weekend many of the artists made various comments about the stupidity of this action . Womadelaide itself is a statement about Global harmony and a vibrant monument to the healing power of music and its ability to reach across boundaries and bring people of all cultures together as one.
Unfortunately we stuffed up most of our photos and consequently only have a record of some of the acts and almost none of the site . This was the beginning of a lapse on our part regarding documenting the festival. I was going through a rather rough mental patch at the time , taking on too many projects and just plain working too hard, so I made a decision to experience the festival as a dancer and to have a good time. My main collaborator also took a raincheck and ceased to make a thorough pictorial record of Womadelaide until 2007 .
However, I now regret we haven't more to offer you , as there seem to be very few sources of meaningful information regarding the festival on the net. However , at this late date I will do my best to rectify that . If you have any photos or recollections you would like to add to this site, please don't hesitate to contact us via the main archive address . Just follow the link .
External Links
Global Nomads's Photos from Womadelaide 2003
Official Womadelaide Festival site
Click to view a panoramic view of the site in 2003
I