The Archive.

View at 1280 x 1020 min res
---
Last updated June 2008 .
NB: this site is not affiliated in any way to the official Womadelaide organisation and is a non profit making tribute site documenting the history of the festival , no images or text used on this site should be distributed or reproduced for commercial purposes .
5-7th March 2004 .Botanic Park. Adelaide.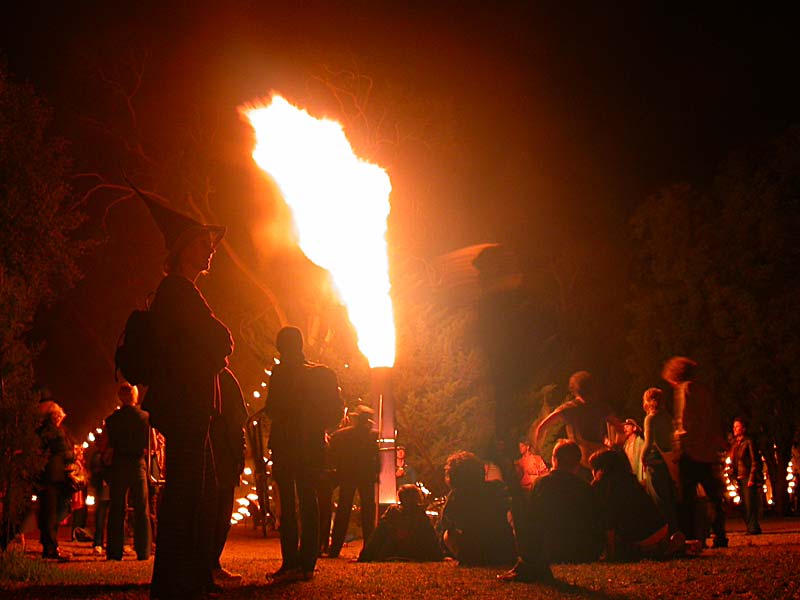 The mighty La Compagnie Carabosse put on a visual display at Womadelaide 2004 © JHurrah
visit his Flickr site by clicking on the link to see many more great photos.
The 2004 WomAdelaide festival ranks as one of my favourites, it wasn't too hot, it didn't rain and it featured a wonderful range of world class artists from many musical genres. Youssou N'Dour, Zakir Hussain, Mary Coughlan ,Eliza Carthy , Tinariwen , Hamid Baroudi , The Cat Empire, Abdullah Ibrahim, Giberto Gill and to cap it all, the first appearance of the magical La Compagnie Carabosse . Perhaps this was one of the most consistent lineups ever !
Temperatures were in the mid 20s , at times it was a little gloomy but it didn't rain and it was a lot better then 41c with humongous humidity ,as happened in 2001 . This was when the festival started honing up its environmental credentials , with recycling of all waste as much as possible. I still keep hoping they will use solar to power the stages , a la Circus Croissant Neuf , but that will be a long time coming .
Audiences were very healthy, around 70,000 for the three days. The organisers had not expanded the stages into the Speakers Corner yet ( where they have situated a stage near the gate at Frome Road at the Western end of the park ), so it was easier to get from one end of the park to the other, but possibly more crowded around the main stages..
The ABC was recording some sets on the Saturday and Sunday , which were broadcast on community radio as well as the abc and it appears that someone filmed Youssou N'dour , but it was never broadcast in total. We would have to wait until 2006 for there to be another special with a multi camera shoot. We have been able to find a few photos of the festival , but would always appreciate more , especially some of Eliza Carthy as we can't remember what colour her hair was !
There is a shortage of photos for Womadelaide 2004. If you have any reviews of Womadelaide 2004 (no matter how brief ) , or photos you took and want hosting , whether of bands or the grounds, Contact us and we will add them to the site.
---
Womadelaide 2004 menu
* Indicates external link.