WomAdelaide 2009 was blessed with much milder weather then 2008, which broke records not only regarding in the number of people who were there, but also by passing the 40C mark for much of the time. Thankfully , 2009 never passed the 30c mark and was much more tolerable and easier on the body than the previous year.
However , there were some changes which did not go down well with yours truly . Not all of them were musical, in an fact many would not seem much of a big deal unless you were an old festival attendee. But for me these were changes that did not enhance the festival. In fact ,the absence of the Buddha's Bowl eatery ( a traditional Womadelaide fixture since at least 1993 ) and the movement of the Holy Cow restaurant from the Speakers corner to the global village seemed to leave gaping holes in areas which were special to me and perhaps to many others who had come to take their inclusion for granted.
Musically, as usual , there were some great acts , but the organisers did not seem to get the Friday night bill right ( partly due to a under functioning Natacha Atlas , who frankly, looked bored with the whole exercise ) . The rest of the weekends music had its hot spots, particularly the African acts, such as Egypt 80 and Rokia Traore and overall , musically there was little to complain about- in fact, I mostly had a great time .
However,( and I hate to say this , as I am a huge Womad booster) there seemed to be something integral missing from the festival . The music was good to great, so why was I left with a feeling of being slightly less fulfilled than normal ?
After some reflection, I have come to the conclusion that the festival felt a bit flat because of the absence of a REALLY GREAT visual theatrical event , such as Compagnie Carabosse and Zic Zac Zou, who had just been knockout items of the 2008 lineup . Overall there seemed to be fewer visual entertainments than there had been in the previous years and this left me with the impression that the organisers had either not been able to find any acts that would have fitted into the time frame or that they had simply skimped this side of things - perhaps due to lack of funds ?
Overall, most prices had risen , alcoholic drinks and food were all considerably more than in previous years , possibly Buddha's' Bowl had gone because they could not afford the fees? Whatever, it wasn't quite the knockout that I have come to expect from this festival, although its still one of the best around and the venue was , as usual- absolutely wonderful.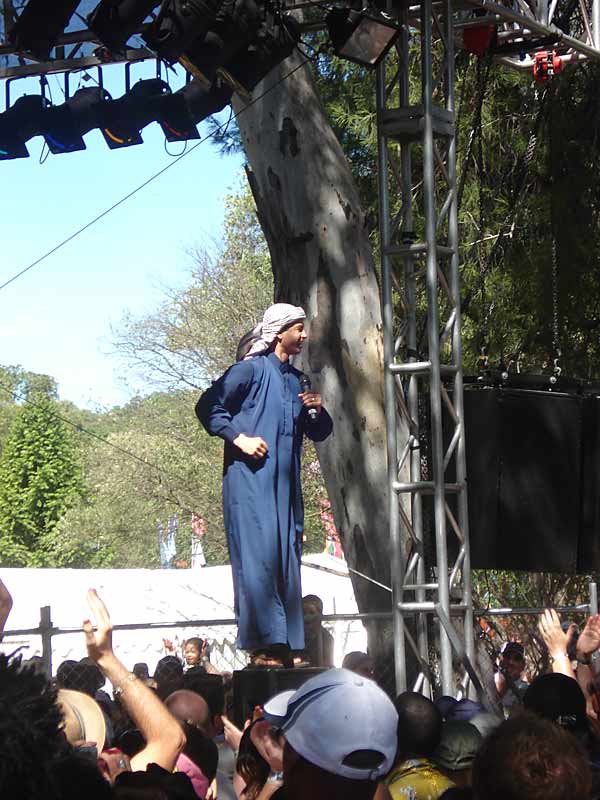 Bedouin Jerry Can Band proved to be a hoot both visually and aurally . Wowing crowds whenever they played .
Here we see them on the Sunday performing at the Zoo Stage © D Bunce