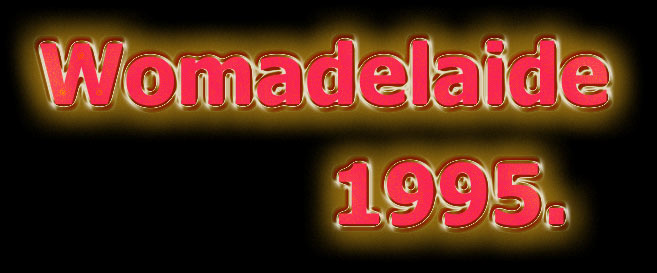 Botanic Park Adelaide.
Feb 24th-26th 1995.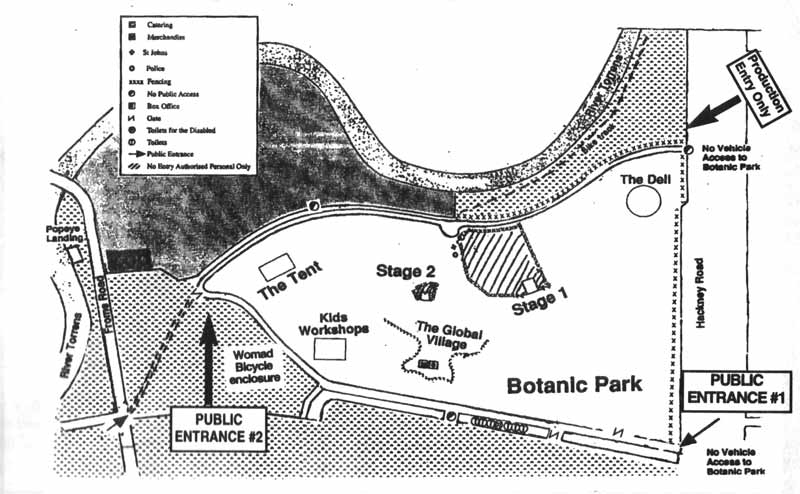 Layout of the 1995 festival - still pretty small compared to todays number of stages.
This was the Womadelaide that possibly had the weakest lineup of them all , I enjoyed the weekend overall , but after the stellar acts of 1993, 1995 was a bit of a comedown . There were a few great highlights, Mouth Music ,The Cruel Sea, Nusrat Fateh Ali Khan , Leningrad Cowboys , Geoffrey Oreyema and Jah Wobble , but the African acts were not that great .Papa Wemba didn't cut it for me this year, I feel his music has become stronger as he has aged , his 2001 performance was far better in my opinion . Zap Mama I never have liked that much- their sound is just too strident for my ears and I positively loath Kate Ceberano , having seen her onstage a few times I find her persona rather repellant .
Friday was great fun, it was incredibly hot and humid and also much more crowded than in 1993- obviously word had gotten round that this was THE place to be . I went along with my mate Kim, I have a vague recollection of seeing Vika and Linda Bull on stage two early on.They are great performers and I have alwasy liked their wortk in the Black Sorrows and with Paul Kelly, but it was so hot and humid ( a rarity for Adelaide its normally dry heat ) that after a while we had to get a beer in . When Kim and I got to the beer tent we got separated and I didn't find him again until hours afterwards. The tent was packed to the gills , at least half hour waits, when I did get beer I bought about three and slugged the first one down instantly just to get some moisture inside me. By this time I had missed Sierra Maestra , but it was time for the Leningrad Cowboys set . So the other two beers had to be held as I watched the insane Leningrad Cowboys act on stage two . This was probably the best act of the weekend, unfortunately they only played once ...... they had the whole crowd dancing along to their incredibly fast version of Sabre Dance and they were roundly cheered when they finished their set.
Geoffrey Oreyema made a sound return to Womadelaide after his excellent set in 1993, I cannot remember whether he had his excellent French guitarist with him this time or not, whatever, onstage he melted many a ladies heart with his dashing good looks and lengthy dreads . A political refugee from Uganda , his stories of oppression also moved many of us, he proved to be a very haunting performer .He appeared again in 1998 when the festival moved to McLaren Vale but hasn't been booked since . The festival has a policy of booking artists two or three times and then dropping them and looking for new talent, although there have been a few exceptions over the years.
Bangarra Dance Theatre were on stage two and some of their work was very impressive . Excellent use of lights and dry ice. I watched them for awhile before visiting the beer tent again, it was still oppressively hot. I must have drunk about eight pints of Coopers Light and didn't feel a thing, not drunk at all -I just sweated it all out .
Aussie reggae-rockers- The Cruel Sea - were next and I was very impressed . I'd not seen them before and I was knocked out by their charismatic front man, Tex Perkins, who strides the stage like he owns it . Their classic " Better Get a Lawyer Son " - ( better get a good one ) was a standout . The Cruel Sea were the festival's token " Aussie rock band " .Designed to bring in a young audience , swell the numbers but also to get people to come and see the other acts, with the idea what once they had been exposed to the world music , they would return to hear it in its own right . This tactic has certainly worked, but by 1999 the festival was able to pretty much dispense with an Aussie rock act and book world acts solidly .

There have been some exceptions, in 2001 and 2008 The John Butler Trio played the festival. In 2001, John was pretty much unknown and in 2008 he actually asked if he could play - and once again, this attracted a new audience who probably had not attended the festival before.

Crowd in front of stage two, which looks very small now in 2008.
Nusrat Fateh Ali Khan , the Qawwali maestro with a voice that soared to the heavens and who was the hit of the 1992 festival, finished off the nights festivities on stage one at around 11: 20 pm. After the Cruel Sea, to listen to Nusrat's powerful voice , complimented by the usual backing of intense vocalists, fervent drumming and clapping and accompanied by the insistent harmonium , was enough to get anyone to become closer to whatever power has created this strange and twisted universe of ours. It was a joyous experience. I seem to remember that they had created an avenue down the middle of the audience in front of stage one ( this would be bloody hard to achieve nowadays , but they did it then as I have seen a photo of it somewhere ) and I remember standing for a few moments watching this giant of a man ( not only in musical terms as Nusrat was enormously fat ) , surrounded by his musical acolytes and thinking that there could be no better spot to be on the planet . By this time it had finally cooled down a bit, but it was still pleasantly warm - a far cry from Saturday night in 1993 when I was waiting to see John Prine at stage one and I was so cold my teeth were chattering ( Adelaide can drop cold when it wants to as well as be blisteringly hot !)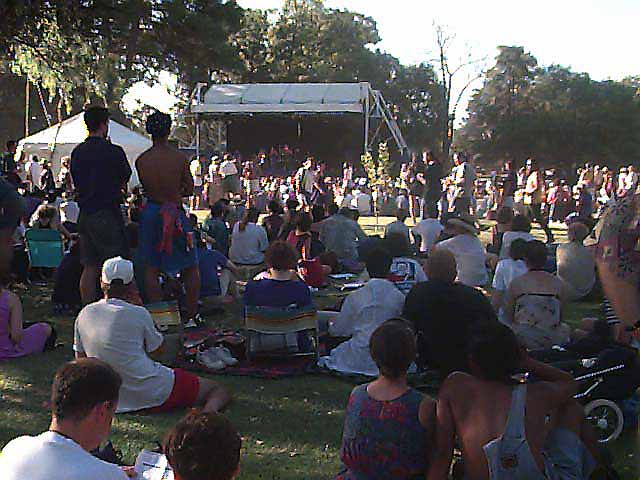 Saturday
M outh Music were the first thing that impressed me on Saturday which from memory was still pretty hot but overcast . Justin Vali is always fun and I enjoyed his set on stage two. Papa Wemba failed to impress and Christine Anu who had had a minor hit with the song " My Island Home, " was sweet, but that wasn't enough to keep me interested for too long. I wanted to be floored ,as I had been in 1993 by Salif Keita. Would Gill Scott Heron do the deed ? I was looking forward to this set and he opened with a blistering song - but after that bit was was all downhill - the material just wasn't that great, and he only played a very short set as well- a big let down , considering this was his only performance at the festival. After that there still wasn't a lot a quality around so it was off to the beer tent and back to see Jah Wobble and the final set by Nusrat . I was prepared to be impressed by the Wobble, who had been bass player for PIL and also collaborated with Holger Czukay from Can on a mini album. His set was very good, a bit self indulgent when it came to a percussion interlude which did not really go anywhere, but it was very danceable and heavy on the bass lines which suited me fine . Nusrat was of course superb, so it was with good feelings that I left the site, although I had been pretty bored for a good part of the day.
Sunday
Was more of the same, a few really good acts but nothing that was going to send one home with that warm Womadelaide feeling in the gut which would sustain one for weeks afterwards as one remembered that wonderful set by ..... It didn't happen . I can remember Jah Wobble again and that's about it, I guess I saw the same acts over again that I had liked the day before and took in Papa Wemba because he was the last major act onstage , but it wasn't a classic weekend. The weather had cooled down a bit, it was largely overcast , which doesn't really create a happy environment and I seem to remember that factor more then any other as I struggle to recollect the day a decade or more on .....

However, I wasn't put off, I was hooked and I knew I wanted to come back again and again as there is always something that will leap out and thump you on the jaw and really stick in the memory bank, This time it had been Nusrat. In a few years he would be dead and I was lucky to see and hear him twice in one short weekend, If nothing else Womadelaide 1995 was more than memorable for that .

Three day passes were still priced at $98/$80 concession, with one person under 15 admitted free on each adult ticket. Daily tickets cost -$45-60. Now they are around $100 for a day night pass !

There were also the theatrical aspects of Womadelaide to consider, in the early days the festival was peopled by these exotic stilt artists , who were adored by the children , there is always something to hold ones attention at Womadelaide !
On reflection , since there are now more stages at Womadelaide and far more artists appearing than in 1995, its probably less likely that one would be unable to find something that would not entertain at any point in time. There are more attractions in general - the healing village, major theatre and performing arts installations that fill the site as well as the expansion of the Global Village. 1995 was my least favourite Womadelaide, but it was still damn good in comparison to any other festival .
---
If you have any reviews of Womadelaide 1995, or photos you took and want hosting , whether of bands or the grounds Contact us
---
If you have any photos , setlist or recording information you would like to add to this site, please don't hesitate to contact us via the main archive address . Just follow the link .
Links to articles on the 1995 festival ( some links are external ).
Womadelaide 1992-2008 menu
*Donates page still under construction
---