The 2008 WomAdelaide festival was BLOODY HOT. Most of the time temps hovered around the 39C mark and made it into 40c on Sunday , although the slight breeze mitigated the intensity of the heat a bit and we found Saturday the worst day as it was still around 37c at 10.00pm. Despite the high temps, the festival was packed , perhaps due to the presence of high profile artist John Butler on the Friday and Saturday bills.
This was a very good Womad, perhaps not a classic ( in fact many regulars did not go as they thought the bill was rather weak ) but they were more than replaced by newcomers, many of whom travelled from interstate .
Most of our crowd were guilty of underestimating the strength of many of the headlining acts and also that of the homegrown acts, who actually outclassed a number of the overseas outfits on many levels.
The highlights for us were Manjiri Kelkar, who inexplicably, was relegated to one performance on the somewhat obscure Speakers Corner stage. Multi-multi-instrumentalists Beirut, Melbournian reggae-rap act Mista Savona and Idan Raichel all impressed, as did the exciting Watussi. Sharon Jones and the Dapkings spoilt things a bit by pushing product and by not giving us an encore ,but were nevertheless compulsive.
Both Daibates delivered, Mamadou and Toumani, their joint performance on Sunday was an epic tour de force which showcased the all encompassingly wonderful sounds of the Kora .Last but by no means least, the seemingly ageless Mavis Staples was just superb , superb, superb !
I think our thoughts regarding Mavis were pretty much univerally agreed on, at least by those of us who attended the entire weekend . As we were leaving ultra late on Sunday night I mentioned to my mate Ianto that Mavis Staples was definitely the best act of the festival and a young lady in front of us turned round and agreed with me passionately .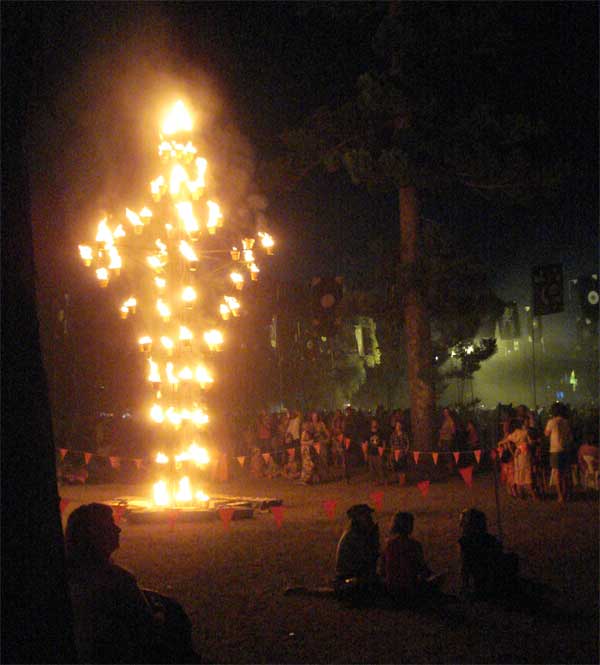 The return of the wonderful fire artists La Compagnie Carabosse was the highlight of the visual elements of Womadelaide 2008 .