The Archive.
Updated September 2009- New photos of the Dead , the site and Family
For best results view at 1280 x 1020 or higher
Big thanks to our sponsor Neil !

For information on today's festivals see eFestivals.co.uk
---
THE HOLLYWOOD FESTIVAL.
Madeley, Newcastle-under-Lyme,
Staffordshire,
May 23rd and 24th 1970.
---
Colosseum.
Music Now review.
Next on were Colosseum., who John Peel introduced as stars of the Tony Blackburn show and radio one club ! . They kicked off with "The guts Of Los Angeles "and then they moved through "Downhill ", it was interesting to see how Dave Clemson fitted into the band on lead guitar . His vocals were powerful and full of confidence and he added a lot to the band visually. "Bring Out Your Dead" an instrumental written by organist Dave Greenslade had shades of the old Nice sound. " Walking in the Park " bounced along nicely.
Actually Hiseman took a long drum solo but the antics of a strange youth detracted from its potency. This weird long haired gentleman was playing with a huge male phallic symbol right at the front of the stage . The long thin balloon , probably about 20 foot high, obscured the stage. I found it a drag , but he seemed delighted with himself. Presumably the poor youth had some sort of physical problem and the balloon provided compensation, he was eventually told where to go !

---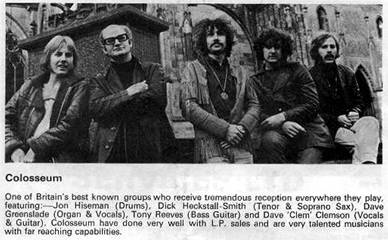 | | |
| --- | --- |
| | |
This special offer expires soon

Hi,
Thought you might like to know that the above book will be published on next week, on the 20th October through Jon's own publishing company - Temple Music.

It's called "Playing the band..." and covers Jon's life in music spanning four decades, playing with many of Britain's top musicians and relates their experiences at the 1969 and 1970 Bath Festivals (which I have sent you an extract about earlier).


As it's being published independently, we could use all the online promotional help we can get, so if there's any way of you mentioning/posting it as part of your excellent website...we'd be really grateful.


Thank you.

Colin Richardson

Colosseum at the Bath festival
---
Hollywood festival menu
Many thanks go to Garry Marsh for his fantastic archival material which has enabled us to construct most of the site. Also to Martin Williams for his oral history and colour photo of the stage and site ,Simon Phillips for all the Grateful Dead archival material and Bob Colover for the film footage .
---
We have been endeavoring to collect audience or sbd tapes of the performances at this festival , so we can effectively review the performances, provide set lists and band line-ups. The intention is to also display as many personal histories of the festival as possible.
If you can contribute in any way, with tapes, reviews from the music press, photos or personal histories, please Contact us.
---