The Archive.
Updated September 2009- New photos of the Dead , the site and Family
For best results view at 1280 x 1020 or higher
Big thanks to our sponsor Neil !

For information on today's festivals see eFestivals.co.uk
---
THE HOLLYWOOD FESTIVAL.
Madeley, Newcastle-under-Lyme,
Staffordshire,
May 23rd and 24th 1970.
---
The Grateful Dead. Part 1.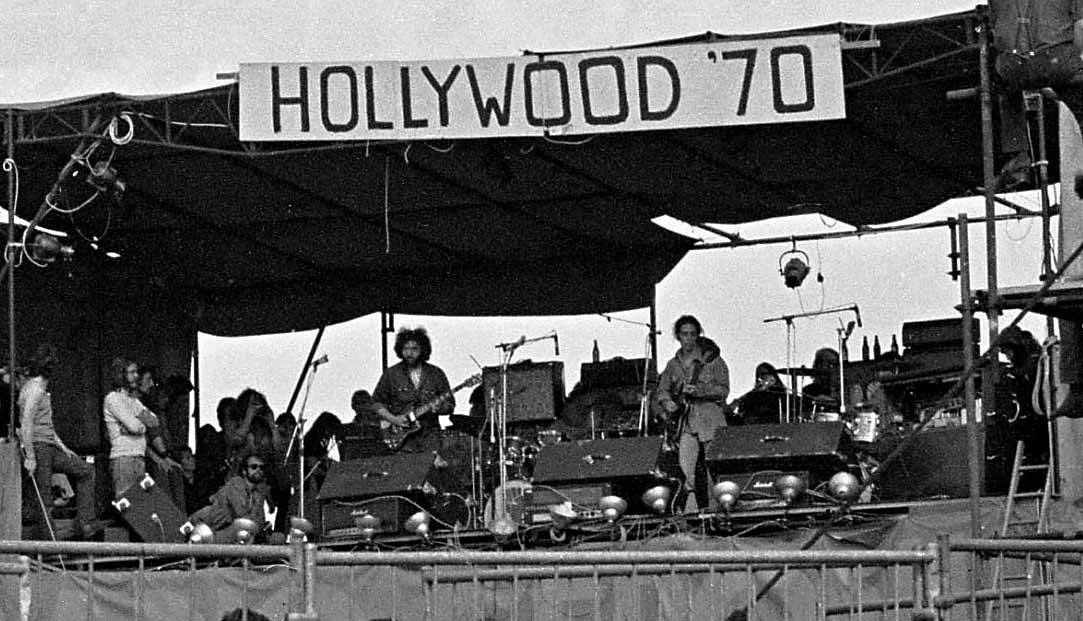 The Grateful Dead onstage at the Hollywood Festival 1970 © The Tone
Setlist
Casey Jones
China Cat Sunflower >
I know You Rider
Hard To Handle
Me & My Uncle
Cryptical Envelopment >
drumz >
The Other One >
Cryptical Envelopment >
Attics Of My Life.
Good Lovin' > drumz >
Good Lovin' .
Cold Rain and Snow
Dark Star >
St Stephen >
Not Fade Away >
Turn On Your Lovelight.
---
The Grateful Dead went on around 4:30 on the Sunday afternoon, after having driven up from London by coach . By no means top of the bill, but many people had come to hear them out of curiosity to see if they were all they were cracked up to be . Their own stage crew had worked like trojans to improve the sound and the set was recorded - as usual, by their own sound man . Thus very good quality tapes exist and are pretty easy to find .Unfortunately , the BBC TV crew who were supposed to be filming the show were allegedly dosed on Owsleys finest and the footage was unusable as the cameramen were totally out of it - so we have the Dead or their followers to blame for this event not being preserved for posterity.The only footage known to exist is two or three minutes shot by Bob Colover on standard 8 as well as a few brief shippets on a short amateur-but very well filmed , silent movie of the festival , some stills of which we have featured here .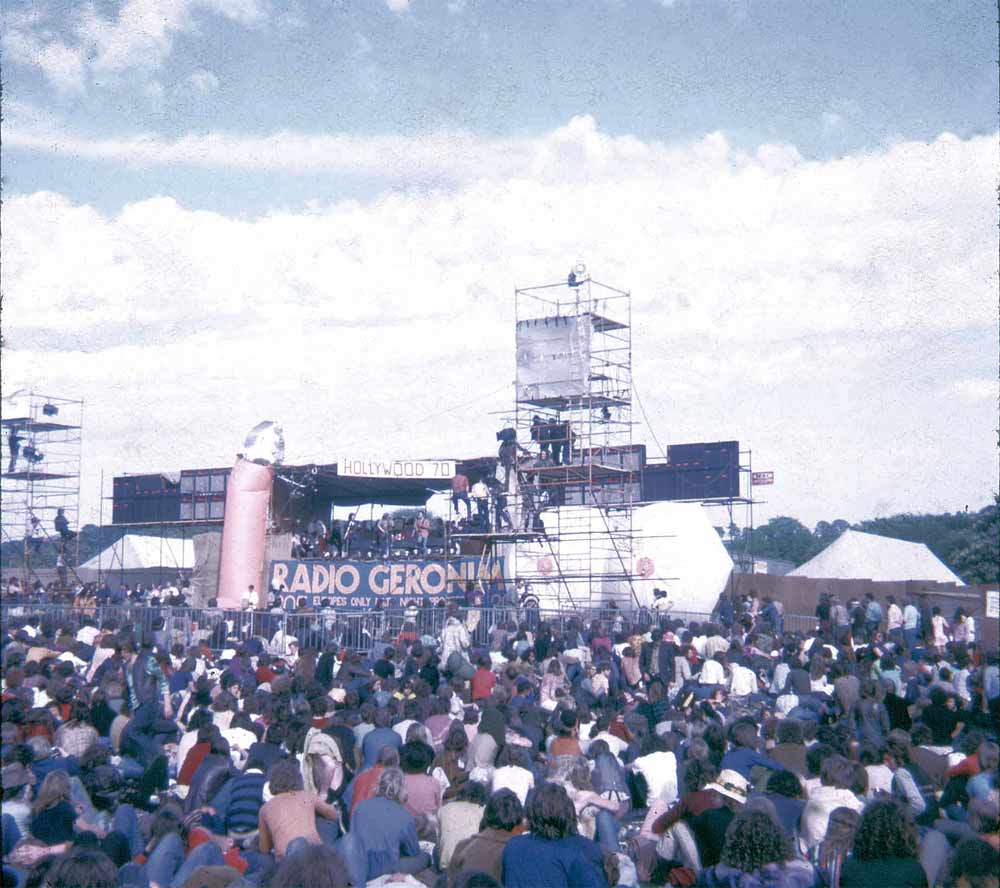 The Dead and inflatible friend © Dominic Boddington
This set features the electric side of the Dead, whereas back home they were splitting their sets into Acoustic and Electric sections, and playing a lot of the songs that were to feature on the soon to be released " Workingman's Dead" . This show was more like the sets which we were all used to hearing on the brilliant live double album Live Dead. Extended instrumental work outs such as Cryptical Envelopment interspersed by vocal extravaganzas on Good Lovin' and Turn On Your Lovelight.The latter featured Pigpen , who was the Dead's nearest thing to a front man in those days . Pigpen had a pretty high profile still in 1971, a role that gradually diminished due to encroaching illness before he eventually succumbed to liver failure in 1973. This was the only time that Piggers played at full strength in the UK and I wish to god I'd been there as when I saw him at Bickershaw in 1972 he was not really much like his old feisty self.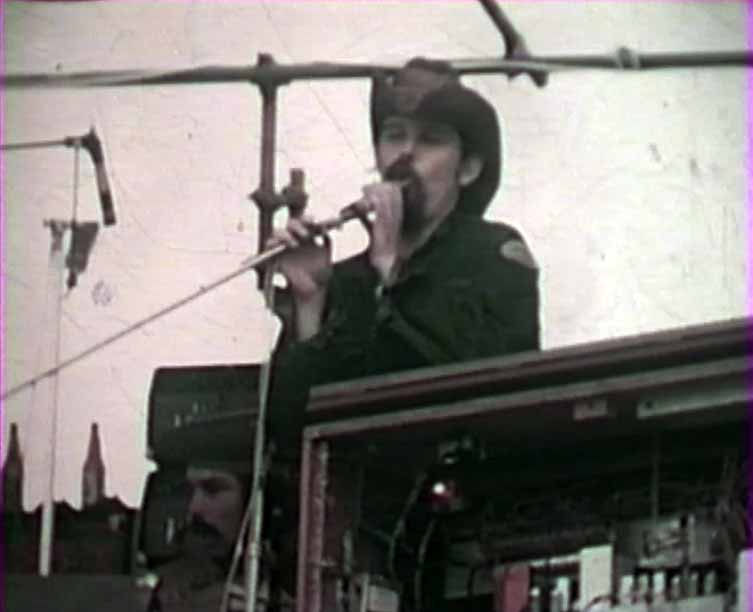 Piggers and Micky
Certainly this show was very well received by those who liked the Dead's sound .However there were also many in the audience who left to go walkabout when the Dead were onstage. Frendz magazine correspondent Dick Lawson was blown away by Dark Star .

During Dark Star, we lost reality and soared. Above the canopy over the stage , at an exact ninety degrees to the scaffolding and at a height of 30 thousand feet , a sliver dart crossed the sky , blazing a double vapour trail. It split the air in two ,cracked the sphere. The brilliant blue crumbled. Nothing . Empty , void, It was as if Captain Trips had been waiting for that moment , expecting it to happen ,. He picked up the pieces and carefully reassembled them the way he wanted , each note a truer, whiter, blacker high . They moved into the thunderous crashing , bouncing earthquake of St Stephen and softly into Turn on Your Lovelight . Pigpen moved around to the front , adding his demonic presence to Garcia's white hot guitar . We were then starting to be with them , carried up. , out of our bodies , clapping in time for five minutes or an hour with hand's that were no longer ours.
Dancing to the Dead
---
Later that week, in the few hours before he flew back to the States, Jerry Garcia talked about the gig:
I don't think we played well. I think it was getting good; it was starting to get good; we were getting used to the sound of it, and the feeling of it, and the people were starting to get enthusiastic. The way I feel, it was our function in that festival to loosen the audience somewhat, so everybody who followed had a good audience. When we came on it was kinda like, we didn't know them and they didn't know us. But anyway, I didn't feel that we played well, I really didn't. In a festival situation its kinda hard to get lt on. You can't compete with the outdoors.

September 2007
Just thought you might be interested in the attached correspondence. I emailed David Lemieux at the GD Vault suggesting that he puts up Dark Star from Hollywood in the Vault Tapers Section when May comes around. This was his response.

Take care,
Simon Phillips
"while sorting through the 1974 Grateful Dead Movie outtakes, all 16mm film, I came across several unlabeled cans of 16mm film. It turns out they were from 5/24/70, as apparently a camera crew followed the band for the 3 days
they were in England, including

40 minutes of footage arriving at the airport, band and crew
an excursion to a river where the band had loads of promo photos taken
shots at the hotel learning how to convert US money to pounds
walking around London
30 minutes of footage of the band at a Warner Bros. party for the band (hilarious. Pigpen when confronted with a camera and mic: "I ain't sayin' nothin'!")
the band rehearsing at a beautiful little theatre, where they jam an electric Man's World and an amazing version of Candyman
and, best of all, two songs from 2 cameras from
the show, Good Lovin' and Casey Jones.

I am very eager to do something major with this material. Being on film, it has held up quite well. I'll see about getting the Dark Star up in May, but I do recall the master audio tapes had some sonic issues."

David Lumieux

Another dancing Deadhead .....
---
Grateful Dead at the Hollywood Music Festival 1970
Stills of the Dead taken from standard eight film shot by Bob Colover
Hollywood festival menu
Many thanks go to Garry Marsh for his fantastic archival material which has enabled us to construct most of the site. Also to Martin Williams for his oral history and colour photo of the stage and site ,Simon Phillips for all the Grateful Dead archival material and Bob Colover for the film footage .
---
We have been endeavoring to collect audience or sbd tapes of the performances at this festival , so we can effectively review the performances, provide set lists and band line-ups. The intention is to also display as many personal histories of the festival as possible.
If you can contribute in any way, with tapes, reviews from the music press, photos or personal histories, please Contact us.
---