The Archive.
Updated September 2009- New photos of the Dead , the site and Family
For best results view at 1280 x 1020 or higher
Big thanks to our sponsor Neil !

For information on today's festivals see eFestivals.co.uk
---
THE HOLLYWOOD FESTIVAL.
Madeley, Newcastle-under-Lyme,
Staffordshire,
May 23rd and 24th 1970.
---
Unknown band onstage Hollywood Festival 1970© Dominic Boddington

Oral Histories.
The next festival was the best: Hollywood, in Staffordshire. I happened to be a student at Keele University, about three miles away at the time. The local entrepreneur who put it on hired students as gatekeepers, the madman, so it was rampant chaos from the word go. The Big Day was of course GD Day -their first concert outside of the Americas, happening hours after those cosmic moments when the bulk of American Beauty was written by Robert Hunter, awaiting the gig.
Anyway, the line up - burned into my brain for some biochemical reason: first off was Screaming Lord Sutch and the Flaming Groovies. Hmm. Followed up by a mediocre startup band called Black Sabbath. I recall thinking that I had never seen such an amphetamine-skinny speedfreak as their bassist. They were followed (or conceivably preceded) by a most excellent UK band called
Wildmouth - the UK's answer to Jefferson Airplane, but tragically, destined to total obscurity. They played a great set - the nearest to West Coast guitar of any UK band I ever heard.
They were followed by another UK classic - Quintessence. What a set!!! I saw them countless times, but this was one of their best sets I ever heard - Alan's guitar and Ram's flute rippling and zooming around the Staffordshire hills - phew! As I recall, lying flat on my back, even the clouds were
getting into it.
Then, Colloseum. Good, but not their best, that I saw. This was the time that they were doing the prodigous Valentine Suite, and whilst it was good, it was a bit too "organised" for that context. Then.......
The Dead. Oh yes, oh yes. Three years of listening and dreaming to solar anthems and all else, and here they bloody well are. A weird opener, tho, about a train driver on Cocaine?! Never heard that before. But soon it was classic Dead stuff. Tapes exist, I presume you have them. Dark Star was a highlight.
You can't follow that, it's just impossible. I believe there was a long break - I headed back and crashed - but friends tell me Traffic played a stunning set later in the evening.
And all for free!
Martin Williams .
---

Hollywood 70
I struggle to remember too much about this festival apart from the Dead as I'd only really gone to see them. I'd bought Anthem when it was first released in 1968 and Live Dead in 1970 so I was very familiar with all that material. I'd heard their first album and Aoxomoxoa only once each before the Festival so was unfamiliar with the shorter songs and I remember being surprised that their opening songs were so unlike what I'd expected if anything, I've got to admit to a sense of disappointment, but once they started Cryptical, it all started falling into place. Their set seemed so short. As ever, when you can see good music most weekends (I saw most top bands of the time on a very regular basis), you become pretty blasé, so seeing the Dead was really just another gig (ah! if only we could have our time over again!). I remember they played loud and their instrumental interplay was everything I'd expected. It was wonderful to hear the Live Dead material although the meltdown after the first verse of Dark Star seemed VERY strange when compared to the album version. I guess I assumed that, like many bands of the time, they'd "play it like the album". St Stephen was the defining song for me at the time. It was going through my head before the festival, on the walk to the festival site (from Keele Motorway services, down a dirt track called Hollywood Lane ? itís still there), throughout the weekend, and for a long time afterwards. Even now, at a distance of thirty years, the St Stephen riff, heard on an early tape, can often give me a flash of that weekend, in the same way that a distantly remembered smell can also suddenly evoke long-lost memories. This appearance holds a special place in my memory because, although I saw them 16 more times in the UK, this was my first and, as you point out elsewhere, it was the only one with Pig at his best.
I really wish with hindsight that I'd gone right down to the front to see them. We (my brother and two friends) sat about halfway back on the sloping hillside (a view similar to that with the smoke bombs in your web site photo) so, whilst we had a good view across the crowds, we were some way back. I'd forgotten about the inflatable penis and breasts until I saw your web site .I can't recall if they were there throughout or not. There was a farm track running side to side just behind where we sat and some of the artists were ferried in this way. I recall seeing Ginger Baker coming past in a pretty large flash car.
So far as the rest of the Festival goes I only remember bits and pieces. Black Sabbath introduced me to the sound of heavy metal (for which I never forgave them). Free and Colosseum were both excellent ,each of them showcasing their new albums ("Fire & Water" and "Valentine Suite" respectively). Why is there no mention of Free in the contemporary press accounts ? Mungo Jerry were certainly a kind of light relief after all the rock music and I, like everyone, beat empty coke cans together in time with their music. If I remember correctly they played both days because they'd gone down so well on the first. Family and Lord Sutch both turned in great sets but I can't honestly recollect any particular details about them.
I'm not sure that there were any toilets (we never found them) so most of the time during both days, the wooden panel fences which stretched right round to left and right of the stage (you can see them in the colour shot of the site) were hidden by an almost continuous line of guys pissing up against them. By the time Traffic and José Féliciano got to play it was dark and the thinning crowd began to build bonfires (mainly to keep warm) so the hillside took on an other-worldly atmosphere as people transformed into silhouettes against the flickering flames. Incidentally, my girlfriend at the time had a José Féliciano album so I know for sure that he played several familiar songs including Light My Fire, Don't Let The Sun Catch You Crying, and California Dreaming, plus some other songs which he sang in Spanish. He was just what was needed to see things out late at night.
Simon Phillips
---
I have derived a great deal of pleasure from the website, it brings back many happy memories -this was my first major festival and I was 16 years old and in the sixth form. I went with a schoolfriend. The primary attractions for me prior to the festival were The Grateful Dead who I had just discovered through " Live Dead " and Traffic. At the festival itself I actually enjoyed more some of the less well known acts - I particularly enjoyed Titus Groan , Mike Cooper ( who I subsequently saw numerous times ) , Quintessence and Trader Horne .I was ultimately rather disappointed by The Dead - their set was overlong and had too many drum duets for my liking : I remember a lot of people going " walkabout " the absolute highlights were Airforce , Traffic and Feliciano who I saw live not long ago in London ( he was still excellent )
I still have the festival programme which I advertised for sale and got a telephone enquiry from someone who was at the festival and whom I recommended the website to, this was one of my musical highlights along with Dylan at Blackbushe and The Sex Pistols in Huddersfield on Xmas Day 1977 ! I have lost touch with my friend , but I noticed the festival was featured in both the " I Love 1970 " and " Top Ten Summer Hits " TV programmes !
all the best
Terry Maunder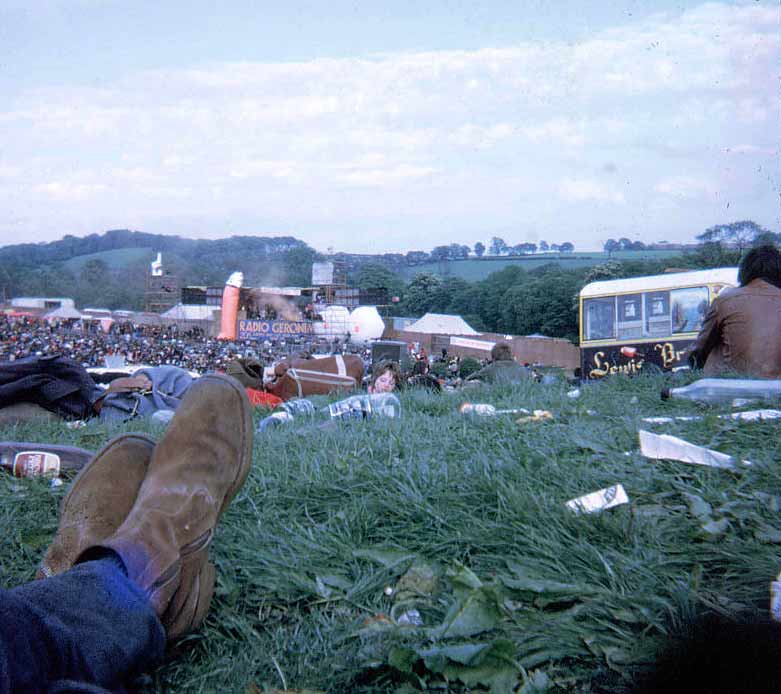 A flare - probably the one set off during the Dead's set , partially obscures the stage © Dominic Boddington
---
Just found your Hollywood site I was there to see the Dead and everything else was of minor importance cept maybe Free.There were two big pop singles released that weekend -In The Summertime and one by a singer called Linda Lewis whom Iseem to remember was on at Hollywood with Mungo Jerry but you don't seem to mention her.....maybe I'm wrong about her appearing but the d.j.'s played these songs all weekend.
Biggest surprise was Tony Joe White who was brilliant. I vividly remember the Angels bashing up the rhadna krishna temple in the early hours of sunday for making too much noise but you dont mention them either. I'll write again soon once I consult my fellow travelers
steve thornton
---
Hollywood '70

My brother, 2 years older at 19, & I were given permission by our parents (we knew it was the last time the whole family would travel together, so we did a big one: 7 weeks in Europe) to go hitchiking around for a week in England, so we went to the Lake District for a few days & then the festival. There were 3 that weekend, & we heard the one we went to was the best one. Journal says:


May 22, 1970, Friday: "Walked & got 2 rides to the [festival] site, caught up with a bunch of blokes & spent time with: Golly, John, Hughie, & Peter, 2 gals & a guy Bill from Canada. Smoked Bill's hash. Snacked & spent time in the tent with the boys or walked around. Good laughs with me mates. Felt good though uncomfortable in the tent (huge, it is). Watched people."
May 23, Saturday.

"Packed up & took our stuff to a big (but smaller) tent & sat around with those lads & their numerous pals waiting for it to start.

Went in the festival & sat & waited. They had records when no live bands. That day we saw Family, Airforce, Tony Joe White, others. Stayed up until early morn. No room in the tents so we slept outside."

Ectoplasm manifests itself from within a dancing deadheads nasal cavities during their set at Hollywood
May 24, Sunday.
"Cold night but sun came out & was hot. Met up with Monty & Suzanne but they left with out going in for conservation of funds.
We saw Wildmouth, Quintessence, Black Sabbath, Grateful Dead, Free, Mungo Jerry (crowd went nuts over them), Feliciano, & Traffic. Dug Dead, Traffic. Late night & cold. Got into a tent.

May 25, Monday.
"At 8:30 we were awakened though I was mostly already &
got kicked out & two minutes later the tent was down."

I remember the giant inflatable boobs & penis, which was jerked around more than once. Also remember seeing Screaming Lord Such butcher some old rock classics, the Radna Krisha Temple doing a large chanting, dancing performance dressed in Indian clothes & swirling incence in front of the stage that created a nice vibe. I was dismayed that the Dead would do long, lugubrious, & seemingly pointless versions of Good Lovin', Not Fade Away, & Turn on Your Lovelight. I was not very familiar with their records (though had heard them), & these songs seemed incongruous amid the psychedelia. I have obtained a low generation dub of the soundboard of their performance & now hear things I didn't then (for example I recognize the songs, still don't care for the drum solo). Much of it was very good, though some of the singing is as I remembered: out of tune (Attics for example).
Mungo Jerry's song "In the Summertime" had been released days before the festival & was I think already a crowd favorite from the record being played on site, so when they got on stage & people knew who it was or recognized the style, they were into it. There was such demand they played again on Sunday. I remember seeing the silhouettes of people on the ridge behind us, the fires burning, and thousands of people keeping the beat of the song(s) by banging pop cans together. The song hit the charts the next week, I guess from people who were at the festival who, when they got home, wanted a souvenir of that magical moment.
Tony Joe White played Polk Salad Annie. During Traffic, I band whose records I loved, I went down front & was right at the edge of the fairly high stage, looking up to see them perform. Probably the most intense musical experience for me that weekend. Ginger Baker's band was good but seemed so huge as to be musically unwieldy, as did Coloseum. The other bands didn't make much impression on me, except Quintessence who I liked (they sang Gunga Din I'm pretty sure).
I saw the Dead 4 times in the 1990s, never saw any of the other acts since though.
I went off alone, meeting up with the family a week or so later in Bournemouth where I attended a gig by Keef Hartley.
Craig Morrison. Montreal .
---
I went to this festival with my mate Kurt Hauck. We were in the 6th form together. He was from a tiny town in New York State (his dad worked for IBM in Winchester). (If you're reading this, Kurt, How ya doin' fella!?). We hitched from Eastleigh. We decided to go because I had heard that Captain Beefheart was playing and Kurt had heard that the Dead would be there. The Captain didn't show - but we had a great
time anyway. The weather was perfect
Grateful Dead
Kurt had just leant me "Aoxomoxoa" - my first hearing of the Dead. Once they had warmed up I found it almost unbearable that a group could be so loose in sound yet tight with each other. This was beautiful playing on a beautiful day.
Family - a wonderful set, with Chappo's vocals at their aggressive best.
Black Widow - everyone expected weird things from their proposed on-stage Black Mass. As it turned out they were a rather bland copy of Sabbaff ...
Free - Some beautiful guitar work from Kossoff
Jose Feliciano was the surprise for me. When he came on I thought "Hmmm! Bland rework of Light My Fire". After a couple of numbers I think people started to realise that this guy could play. He did a great version of "High-heeled Sneakers"
Airforce - seen 'em shortly before at the Albert Hall - much better than the albums indicate
Lots of other stuff was good too, like Traffic. There was the occasional duff group. Black Sabbath - boring.

(After the festival Kurt's parents picked us up and we went on a caravan tour of Wales. For my first meeting with Yanks- I was really lucky - what a great family they were!)
Hey! Why don't they do festivals no mo'?
John Cameron
---
I was 17 and hitchhiked down from Glasgow to the festival. This was my first festival and my initial impressions were of a medieval city. There were tents and pendants and everyone appeared to be in a great mood. I found a spot near the middle of the crowd but with a great view of the stage and stayed there for the whole time.
The highlights for me were Free, Family and Traffic. I don't remember the Coliseum and Airforce sets but I saw them several times over the years and was never disappointed in their performances. though I must confess an increasing weariness with Jon Hiseman's 20 minute drum solos. Tony Joe White and Jose Feliciano were surprisingly good sets. Mungo Jerry was a jug band but perfect for the crowd. I think we all bashed cans together in time to the music.
I recall the Grateful Dead being a nice laid back band and was impressed they had two drummers. I didn't know much about them at the time.
The background scenery was beautiful - rolling green pastures and the overall experience was such a natural high that I went on to the Bath and
Isle of Wight Festivals later in the year.
thanks for the great web site,
Geoff Hutchinson
---
Hi,
I was at the Hollywood Festival, at the time I lived in Germany. I travelled to England specially for that festival. I distinctly remember having a camera with me but the slides must be in my mother's attic in Munich and I will look for them next time I go there.

The music and atmosphere was wonderful - I am a great fan of Family - and I remember people saying afterwards that their performance was the best they'd ever heard from a British band.

Thanks for a great site !

Hans Glockner, Oxford, UK
---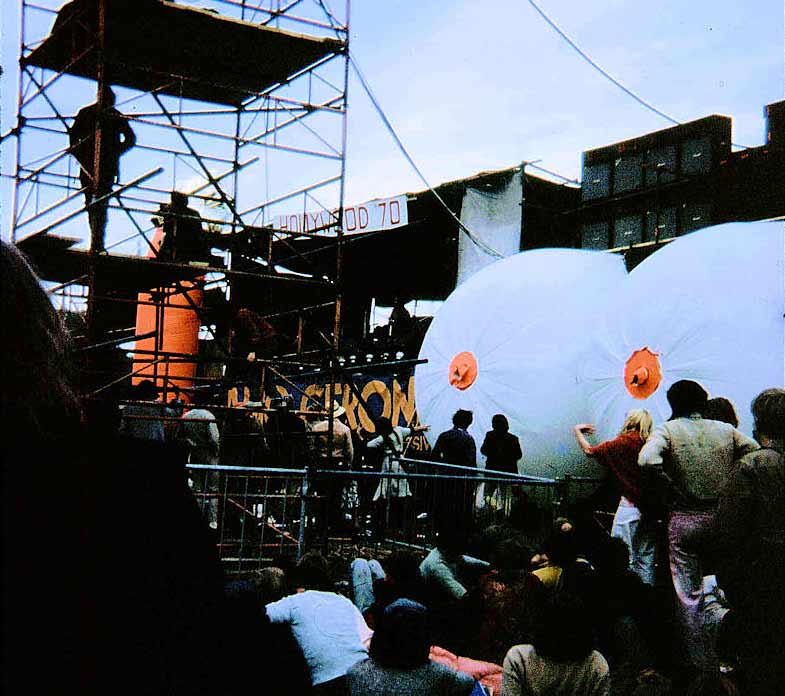 The giant titties ( but no beer ) © Dominic Boddington
My mate Ian Knight & I stage managed Hollywood as well as the Krumlin one & the Bickershaw festival & lots more things
Its interesting that these memories are being archived!
Best regards/Mit Freundlichen Gruessen/Cordiali Saluti
Huw Price
---
I also went to the Hollywood one. Got there Thursday on a Norton 125 and flopped the few quid deals I needed to offload to pay my way ; the day after some guy came round flopping about a quarter of the stick I flopped for the same price LOL.
Didn't think much of Dead, I was never much into West Coasty things, up north we tended not to be too Starshippy :) More into Eric Burdon and Pretties and Cap'n Beefheart. But Hollywood was a pretty cool festival, except I didnt like the huge mountains of rubbish that people kept burning, it got a bit out of hand. The camping was excellent there, on a kind of broad hilltop with nice views and very airy, you could sit round in a big group and keep cool.
Ian
---
worked in a bank at the time and had met up with one or two others who were wanting more than a mortgage on the cheap!

They used to meet at a pub known as the Animals in Chelmsford. The decision was made to go to Hollywood 70 and a van was hired,I borrowed some army tents from a friend who ran a cadet force and we left after the pub shut on friday night. Not a good idea!. Jon was sick down the back of my seat at least once on the way.
however we arrived and set up at godknows what time and got some sleep.

Everything fades into the background until the Dead came on on the Sunday. I wrote an article for the local newspaper about the journey and in it I said something like ; the Grateful Dead came on , the sun was out, the clouds were drifting across my vision as I lay back and listened and life was good!! I have subsequently got tapes of their performance and have enjoyed remembering that time with pleasure.


The journey back down the M1 was enlivened by having re-positioned the windsreen washers, we squirted into each police car window while singing OUT DEMONS,OUT. Ah the joys and innocence of youth.

Andy Hopkinson
---
Just discovered this site recently and it really brings back some memories (well, almost brings them back!).
My friend Pete and I were both 16 when we went to the Hollywood Music Festival. It was my first real rock festival but I have to say that my memory of it is pretty hazy. I don't even remember how we got there? We may have "hitched" there from our home town, Southport, but hitching wasn't always terribly successful! I do remember that we hitched to London later that same summer, intending to see Pink Floyd play in Hyde Park but we actually spent a great deal of time walking through Birmingham (I don't think that the M6 and M1 were even linked at that time?) and eventually managed to arrive in London the day after the gig!
As for Hollywood, we went mainly to see the Dead - I can remember the build-up and excitement about this being their first time coming to the UK. We knew their albums and also loved their whole "alternative/underground" Mythos. For some strange reason, at the time, we also thought that the name "Mungo Jerry", which we'd seen in the music press pre-festival, was hilarious and they just had to be seen too!?
The musical highlights for me were the Dead, Family, Airforce, Jose Feliciano and (though it may not be a particularly cool/hip confession), the previously unheard, Mungo Jerry who gave us a real rockin, good set, as I recall. Got to say though that after over 37 years my memories are more "sense impressions/feelings" than any claim to recall the detail of each performance.
I really don't know how anyone can remember the band sets in such detail after so long but it's fantastic to see the photos, posters etc. I have other random snippets of memory (social history!?) - people (including us) were wearing home-made jewellery fashioned out of beer can ring-pulls (I guess ring-pulls were pretty new then? Again, I can't remember!). I also seem to remember that the issue of "Oz" being sold at the festival was the (later-to-be infamous) "Schoolkids Oz"? I even thought that the mobile chip van was cool/the height of technological catering - we were so easily satisfied back then!
All in all, it was an amazing first festival and the first of many times that I saw the Grateful Dead (the next time was at Bickershaw in 1972 - I'm sure/hopeful that Pete and I are the 2 people standing to the right of the UEA flag in one of Roger Hutchinson's Bickershaw photos on your site but that may just be wishful thinking and Bickershaw is a whole different story anyway). To end - Does anyone recall where I saw what I thought (at the time) was a very witty/clever flag with the legend "Feed your Dead" on it? It was either at Hollywood or Bickershaw - anyone remember?
Mike Mcabe
---
Hi
This was my first festival, I hitched down from Cumbria with my mate on the Friday. I remember the Rhada Krishna Temple getting things started, followed by Screaming Lord Sutch. Family were next on, after that my memory is hazy on the running order. The highlights for me were Mungo Jerry, Titus Groan ( its always nice to be blown away by bands you have never heard of before), Quintessence were perfect for the Saturday afternoon slot in the sunshine. Free, Colosseum and Tony Joe White were also excellent. I didn't really know what to make of the Dead as it was the first time I'd heard them, I love them now. I was rather disappointed with Airforce, the sound wasn't that great. To my eternal regret we left before the Traffic set. All in all a great festival, lots of sunshine and a good atmosphere. As this was my first time I was eager to go to more, if they were all like this. My next festival was Krumlin nuff said.
Gardengnome
---
A group of a dozen military from the US Air Force base at RAF Alconbury, near Huntington attended this festival. A couple of us wore Army helmets and became targets of the Frisbie throwers. Someone did manage to knock my helmet off to the roar of delight of the immediate crowd. All in great fun.
I was somewhat bored by the Grateful Dead but Ginger Baker's Air Force totally layed us out, especially doing Sunshine of Your Love and the fantastic drum excursion he went on.
Black Sabbath was one of my favorites. I had seen one of their early concerts at the Corn Exchange in Cambridge where they did all the tracks from their debut album note for note. They were amazing then and at this festival, too. They needed more volume, though. A 3 piece band doesn't get all the effect necessary because of the expanse of the outdoors.
Mungo Jerry stole the daytime show. Who would have thought this? They were different with very upbeat stuff.

Outstanding memory of my first festival. I went to the Bath gig later that year, also. I didn't make the Isle of Wight due to my incarceration in military prison for being part of an anti war demonstration on my base. Oh, well ...

Russ
---
wandered onto your website in a fit of nostalgia after listening to some Grateful Dead and stirred some old memories. Not very clear ones as I wasn't actually in the festival but I did have a free seat because my family owned the pair of house at the side of the field and it was held over the half term break. My very aged grandparents lived there as well but they moved out for the weekend because there was a lot of anxiety about what would happen. We had the shotgun loaded just in case....

My older brothers managed to wangle free press passes out of the photographers who used our upstairs windows to get good shots of the crowd but I was only 13 and was less plausible as a journalist.

I'm surprised it's referred to as Madeley on your website because our address was Keele - if anyone wants to look it up on Google it's at post code ST5 5AH - the field between Station Drive and Hollywood Lane.


The reason there was a wooden fence across the field was (I think) due to my grandfather who owned the part of the field nearest our house, and leased it to Ted Askey but for pasture rather than music festivals. Still, it made good firewood.

All the best

Oliver Bloor
---
This is what I remember. It was 23 and 24 May summer 1970. The weather was OK but not brilliant. I remember a little sunshine at the festival but I may remember some rain.
We must have had sleeping bags with us but I only remember going to Sheepsfoot Lane and we must have got a lift there. Sheepsfoot Lane was, or is, a road in North Manchester where the traffic going in the general direction of Liverpool passed or passes. I don't live in that area now. We must have gone along the East Lancs because my next memory is of sitting on the roadside verge rolling a joint. This was at the junction of the M6 and the East Lancs. The slip Rd onto the M6. We shared the joint as surreptitiously as I thought it was possible to be. I was always careful, I think. We got a lift and I have this vague memory of a nice man and woman who took us to the A 500.
I don't remember how we knew to go to the A500. But through many journeys we seemed to get to where we were going, if not always speaking to each other. At times I think we were Laurel and Hardy. One stupid and knowing it it and the other stupid and not knowing it. For the life of me I can't remember who was Laurel and who was the fat one.
We got another lift, I think from an old ager in a big van.
Somehow he dropped us near enough so that we could walk it in a few minutes.
There was a pub. In retrospect it was probably picturesque. We had a few pints there, probably three or four but I wasn't counting as far as I remember. The beer tasted pretty damn good. There were Hells Angels. Kev started a conversation with one but was met with hostility. I wasn't terribly surprised since they all scared the shite out of me.
We moved towards the festival. The road went on forever and someone said that if we climbed the grass verge then we would be able to take a short cut. Thus we climbed and at the top we looked down on a vast festival site. I had never been at a festival before and it was loud, colourful and big.
There must have been a kind of entrance since we had to be stamped. The afternoon wore on and we lay on the grass and rolled a joint. A policeman stood a few feet away but he didn't seem to mind and possibly he would have accepted a drag or two if he had been offered.
Memories are hazier after this point but at some stage we met a group of lads who Kev knew. These were a group of about 5, maybe it was only 3, building workers from Newcastle. One or all of them drove a dumper truck on a building site.
The apparent leader was tall with an Afro hairstyle which made him seem huge.
They had brought an assortment of amphetamine type drugs with them.
There were seven of us sitting in a marquee which would be where we would spend the night. two girls came around. They were carrying a small brief case or suitcase. It appeared to be full of dope. They sold us some, or perhaps they didn't . I rolled a joint while I was in their company and I was quite confused because she was very critical of how I did it, and yet I was quite proud of my abilities. Then they moved on. If they had known how much my love for the dark haired one was true, then perhaps they would not have moved on. Still being well aware of how my inertia in declaring my love for girls had been so successful in keeping me celibate I took the bold step of thinking about saying something. I thought about saying "Why don't we curl together and allow the music and the romance take us to a new and overwhelmingly life changing and life affirming state, while I kiss strawberries from your thighs smelling the faint, but unmistakable, smell of your fanny."

Well if I had been Olly on a good day I would have, but being more "Olly at his most life denying", I asked something about the price of beer or fish and chips, and contented myself with cursing the day that she walked out of my sight in that marquee.

I must have discovered the price of Fish and Chips because I remember eating that very dish and being impressed enough to give the verdict that it was an excellent enough supper to almost stop you being hungry.

I remember Lord Sutch appeared and while his music was interesting enough I could not take my eyes off the two girls who were his backing dancers. I found it impossible to take my eyes off them and I watched hoping that an accidental disrobement from those scanty clothes would happen. My disloyalty to the girl from the Marquee who had so cruelly walked out of my life was evident, even to the Stan laurel in me, but, forgive me, I just couldn't help myself .

One of the five builders took a "Black Bomber". This was described by the giant in the Afro as the ultimate. Somewhere between Acid and Super Amphetamine, but stronger than both.

I watched in awe as this lad swallowed the famously powerful "Black Bomber", and waited patiently for the explosion.
Nothing happened.
Ginger Bakers Airforce played and there were some drum solos which I sort of knew in a Stan Laurel way that were, for all there brilliance and technical merit, still drum solos. Drum Solos are the very best quality Sow's ears, but when it is a silk purse that is needed to do the job, they can be challenging in a newspeak sort of a way.
Grateful Dead played and I failed to grasp their merits, which I came to like a lot a few years down the line.
Looking at the web sites it seems that Black Sabbath played but I thought it was Black Widow but I always did get confused by the two names.
We got a lift back to Rochdale from the Newcastle Builders and we stopped in Keele Services and we tried to freak out the staff and other road users by rolling a cigarette to look like a joint and pretending to pass it around. I hope that there was a part of me who saw how Naff this was, but in honesty I don't think I had the wit. I was a stupid kid in May 1970 but I was a genius compared to who I had been a couple of years before.

At the festival site there was a huge inflatable tent which we moved out of because we didn't think that we would be able to sleep for the noise. The DJ kept on playing Mungo Jerry's "In the Summertime"and I, sort of, got to like it.
Of course the toilet facilities were appalling, of course the food was really dreadful, of course the music was, at best, all right. The drugs were, only memorable because I can't remember much else except for an early morning walk, where I was either trying to buy some dope or not, around the site, when the smell of it all and the noise and the sense of wellbeing was about as complete as its ever been.
Draco
---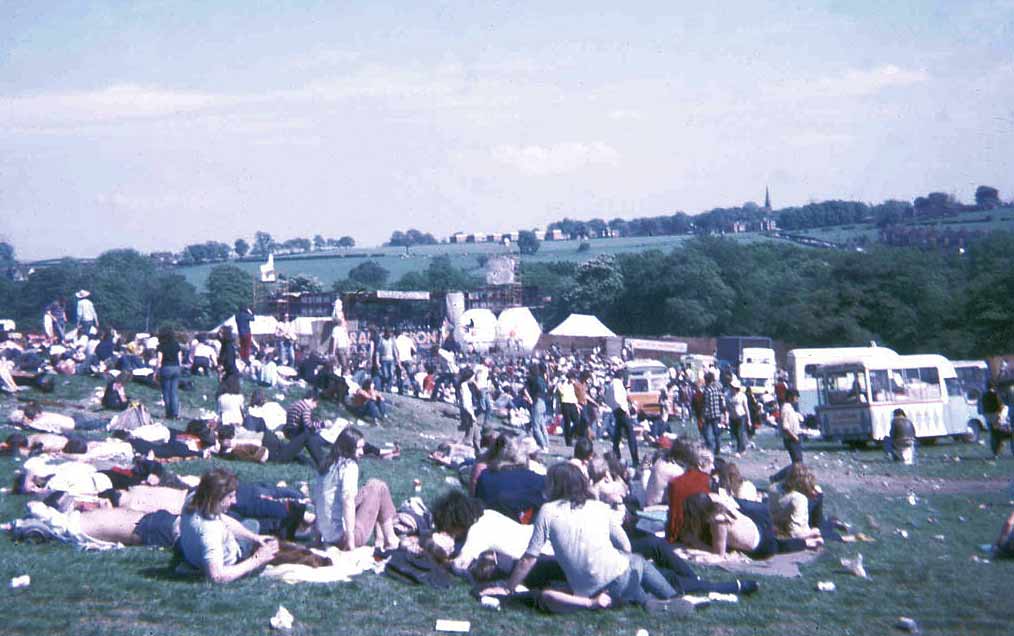 © Dominic Boddington
I've got a very nasty dose of 'if you can remember it, you weren't there' about this one. We certainly were there - Frank's van transported us, with police roadside checks carried out (successfuly!) on the way.

Grateful Dead were a very big draw on this bill - we were fairly comfortable with many others in the line-up (although now I can't believe they were all there), and Jose Feliciano sounded like a bit of a gamble. As it turned out, in my opinion, The Dead were put on when many people just wanted to eat/sleep/pee etc and so failed to get a real audience reaction. By contrast, the pub/jug band Mungo Jerry set the crowd alight, and were brought back to do the same again the next day. Jose Feliciano was a joy. He held the crowd in his hands, sang and played wonderfully - Light My Fire just had us all purring along.

The Hollywood 'bowl' was a perfect setting - the stage/sound down there, we were all sitting on the grass with a perfect view (except when the Hare Krishna boys came past). There were cases of heat stroke in the day, but at night the place was as good as a music venue you would ever want to be in. And of course, we were spared the rain. A superb weekend.

Keith Glazzard
---
1st real festival I went to apart from Buxton Blues festival.
Hitched down from Derby in the back of a limestone truck - arrived covered in white dust. Thnk my friend I went with was Flo (Johm) Nightingale
Particularly remember Mungo Jerry who went from obscure suporting act to being on stage again next days.

Nigel G Wheeler
---
I don't have much to add but remember Mungo Jerry being absolutely fantastic.
We travelled up from Shropshire to meet my brother who was studying at Stoke. My friend who was a journalist obtained press passes so that we sat at the front. The Hells Angels were a bit scary but nothing happened that I recall.
I remember Jose Feliciano also but had no recollection of The Dead or Free etc.
On the way up (in my Riley Elf !) a friend who we were taking had to stop in Shrewsbury at the Barber's so that he could buy a packet of three! He was with his new girlfriend that he subsequently married (and divorced).
Kind Regards

Edward W
---




Just came across your website for hollywood,1970. I was 19 at the time and hitch hiked down from rotherham, with a girl named twink, she was the typical flower child ,blond hair long dress and a green hooded cloak, me with my long hair kaftan and faded jeans, we didn't seem to have a problem getting lifts despite of this. lorry drvers being most helpful.

on arriving we sought out to meet up with friends who had gone down earler and had set up the tent on the top of the hill. the foto of the stage brought back memories - i'd almost forgotton about the huge prick and tits (didn't some one make them take them down?) could'nt remember much about the bands but jose feliciano stuck out as did traffic, free and family and of course mungo jerry.

they seemed to be playing in the summer time every five minutes and if i recall amazing grace by great awakening. the festival itself was very friendly, people shared joints during the sets and as for toilets you went where you could- the portables stank so much.

i can also remember the farmer coming round with bales of hay and throwing them on the ground, but i dont recall any mud or rain .didnt see much police presence even though there was plenty of dope around, i think there was a lot of bad acid going round and the announcer telling you be aware of it.
glad i found the site and reading other peoples accounts of their time there. heres to more.
kevin foster
Hi there,
No photos I'm afraid but I found it interesting to find the site and see what I could remember about the location. Don't know how we found it. The map had the site on the wrong side of the M6 motorway.
BR
Geoff Moss
---
Being 20 years old from Michigan, USA @ the Hollywood Festival May 1970 was a great experience for my friend Russ & I to say the least. We hitchhiked our way from London to Newcastle-on-the-Tyne and loved most of the British bands we'd seen. After all, we came to the UK because we were Anglophiles of the British Rock scene having witnessed Cream, Traffic, Soft Machine, The Crazy World of Arthur Brown, et al at Detroit's Grande Ballroom from '67-'70.

The highlight of the festival was Traffic at around 11pm doing "John Barleycorn" which had just been released. Also enjoyed Family, Free, and all the rest with the exception (Sorry to all you Deadheads) of Americans the Grateful Dead and Jose Feliciano. We went to the UK to SEE British bands!

I love this website and come back occasionally to check what is new. Keep up the good work.

Michael Bolan
---
If you were there, we want your memories, please, please, write them up before they completely fade away !
---
Hollywood festival menu
Many thanks go to Garry Marsh for his fantastic archival material which has enabled us to construct most of the site. Also to Martin Williams for his oral history and colour photo of the stage and site ,Simon Phillips for all the Grateful Dead archival material and Bob Colover for the film footage .
---
We have been endeavoring to collect audience or sbd tapes of the performances at this festival , so we can effectively review the performances, provide set lists and band line-ups. The intention is to also display as many personal histories of the festival as possible.
If you can contribute in any way, with tapes, reviews from the music press, photos or personal histories, please Contact us.
---