The Archive.
Updated September 2009- New photos of the Dead , the site and Family
For best results view at 1280 x 1020 or higher
Big thanks to our sponsor Neil !

For information on today's festivals see eFestivals.co.uk
---
THE HOLLYWOOD FESTIVAL.
Madeley, Newcastle-under-Lyme,
Staffordshire,
May 23rd and 24th 1970.
---
Ginger Bakers Air Force.
---
Music Now review.
There was a long delay before Ginger Bakers Airforce finally got going. You could sense the tension among the stage hands- like everything had to be right, this was a supergroup. To be quite honest I wasn't expecting them to be too good. The big hype thing had really got out of hand and I thought they might easily blow out. I was wrong.
They started with an interpretation of " We Free KIngs" with the three girl chorus dominating the vocals. The sound was big, rich and very jazzy . Obviously a great deal of rhythm stemmed from the pounding drums , with Baker driving the band on . Next came " Million Dollar Bash " which ran into a Ric Grech song " You Look like You could use a rest "which featured Graham Bond on Alto Sax . Denny Laine's vocal was practically drowned out by the three girls , in fact the whole thing was very loud and this detracted from , rather than enhanced the song. Again, when they slipped into the Grech song his vocal was drowned . A block of sound was hitting you but it was difficult to hear any instrument individually. I really couldn't pick out Graham Bond's work on Alto.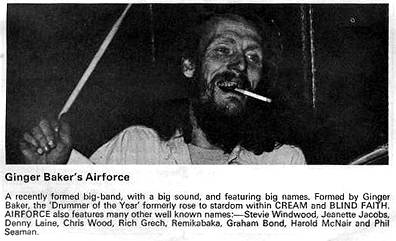 The problems in sound balance seemed to have resolved themselves when the band got into the next song, a bluesy song," I don't want to go on without you " This was slower , cooler , much less frantic and provided a platform for Denny Laine's voice. This was one of their best numbers. Everyone in the band was doing just enough , but nobody tried to overdo it. It was followed by an instrumental "Caribbean Soup " which immediately captured the atmosphere of sun, sand etc. Harold McNair wrote this one and he shone through on flute. "Early in the morning" was another slow, bluesy thing , Baker used to do this with Bond in the organisation . Denny Laine looked very much at ease with the vocal. It built nicely with the brass and they picked up the excitement beautifully. There is so much bounce in this band . They got caught up in tangle in the instrumental break, but they got themselves out of it easily. A good sign of how the band is maturing .
It was dark now and on the slopes surrounding the stage -the field was like a natural theatre, camp fires were burning . A few people danced around holding sparklers. It was a spectacular sight. You could feel the atmosphere growing . A great cheer went up as the band burst into the Cream classic " Sunshine of Your Love " . Baker took a five minute drum solo and everyone was up on their feet yelling . It was superb to see Baker in action whether you like drum solos or not. personally I don't , but here was a man very near the top of his field. You could sense the tremendous rhythm within his skinny frame, this was an excellent musician showing how the dreadful tag- superstar originally came about - the reception was ecstatic.
There was a lot more good music to come from the band including their single "Man Of Constant Sorrow," but for me Bakers drum solo was the high point of the set , in fact of the day. Airforce also showed cynics like myself that they are a very good band despite all the hypes and sensationalism. They proved it in the best possible way - by playing a thoroughly sound and entertaining set.
Set list.
We Three KIngs
I Just Don't Want To Go On Without You
Caribbean Soup
Million Dollar Bash
You Look Like You Could Use Some Rest.
Sunshine of Your Love
Man Of Constant Sorrow
Press report.
Ginger Bakers Air Force played for about two hours and were phenomenal .

Ginger is obviously the driving force with his superb command of the drums, but the massive squadron on-stage with him generate a powerhouse of noise that really gets a the audience going .It took a little time to really get together but when it did it was tremendous.

Denny Laine recaptured a lot of the Moody Blues feel on I Just Don't Want To Go On Without You and got a lot of loud applause- obviously a lot of Moodies fans about there. Bob Dylan's Million Dollar Bash had a new treatment that had Ginger going berserk and the newly married Graham Bond producing some fine sounds from his organ . Three girl singers provided excellent vocals that were too good to be called backings.

Rick Grech's You Look Like You Could Use Some Rest. from the new album, had Graham on alto sax contrasting nicely with the brass. After the tepid reviews I've been seeing about the group , I was happy to see them all proved wrong .
Personnel.

Ginger Baker - drums.

Phil Seamen - Drums.

Denny Laine - Guitar/vocal

Graham Bond - Organ , Sax.

Harold Mc Nair- sax ?

Colin Gibson - sax ?

Rick Grech - Bass.


and others.
---
A selection of stills of Airforce from 1970 or 71.
Hollywood festival menu
Many thanks go to Garry Marsh for his fantastic archival material which has enabled us to construct most of the site. Also to Martin Williams for his oral history and colour photo of the stage and site ,Simon Phillips for all the Grateful Dead archival material and Bob Colover for the film footage .
---
We have been endeavoring to collect audience or sbd tapes of the performances at this festival , so we can effectively review the performances, provide set lists and band line-ups. The intention is to also display as many personal histories of the festival as possible.
If you can contribute in any way, with tapes, reviews from the music press, photos or personal histories, please Contact us.
---