The Archive.
Updated September 2009- New photos of the Dead , the site and Family
For best results view at 1280 x 1020 or higher
Big thanks to our sponsor Neil !

For information on today's festivals see eFestivals.co.uk
---
THE HOLLYWOOD FESTIVAL.
Madeley, Newcastle-under-Lyme,
Staffordshire,
May 23rd and 24th 1970.
---
Family.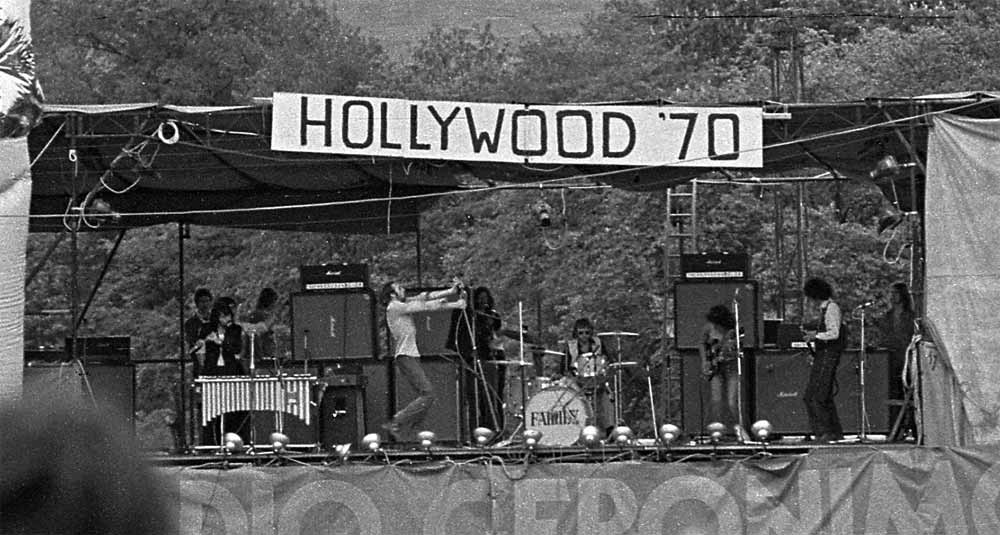 Family onstage and live at Hollywood 1970 © The Tone
Personnel.
Roger Chapman - vocals
Charlie Whitney -guitar.
Johhny Weider- bass/violin.
Rob Townsend - Drums.
Poli Palmer - Flute , Vibes, Keys.

Partial Setlist
Wheels
How High The Li
Strange Band
A Song For Me
Encore
Love Is A Sleeper.
---
N.M.E report.
Family went on stage to a fantastic ovation that had even the hardened journalists climbing over scaffolding to see what was going on.
Its about time this fine group got the recognition they so rightly deserve and Hollywood could be just what they needed. Family's Roger Chapman really does freak out on stage , waving his sweater round and round his head , rolling and rocking about the stage , knocking the mike stand for six and shaking his bands about in such the manner of Joe Cocker . Strangely , none of this detracts from the music and if anything , makes it all the more exciting and original.
The act consisted mostly of album tracks , A Song For Me being particularly good . The title song from the third LP , it raced along and included a nice section of violin playing by Johnny Weider and Rob Townsend excelling on drums.
A first rate performance.
---
From the programme

---
Music Now Review.
Family also suffered from the fact that only a third of the final crowd had arrived when they went on-stage . Thousands were still driving, hitching or walking the last few miles to the farm. Some had arrived as early as Thursday afternoon , but many more were still on their way. The main feature of Family's set was the way that their music has changed , opened out , with the arrival of John Palmer on flute and vibes. Their recent American tour obviously had ironed out all of their teething problems .
Roger Chapman is still as fascinating as ever , his vocals sounding even more agonized these days. They did things like Wheels and How High The Li during which Palmer did some nice work on vibes . I liked the new song,. Strange Band but Song For Me left me cold. It was very long , with everyone taking a solo spot . It seemed like a lot of waffling was going on . Still the crowd liked it and they were called back to do another song Love Is A Sleeper. The new Family did alright.
---
More Family pages on this website -plus Photogallery.
---
Hollywood festival menu
Many thanks go to Garry Marsh for his fantastic archival material which has enabled us to construct most of the site. Also to Martin Williams for his oral history and colour photo of the stage and site ,Simon Phillips for all the Grateful Dead archival material and Bob Colover for the film footage .
---
We have been endeavoring to collect audience or sbd tapes of the performances at this festival , so we can effectively review the performances, provide set lists and band line-ups. The intention is to also display as many personal histories of the festival as possible.
If you can contribute in any way, with tapes, reviews from the music press, photos or personal histories, please Contact us.
---