Another really strange anecdote for me was at the end of 83. Hawkwind had played Silvermachine exactly at the solstice sunrise and right on cue a F16 sped across the horizon leaving a trail right through the middle of the big red ball emerging over the horizon like rings round Saturn.
Not that it was that unusual for the RAF to buzz the site occasionally flying precariously close to the top of the pyramid at ridiculous speeds ( this regularly used to happen when I lived in East Anglia , they were not supposed to go below 300 feet but you could see the pilots faces quite clearly when they strafed the village, rather frightening .Despite all complaints the RAF said they NEVER went lower than they were allowed to , which was bullshit -ed )
Pass the chillum george boooooooom shanker.....
At the end , we were taking down the pyramid with Here& Now +c rew and NikTurner after 6 days and nights of fabulous feasting , the weather was out of sight -glorious sunshine and blue skies. We got down to the last piece and top of the pyramid to dismantle when a storm appeared from nowhere. As I quickly undid the last few nuts and bolts and threw the few remaining scaffold poles on to a flat bed truck lightning and thunder rolled all around me, I was left looking down at the huge circle of flattened daisies that sid Rawles and I had dowsed at the beginning to locate the stage.
Turning, I headed for a teepee to seek shelter when suddenly I noticed a figure laying on the ground between me and the teepee. As I got closer he lifted his arm. "We enjoyed the festival this year" he said pointing with a finger toward the burial mounds.
"Thanks" I said. Looking at his face I was shocked to see that where his left eye should have been there was a black hole.
Nervously I hurried towards the teepee 25 feet in front of me to take a warm cup of tea from Nik who was inside
"Do you know what I have just seen"I said, turning round, "look."
But nothing . The figure had vanished.
"What" said Nik. A huge lightning bolt crashed into the centre of the stones. I shrugged my shoulders, lost in my thoughts, sipping on the piping hot brew. Was he one of the princes of stones somehow hologramed across centuries to thank me for our celebration ? . This was cosmic energy and way beyond the manifestations of divine synchronicity and discharges of weather magic.
God only knows.
big steve.
| | |
| --- | --- |
| | Tibetan Ukranian Mountain Troupe busses at Stonehenge free festival 1983 © Janet Thompson |
Big Steve talks about the 'one eyed' guy who told him they'd "enjoyed the festival", and then vanished. Eerily, something very similar and strange happened to me on the dawn when Hawkwind were playing. Here goes, and this is the first time I've ever committed this to writing.

As the sun rose over the heelstone, and Hawkwind were grinding their way into the daylight, I looked around me at the folk who were stood and sat all around within the huge circle in the centre of Stonehenge. The usual array of stoners, hippes, bikers, witches and druids were my companions that morning.

But one group caught my attention. They were seven or eight young men, about my age (I was 22 at the time), and they looked very happy and excited. They werre about 15 feet away from me. They all had long and well-washed hair, (neatly trimmed,) and were clan shaven. Their clothes were soft leather jerkins over leather trousers and moccasin style knee length boots, some were in brown, some in grey, and almost all their clothes were identical. The clothes were stitched with strips of leather too, but done with twists and knots that made them look superb.

right: Inside the TUMT marquee- Henge 1983 © Janet Thompson
Some carried long staves, slender and decorated with plaited leather sections. The wood was polished - not varnished. Some of the guys sat on the smaller stones, which others lounged about beside them, they stood idly chatting, laughing and grinning at each other, almost as if they had got into a major cup final - for free. They pointed things out on the campsite to each other, nodding approval at the tents and banners. They were clearly elated, and really very pleased with what they saw.
I watched them for about ten minutes, marvelling at the similarity of their clothes and the wind blowing their long hair about. I imagined they were some kind of back-to-nature bikers, probably with a keen interest in advanced leathercraft...
Then I looked away for a few moments to look at the druids, and when I looked back, the group of guys had vanished. Completely. But the space where they had stood and sat, was empty - though we were all hard packed together within the stones. Other people moved to stand or sit where they had been. A few people were looking puzzled, but in that atmosphere (after a long night of psychadelic excess) I guess they just thought they were gettting some kind of flashback or something.
I personally wasn't wrecked or stoned, and was even reasonably sober.

I've never mentioned this since to anyone except my wife. But Big Steves account of meeting the 'one eyed man' brought the whole scene into focus again for me. Twenty five years on, I can still clearly see those guys in my minds' eye, and still feel their great sense of elation and deep love for the festival. I wrote reports of that years' festival for several music magazines that I was contributing to at that time, and while I was tempted to mention the incident with those guys, common sense dictated that my editors would probably scrap that section as being just too way out...

I wonder if anyone else remembers them appearing/dissapearing that cool morning? Were/are they the Guardians of the Stones? Travellers from another age or dimension? I have no idea - just a lot of conjectures and theories. But one thing is for sure - they were absolutely loving the event!
Tim O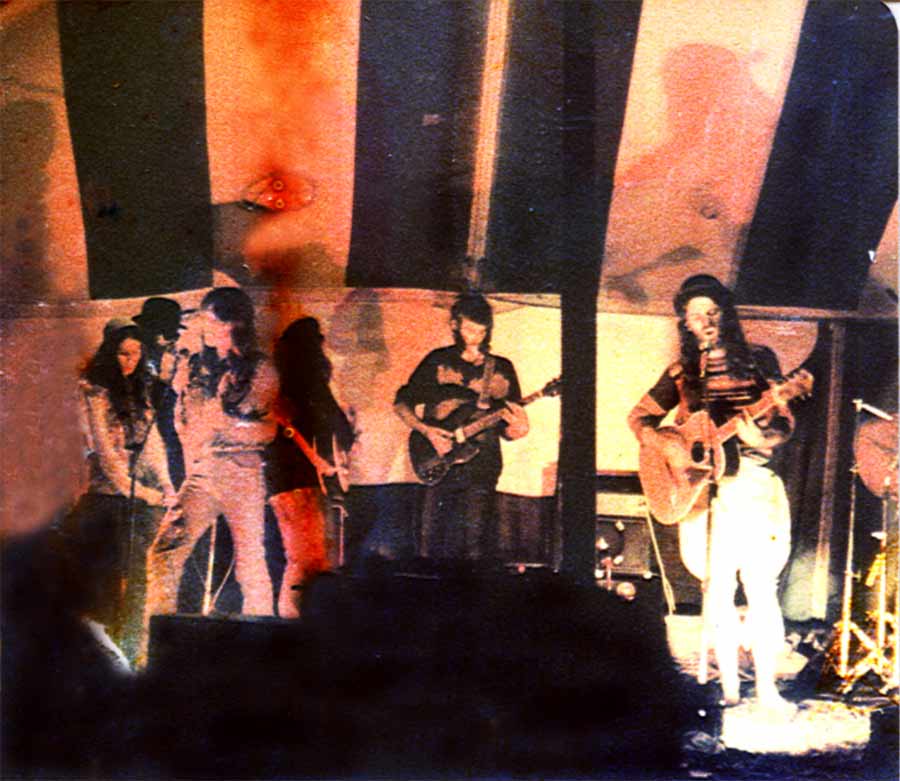 The Wystic Mankers play the TUMT tent Stonehenge 1983 © Janet Thompson
( image restored by Reverend Barker )
---