The Archive . updated July 2021
---
Big BIG thanks to our sponsor Neil !

For information on today's festivals see eFestivals.co.uk

The eBook Al Stokes' Stonehenge Festival photographs

is now available to view, free gratis and for nowt Here

Order copies of these comics by artist Pete Loveday

"I know Pete Loveday's work well, and I love it! ": Hunt Emerson- cartoonist extraordinaire...
---
"Could that many people gather together today with only minimal communal organisation and such a relatively small amount of trouble but so much pleasure? The question is irrelevant. They would never allow us."
---
Stonehenge Free festival .

1976.

Above; The stones viewed from the campsite circa 1976 © Garry Bodenham
As was to be expected , the tabloid press had a field day , focussing on the nudity and exaggerating like hell.
The 3rd Festival in 1976 increased in size to 5000 at its height and although the first day was wet, cold and very windy ,causing havoc to those erecting domes and tents, the following weeks were scorching hot and cool shade was at a premium. At its height the site boasted six stages around the site with one main built stage. This was the price of success as in the centre of the sprawling site at night, a cacophony of music created an unpleasant sound environment as each band polluted the other with their music.

Here & Now, from Bath, played a good set that was now sounding more like Gong than their original generic Hawkwind sound. The festival lasted for 10 days with no real trouble , the highlight being the ceremony of scattering of Phillip Russell/WallyHope's ashes around the Stones (below left ) . Long hot lazy days and short cool nights repeated each other identically until each day blended into the other as time passed.

Roger Hutchinson

© Estate of the late Roger Hutchinson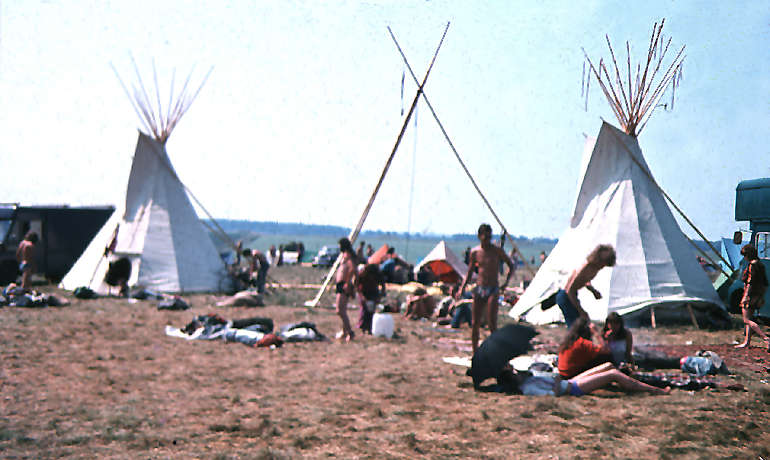 © Garry Bodenham
| | |
| --- | --- |
| The revered Ashes of the late Wally Hope© Nigel Ayers | map courtesy Roger Hutchinson |
© Garry Bodenham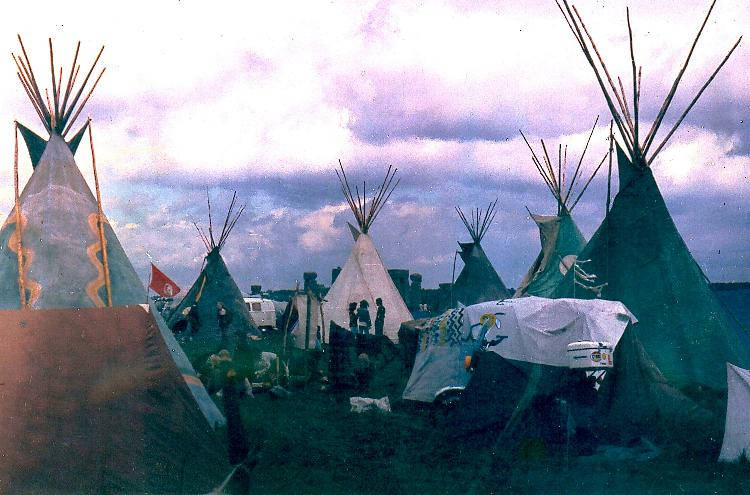 Tepees at the 1976 festival. © Roger Hutchinson
Henge campsite 76 © Convoy Steve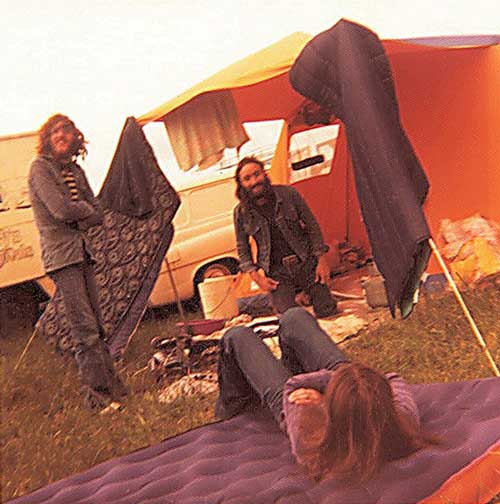 Our old buddies The Maroose ( AKA Phil The Beer ) and Cec at Henge 76 with unknown friend © Convoy Steve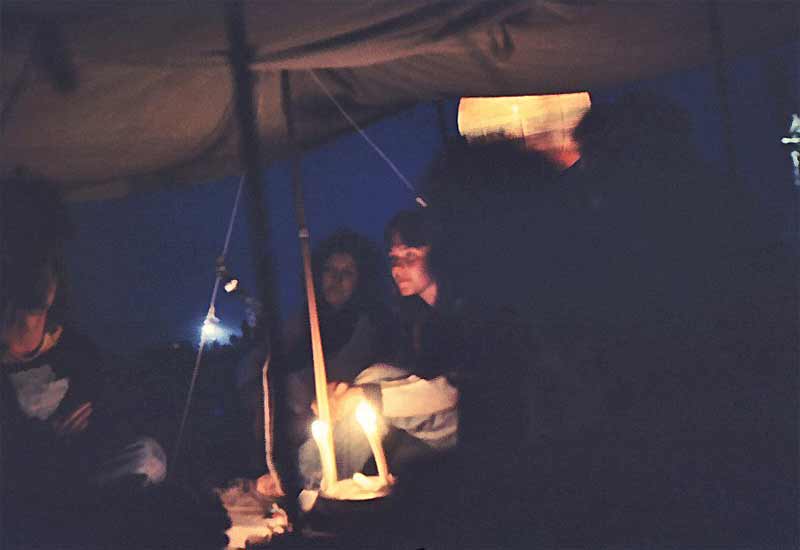 © Roger Hutchinson
Stonehenge-1976
I'm not certain if this was 75 or 76. The weather was fine and we were in the field right next to the stones. I think I rode there by motorcycle and met My Mentor who had arrived by Morris Minor.
I think this was the first year they had a barbed wire perimeter fence round the stones so you couldn't get close to them. At the solstice sunrise, the druids and attendant photographers did their thing in virtual silence in the middle. Inside the perimeter and evenly spaced round the outside were a ring of poicemen who were clearly part of the ritual. They stood, hands clasped behind their backs gently rocking on their heels. Just outside the wire there was a stage playing music, painted and robed people dancing, and the usual festival scene. A vivid memory was seeing a very tanned and tattooed middle aged man sitting cross legged in the middle of a transparent geodesic dome reading the Guardian.
That day and the next were spent in a stoned haze lying on my back in the sunshine playing with a stunt kite. There were a lot "things" in the air in those days. And not just my kite.
Hi.
I have a 6 photos that I took at the 1976 Stonehenge Free Festival. One shows sunrise on the solstice (or what passed for sunrise .... the sun didn't manage to break through a water-filled sky until well after the appointed time), and 5 showing me & my friends. Quality ain't great; back in those days I only had an Instamatic-50 camera, and no money to buy or process film.
We also went to '74, but no money. so no photos. The night set that Zorch played still rates as one of the most memorable moments of my life. Pity about the power-cut ... things were just getting beyond interesting.
Pobble
---
Clippings courtesy of the late Roger Hutchinson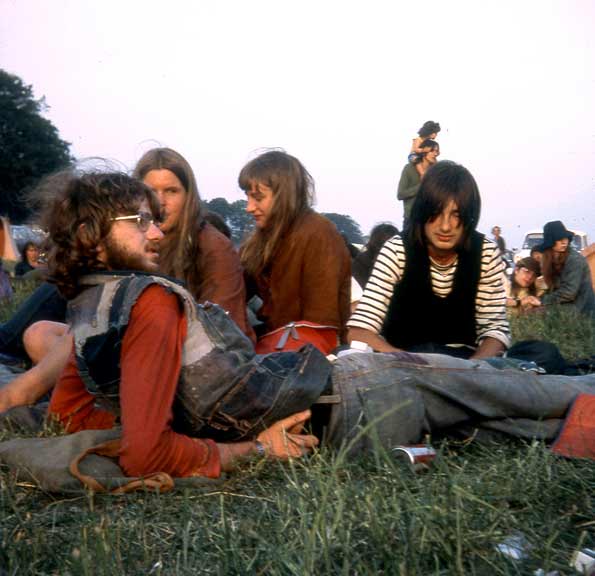 All photos feature folks from Bristol © Pobble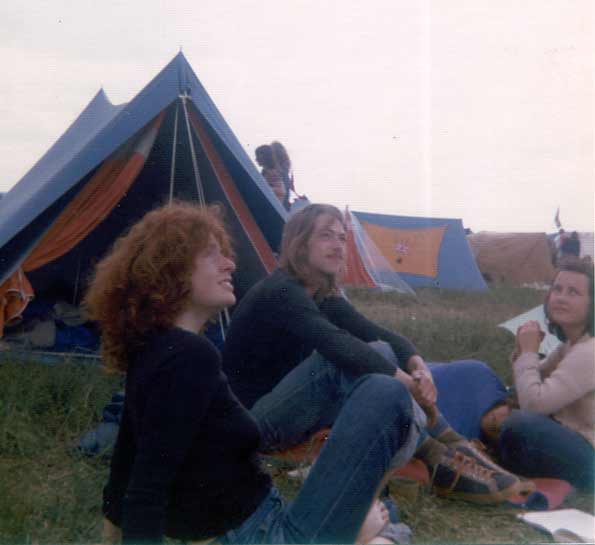 © Pobble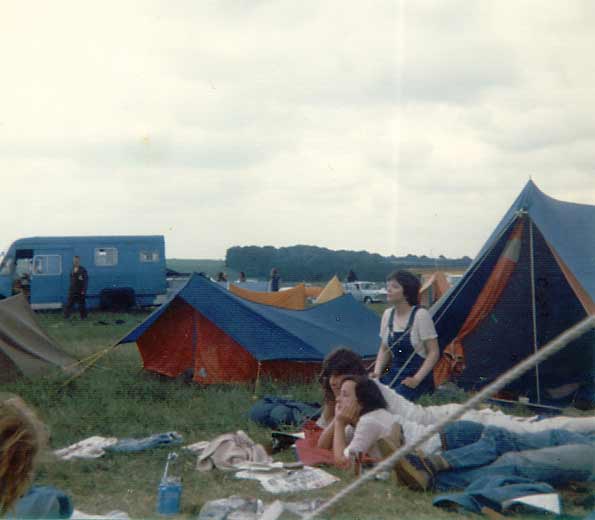 © Pobble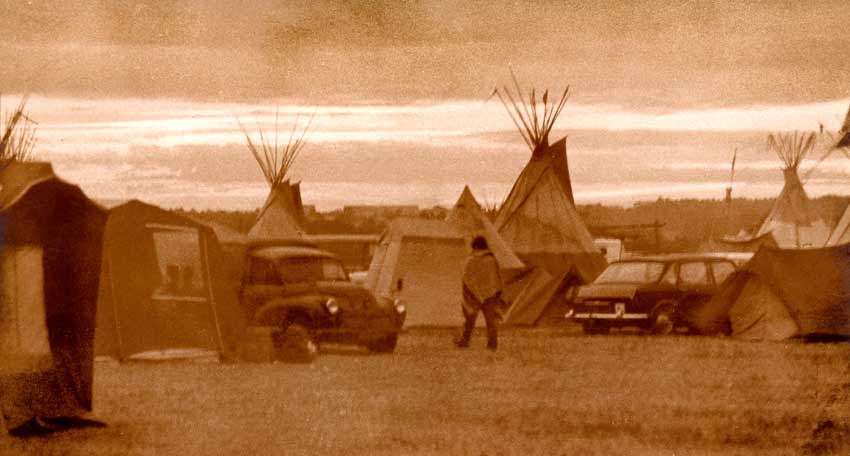 © Pobble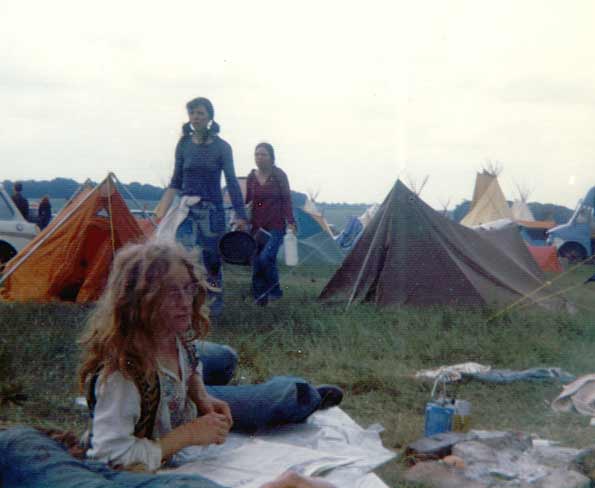 © Pobble
© Pobble
---
Photos of 1976 festival courtesy of Roger Hutchinson ,Nigel Ayers , Convoy Steve ,Garry Bodenham , Jo and Spike and Pobble.
---
Henge Documents
---
Henge History :1972-1984