The Archive . updated July 2021
---
Big BIG thanks to our sponsor Neil !

For information on today's festivals see eFestivals.co.uk

The eBook Al Stokes' Stonehenge Festival photographs

is now available to view, free gratis and for nowt Here

Order copies of these comics by artist Pete Loveday

"I know Pete Loveday's work well, and I love it! ": Hunt Emerson- cartoonist extraordinaire...
---
Stonehenge Free Festivals chronology.
Part 5 :1984.
---
"Could that many people gather together today with only minimal communal organisation and such a relatively small amount of trouble but so much pleasure? The question is irrelevant. They would never allow us."
1984
| | |
| --- | --- |
| | The ceremony at the Stones © Herb |
| | |
| --- | --- |
| 'Stonehenge free festival will be in action again this year, and the organisers are busy lining up acts for the main music days. Among those already set are Twisted Sister, Hawkwind, Brilliant, Flux of Pink Indians, the American rock star Thor, Omega Tribe, Attila The Stockbroker, Conflict, Tank, Natural Roots, Dawnbringer, Winston Smith and Galaxy Soul Shuffle. As the summer solstice falls mid week this year , the main musical activity is expected to be concentrated in the four days leading up to the the Glastonbury festival - namely Tuesday to Friday - June 19-22nd. Many people are expected to start camping on the site, day or possibly weeks, beforehand , remaining there until the end of June . ' | |
By 1984 , the festival site rivalled the size of a small town © Herb
In fact, the site was so much like a small town that even post seems to have been delivered , as proven by this wildly optomistic letter that was sent to the Tibetan marquee at the festival !

You can view more Tibetan Ukranian Mountain Troupe archival material here , lots of great stuff courtesy Igor, Will , Chazz, Celia , Tort, Graeme and Janet .
| | |
| --- | --- |
| | |
| Maps of the 1984 site | click to see readable versions |
| | | |
| --- | --- | --- |
| | Henge newsheet 1984 | |
photo courtesy of Luke B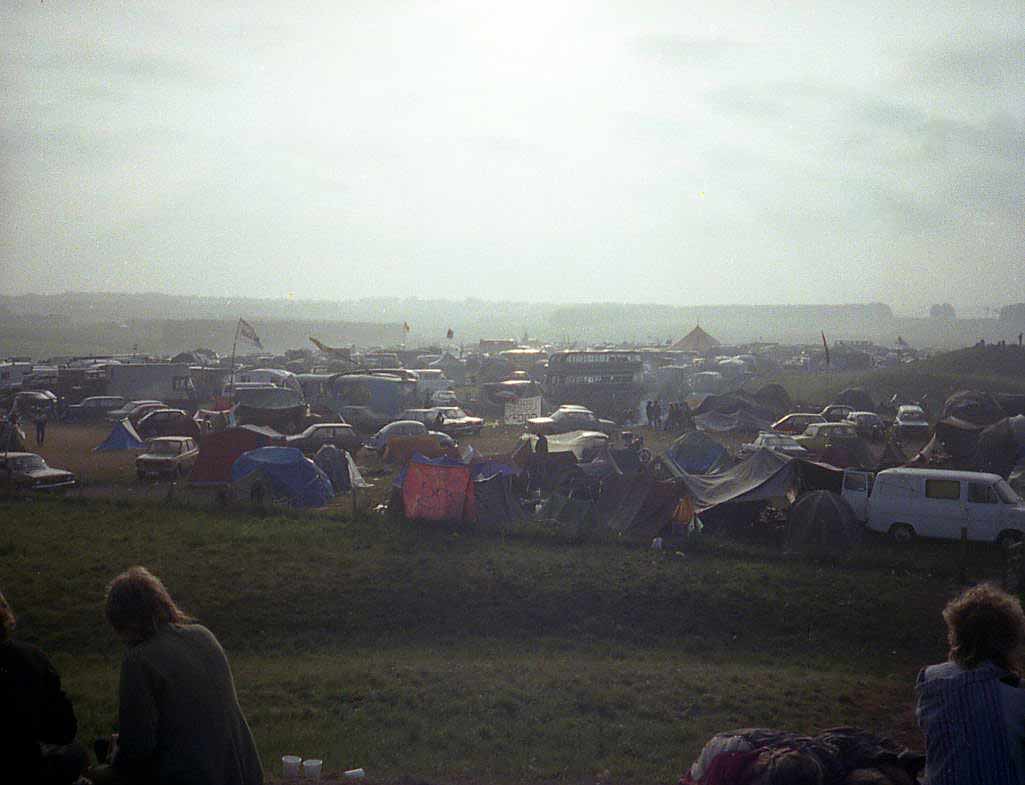 1984 site © Herb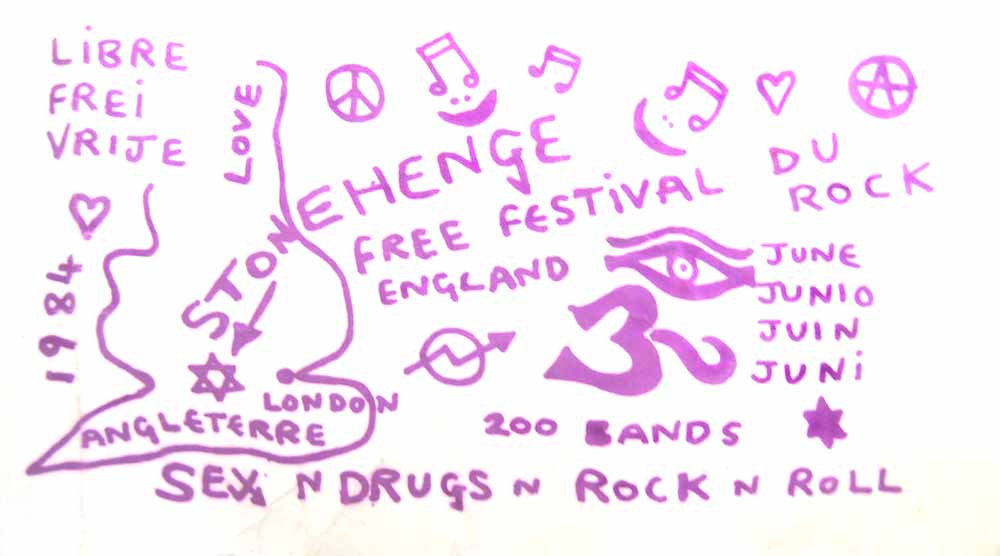 Flyer for 1984 courtesy Richard Arridge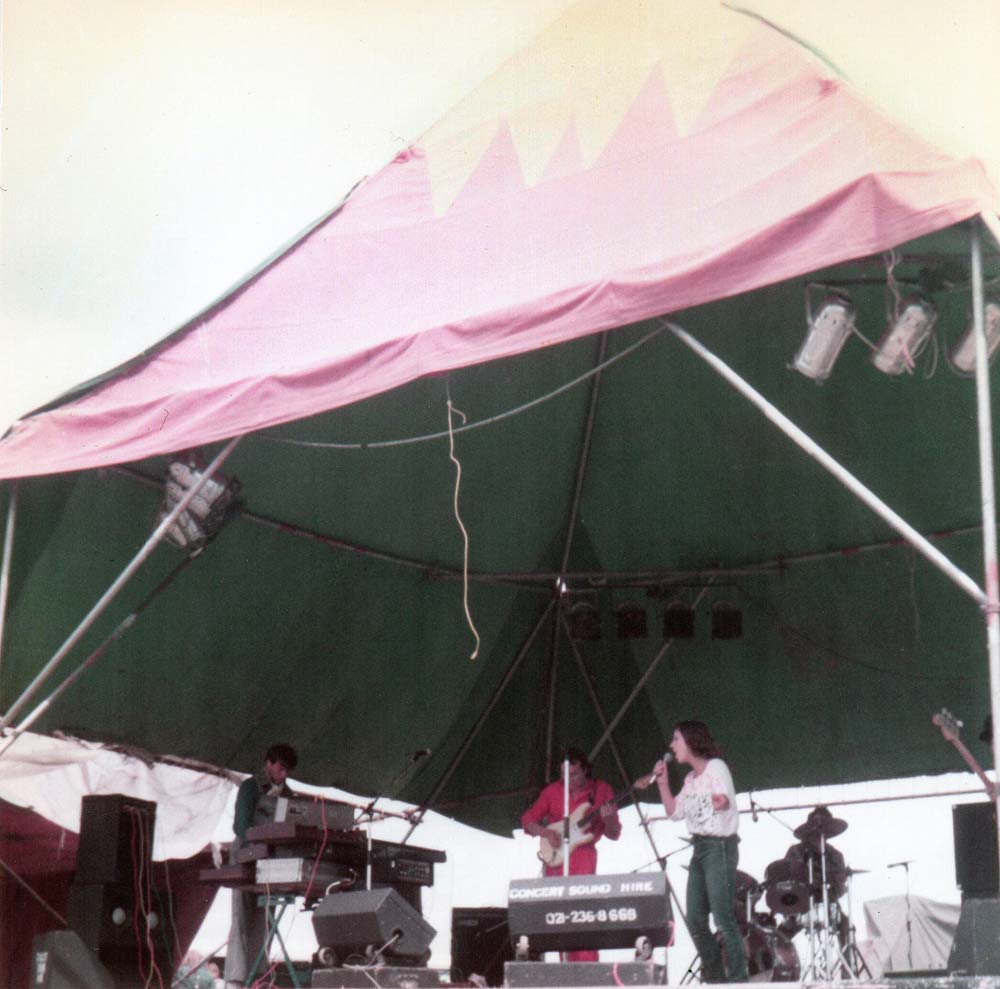 Unknown band pyramid stage 1984 © Milly Whizz
So just how was this all paid for ?
Convoy Steve :
"At the last S'henge me and bendy spent an hour a day extracting (with love) a tax from lots of the traders and the money was shared out amongst the rubbish collecting teams, the kids areas, festival aid (welfare), St Johns ambulance (medical), the main stage and other services - pretty together for hippies eh ? - all of the hash dealers bunged a wedge in as well to top up the coffers."

Photo © Kirky and Julie-Anne
Artwork of Stonehenge 1984 by David Stooke -to view more visit his website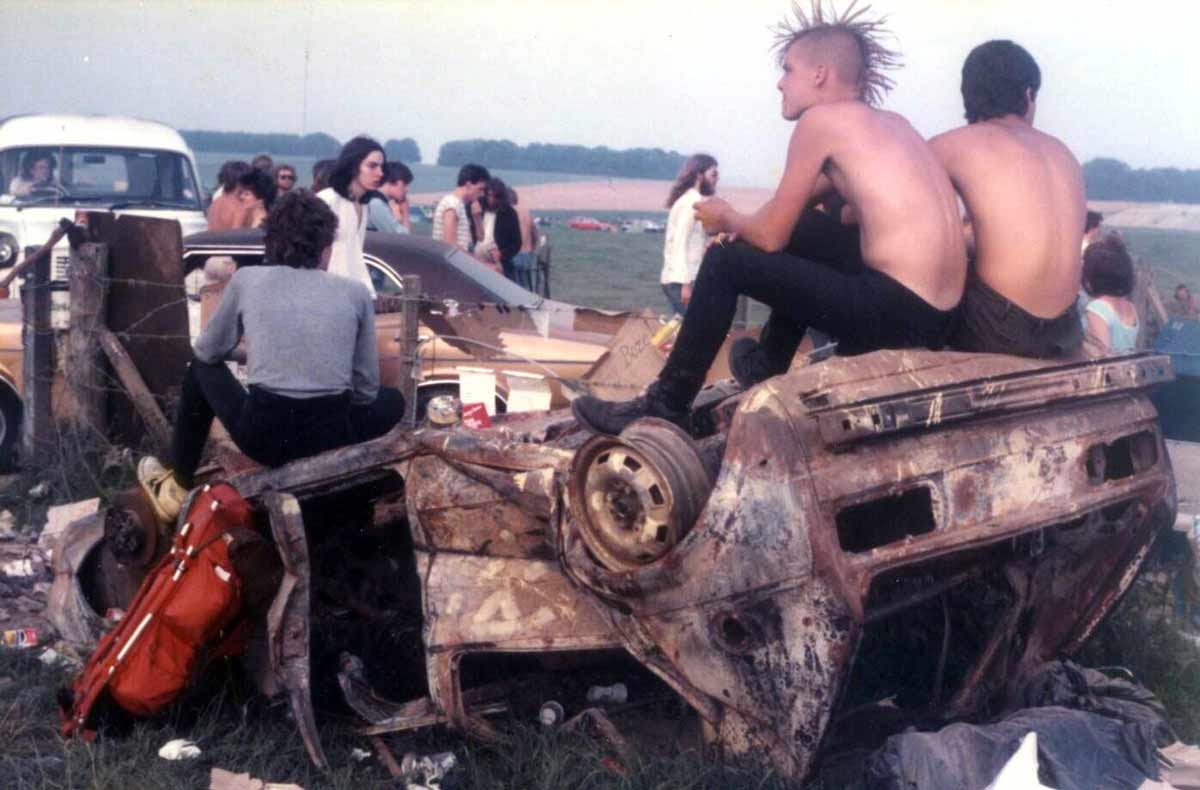 © Boris Atha
Main 1984 Photogallery: 24 pages and counting .....
Daytrippers photo gallery ( external )
---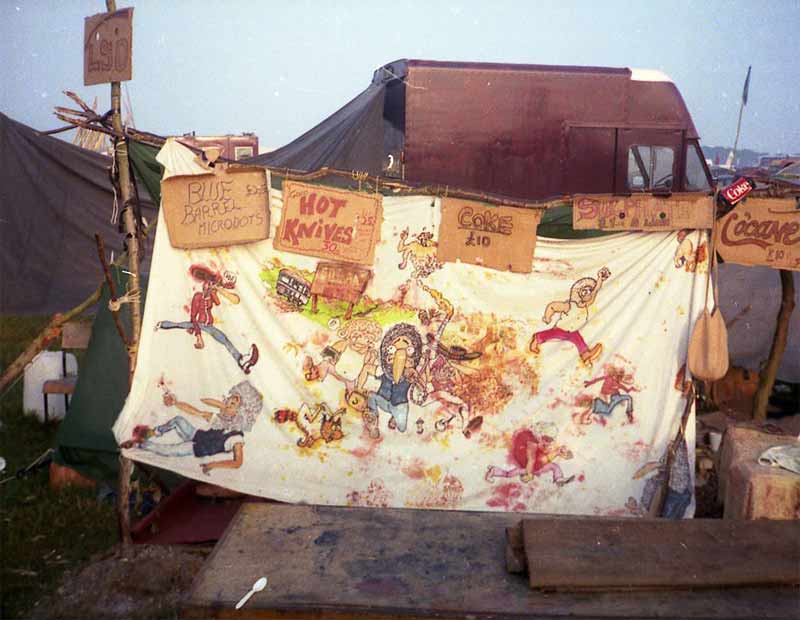 Drugs, nah , no drugs here mate .... well , no heroin anyway .....© Herb
Hard drugs at the Henge.
The festival was the biggest ever , a fact that disturbed some of the older heads , who argued against too much growth. There is no doubt that the spirit had changed somehow, due largely to the heavy drug scene , which ranged from freebasing to smack use. although this was still confined to a minority of attendees.

The heavy drug use was completely contrary to the ethos that was envisaged when Wally Hope and others had instigated the festival . The extent to which this degeneration had taken place was evidenced by the fact that the late John Pendragon helped set up an 'Alternative Free Festival' within the festival - a small scale festival within the festival , with its own more intimate stage in a dealer-free zone that attempted to recreate the spirit of the early festivals.

Is this the burnt out "smack dealers' car mentioned in many texts ?
There are some folks that are in denial about the fact that there was any heroin dealing at the free festival, which on the face of it, would be bloody unlikely as there was every other drug under the sun around there if you looked hard enough. The essential Convoy Steve has this to say about smack's presence in 1984......
Photo © Kirky and Julie-Anne

Heroin at the henge - in 1984 , as me and bendy Dave were going round the stall holders and dealers levying a tax to pay for the kids area, st johns, rubbish crews etc, etc - we came across a crew from bristol - 2 welsh brothers who had a motley squad of types helping them. They had a few ice cream vans and small beer shops running and offered to drive us around the site in their Jag for protection - when we went back to their HQ I was waiting in the awning of their tent when one of their guys offered me heroin - I got the impression that they were selling it on the quiet - in fact they were very excited about the commercial possibilities at the henge and offered to pay for the main stage next year (for some concession rights of course).

A couple of years later they were in the news having been busted in bristol for a shit load of drugs and they got quite a few years in the nick - so the gangsters were definitely there and getting organised.
I actually kept a log of all those transactions but lent it to a woman who was lurking around me and sid trying to find out a lot about what was going on without actually getting porked (which we were both quite eager to do) - she went off with the log and never came back - there is a good chance that she was some kind of security services person and probably reported back to MI5 that the hippys were getting organised and they probably said SHIT we got to nip this in the bud and so next year we better twat them good so no doubt the bean field was all my fault !!! (or my dicks fault . . .?).
Convoy Steve
No doubt, its all your fault mate , you tapped into a direct line to Mrs T's front parlour.... damn your eyes !
---
Excellent website. It certainly set off a few resonances in the old neural chamber of mysteries! I can clearly recall the alleged 'smack dealers' car being trashed, and also remember complacent coke dealers getting ripped off by bikers (the old Windsor Chapter of the Hell's Angels) and wandering the site like traumatised Ancient Mariners with terrifying tales of violence and rip offs in the dead of night.

I also remember some festival kids stealing the Hare Krishna's minivans, and subsequently joy riding them to eventual destruction (praise Shiva) around the bottom end of the site. And does anyone else recall the rather pathetic mini police station so foolishly perected on the Henge car park, and the angry hordes of indignant hippies who trashed it to recover a busted comrade?

And what about the economic crisis that hit the LSD market in '83! I can remember 'Blue Unicorns,' 'Purple OM's' and 'love hearts' on sale for less than 25p following the massive oversupply of psychedelics. And who can forget the 'snatch squads!' Covert groups of crafty cops hiding out in the woods, busting unwary lovers on their pre-coital reconnaisance of the sites leafy bowers and ancient burial mounds. Many an unsuspecting lover was snatched from the throes of passion and busted for a teenth!

Some of my life's fondest memories are of that festival. Just meandering around on LSD at 6.00 in the morning, facing towards those stone gates of dawn and feeling the tattered rags of my past conditioning dissolving in the soft winds of Salisbury plain. Simultaneoulsy you're riding the enormous vibes of love and spontaneous creativity generated by the collective psychic emanations of 50,000 high human beings.

They don't make festivals like that any more. Michael Eavis be damned!

Best

Austin Fletcher
---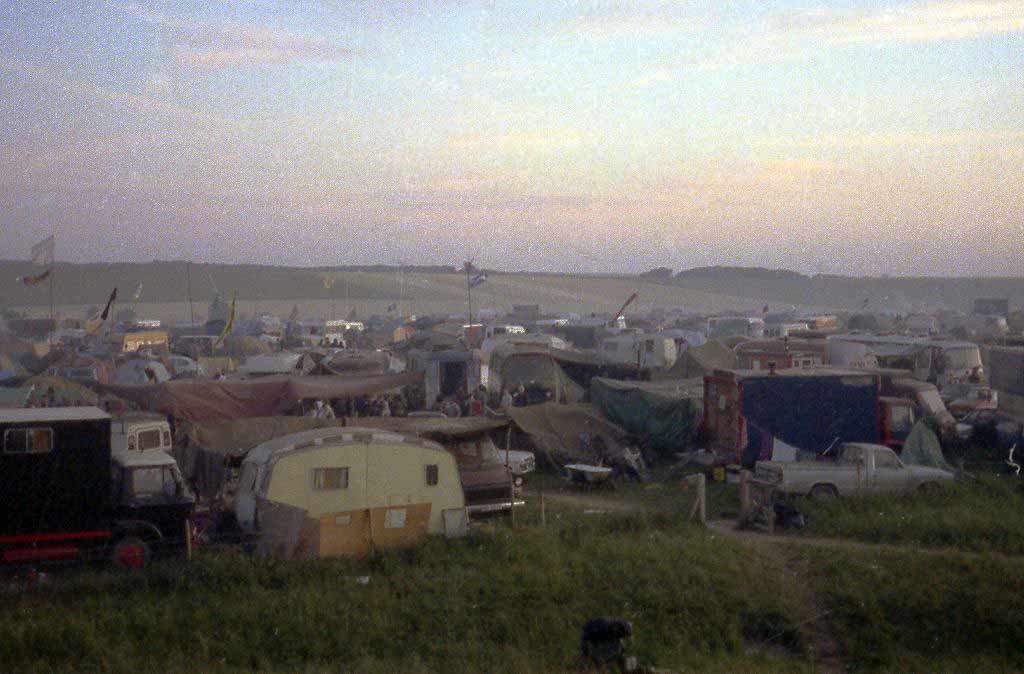 Section of the campsite © Herb
In contrast to all of this heaviness one should remember that for the majority, the festival was still a great place to be at and that the fun far outweighed the fear . As we see below .......
This picture of the awfully nice tea rooms was taken opposite my trailer in 1984, a group of friends had formed the 'Awfully Nice Convoy' in response to the crusty, booze fuelled, punky types that were appearing on the travelling scene and we had a camp at s/henge where we plied our trade - I sold candles, someone sold corner shop stuff (bog roll, cat food, clothes pegs etc), someone had a creperie, someone put a stage together and played music, someone had a cafe and Mr Diamond (who was a professional Stage manager ) acquired some scenery from a defunct production that he had been involved with and became the awfully nice tea rooms where one could sit at a proper table with table cloths and be served with cream tea and scones for 21 shillings. Mr Diamond is actually dressed as a vicar - you can just see a glimpse of his dog collar under his chin.

The awfully nice Convoy Steve .

(Click on the awfully nice picture to visit the Archimedes site and see a bigger version of the photo)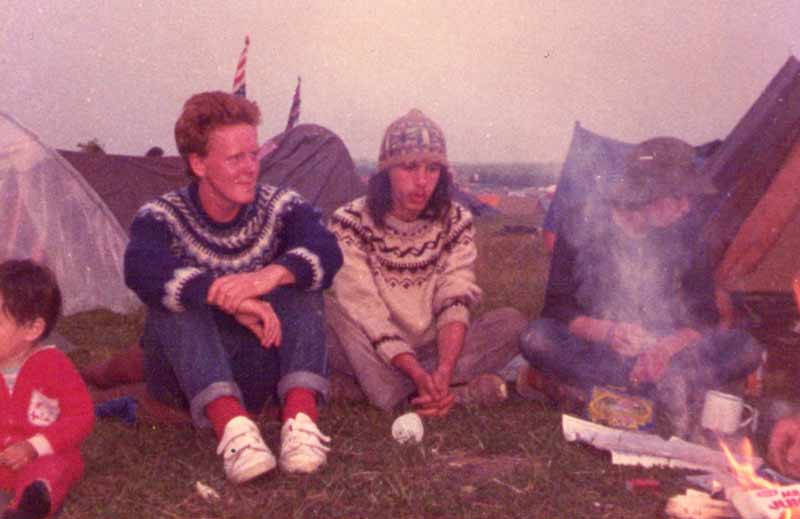 Glasgow Freaks at the henge 1984 © Thomas Cameron
The Glaswegian festival goers were a small but tightly knit group of people who met in the pubs of glasgow ,notably the Burns Howff where the likes of Alex Harvey Band and Frankie Miller would have played .Being united by our common values we would travel to Stonehenge ,a long way from our town ,which itself is well known to be a rough place ,and also the 3 festivals at Nenthead ,enjoying ourselves ,not causing trouble just chillin out..... on our return home it would be back to the same old tough streets .
One of the boys was a real gem ,a man of peace who was killed in glasgow in 1985 ,I write this as a tribute to him and to the good people we met on our travels to england .He is pictured in the middle of the Stonehenge pic i sent you ,a few geezers seated by the fire.
Well no one ever mentions the good that we did collectively .
best wishes
thomas cameron
glasgow.
---
Video
The festival was also filmed and a video of Roy Harper ( with Huw Lloyd Langton guesting ) , The Enid and Hawkwind was released and is now re-released at long last . Apparently Hawkwind were stunning , but others also have claimed The Cardiacs set was the highlight of the week. As for Roy Harper and Mr Langton's involvement, " I just phoned them up and said do you want to play at the stones" Big Steve .......
STONEHENGE FESTIVAL 1984 - dvd re-release
| | |
| --- | --- |
| | Roy Harper entertaining the masses , all caught on celluloid by the film crew © Steve Long |
A missive from henge director Al Stokes about the tangled web of copyright issues he has had to fight his way through in order to get this little gem out to all you weirdos .....
Hello Hippies!
The film was shot on the main stage, over 20th - 21st June 1984, and features performances from Roy Harper, Hawkwind, Here & Now and The Enid. The film also contains oodles of previously unpublished (still image) pictures of the festival site plus an interview with Nik Turner and incorporates video footage of Travellers attempting to get to the Stones in 1988. The bonus film is "Where Have All The Crusties Gone?" about why the festival was banned.
Folks have been on at me for years to put this movie back into distribution - it was orginally intended for the cinema market - partly for the nice old hippies to bask in the nostalgia of it all but also for the new generation to realise what they'd missed. However, I didn't have the spare dosh or inclination to do this because of all the copyright implications involved. We had cleared the music back in 1984 but that was for the film rights. According to the Performing Rights Society we would have to go through all that again, tracking down each individual band member who appeared in the original film, to get their permission to re-release it on dvd. Blimey, what a mission! Not even the Musicians Union could find them all and it would only take one person to say 'no' and that would be the end of it. So I gave up. Booo! Hiss!
Thsi is what the new legit version should look like from the back ....


Then I worked on Tim Cummin's BBC3 Hawkwind documentary "Do Not Panic" and the talk again turned to re-releasing the Stonehenge '84 film. Oh gawd, not again! But this time around the PRS were more helpful; there's a thing called a PRS / DVD 1 declaration where we list all the music used and they collect the perfoming rights fees from the distributor, on sales, which they pay direct to the artists. So from then on it was just a case of making all possible means to let folks know to register their music with PRS, if they hadn't done so already, so they'd get paid and the rest was pretty easy. Comparatively.

Nik put me in touch with Rob Ayling, whom I hadn't seen for decades, at Voiceprint and they were up for World distribution. Last I heard their release date is the end of this month but I guess the thing to do is check out their website and the music press. Voiceprint did all the technical digital malarkey from my master video tape (from the 16mm film), including restoring the images to their original 1984 mint condition. Looking at it now, its like we shot it yesterday. Ah, that loverly Eastman Color, wheeeee! (Sorry, got a bit excited there ... quickly, nurse, the screens ...).

July 2012

Al updates us on the latest news re the DVD and where it can be legally purchased

We had a big bust up with Voiceprint in 2010 just before the distribution contract was due to be signed which meant Rob Ayling didn't have permission to sell my film on DVD. He was sent a cease and desist letter in 2011 when he was caught bang-to-rights; no one was being paid any royalties! Unfortunately he ignored us which only came to light in March this year (2012) when Floating World Records were found to have bought up all Voiceprint's bankrupt stock (DVDs) - which I owned - and was selling them via the net. The dodgy little expletive deleted!

I attach the new legal inlay.
I got in touch with Floating World and came to an arrangement where-by they could legally distribute the film on DVD with all new artwork as a re-release. The other option involved expensive lawyers. I signed the contract with them back in March and the DVD is out shortly. Click on the link on the left to vist their site.
Tim Cummin and I had a grand plan to make a tv documentary series about the entire 11-year history of the Stonehenge Peoples' Free Festival but the BBC went a bit wobbly about it for some reason. I never did find out why, exactly ...
Love & peas - Al
It appears that Hawkwind played several times, as video of their appearances seems to be set at dawn and at night. Nik Turner is outragious, chilluming it up one one occasion onstage and wearing some very weird headgear and clothing ....
The Dawn Set By Hawkwind
I stayed over camping out in a car after seeing the main Hawkwind Set the night before. There had been sound problems in this earlier set with the front monitors not allowing the band to hear themselves.But it did include a stunning redention of "Motorway City". Nik Turners Sax notes floating in the air is a memory.It was also Alan Davey's debut.
The Dawn Set though was a stunner with lots of looseness and improvisation. The Synth start up of what was afterwards referred to as "Stonehenge Decoded" set the atmosphere although it was obviously an extension of the song "Ghost Dance". The ending faded into the "You Know Your Only Dreaming" riff on keyboard. Throw in new loose versions of "Spirit Of The Age", "You Shouldn't Do That" and "Brainbox Pollution" and I was in heaven even though it was before 6:30am!
I have CDrs of the two 1984 Hawkwind Sets and the 1983 show.
Regards from Perth, Australia.
Sean

---

Hi, I'm just a little bit too young to have been at Stonehenge festival but I used to know some people who were there in the later years. One of them gave me a tape which was marked "Aspirin Casualties". I would really like to find some more music by this band but the internet has not heard of them. The guy who gave me the tape can't remember where it came from but it may have been given to him at Stonehenge. If anyone has even the tiniest hint of a lead on who this band is I'd be stoked.
The first track in the attachment is very similar to hawkwind but I'm sure that it's not, the rest of the tape is like electronic dub, can anyone help with more info ?.

Thanks
Andy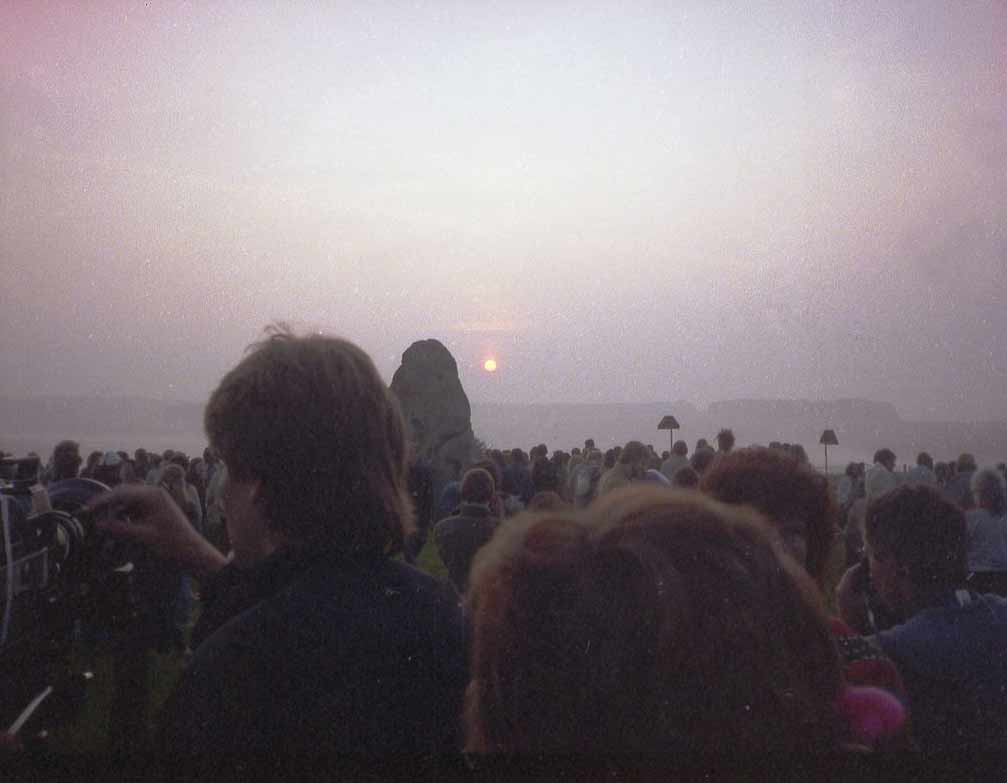 Fun and games at the Heel stone © Herb
---
| | |
| --- | --- |
| | Regrettably, it was the last Peoples Free Rock festival to date. After the event ,which left a big pile of trash to clear up as well as a dozen burnt out or abandoned vehicles (some of them being vehicles owned by heroin dealers - rough justice being dispensed by the audience , but I don't expect the media publicised that fact too widely ) , the National Trust lobbied to ban the festival and the Thatcher government (which had dealt with national unrest in no uncertain terms, with many violent confrontations designed to show the union movement in the worst light and which had also , incidentally, conditioned the British public to accept storm trooper like police actions as a routine occurrence) , were only too pleased to step in and put an end to the festival based traveller culture. |
Here and Now onstage Stonehenge 1984 (click image for a larger version)
Hawkwind were as usual, in attendance, headlining in fact and here are a few photos of them both on and off stage.
(click image for a larger version apart from top photo right )
Links to external sites about the 1984 festival

Archimedes has some great photos of the 84 festival including Chemical Alice playing in the Tibetan Ukrainian Mountain Troupe tent as well as pix of the main stage and PA. Also history of Chemical Alice.

Daytripper has a great Flickr gallery

Rory Cargill has a lot of photos of his Invisible Band playing at the 84 festival .
Ever wondered who were the last band to play at the Henge ? Well, read on to find out ......
Photo © Kirky and Julie-Anne

Hi
Found your site during a fit of red wine-fuelled nostaligia one night. Just thought you might like to know that my band 'The Liberators' played at stonehenge during the early hours of the last day of the 1984 festival after turning up in our trucks at about midnight. We finished at about 3am and no other band has ever played there since….
The next year, 1985, was the infamous 'Battle of the Beanfield' when the festival attempted to get off the ground and failed due to now notorious heavy-handed police action.
Ah, those were the daze! I would love our claim to historical fame to be toppled one day and for some other band to play there. However, I fear this will never happen. At least not in our life-times. Gloom .....
Anyway, nice to find your site.
Thanx
Rosko, Bass player. The Liberators. 1984 - 1989
---

Hi!

Just come across your site via video of Stonehenge festival which I stumbled on on Youtube and took a trip down memory lane.
I went to 82 fest with a mate, (Tim Beater) when I was finishing foundation at Farnham Art college but unfortunately the whole episode is a blank!

The venerable Ting of the Tibetan Ukranian Mountain troupe rests in all its cryptic majesty at Stonehenge 1984 Photo © Melissa

Some things I remember about 84 which I guess may have got patched in from 82:

Went with a bunch of mates from Brighton in my Series One land rover (which, amazingly, I still have and use on an almost daily basis!). Actually I have just found a photo on your site of what must have been our camp coz we had a very distinctive camping trailer which my dad made. (1984 page of photos in Stonehenge chronologies section Part 5, middle column, third pic down, courtesy of Pete) It's smack in the middle of the picture, a green wild west waggon style trailer tent with two round windows in the end. And my Land Rover I think is just behind it but I can't see pic in detail too well.

We arrived quite early coz I remember driving across empty fields to a wood to get firewood and then tearing around a field with one of my pals sitting on the bonnet til I nearly drove through a barbed-wire fence, at speed; my mate, Joe, (Richard Povey) jumped clear right at last moment and I still get a shiver when I think what the result might have been if the barbed wire had cut over the vehicle - we had the wind-screen down too. Joe was completely freaked by this and I don't think he spoke to me for some days.

Took Microdots and 'Sunrise' 'Sunset' tabs (may have been 82). Remember debating for ages with Tim when I should take the Sunrise tab after taking the sunset tab taking into account time delays, time of sunset and sunrise and when I wanted the sunrise tab to kick in over the sunset tab. In the end I said fuck it and took them all together. Wondered about like a zombie for ages, tried to watch some band but couldn't sit still, felt sick and went to crash in our tent but was too switched on staring at the dusk soaked orange patterns of the canvas. Tim thought I was dying coz I couldn't talk. Went for a walk in the night air and remember wondering over these hillocks which became enormous hills which I had to crawl slowly up and once at top found I was miles from anyone so started running leaping from hill to hill in giant strides til I was stopped by these two giant king and queen puppets that towered way above me. Had a paranoid introspective experience in which these puppets directed my attention to the more unpleasant aspects of my personality (I had previously believed I was a thoroughly nice person). What I needed to meet was the guy on your site with the "Don't Panic" sign.

Came across a camp fire and sat and chilled out figuring on aspects of reality (see Linklater's "Waking Life").

Photo © Melissa

Roy Harper plays the Pyramid stage Stonehenge 1984 © Andrew Bott

Forgetful Roy asks our heroes if they remember the last verse of McGoohan's Blues ! © Andrew Bott

I was there too in '84 with my mate Tony.
We just decided to come down for a couple of days before going to see Roger Waters at Earls Court (or was it just after..I don't know) from Bridlington,.
Had a scream…really did..kipped in my Opel Kadet and just laughed for hours, saw Hawkwind, the Enid and a band called Earthbound – any clues please.

Fraz

Cottage industries such as this one came to an abrupt halt once the festival was repressed © Herb

Stonehenge 1984: My first ever festival. What a baptism of fire. The single event in my life that convinced me that true anarchy might, almost, work. Just a few things gave me pause for thought, however. There was a lot of heroin going around, although just under the surface, not widely advertised like the other available substances. True, a dealer's car was trashed and burned, but many others weren't. The biker gangs provided an unwelcome undercurrent of violence, although I must say in their defence that it appeared mostly confined to their own areas. The sight of two enormous blokes trying to beat the shit out of each other with flaming sections of 2x4 torn from the campfire has never left me and was not equalled until computer games started to get seriously good in the 90s.

Roy Harper © Thomas Cameron

I was turfed out of my tent on the first night by some oafish yokel (not a freak, not a punk, not a biker, just an idiot) who was pissed on scrumpy and had made 'friends' with us during the day, so I spent the night trying to sleep in the Tibetan's tent while an emaciated person screeched awful versions of classic folk songs and went on for the umpteenth time about what a good friend of Janis Joplin she had been back in the day.

Otherwise, the music was superb. Hawkwind, the main reason I'd hitched all the way from Southport, gave perhaps the best performance I've ever seen them give. If I recall correctly, they played from 10.00 til 12.00 at night and then again from 05.00 til 07.00 in the morning on the solstice. I think Ginger Baker may have been on drums. Nik Turner was definitely there in all his glory. Here and Now were superb as always. I gave them some candles when the generator broke. I remember The Cardiacs as being both magnificent and scary beyond belief (but then I hadn't slept in about 20 hours). The Enid were fantastic, if overblown and faintly ridiculous, as always.

Funnily enough, I remember Roy Harper as rubbish the afternoon before. He was in one of his particularly stoned moods, couldn't remember half his lyrics and rambled pointlessly for ever between songs. In fact, we left halfway through his set to get some food which may account for the fact that I can't remember the supposed Jimmy Page appearance. ( Huw Lloyd Langton was actually his guest )

Could that many people gather together today with only minimal communal organisation and such a relatively small amount of trouble but so much pleasure? The question is irrelevant. They would never allow us.

Sorry to ramble.

Good luck with the site. We need to remember and record all this stuff or nobody will ever believe it actually happened.

Cheers

Den

---

Stonehenge 1984 - One of the defining festivals of my life... I turned up with nothing but £20 and a packet of McVities digestive biscuits, and ended up staying for a fortnight. I spent the £20 on red hearts within half an hour of hitching into the site, and belatedly started looking for mates with some sort of cover for the night... eventually found them at dawn, Here & Now playing, rest of it a bit of a delicious blur...

I finally left by hitching into Salisbury, intending to take a bus back to Bristol, but endined up on a bus to Bournemouth (well, it began with a B) on the South coast, swigging mushroom wine on the top deck & pretending to drive (to the general amusement of the other passengers)... all got a bit hectic in Bournemouth though, when I started to come down & realised I was stuck in a town I didn't know - luckily (?) I met a speed dealer in the subway near the bus station, who helpfully steered me to a cashpoint and relieved me of the meager contents of my bank account in exchange for some whizz - things then got even more hectic, with me being ejected from various pubs & pizza joints along the front, before deciding to climb up the cable-car that went from the beach to the top of the cliff... obviously I made it, or I wouldn't be typing this, but to this day I have no idea how. Woke up the next morning under a bush in a park in Poole (a good few miles from Bournemouth) with every muscle in my body protesting, wrapped in a blanket that smelled of meths.
Ahh, happy days! ;-)

Ian S

---

Main 1984 Photogallery: 24 pages and counting .....

CDR - Unhenged - The Wystic Mankers at Stonehenge 1984.

The musical arm of the Tibetan Ukranian Mountain Troupe- The Wystic Mankers , recorded some of their sets at Stonehenge for posterity to grok over and you can listen to the musical delights within and even, if you feel so inclined, purchase said item by clicking on the cover graphic on the right ......

---

Guy Rowe sent me this poem about the 84 fest. A real Stonehenge vet - he'd attended the first one in 74, I think it appropriate that we finish the final festival with his words ....

The rolling images show lolling sunny hills
And washed students in clean jeans
Reconstructing part of the great henge.

They look good for TV – big hearted, average –
Just how we want to be.
Then the picture jumpcuts to me.

I lean alone against a great stone
And the voiceover says: "In the 1980's
Stonehenge was taken over by Hippies."


I'm wearing a blanket though the viewer
Might not know the shadows are dawn.
As I gaze at the sky you'd suppose I'm inspired –
Or, drawn and tired and certainly tripping.

Off camera view a police spy in a helicopter
Films number plates –
And dodges flares fired up by some wag in the camp.

Across the road where lamps fade away
A 100,000 sparkling souls are I suppose
' The Hippies' and having a time that's ripping.

There were mere hundreds of us in '74
When the first innocent festival came to the place.
We had poetry, performance and music –
Our emblem was the smiley face.

By '84 it was an avalanche
Of space cadets, minstrels and mystics –
Or a branch of cosmic aliens that time forgot
And severed from the social tree.

It was a mystery to the government
That these events were free.
Contrary to their philosophy.

Ancient byelaw declared that if here
Were used an 11th year
It revert to common land. The freaks
Would have it forever – or never.

So in '85 came the great fight –
When they brutally suppressed the annual fest
In a major abuse of liberties
Riot police battered the buses and hippies.

Though what was done went for years through the courts
Where the freaks finally won –
The beanfield – the camp – was lost.
At unknown cost whose justice was seen to be done?

If '84 was a gothic last supper
Then '85 was a haunted house party.
When they scuppered the convoy of coaches
They were pretty damn smarty.

'85 was the worst poem in your life.
Picture a Bosch or a Breughel come alive.
You're captured on canvas in a living carnival
Cut from time's frame with a knife.

With ghosts, the host includes fire eaters, jugglers, Tibetan monks.
Then eco freaks with mohican haircuts
And armless orange donkey jackets.

Mingling among chunks of stone doing things you do at home
En masse.Hang gliders towed aloft across dusk by rickety vans.
That was Stonehenge – harmless.

All bar the bearbait or bullfight – and those wouldn't surprise.
Army choppers tore from the skies
And buzzed the field twice a day in a free display
To our cheers.

Later, we had no fears when trucks and armoured cars
That failed to reach the stars led up the road
In a moving motorised siege instead
For a few days and nights on exercise – or goad?



STONEHENGE : A DOCUMENTARY ON TV. A true story, by Guy Rowe

I went down to the henge in 74 from Watchfield, the old R.A.F base near swindon, it was not until years later locally here that I met craig scott who works for derby city council gardens section and recognised him from back in those days.


The photo from the documentary - I would have been there about 3 weeks in 84 when that was taken, so I would have been... pretty...... well.

It's just a small tribute to ad about the 74 festival but this is to remember Dick Holman from Wantage who got up on the small stage then to deliver his poem: "He was Herbie the cosmic parrot - he kept on keeping on....." which Dick did several times a day as he did at watchfield.

I haven't yet read all your site but I wonder if (the bit I refer to in my poem about hang gliders being towed aloft across dusk by rickety vans) the guy who was doing that in 83 was using an old J4 van -rotten heap - he'd tow you up for a joint, but he did well enough out of it that when he came back in 84 he had I think two new hang gliders and a morgan sports car to tow them up with! If you haven't got anything on this fellow I hope you find him in the future.

I remember meeting some of the convoy people there in 83 and one guy told me of someone who had a photographic record of all the festivals to that date...

I started to read your item about wally, maybe if you too would remember people calling out for wally at reading fest and buxton etc, I once had a heavily edited letter in the Times explaining the origins of wally as far as i knew them. I wasn't at the isle of wight festival when hendrix was on but some years later I met a guy in oxford, and he told me how when he was at the isle of wight he lost his labrador in the crowd and he stood up and yelled out : "Wally where are you?" The impossibility of anyone finding anything there let alone wally just sort of amused the crowd so much that loads of people repeated him and the cry went up that way. I wonder if you have had other reports of this incident.

If i think of any other anecdotes I'll try put em down. I know that craig has left a series of tapes of his interviews with someone i think from the bbc about the henge festivals, there were so few of us there in 74 I wonder who can be left...
.....
all the best
guy

Some nights the fog came down and some were lost 'til light.
A full moon bled crimson red through the mist.
Underground groups cut the dark space with visceral sounds
Tuned to the high electric of the place.

On solstice morn a bass guitarist played up the dawn
On bleeding fingers that started
At midnight.

Then incongruous and comic Druids
Like wretched white penguins
Wobbled into the circle in their attempt
At a state of grace.

Then they sent Nimrods with super sharp cameras
To photo the field from the air.
Like people who shat in the woods –

Grabbed by cop snatch squads in the act
And carted away from the fun of the fair
With such worldly goods as brought them there.

The place was visible in sense and fact from other space.
Evenings cooler – the ghosts walk
Through avenues of tents and benders across acres of vans and cars

Spread out in mimic of the stars and genders
They'd talk and sing with someone who wasn't always there.
Nor were you – no one needs permission to do anything.

At otherworld intermission – on weekends – inquisitive families
In their best suits would bring mum and send the kids
To look at the filthy hippies: it was friendly.
They were hirsute – and left no traces.

Quaint as the simmering morning a cartload of our little children
With painted whiskers on their faces
Led up the hill behind a donkey, crying:
Anarchy! Anarchy! Anarchy!

Come get your black hash here – or bikers
With sawn offs in your face.
There in living theatre your stew
Your orgy in an onion shaped tent.

In what strange brew a baby plays by strobe light
With fallen naked mannequins
To a crowd not too far out
To remember what a metaphor meant?

There in loud trick of the eye identical twins
Rolled back to back in the same rug
At the door of the sullen sky.

People quarked people for three weeks
By starlight and by sun
In an island of froth, bubble and fun.

Yet who saw in the shadows
Long and live of '84
The swansong and backlash of '85?

Some editor picked me as an archetypal link
In unkind close up on their documentary.
I didn't even have long hair as I stood there.
This is what people in the future will think:
'Hippies' wear blankets.

Guy Rowe 2004
---
---
Henge Documents
---
Henge History :1972-1984
---