The Archive . updated July 2021
---
Big BIG thanks to our sponsor Neil !

For information on today's festivals see eFestivals.co.uk

The eBook Al Stokes' Stonehenge Festival photographs

is now available to view, free gratis and for nowt Here

Order copies of these comics by artist Pete Loveday

"I know Pete Loveday's work well, and I love it! ": Hunt Emerson- cartoonist extraordinaire...
---
"Could that many people gather together today with only minimal communal organisation and such a relatively small amount of trouble but so much pleasure? The question is irrelevant. They would never allow us."
---
Stonehenge Free Festivals chronology.
1982.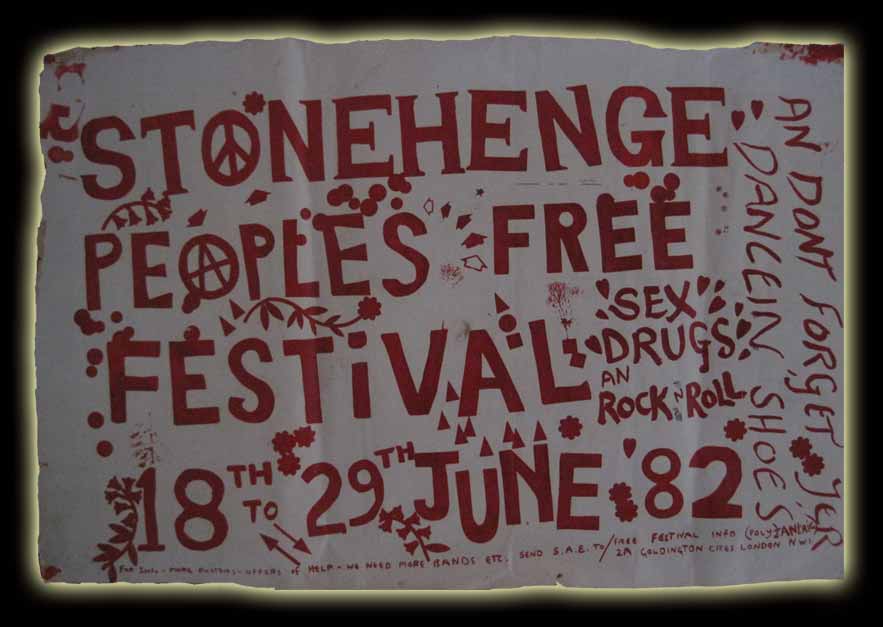 Hi
In 1982 I was working as a mechanic in Camden Mews London. There was a yard in the mews occupied by some of the convoy , I spent many hours there smoking and repairing trucks etc, this poster was a silk screen print done by them which I still have.
Bill
360º Panoramic view of the site
Photos © Mucky Ducky
By 1982 numbers had swollen to 35,000. It was in 82 that people began to realise that the existence of the festival might be threatened by hard drug dealers who had begun to use the festival as an opportunity to sell their wares in a protected environment where a police presence was not tolerated . People who objected to their presence were apparently intimidated , although there were those who attempted to organise opposition to their presence throughout 1982 by circulating newsletters and by word of mouth . Others also dispute the degree to which these dealers had a presence, as they reckoned that they would have been sent off sharpish by the mums with kids as well as being busted by the DS if they were too obvious -or quite likely- shopped by those on site who had no time for their activities.
"As for hard drugs at S/henge, the general policy of the regular festival goers was not to tolerate opiates at all being for sale on site. Coca products were accepted however and became quite popular. "
| | |
| --- | --- |
| Unfortunately 82 also saw a large scale rumble between several biker gangs and certain members of the convoy. This may have started over damage to a bike by a truck . This was always guaranteed to warrant massive retribution from the bikers and this occasion was no exception . Bikers armed with chains went berserk and a food van was set on fire. The music was stopped and pleas were made to the gangs to cease their stupidity . Eventually Sid Rawles came over and more pleas were made to stop the mindless violence and the fighting eventually subsided, but it had been pretty ugly. | |
"As regards the biker wars - as I recall it was 80,81,82 and 83 when the bikers were playing up, it was the Windsor chapter of the Hells Angels who were the culprits - they were the only large surviving outlaw chapter left and used to come to Stonehenge and play at being silly buggers - pushing their weight around, riding their bikes over tents and robbing folks and stuff. Around 83 there was a inter biker war and several Angels were shot and hacked to death -this resulted in the Windsor chapter being told in no uncertain terms that if they did not knuckle under and join the All England Angels then they would be annihilated. Thus they joined and at Stonehenge 84 the All England Hells Angels erected a large marquee at the end of one of the main drags thoroughfares and proceeded to retail beef stew, beer and all manner of 'raising agents' (if you get my drift.) . Good business you see - basically they are just a bunch of leatherclad businessmen who don't like paying taxes ! "
David Nobbs- Stalwart St Johns Ambo person at Henge 1980-84- holds Jodi Luna -the baby girl he delivered at the festival in 1981.

click to read article and to see bigger photo

The presence of the bikers always made the possibility of violence a real one- as happened at Weeley in 1971 . Fortunately , there were only two incidences of large scale violence by biker gangs,but these were more than enough and they really clashed with the ethos of the organisers and the majority of the festival patrons.

However, measured against the hideous football violence of the era and the epidemics of large scale can throwing ( often when full of urine ) that were going on at the Knebworth and Reading festivals at the time, the Henge was relatively peaceful and safe.
Press article
Photo Convoy Steve

"Stonehenge again plays host to its midsummer free festival this month and although the music runs for just five days , from tomorrow -( Friday 18th June ) to Next Tuesday (June 22nd) crowds have already started to assemble last weekend. The 1981 event attracted 35.000 people and , if the weather holds, a larger turn out is expected this year.

Three platforms have been erected to allow continuous music and over 40 bands are expected to lay on the mainstage alone. Hawkwind,. who were one of the star attractions to appear last year, return to the 82 festival - and among other confirmed bands are Inner City Unit, Here and Now, Amazulu , Deke Leonard , Treatment , Miles Over Matter and Inner Force.
But a number of big name acts who'll be appearing at Stonehenge won't be known in advance, because they'll be coming over from the near by Glastonbury festival this weekend and for contractual reasons they can't be named. "

Click on the Glastonbury advert to see a large version

This was also the year that hippie band Ozric Tentacles were formed, the members meeting at the festival and deciding to form a band as they sat around a campfire . The Pink Dots also had the inspiration to form their combo whilst watching an impromptu jam session by an unknown electronic band in the early hours of the morning .
Convoy departing Stonehenge 1982 © Jambo
The most significant occurrence in 82 was the formation of the Peace Convoy (above) a massive conglomeration of travellers vans, buses, trucks and caravans , which made its way toward the Women's Peace Camp at Greenham Common and caused considerable annoyance and embarrassment to the authorities . To read all about this adventure , visit the Greenham Common pages
In 1982 we had The Cardiacs, Omega Tribe, Arizona Smoke Review, Big Amongst Sheep, Karma Mechanics with Twink from the Pink Fairies, Babylon Rebels, Null and Void, Miles over Matter, Amazulu, Deke Leonard, Treatment, Popular history of Signs, Abacush, Poison Girls, Urban Warrior, Tony Allen, Natural Roots, The Raincoats, Theatre of Hate, Red Ice, Flux of Pink indians, Rubella Ballet, The Invisible band, Androids of Mu, Brigandage, Omega Tribe, Matt Vinyl and the Emulsions, Imperial Eye, The Wystic Mankers… bands like Hawkwind, Here & Now were regularly playing every year. I DJ´d MC´d and roadied and stage managered the pyramid stage and kept everything afloat. One anecdote I do remember was one of festival goers coming on stage and pleading to use the microphone to ask one of the girls in the audience to marry him, We let him. I think he must of been desperate or inspired!

best
big steve
---
Steve , a veteran of the 70s free festivals, has these recollections of 1982 and was surprised at the degree to which the festival had changed
| | |
| --- | --- |
| The first time in three years that I had managed to make it to the festival, and I noticed a difference. It was much bigger than before in terms of the numbers of people there. I arrived as it was getting dark and there was a band playing on stage. The music sounded familiar, and I asked someone who was playing: the answer was Hawkwind. They were playing material from their 1981 album, 'Sonic Attack' and not very well, either. It was fast and ragged. There was a short-haired bloke on stage with them, playing sax. I got a bit of a shock when I realised it was Nik Turner, who surely ought to be hairy and beardy when playing with Hawkwind, even if he did have short hair with Inner City Unit. When the band came back onstage for an encore, Nik was the first one out: his response to the chants of 'Hawkwind, Hawkwind' was to say ' I'm nothing to do with Hawkwind, in fact, I'll have nothing to do with Hawkwind.' (But he rejoined them right afterwards, for a couple of years anyway.) | |
Pyramid stage photo © Jambo

Whoever else played that night, I don't remember. What I do remember is that Eat Alley had become Drugs Alley. You could still buy Hash Cakes etc, but not at individual tents: where there used to be a central thoroughfare selling revolting hippie food (diarrhoeia-inducing vegetarian doner kebabs, for example), now the food vendors were outnumbered by drug dealers. Most of the drugs on sale were harder than in years gone by. I bought some speed and snorted it on the back seat of an old Morris Minor, but it was no problem to get harder powders than that. There were rumours of bad acid flying around, that somebody had OD'd on smack earlier that day…amazing how much changes over 3 or 4 years.

I also dropped acid at the festival in 1982. In common with the changed ambience from the late 70's to the early 80's, the acid was no longer the dreamy hallucinogen of days gone by, but blotter acid: speedy stuff. After dropping it at about 11pm in the evening, we sat around a campfire talking non-stop (about ley lines and such) till the early hours, and then walked home at 3am. I couldn't sleep at all and couldn't sit still either. So in the morning I dressed and went to work, still tripping….it wore off at about lunchtime the next day….
So, to sum up, what do I remember? A few of the bands, a few of the people I met, a few incidents. Not very much - but it was a long time ago, and I'm glad to have been there, an uncomfortable experience though it nearly always was. It was probably the greatest degree of freedom that anyone with a static lifestyle could experience directly, and of course it had to come to an end one way or another. I can't say that I miss it, but I was there and I'm glad that I was.
visit Steve's Hawkwind site
| | |
| --- | --- |
| Nice overview of site 1982 © Baz | |
| The stones in 82 © Baz | |
| Unknown band on pyramid stage © Baz | |
| Oh dear, illegal dwugs on sale ! © Baz | |
| Old Sid bleeses a rather nice looking young lady for some reason or other © Baz | |
| The late John Pendragon at the Stones 1982 © Baz | J |
| Pyramid stage lurks illegally amidst the vehicles 1982 © Baz | |
---
Henge Documents
---
Henge History :1972-1984