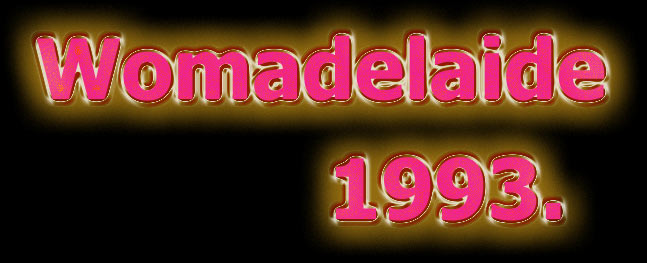 Botanic Park Adelaide.
Feb 19th-21st 1993.
---
| | |
| --- | --- |
| Geoffrey Oryema | |
Dignified moment of calm .
Uganda's Geoffrey Oryema brought a moment of calm and serenity to Womadelaide's rather frantic and celebratory opening session. The weight of his politically motivated folk music cast a more sombre texture over the evening . The big singers sweet , soaring voice carried majestically through the still night . The lyrics - sung in his native Swahili- flowed like a poem conveying a warmth and passion which transcended the language barrier . The beauty of his expression was carried on the strength of his fragile melodies .
The sweetness of his lilting guitar was perfectly offset by the controlled and sensitive accompaniment of electric guitarist Jean Pierre, shading the melodies with delicate textures by the means of volume control and clever tonal effects. The combined effect was haunting and helped Oryema seduce the large crowd. Yet there was even room for him to accommodate a splash of humour and a few flamboyant flashes , much to the crowds delight .
His dignified presence gave the event an air of nobility which befitted the occasion .
David Sly
Pain and Exile take Geoffrey to musical heights
By PATRICK McDONALD
Geoffrey Oryema's long journey to Womadelaide 93 began when he was smuggled across the Ugandan border in the boot of a car, after his father was assassinated at the height of ldi Amin's dictatorship. Oryema ,39, grew up surrounded by music. His father played and taught him the nanga, a seven stringed harp, his mother directed a Ugandan dance troupe and his grandfather and uncles were storytellers and musicians . But when Oryema was 24 , his father , a prominent government minister - was killed in a "car accident "
" My father was assassinated and soon after the whole family was placed under house arrest. "Oryema said in Adelaide yesterday. "The military police looked for me as well. At the time I was a member of a professional Theatre troupe and they realised that I was one of the actors and playwrights who were opposing the regime" .
Oryema spent four hours in the boot of a car while he was smuggled into Kenya and has since lived a life of exile with his wife and child in Normandy , France. Oryema's dramatic escape, and the stories of his homeland are captured on his debut album - Exile : an emotional work which was recorded with Womad co-founder Peter Gabriel and legendary producer Brian Eno.
" I think pain in life sometimes drives people to be very creative. Many composers have created beautiful mu,sic after having been through pain — but I'm not saying that's a recipe for success," Oryema said.
He chooses to sing In his native tongues of Swahili and Acholl, despite the domination of English in the world music market, because be believes it is important for Western audiences to develop an appreciation of other languages "I would like to keep those languages alive, and the sound of Acholl and Swahili is very magical and that add s on another beauty to the melody," Oryema said~ "Music has no boundaries— I always say that this kind of musical apartheid should stop."
---
If you have any photos , setlist or recording information you would like to add to this site, please don't hesitate to contact us via the main archive address . Just follow the link .
Links to articles on the 1993 festival.
*indicates page still under construction
---
---