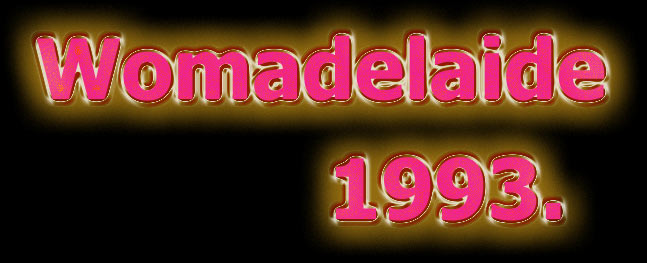 Botanic Park Adelaide.
Feb 19th-21st 1993.
Reviews and recollections .
The Botanic Park in all its majesty

My First Womadelaide

I more or less wandered around the arena spellbound for three nights and two full days. This was what I had been missing in my life since I attended the great UK rock festivals of the 60s and 70s , the same good time feelings of peace and harmony were alive and well in this crowd, absolutely uplifting to find it again after so long an absence. The weather was ideal , in the mid 20c range, the acts were superb and the crowd respectful of each other and the artists , friendly , enthusiastic- more or less a typical Womadelaide crowd. They were just great and they still are today , over 15 years on and 10 festivals later !.

Friday .

I parked in the narrow streets behind the Park and crossed the road full of anticipation of what was to come , music drifted out of the park to greet me as I joined the healthy queue waiting to get into the arena . The huge Morton Bay Fig trees and Pines that skirt the park stood at attention as I made my way through the archway that seems to have been a feature of all the Womads so far. This particular year there were only the two main stages , the large number one stage situated at a slight angle away from the Botanic Gardens and stage two which directly faces the gardens themselves. There was also a small tent on the fringes which had workshops, but I never got round to visiting that as the acts on the main stages were so good !.
---
Womadelaide 1992 had not been a financial success, so putting on Womadelaide 1993 was a punt, but fortunately there were backers , both state, local and federal, who had faith in the organisers ability to come good. No one could say whether the festival was going to break even, but on Saturday night Rob Brookman announced that they had broken even and the festivals future was assured. Crowd numbers were up 40% on 1992 and around 9,000 attended on the Saturday . 15,000 attended in 1995 and now we have the situation where the weekend tickets sell out quite a bit in advance, day tickets also sell out and the park is pulling 25,000 people per day at its peak . Sad that its lot more crowded, but wonderful that it has been such a great success.
Immediately on entering the park, I was absorbed in the magical atmosphere that pervades the entire festival. Most festivals are set in fields that might have a bit of a slope and a few trees around the edge of the arena - if one is lucky. But the Womadelaide setting is like being in the grounds of some sort of stately home whose gardener has planted trees from all over the world in profusion, the festival village nestles amongst the trees, the beer tents snuggle up to trees that provide welcome shade, even the stages have trees close to their sides, its not anything like any other festival site I have ever seen!
I remember being wowed by Yothu Yindi on stage one . They drew a large crowd of Aboriginal folk who were there in force to see them cook up a brew of dance music mixed with traditional instruments and dance . I was particularity impressed by the movements of the young guy who did a dance , acting the role of a kangaroo. He WAS the kangaroo, the way he moved the head movements, the tilt of his hands , superb stuff. They are a great band who hardly ever come to Adelaide.

Unfortunately they only broadcast a short snatch of their set on the radio, but this was one of the best sets of the weekend and a dancers Mecca, not many of the crowd could resist the pull of this band on ones feet !
The atmosphere at Womadelaide is always otherworldly. I think its something to do with the beautiful setting ( Botanic Park is lovely, with a great mix of exotic trees which are of impressive size , not your usual bare festival arena), but the whole place really gets a magical feel to it , especially when the lights come on and the night draws around the park. The last rays of the setting sun turn the trees red and gold for a short time and then the lights from the stage take over . The stalls, which are usually situated around the treed area next to the gardens , glow under the lights, whilst people sit cross legged under the trees drinking beers or fine South Australian wines and feasting on some of the excellent food. There is little hassle, its a relaxed dreamlike atmosphere and here and there in the dark one can see the odd cone being fired up which only adds to the fantasy feel to the arena .The police are very laid back, I've never seen anyone hauled away or arrested . Perhaps because there is little in the way of excess. I've only seen about three drunks in almost ten years, people seem to know the limit of whatever they are taking to get them feeling good and the drummers , buskers and performance artists that also make their way around the arena do their best to entertain everyone, no matter what their state of mind. Another nice feature of Womad is that one can mingle with the performers. At any point one can see some of the artists wandering around , checking out the scene, catching other acts or jamming with the crowd in impromptu drum circles.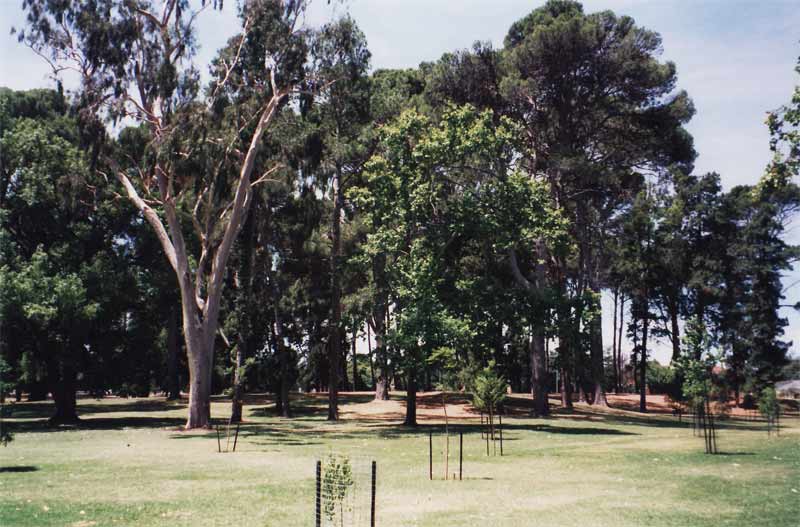 The Botanic park, this is the area where since 2003 various perfomance groups are situated as well as drinks outlets.
But in 1993 it was wasn't utilised as part of the festival.
Meanwhile over on the small stage Dya Singh and Shiela Chandra, were creating their own special worlds of sound and transporting their audiences into other realms. Dya Singh began his act by requesting a minutes silence in respect for all the indigenous peoples of the world, especially the Australian Aborigines, who as he said " have lived in this country for 100,000 years and in the last 200 years have suffered greatly. " Dya Singh has a unique blend of Indian and Australian instruments, and creates a harmonious, trancelike Indian based flowing music . His racially mixed band featured some sweet female singers, one girl possibly only aged 10, whilst the others were much older and very likely members of his family.The mood was very relaxed and as I lay on my back and gazed at the stars, inscrutable, ancient and uncomprehending , I felt as though I could lie here for ever listening to this music. However, reality has a habit of intervening and Womad sets are usually only an hour in length, so I had to move once Dya Singh were finished.
English based Ugandan exile Geoffrey Oreyema was in turns haunting and heavy. Accompanied by a frizzy haired French guitarist who threw out some mean feedback, he was a hit with the audience who were soon singing along with his anthems or standing transfixed during his slower numbers. A triumph, which he repeated during his 1998 return show , when he displayed a more mellow side of his work which nevertheless proved to be as entrancing for the vast majority of the crowd.
The highlight of the night was the set by Peter Gabriel and it was here that Peter Gabriel first played songs from his new album US. These were also the first concerts with the new band lineup which was Joy Askew , keys /back up vocal, Shankar-violin / vocal / Bass Guitar - Tony Levin / Drums - Manu Katche ,Guitars - David Rhodes .This was also Gabriel's first live concert since 1990 and he was to some extent, rather nervous at first. Remaining tied to his keyboards for some time, eventually he moved around the stage more and appeared to grow in confidence as he and the band gradually fell into an understanding . The shaven headed Tony Levin stunned everyone with his aggressive bass playing and extended finger pads, which gave him the look of an exotic washed out vampire at times. Shankar was as usual , magnificent on violin and David Rhodes came up with some tasty noises on guitar. Across the River and Biko were stand out tracks. Despite a few sound problems , this set had demonstrated that Gabriel had a great deal to offer, I keenly anticipated the show on Saturday night .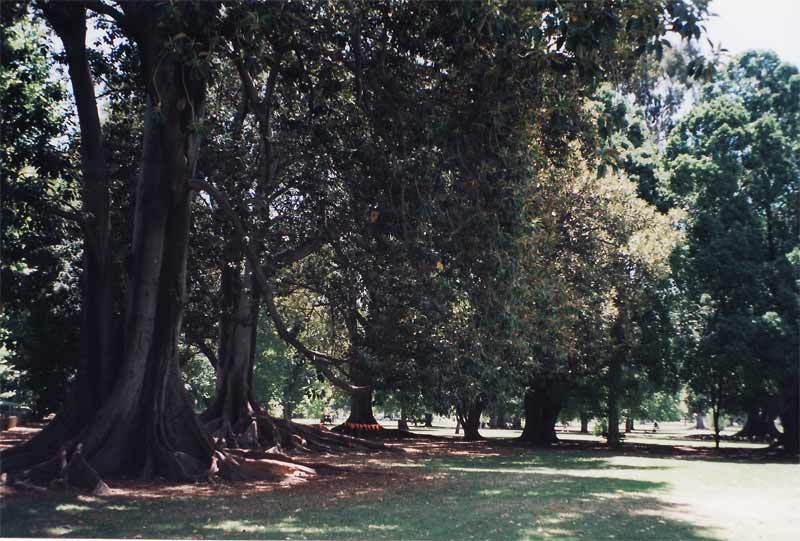 This is where the Morton Bay stage is now situated .Stage one is directly opposite , through the trees.
Shiela Chandra finished off the evening with an enchanting set of music which seemed to mesmerize a goodly portion of the crowd. Her music is ethereal and mixes elements of both western and Indian music and may not really be everyone's cup of tea, but her voice is something else and its purity and clarity , especially in her extended accapella pieces, was so powerful that she seemed to silence even the children ( although it must be said that most of these had long since fallen asleep, as her set was very late- around 1 am or so).
A 40 k drive home at 2 am, a few hours sleep, a quick birthday lunch and I was off again to Botanic Park. Despite the rush, it was more than worth it , as Saturday afternoon featured one of the best concerts of my life by none other than SALIF KEITA ! What a wonder, what a band, what an experience !!!!!, I danced myself into the ground ,staking out a spot next to the PA. It was my birthday and Salif was the best present I'd had ever . This hour set - which fortunately was recorded and broadcast on the ABC- was a tour de force of full on drumming, vibrant singing and downright life celebration . Keita , short, albino and yet commanding in his presence on-stage, has a stupendous voice- and in 1993 he was at the height of his powers, his band were HOT,and the music was powerful , driving and supremely danceable. For once there was actually an encore (which they tend to discorage at Womad as it means the schedule over runs horrendously ) and the applause was tumultuous. The nine piece band was as tight a unit as is possible and featured a blue satin topped sax player , Mr. Toots some one or other, some terrific African drummers and a great driving rhythm section as well as the obligatory cute ladies on backing vocals. This is probably the most full on set I have ever seen at Womad, in terms of dynamics and energy .A set to treasure forever and there was another one to come on Sunday night !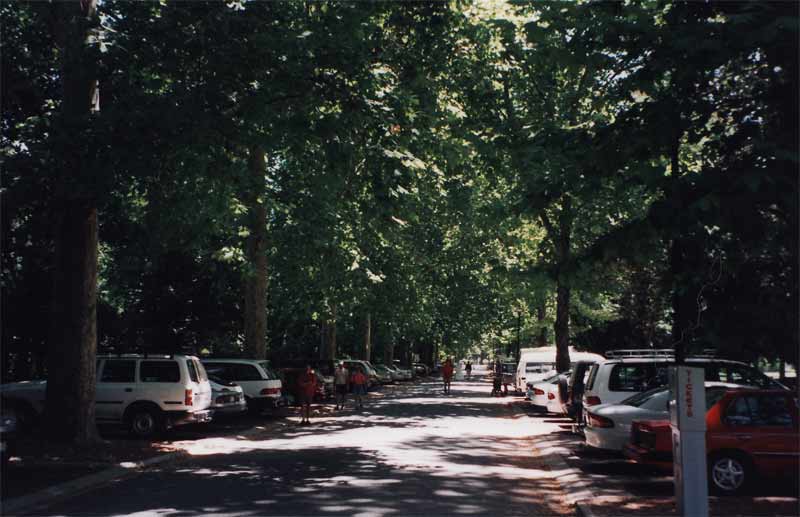 The avenue that separates the Botanic Park from the Botanic Gardens, toilets are situated on the left, the Festival village on the right .
Soweto based Mahlathini & the Mahotella Queens were another act who appeared twice and they were great fun . Fronted by Mahlathini ,"The Lion of Soweto" a fairly ancient Zulu gentleman , sporting a leopardskin and a drum , the main vocal duties were carried out by the Queens and trio of rotund ladies in their fifties all decked out in red, with big hats , who belted out a succession of absolutely great South African music of great style and force. The ladies soon had the crowd in the palm of their hand and they proceeded to manipulate them , getting them to shout YABO (which means YES ) constantly and exhorting Majalathini to greater heights as he leapt and cavorted around the stage and gave vent to his bullfrog bellows . A great band and sad to see that Mahlathini has now passed on . I shall always remember both his great sets with affection. Another one that was captured for posterity by the ABC.
Not Drowning Waving were highly popular on Saturday as well,not one of my favorite bands, they did however display a massive degree of energy and their set featured Telek- an Irianjia musician who gave their work a new flavor.
Although there were many bands featured on Saturday the highlight was the second and last performance by Peter Gabriel. This was a much more assured and longer show that the night before and was a tremendous show in every way. I clearly remember singing along to Biko on both nights , but the rendition on the second night was truly moving and a great way to finish off Saturday . Unfortunately Gabriel was not one of the artists broadcast on the radio and despite scouring the net I can't find anyone with a recording of either nights performance, so unless Mr. G ever gets round to releasing his soundboards I can't see us being able to check out how good either of these shows were,or recount accurately which numbers were played -but my memory says that this one was the real keeper of the two, although I'd give my eye teeth to see either of them over again, even though neither of them featured the theatrics of the Secret World tour that was eventually to come to Australia in 1994.
Sunday.
Yet another midnight drive home . Another rush back to catch the music. Galliano were the highlight of Sunday afternoon and their up front acid jazz got large portions of the crowd dancing . They were a real fun, funky, band who went down very well with the youngish crowd and got a good response with their uptempo set. The Holmes Brothers may also have played again on Sunday . I enjoyed some of their stuff although I found their long haired pedal guitar player a little too sweetly melodious in his tone for my liking on occasions . However Oliver and Wendall certainly have great voices and their blend of Gospel and Blues appealed to many in the crowd over both shows. Their Friday show was yet another set to be recorded by the ABC , bless their hearts.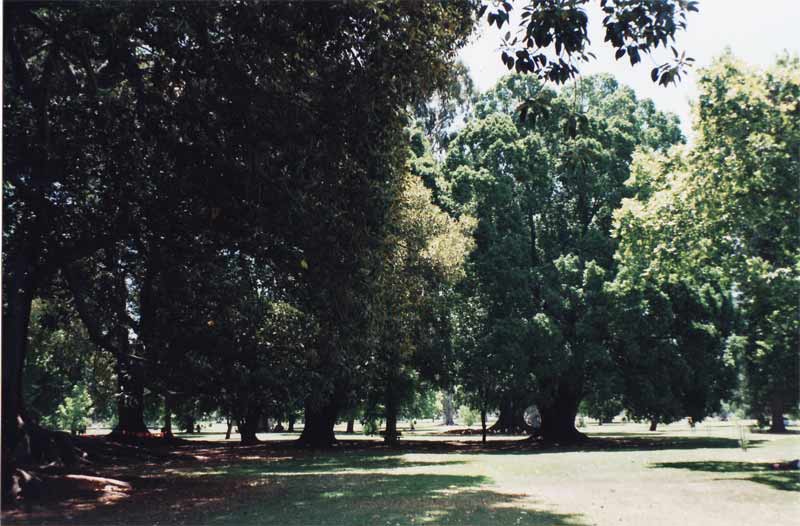 Whatever way you look at it, this is a fantastic place to hold a festival ....
At last however after a long, long weekend of music , we came to Salif's final set. Would he fizzle out after the great show of Saturday ? No way , this was just as good, except longer ! Under lights , Salif looked even more majestic and his band were frantic , a virtual powerhouse ! This a very long set , finally cut short as we were hours past the curfew, the power was pulled somewhere around 1: 30 am and I had an hours journey home and then work in the morning ! But it had been more then worth it all. Some of the best music ever at Womad and some of it had been preserved, just a pity that more of the output had not been recorded to bear witness to memory .
And there were so many acts I did NOT see as well, S.E. Rogie,Tiddas,The frantic Hungarian Gypsy orchestra who did a mad set during a windy Saturday night , the Terem Quartet, Kunjul, a young Aboriginal and Torres Strait Islander dance troupe and Coloured Stone . The list could go on and on. Thats the whole thing with Womad - it expands your musical horizons into all sorts of different directions if you will let it , there are always surprises and great music and if there is a rare occasion when there's nothing onstage that pleases, then one can always go and eat some exotic food , treat yourself to a Coopers Ale or buy something cool from the stalls.
If you've never been to a Womadelaide yet ,then I urge you . ATTTEND- you will not regret it !
---
---
If you have any photos , setlist or recording information you would like to add to this site, please don't hesitate to contact us via the main archive address . Just follow the link .
Links to articles on the 1993 festival.
*indicates page still under construction
---
---