Recordings known to exist but without set-list information

Echo And The Bunnymen - Bedbug And Ballyhoo - Glastonbury 1985 (23:05) BBC recording

Style Council 1985 June 22nd - Glastonbury Festival, Somerset, England (FM)
57min

---

Dryin' off after the rain © Dave Kotula

Message board 1985 stylee

© Dave Kotula
The Style Council onstage

Photo © Ely online

I remember 1985 as being the first year that I camped with my friend Lin up by the pylon in the main arena,before that I had an old ambulance up by the farm house. just by chance we found ourselves on the hill, so when it rained, and it rained, our little two man tent was saved from being washed away like some less fortunate folk, who had camped on flat ground. But the laughs we had that year, and it was the first time I had ever had carrot cake! amazing, Lin drank too much cider and passed out in front of the pyramid when the Boomtown rats were playing.
Ian Dury was playing on the pyramid stage, and some idiots were throwing mud at the stage and hitting Ian Dury,(shows how close you could get in those days!) he stormed off the stage, I heard him mumble something first and then just went, I'm sure it was Andy Kershaw from radio 1 who shouted at the crowd, something like "you idiots, you have just pissed off the main act for tonight" and everyone just stood there, waiting for Ian to return, nothing happened for ages and ages, then just as me and Lin were walking back up to the tent, we heard the strains of 'sex and drugs and rock and roll' and yes, he came back...brilliant.
Warlox
The mudbowl in front of stage © Duncmc

It wasn't only Ian Dury who was on the receiving end of mud thrown from the arena at the stage ......

Dave Kotula remembers the mud .....

One memory of 1985, the band Doctor and the Medics had had a hit with the 1960's song "Spirit in the Sky". Their stage outfits were white doctors outfits (it makes sense really). They played on one of the side stages.

Anyway a few friends were lobbing clods of mud at their glowing white coats, finally the lead singer got so pissed off that he jumped down from the stage and punched my mate Alan!
We didn't take our DM boots off until we got off site on the Monday. we slept with our boots sticking out of our tent to try and reduce the amount of mud getting into the tent. A couple of us melted the soles of our boots by accident on the fire when we tried to dry out.

The biggest problem was having to constantly stand up, if you sat anywhere you got wet.
It was a great experience, loads of us were down that year from St.Albans.

More mud © Duncmc
In Glasto 85 you refer to New Model Army's performance on the Pyramid stage. I remember it clearly because the singer Justin said to the crowd "Are there any junkies in the audience" (or similar) which was greeted by a huge roar, to which he then replied "I hope you're all dead by Sunday". The band were famously anti-drugs.
---
I remember the mud bath well – my first and only visit to Glas-Fest in 1985. I hitch hiked down from Yorkshire with a mate and I remember getting in for free as there was some commotion on the gates as we were queuing to go in….think someone was being brought out in an ambulance or something? Anyway we just walked in the main gates with no bother!!

I am gutted that I (probably) missed Joe Cocker!!! I do however remember coming up on a tab of something or other just as Third World were playing 96 degrees in the shade -you could get really close to the stage in those days – and I also remember the Ian Dury fiasco when he walked off stage for about a half hour because some idiots were throwing mud at him.

Does anyone remember being in one of the big tents (Film?) when someone came in and said over the mic that the fire officer had been in and wanted everyone to move away from the sides of the tent….everyone was so mashed that no one moved but just sat looking around at each other thinking "who is the wind up act?"!! He remained on stage for ages repeating himself trying to get everyone to move….no-one did I think he gave up in the end!!

It was great – I am glad I went in the 80's when the festival had genuine roots and a purpose… the music was a great backdrop to partying and socializing !

Happy Daze
Chrissy
---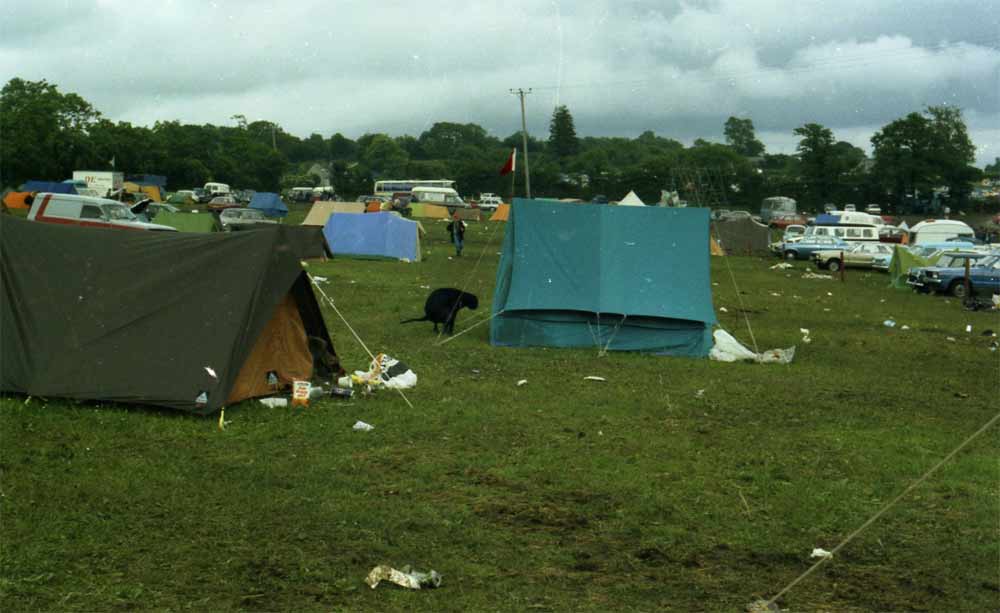 Well, us dogs have to shit somewhere..... © Nigel
Myself and three others came down from High Wycombe and the first night was great but we all got a Royal soaking and our tents were a wash out but the music on offer back then was so original it made for a Classic Event, from the likes of Joe Cocker and the Boomtown Rats, but the Star of the Show was indeed Ian Dury. He actually stopped playing half way through a song and was carried off stage because some idiots were throwing mud at him , we waited over half an hour in the crowd but he did not show .
We went off and got a bite to eat from one of the many food stalls on offer and just when we thought he would not come back on stage he kicked off again with "hit me with your rhythm stick".( He made the night and the valley came alive again with his classic masterpiece). No matter where you were in the valley you could hear the music and there was so much new talent just emerging back then.

All in all the various tents and music on offer was pretty interesting in 1985, i'm glad i went , it was worth the three days of getting soaked and we all had a real laugh back then.
Regards D.M.Walters.
---
I was there at Glastonbury 1985. I remember the deluge. And I stood bravely in the pouring rain to watch The Style Council, oh yes. For about three songs at any rate. Knee deep in all that oomska. I can see why Mr Weller wasnt best please. Quite a few were slinging the stuff at the band at least one of which was in completely inappropriate togs.
It wasnt all bad though. Over on the other stage, just as the clouds parted briefly, Jonathan Richman was reborn as a universal joy-maker, with Andy Paley on drums. The opening scene of this film is from that performance, as is the closing. He also had this song on the album he was promoting at the time, which kind of sums up why it was so good. And only a few got to see it, as you can see.
Sourpus
---
Visit Kevin Shewans Glastonbury site to see photos and stories of the 84 and 85 festivals.