The Archive .
---
Big BIG thanks to our sponsor Neil !

For information on today's festivals see eFestivals.co.uk
---
Formatted at 1280 X 1024 res or higher -Updated Feb 2012
July 2009 new photos from Daytripper and site map
---
June 22-24th 1984

---

June 22nd

Rumillajta, Billy Bragg, Hank Wangford , Joan Baez, Black Uhuru, Ian Dury, Dr John.

---

June 23rd *

Amazulu,The Waterboys, Paul Brady ,Paddy Ashdown, Brass Construction,The Smiths , E.P Thompson, General Public.

---

June 24th #

Steve Jolliffe,Christy Moore, John Martyn ,Bruce Kent, Fairport Convention, Weather Report.

---

Artistes who did perform but were not listed on the official program
Elvis Costello * Fela Kuti

Jools *,Seething Wells,Linda Lewis #,

Advert courtesy Phil McHoul
---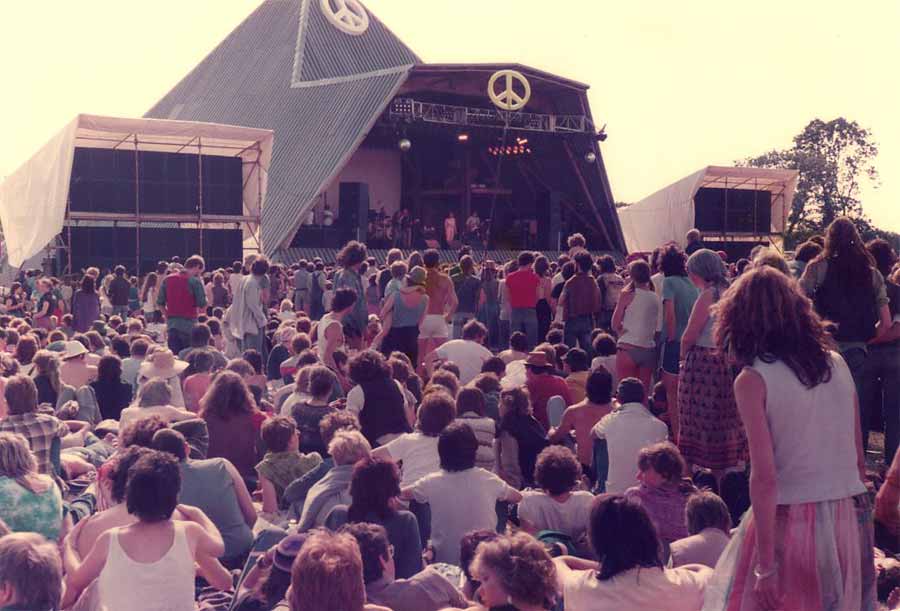 The stage 1984 © Phil McHoul
The festival lurched into the middle 80s , hit by no less than 5 prosecutions bought against Michael Eavis by the hostile Mendip District Council who were still trying to prove that the festival had contravened provisions contained within the previous years licence conditions.The allegations were that the promoters had exceeded the numbers that had been granted for the license .

The prosecutions were, fortunately unsuccessful, a four hour hearing dismissed all charges and the council were more or less forced to go ahead and sanction the festival. The council retaliated by slugging Mr Eavis no less then 2,000 pounds for his license. Audience numbers were set at a maximum of 35,000 and tickets cost £13 - £15 at the gate .

1984 also saw the start of the fabled ecological area "Green Fields" existing as a separate area within the festival. £60,000 was raised for CND and other charities.The weather appears to have been good.

Weirdly, reports about the 1984 festival are sparse, we would appreciate you sending us any eyewitness accounts and photos if you were at the festival so we can build this portion of the site.
I went to Glastonbury in 1984 along with my 3 week old baby boy, Tom. My boyfriend at the time, Pete (Scotty) Scott, who was later to become my husband was playing with Dr John on the Friday night. I remember I drove us all down from London with the band who were Diz Watson (keyboards), Pete (bass) & Kieran O'Connor (drums) and a wonderful Jamaican sax player called George who used to know Bob Marley back in Jamaica . We probably had someone like Pete Thomas or Nick Pentolow playing sax but I can't remember who played and whether they were in the car with us.
Diz and the Doormen played support for Mac (Dr John) whenever he was in London and there were some wonderful sax players who usually played with them. Come to think of it maybe Dizzy wasn't playing on this occasion because they were actually Mac's backing band. We had the drum kit & the bass & probably Pete's amp in the car along with the carry cot for our baby. In those days there were no car seats to carry baby in but the carry-cot that detached from the pram was really quite practical. When we arrived at Glastonbury we couldn't find our way back stage and we had been stuck in a traffic jam for ages so we were all getting a bit panicky about the time. Of course there were no mobile phones to ring for help but somehow somebody turned up with a tractor to take us across the fields to the back of the stage. We did however have to choose between the drum kit and the carry-cot and guess what won that one!
So there I was backstage with nothing to lay my darling 3 wk old baby into but I did have one of those wrap around things that I could carry him around in front of me in which was perfect. Anyway, it was far too loud out front for him and also pretty loud at the side of the stage but we did have a caravan to hang out in. Black Uhuru were on at 6.00pm, Ian Drury was on at 8pm and Dr John was on at 10.00pm. And who should be playing with Black Uhuru but two of our heroes – the amazing bass & drums combo of Sly Dunbar and Robbie Shakespeare.
And of course they were friends of George so we ended up hanging out with them in their caravan until these big spliffs came out and I thought … immm … maybe not very good for my 3 week old baby! Kieran and George are not with us anymore but Diz is still playing honky tonk piano in London and Copenhagen. Scotty and I moved to NZ in 1987 and the 3 week old baby, Tom Scott, is now quite a well known rapper in NZ. His band "Homebrew" were number one on the NZ Album charts last week and Mac (Dr John) Rebennack always looks us up when he's playing in New Zealand.
Jane Scott
---
I was there
Arrived on the Friday evening just as Black Uhuru came on - Can't really remember their exact set but they pretty much covered all the songs of their latest album "Anthem" plus the hits off Red and Sensimilia. Sly & Robby were at their absolute rocksteady best.
Elvis Costello was the "secret" special guest on Saturday night.
Weird, until I saw on your website that John Martyn performed I'd completely forgotten and I'm a huge fan of his.
The weather was good a little light rain one afternoon, but otherwise fine and not to hot either.
Good times....
ian
---
My first Glastonbury,
Was into reggae big time so we went just for Black Uhuru. They were great, and at the end we watched as they took the kit away. Sly Dunbar took down his own drums, my friends girlfriend got on his shoulders with a camera and we yelled Sly! Sly! he looked up in his big red hat and gave us a big smile. Damn pictures never came out!!
Next day we wanted to go to Stonehenge. We were blocked in at the edge of a field, we found some planks of wood, laid them across a ditch and drove out to Stonehenge. It was the last 'Free festival'
Simon Wolfers
Harlech
Gwynedd
---
Timeline
| | | |
| --- | --- | --- |
| Friday June 22nd | Saturday June 23rd | Sunday June 24th |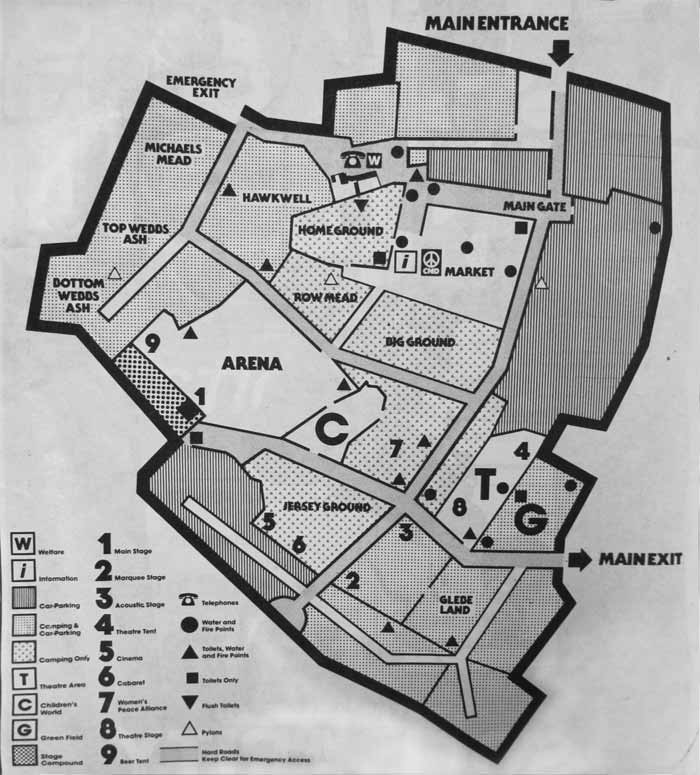 Courtesy of Gus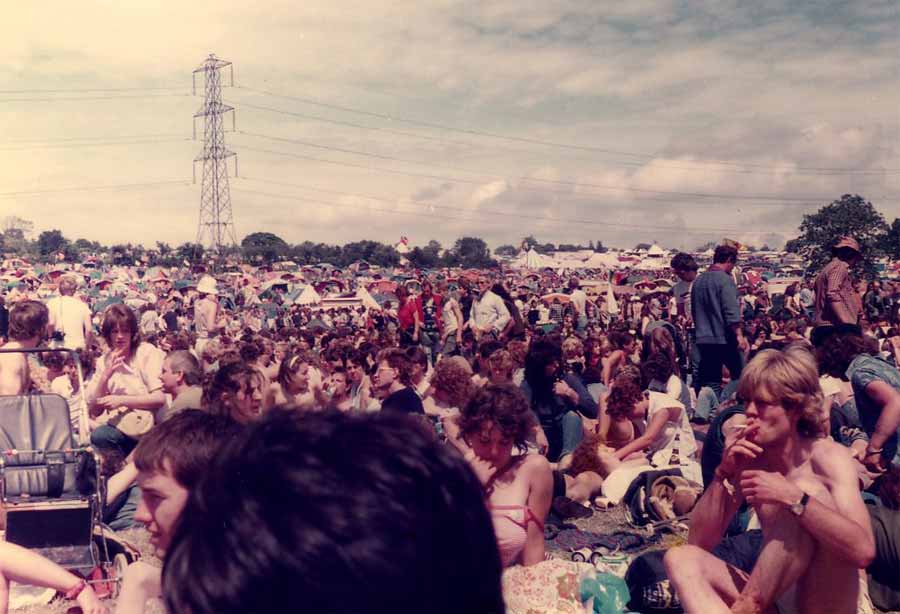 1984 © Phil McHoul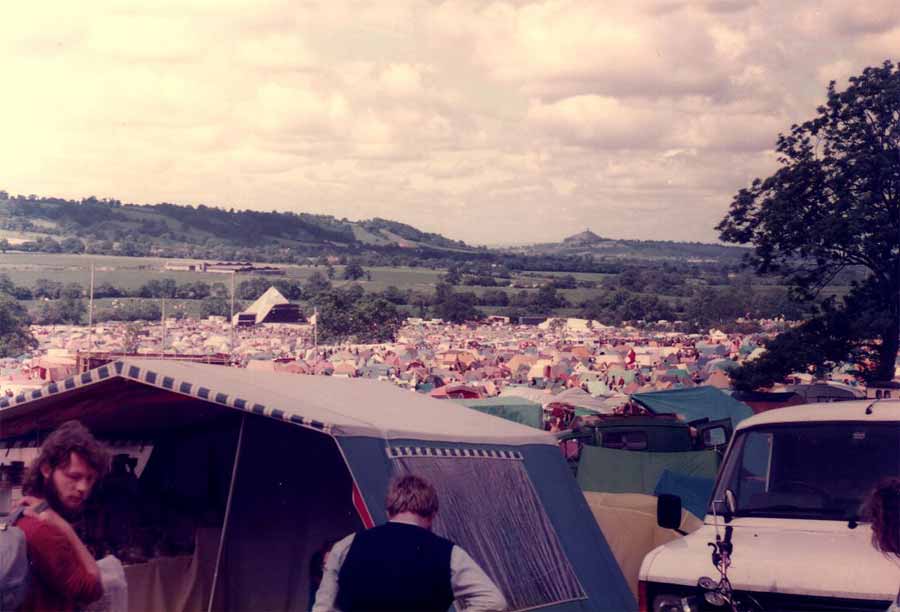 © Phil McHoul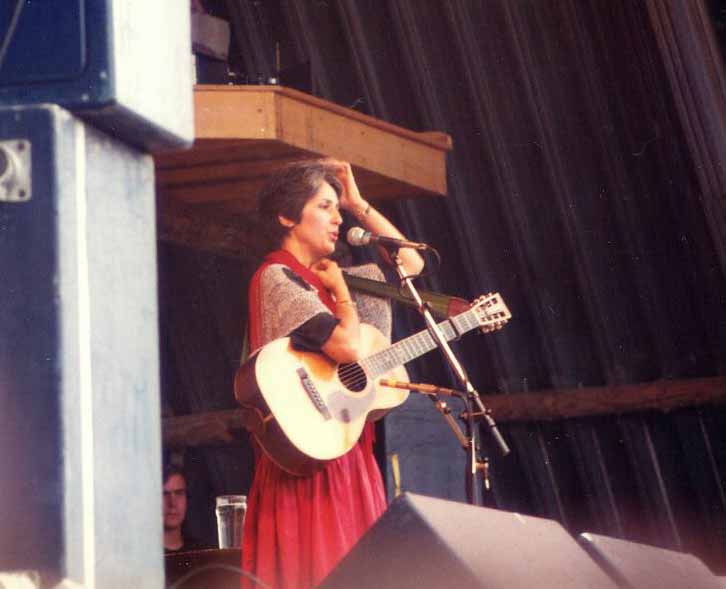 Joan Baez : June 22nd 1984 Glastonbury Festival © Phil McHoul
---
Speakers and Performers
E.P Thompson

Bruce Kent

Left : Ian McCullough of Echo and the Bunnymen, probably from 1985

. Above :Hugh Masekela

Photos © Nick Hider - thanks a lot Nick !

( visit Nick's Flickr site to view more great photos from this era )

---

Recordings.

There appear to have been some radio recordings of the 1984 festival, but whether it was local radio or the BBC we do not know .Possibly soundboard recordings have been mislabeled as radio sources. Otherwise it was , as usual , left to the intrepid audience tapers to preserve the music for posterity .Given the popularity of the festival, not a lot of recordings have surfaced, compared to those that exist from most Donington or Reading festivals held around the same era.

if you have any information about any others please Contact us !

Peter Garret of Midnight Oil , in his glory days at Glastonbury 1984
---
The Waterboys

Glastonbury Festival - 6-23-84 Audience.

Sleek White Schooner

A Girl Called Johnny

Dancing Barefoot

Somebody Might Wave Back

All The Things She Gave Me

The Girl In The Swing

The Three Day Man

Savage Earth Heart

The Smiths

Glastonbury Festival .6-23-84

Nowhere Fast
Girl Afraid
Handsome Devil
This Charming Man
William It Was Really Nothing
Heaven Knows I'm Miserable Now
Still Ill
Jeane
Barbarism Begins At Home
Hand In Glove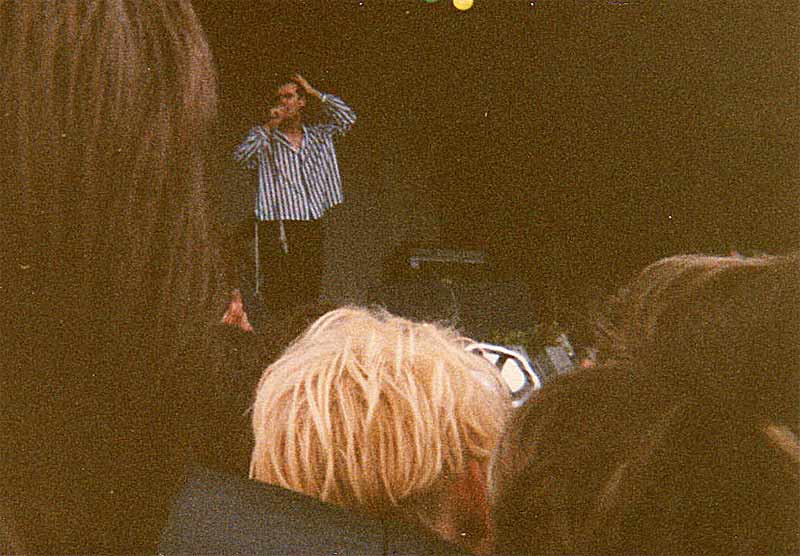 Morrisey onstage Glasto 1984 © Christopher Brown.
The Smiths received a mixed reception, as they were not just playing to their usual wave of adoring fans , but there was a stage invasion at the end of the set ( presumably by fans , not detractors ) and this meant they could not come back for an encore.
"It was quite strange," Morrissey mused afterwards "It's not something that I'd like to relive. It wasn't the best of our performances, and there was some animosity from certain sectors of the crowd. It is quite strange when you're singing to people who obviously do not like you. People are there to see other groups, it's quite tricky and that's how Glastonbury turned out for us."
"I didn't know that much about Glastonbury before we did it, and it sounded a very attractive prospect, but I don't think The Smiths worked at Glastonbury. I'm not exactly sure why, perhaps because we built up our following in smaller clubs and then we advanced to larger halls ... it was always very intimate and personal which was something we couldn't capture at Glastonbury."

Elvis Costello could have practically lived at Glastonbury, along with Van Morrison, he seemed to be one of the recurring acts during the 80s and 90s . In 1984 he played with the Attractions.
---
Elvis Costello and the Attractions

Glastonbury Festival 6-23-84

Let Them All Talk
The Greatest Thing
Watching The Detectives / Master Blaster
The Only Flame In Town - slow version
Mystery Dance
Shabby Doll
Worthless Thing
So You Want To Be A Rock 'N' Roll Star
New Lace Sleeves
Temptation
I Wanna Be Loved
Girls Talk
You Belong To Me
Shipbuilding
Waiting For The End Of The World
Oliver's Army
Beyond Belief
Clubland
Inch By Inch
I Can't Stand Up For Falling Down
Peace In Our Time
Everyday I Write The Book
Room With No Number
Man Out Of Time
(The Angels Wanna Wear My) Red Shoes
Home Truth
Alison / Living A Little, Laughing A Little
Turning The Town Red
(What's So Funny 'Bout) Peace, Love And Understanding?
Pump It Up / Ain't That A Lot Of Love

As can be seen right, the boot version of the show featured an incomplete setlist
---
John Martyn

Glastonbury festival 6-24-84

With Band

Don't Want To Know
Lookin' On
Sweet Little Mystery
Root Love
Could've Been Me
Big Muff
Sapphire
Dealer
Outside In

Solo

Big Muff
Sweet Little Mystery
Johnny Too Bad
Outside In
Could've Been Me
One World
Rather Be The Devil
Lookin' On
Solid Air.

Audience tapes.
---
Weather Report

Glastonbury festival 6-24-84

D Flat Waltz
Corner Pocket
Swamp Cabbage
Two Lines
Fast City
Where the Moon Goes


Joseph Zawinul: Keyboards, vocoder vocals
Wayne Shorter: Saxes
Omar Hakim: Drums, vocals
Victor Bailey: Bass
Mino Cinelu: Percussion
---
Black Uhuru

Glastonbury festival 6-22-84

CD1
01. Botanical Roots
02. I Love King Selassie
03. Solidarity
04. Darkness
05. What Is Life
06. Guess Who´s Coming To Dinner
07. Sponji Reggae
08. Party In Session
CDR 2:
01. Party In Session (continued)
02. Party In Session (continued)
03. Happiness
04. Whole World Is Africa

an audience tape of very average quality.

Visit Kevin Shewans Glastonbury site to see photos and stories of the 84 and 85 festivals.
Visit Daytrippers Flickr site to grok over a large number of photos of the 1984 Festival.
---
The Archive is as usual interested in this topic as regards to it being an aspect of social history of the counterculture , traveller and rock festival scene of the 60s to the late 80s and does not condone or encourage the consumption of any substances ,illegal or legal which may lead to mental or physical incapacitation by those who consume them .
Glastonbury Festival pages .