The Archive .
---
Big BIG thanks to our sponsor Neil !

For information on today's festivals see eFestivals.co.uk
---
Formatted at 1280 X 1024 res or higher -Updated Feb 2012
---
June 18-20th 1982

Van Morrison, Jackson Browne ,The Blues Band, Richie Havens, Sad Cafe ,Roy Harper , Black Uhuru, The Chieftains, Judie Tzuke, Aswad, Randy California, Funkapolitan, A Certain Ratio, John Cooper Clarke, Jena Philippe Rykiel and Didier Malherbe, Talisman, Osibisa, Climax Blues Band, Ekome, Steve Wally .
---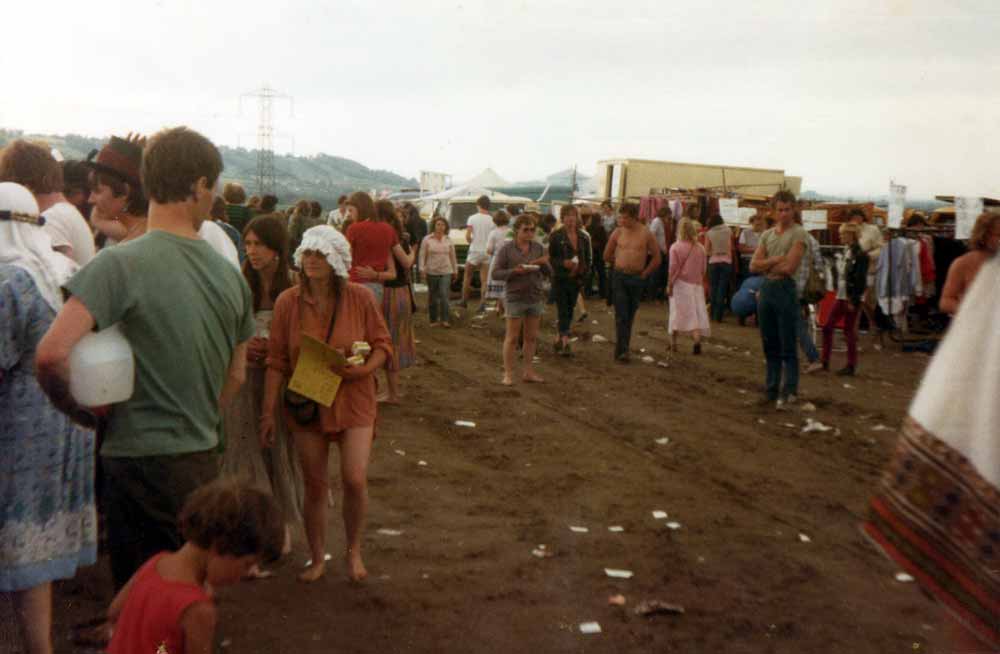 Muddy times at Glastonbury 1982 © Paul Seaton
If 1981 was the year that saw Michael Eavis prove that Glastonbury could be a financial success , then 1982 was the year when the festival really began to establish itself as a major event on the UK festival calendar. It wasn't purely a numbers game, the number of attendees increased by only 7,000 or so, a rise of about 25%, but nothing compared to the colossal increases in the early 2000s.A huge rise would probably have NOT been a good thing , as far too many festivals have been the victims of their own initial success.

Healthy attendances ensured that funds were available to invest in improvements in all areas of the event. In addition to rises in attendance, there was also a considerable improvement in the provision of facilities and efficient organisation , which is a prerequisite for the long term running of any large festival. Those on charge of the festival were to prove adept in developing strategies that would allow them to manage the political and logistical issues that come with a major outdoor event .

The Festival Welfare Services report below gives a good idea of just how well the festival organisers had learnt the lessons of the previous year, when there had been an overflow of effluent from the toilets on the last day. Despite very poor weather on Friday the event flowed relatively smoothly, although parts of the arena and campsite were seas of mud , at least early on. A film crew was in attendance and they captured Roy Harper, Randy California and Black Uhuru onstage .
Timeline
Friday 18th June 1982.

John Cooper Clarke

A Certain Ratio

Funkapolitan

Aswad

Randy California

Black Uhuru ?

Saturday 19th June 1982

Ekome

R.F Thompson

Steve Wally

Van Morrison

Duncan Campbell

The Blues Band

Sad Cafe

John Pieere Rykiel and Didier Malherbe

Roy Harper ?

Sunday 20th June 1982

Bruce Kent

Talisman

Bishop of Bath and Wells

Climax Blues Band

The Chieftains

Jackson Browne

Judy Tzuke

Richie Havens
This is not 100% accurate but gives an indication of what was supposed to happen , does anyone remember when Roy Harper and Osibisa played ? Did anyone cancel ?
---
GLASTONBURY CND FESTIVAL

Festival Welfare Report.

Any report on the provision of health, welfare and sanitary services at an open air festival tends to make the event sound like a disaster, concentrating as it does an the failures of these services.

Having studied the reports available to me from member agencies about last year's festival, it is clear that the organisers of this festival have made much progress in this area and are to be congratulated on that.Although not perfect, the facilities and services coped much better than last year in far more difficult circumstances.
Roy Harper

19th June 1982 Glastonbury Festival, UK
with The Roy Harper Band
50-minute TV broadcast

1 - Intro
2 - Drawn To The Flames
3 - Poor Man
4 - Elizabeth
5 - Woman
6 - Work Of Heart (Part 1)
7 - Work Of Heart (Parts 2-6)
8 - Casualty
9 - Outro

Two major factors combined to make the provision of facilities difficult. Firstly the weather was abysmal. A torrential downpour at the beginning of the festival was followed by intermittent heavy showers throughout. Many people had their tents completely flooded and vehicles got stuck all over the site. Much of the site was covered in thick wet mud.

Also, the crowd was larger than expected by at least 25%. Although official figures show 25,000 paying customers, this is less than the total number on site.
These factors should be borne in mind when assessing the relative success of the provisions made.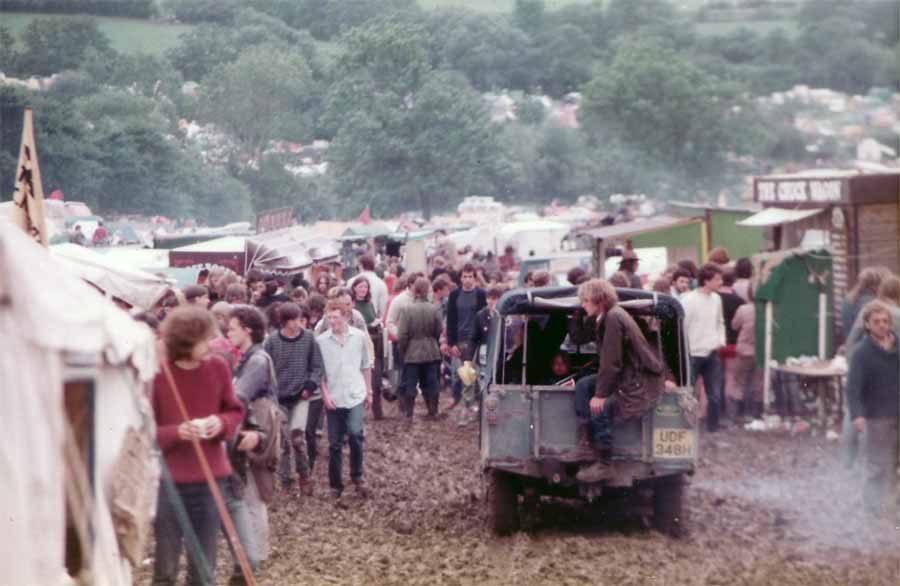 Mud ! Photo © Baz
Main drag Glastonbury 1982

Water
Large plastic barrels were dotted around the site, to be filled by a water bowser at regular intervals. This arrangement faced two problems. The bowser could not keep up with the requirements of such a large crowd and the rain caused the tracks to the bottom of the site (which is on a slope) to become impassable because they were too slippery.

Obviously, the first problem can easily be overcome by an increase in the number of bowsers. The slippery slope problem was probably unique to this year. However, if the barrel system is to be continued it would be wise for more barrels to be located at the top of the hill, just in case. I would prefer mains water to be available where possible., but understanding the problems involved in such a major provision, I see nothing wrong with the barrel system as one viable alternative.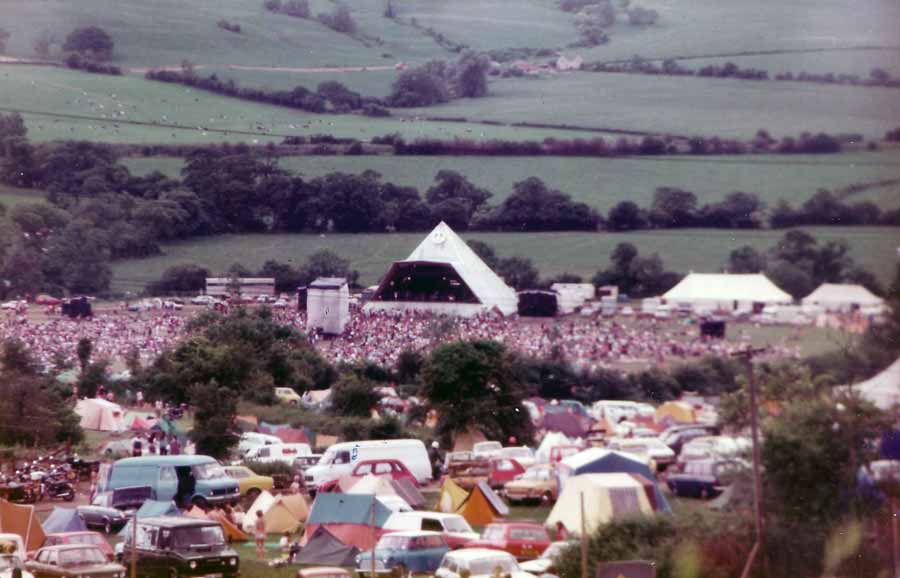 Photo © Baz
Randy California

Toilets
There were rectangular trench toilets each partitioned with seats, doors and roofs all around the site and a few flush toilets near the admin area. The trench toilets were emptied regularly. Had the numbers been as expected, there would have been easily enough toilets. As it was, there were just enough and they did cope, even though people stole the soft plastic roofs for shelter, thus allowing rain into the trenches which therefore filled more rapidly.
The design of the trench toilets is basically sound but the designers should put on stronger doors as the most used ones fell off. The roof problem is an interesting one for toilet designers but one for which I can unfortunately offer no immediate suggestions.

Given these problems, I still feel these toilets were as good as any I've seen, and while main drainage is not available they're the most suitable for the event.
The toilets were not cleaned.
First Aid/Medical
There was a 24 hour medical service in the admin area, staffed by local doctors and nurses. It was decided that an "on site" ambulance was not necessary and no emergency occurred to test this decision. My feeling is that at least during the period when heavy inward traffic blocked the lanes, an ambulance on site would have been a good precaution, reducing considerably the time taken to get an emergency to hospital.

The medical area had the advantage over most festivals of running hot water and electricity, and on the whole was very good. It would probably be a good idea at any future festival to supplement the doctors and nurses with some specifically trained first aiders to provide an experienced stretcher team and to deal with problems such as fresh burns with which they would be more acquainted.
People in distress
Freaked out people, of which there are always a lot at a big festival, were dealt with by an ad hoc welfare team of experienced volunteers supplemented for part of the festival by a team of Samaritans. This service worked well, although it was at times overloaded as the team also dealt with lost kids after 8pm (see Kids), lost property, lost dogs, general into at night and legal problems.
At future Glastonbury festivals an effort should be made to have the Samaritans team on site throughout if possible as the close liaison between welfare and the Samaritans solved many problems.

Crash Tents
Three large marquees were used for info and entertainment by day and as crash tents at night and were adequate even in the dire conditions.
Blankets provided by the Salvation Army after the worst of the rain and some extra tent space provided by FWS sorted out washed out families with kids who obviously had special problems.

Michael Rose of Black Uhuru
Kids
The set up for kids was very good. They had their own area with lots of things to do and, during the day, the lost kids tent was sited in that area. After pm, lost kids were taken care of by the welfare team.Some of the kids workers found difficulty in getting announcements over the p.a. at times (see co ordination), but it was rare for a child with caring parents to be lost for very long.

Info and lost people
There was an information tent on site, staffed by CND which also had a place for people to meet and leave messages. It was a pity this closed at night and hopefully it could stay open, at least in a limited way, 24 hours a day at future festivals. While it was open, it provided a good service with site info and info on trains, busses ,local services etc. So many people couldn't find their friends that the info/welfare services couldn't do anything about it. This caused some problems for the workers. It would be a good idea if a page of the program could be devoted to a more detailed site map and info on what to do in certain problematic situations.


Traffic
The major problem with the traffic was the size of the local lanes and obviously nothing can be done about that. The traffic controllers coped as well as possible. Broken down cars caused a problem on site and around and I would imagine a local garage or the AA/RAC would be into setting up a service on site to start cars, mend breakdowns etc: this arrangement would probably be profitable all round while overcoming problems.

Coordination of services
The communication system at the festival was very efficient and staffed by helpful people and is to be commended. It would help, however, if someone with authority to make decisions in all areas stayed in the control centre. There should have been one set method of getting messages to the stage, probably via the communication centre, so that important messages go out quickly while less important ones wait.
A note on the police
The police set up a marquee on the road to the site at which they conducted a stop and search operation on a large scale. Not only did this distress a large number of people who were strip searched but, from all the information we received, it was totally random and therefore illegal. Moreover, suspects were asked to answer a questionnaire including name, address, age, date of birth and nature of employment even when nothing was found on them. I would reiterate our deep concern over this operation and others of its kind . The officers who attended the site to assist the welfare were in a very difficult situation, however, they received praise for their tact and kindness.

All in all I think that the festival has made great progress towards the provision of adequate facilities and in some areas has provided more than just what is required. I hope the suggestions I make in this report are useful and they are summarised below. I do feel that we are now in the area of 'minor improvements' to reach a high standard.

Photo © Baz
I spoke to many festivaleers around the site and they were unanimous in saying that it was one of the most enjoyable festivals they'd been to despite the weather. I feel it was also reasonably safe and healthy.

Suggestions for future large Glastonbury festivals

1) A central controller authorised to take any necessary decisions to stay in communication centre.
2) Single channel of communication from services to stage for announcements.
3) More water bowsers.
1 1) More water tanks at top of site.
5) Info point and meeting place 24 hours a day.
6) Stronger toilet doors and more permanent roofs. Some extra units ; units should be cleaned.
7) Ambulance on site at peak traffic periods and some first aiders with medical team.
8) Breakdown facility on site.
Black Uhuru

9) More detailed site map in program,with notes of what to if problem arises and lost kids ticket.

To be attached to child's jumper/T shirt :

MY NAME IS Johnny Wright
MUM IS Jenny Wright
DAD IS Jimmy Wright
I AM IN, Red.VW. Near info tent.

10) A review of police stop and search procedures.


Bob Nightingale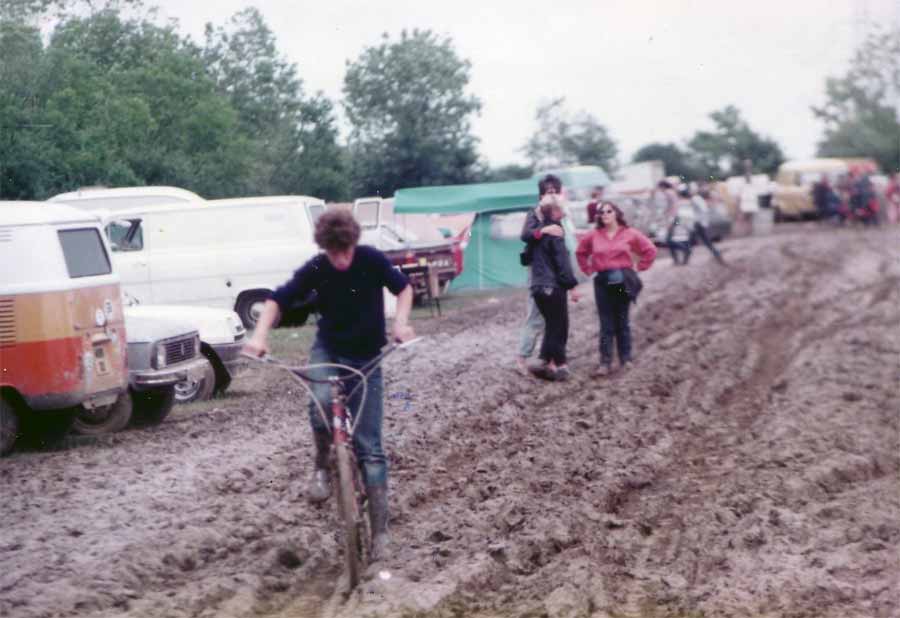 Jake takes a trip through the mud ! Photo © Baz
| | |
| --- | --- |
| | Photos © Baz |
| | |
| --- | --- |
| Photo © Baz | |
---
Recollections.
This was my first ever event of this kind - I'd seen nothing like it & attended mainly because of my interest in CND at the time. it proved a life changing experience & generated an interest in the festival that has stayed with me all my life, even during the wilderness years when I didn't attend.

I remember catching a shuttle bus from Bath after seeing the sun fail miserably to rise at Stonehenge on the solstice. Met up with a girl, with whom I spent a very enjoyable weekend and generally had the time of my life.

Black Uhuru I remember specifically because people just streamed towards the stage as soon as the bass started pumping out. The Blues Band were great, particularly when drinking lethal local scrumpy and the company of said young lady.

The real buzz was for Van Morrison, and having not heard any of him I stayed for his set. I am ashamed to say I got bored & left early. I bitterly regretted that in later years and was really glad I could make up for it in 2005 when I finally got the chance to see him play a full set.

Oddly enough I don't remember the bad weather, but I do remember the mud, with people slipping all over the place & a giant mud slide that others were enjoying in the Pyramid field.
I was also searched on the way out. A scruffy looking guy flashed his ID, said he was DS & took me to a large marquee set aside for searches, where a lot of other people were going through the same process.

It didn't bother me as I wasn't carrying anything, but it was still embarrassing dropping your less than hygienic underwear. He was very interested in a small pipe keyring I had, but as it only had ash in it there was nothing he could do. He was courteous and pleasant & we exchanged banter, & I wished him bad luck in his search as I left with a smile.

The toilets were very grim - a plank of wood with holes over a large & very unpleasant looking pit. I visited it once only & the pub I stopped in after I left the site probably still hasn't cleared the blockage!

Paul White

Traffic control was fairly rudimentary in 1982

I was at the Glastonbury 1982 festival and has been said , it was a very enjoyable 3 days with an interesting and diverse selection of bands.

I met up with a friend in Glastonbury town and hitched up to the site on the Thursday on the back of a flat bad truck. I don't recall seeing any police and we were certainly not searched on the way in or out. The weather I remember was OK cos we pitched the tent without any problems.

On the Friday a stage announcer stated that there will be no hassle from the police throughout the festival.. " but remember outside is a different matter". There were plenty of places to buy dope, acid, blues, mushrooms - whatever really. I remember travellers' busses with ACID FOR SALE and little tents with "Good Leb" for sale. Hot knives were 50p a hit ( very good) and I recall a guy selling doughnuts - No thanks. OK how about some mushrooms? " get your brains fucked for breakfast!!"


If I remember rightly the football world cup was on at the time and we had a ghetto blaster powering out tunes when a woman and child walked passed assuming we had the radio on " What's the score" she asked to which a friend replied " yeah you can get some good Leb near the film tent!

I don't recall a lot of the bands - some bass player got stuck in a tent - off his head, I can't remember which band it was. Black Uhuru were of course fantastic - the PA broke down for Randy California and I dropped a blotter of Acid on the last night and Judie Tzuke took me away. I couldn't find my tent for ages and eventually bought the complete stash of Flapjacks from a stall when the munchies hit in.

I left on Monday and hitched a lift back to Manchester with the University coach. I had to be in court on the Tuesday - it was just a great time.


Funnily enough I have never been back to Glastonbury - I travelled a lot in the following summers. But right up there in my most hated people list is Michael Eavis. What a tosser. How could you ruin such a great festival. Cash machines at a festival ! This year 175,000 people paid a lot of money to see a lot of crap. Now this is not being ageist here - but Lily Allen !
Cheers

David H
---
One very vivid memory I have from '82 is Black Uhuru performing. They were halfway through their set when a light bulb fell from the roof right in front of Duckie Simpson. Without even breaking rhythm he jumped back a couple of feet and carried on dancing and singing while a guy came on with a broom and swept up the glass.
Bob Schaffert
---
Black Uhuru
The rather photogenic Judy Tzuke.
| | |
| --- | --- |
| | |
Hi
Being 50 and running a cafe staffed with 18 year old students, they find it hard to believe I once attended Glastonbury - very different to today's event. Only one stage as I remember and we camped in a field next to a cricket pavillion. Someone fortunately broke into the pavillion toilets and so we had an option instead of those truly evil toilets which were actually a hole in hardboard over a bin bag lined trench with a flap of sacking to your knees. As you waited in line, all you could see was a row of knees, with knickers and jeans to the ankles and the stench..I will never forget. Like everyone else, we stopped at the first M5 motorway service station and "enjoyed" the odour of the people who did not have access to the pavillion toilet, releasing their first dump for 3 days. The toilets of that service station smelt nearly as bad as the on site toilet facilities. Suffice to say, I have not been to a festival since...but this year I am going to the Wickerman as a 50th birthday treat and guess what.. I have just bought posh loo and shower tickets..only 28 years to get over THOSE toilets. The music in 1982..don't ask me, I was off my head!!!
Jan
| | |
| --- | --- |
| | |
Bristol Reggae outfit , the Dole Age
Stormy weather- so bring on the clowns !
We were 16 and 17 and we didn't have tickets, so we went in through the fence – my boyfriend Steve, his friend Ben, and me. We had a couple of little tents and a Trangia camping stove and a lot of naïve enthusiasm. It was my first-ever festival, and I was overwhelmed by the huge numbers of people, and by the number of illicit things that were offered to us as we walked up through the site, looking for somewhere to camp. But it soon started to rain, and then (sorry boys!) my period started unexpectedly in the night. So I spent a miserable Saturday queuing to use appalling toilets, in pain, and I can't remember a single band that played. Mud and blood, mud and blood – that's what Glastonbury '82 means to me!
Fiona
---
Great Blog, really sparked the memory and great to read other peoples experiences.
I remember my brother and my mate Kevin Daw driving down from Hereford in absolutely torrential rain - through floods in places. It took hours and hours to get there. We parked Kev's light blue ford escort on the hill just down from the dairy? The rain stopped at some point and the sun came out and it was glorious. I do have an overriding memory of rolling up our Levi's to our knees on the first day and wading through the slurry into the market area and buying my Psychedelic Furs T shirt.
The roadways were delineated by posts and ropes but remember that before too long all the posts had gone and were being burnt (not us we had our one ring camping gaz stove!!) The toilets were horrendous and like the posts, the doors didn't last long, they too got burnt which gave sometimes a very revealing view of those unfortunate to be so desperate as to need to use them. The "toilets" themselves were just a couple of planks over a trench which soon filled up and although they were emptied stank something rotten.
Looking at the artiste list I think Rik Mayall is missing, as I remember he was doing a "Kevin Turvey" act around that time and am sure we saw him but age and alcohol may have withered the memory.
Black Uhuru were the standout act for me and I remember the sound being so good that my brother and I could stand right in front of the bass speakers on the right hand side of the stage and still hear each other speak, phenomenal. And lastly the green laser light show when Judy Tzuke was on absolutely dazzled me but I may have been away with the fairies at the time. It was just a great time in my life, a watershed which had a lasting impact on my life.
Thanks for constructing this blog, brings back the shared experience
regards Steve
---
Recordings
Van Morrisons set was bootlegged, presumably an audience recording .Roy Harper, Black Uhuru and Randy California were filmed for a TV show-Randy Californias set exists on video 50 mins.

There are two films in the BFI library " Glastonbury Pilgrimage " and "Glastonbury Festival" both made in 1982 . No details are given about their specific content.

Right: In 1981 the Pyramid stage was not sporting its nifty CND symbol, time had not allowed for it to be lifted into position, so it hung around on the side of the stage late into the festival.

1982 was different, this time the symbol took pride of place dead centre on top of the stage, which is where it remained until the charitable focus moved towards environmental groups in 1991 , post coldwar .
18th June 1982 set lists