The Archive
Formatted at 800 X 600- created Jan 1st 2003.
---
| | |
| --- | --- |
| The Tibetan Ukranian Mountain Troupe. | |
---
2nd Tibetan Book of The Road;
Which details the travails and travels of the Troupe from April- August 1981 , at Barbury Castle, numerous laybyes around Milton Keynes , Oxford Peace Fair, Strawberry Fair Cambridge , Stonehenge Free festival and Glastonbury .
---
Part two.
Barbury Castle .
Some time later after various three point turns and side trekking , as the sun is setting and rain is coming and the pigs have jacked it in and gone home ,we find ourselves miles up a very muddy , very tacky track up the ridgeway, parked between two stone gate posts with the back wheels parked on magic carpet .As I stand in the drizzle looking at the beast now I can only wonder how the fuck we get ourselves into these situations and as for getting out ....... It just looks so tacky ...... although probably with a little shove from the incelebrent Daylight Llama we always do get through, I mean we do , don't we ? .
Of course we do !

Enter next morning stage right ,with groovy slow wake ups, sunshine flowing in the windows ,coffee and spliffs until we all are ready to move off again . So now the task is to move the bus and wow ! its as easy as cake !!!!. With the magic carpet underneath she just floats right out . So off we boogie once again in hippie convoy through the trees and sunshine round a few corners and up a high steep hill which turns out to be supporting tourist attraction Barbury Castle .
The pigs follow us up and when we are all at the top tell us it is groovy with them if we camp here for a few days . Far out and solid .
The weather up here is sunshine one minute , monsoon rain the next,but we are all out if it enough not to give a shit of paper.

Wed May 27th
We've been here now at Barbury Castle for a few days , just enough to wind down and get laid back after the days leading up to this. And now the rain is drizzle all the time and the general feeling is that we've given Avebury just about all we've got to offer and so we're off now down the hill and into the big grey yonder and a roadside track somewhere near Oxford - where the rest of the troupe are supposedly hanging out . So , lush green laybye here we come !.

And in we roll to lush green laybye at Marcham near Abingdon and Oxford where everyone is smiling in the sunshine and moaning when it isn't . So that evening out with the shrooms and the old rot gut , last bottle to wash down the Avebury talk.
The rest of the week passed slowly with coats of paint and manic spannering and groovy as we always are ! All this despite a non stop stream of visitors from London and resident friends of the troupe and inquisitive locals and thus we stayed happy .
Then came Friday and the realisation that we are supposed to be putting up the marquee at some park in Oxford . So off trundles the marquees erector set in the Buzz and into blood red sunset and Oxford .
| | |
| --- | --- |
| | So off trundles the marquees erector set in the Buzz and into blood red sunset and Oxford . We found the park and as predicted just inside the main gate the bus sank ! same as it ever was...... |
Unfortunately the bus didn't sink in the right place so we had to carry the marquee up the hill on our backs up to its pitch patch. Before we knew it the tent was ready to rise , but alas, try as we might it didn't rise an inch.
A t that moment the international erector set rescue squad arrived and after a short break for chips and tea we hauled it up. All seemed groovy but - suddenly in the vicinity of Mr Bombay himself a wobble did radiate from hence through the whole troupe - and then the heavens cracked open and in a very dramatic scene , whilst most picked noses and scratched their bums, Perry voiced quite loudly all his fears and anxieties about the troupe and life on earth as we knew it ! Exit Mister Bombay stage left -cue- finally music .
But above all else , whatever, come what may

We all know that deep in our hearts , that through all the shit and shovel, however deep that the incelebrate and incontinent , the most high Daylight Llama is there guiding and protecting us and sending out his yellow clad minions , those intrepid protectors of our highways and highdays the A.A . Relay. Stay with it boys and hang in there , far out and solid .

May 31st
And thus arrived morning called May 31st and the Oxford Peace Fair .As fast as a greased chillum in the Tibetan Ukraine , the walls went on the marquee while all the other burger and jewellery stalls paraded themselves in rank for inspection , except ours which hadn't turned up yet.
By now the sandals and ponytails began arriving but never did they manage to outnumber the stall holders, most just milled around for a bit- bleated once or twice and then went home for tea. Miles and the Balfours showed up and after watching some very political and not very funny theatre and magicians , did a beautiful slapstick routine at the beginning of which Mike smashed his collar bone in four pieces , but bravely and with the determination fitting of a common or garden Tibetan Ukrainian on he went -flinching occasionally but grinning through clenched teeth knowing the only important thing was that the show must go on !.
And so it went . Lots of milling and bleating and now noise from the main stage , beer from the marquee and cider from the stall next to ours and its as much as we can do to get wrecked and laugh at all these cardboard cutouts and bargains off the back of weetibix packets and the only excitting thing they can think to do is join the fucking Tibetanukrainianmountaintroupe !


And then suddenly a familiar voice came wanging out of the PA and there on the main stage was our very own Phoni the Toni , introducing Perry and Mike about to do another show in front of stage , even though Mike is at that very moment some miles away in hospital getting fixed !
The show was fantastic, amazing , incredible , brilliant , far out and solid. The fact that Mike wasn't there didn't prevent him from covering Perry and most of the immediate audience with sticky goo.

As the show finished and the de-erector set got busy on the marquee , Toni once again took the mic and sent out a plea for everyone to come and push our stuck bus. Some actually came and after much jiggling with rope , trucks , people, land rovers , spliffs and spurred on by the promise of chillums when the bus started -it started . Bombouley ! And as the confusion was dawning we fucked off while we could back to laybye land and all that .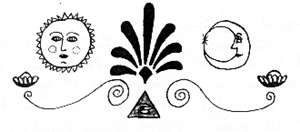 Monday June 1st .
another summer to begin,
another oily painted skin
another reason to be nice
another fucking bowl of rice

Thurs 4th June
And thus in the laybye the days did pass until now Thurs the whatever it is of June and four MOTs are booked for tomorrow , although none of the busses are ready for it, but thats never stopped us in the past.
I must say how splendid the buses are beginning to look with more red and blue and yellow and sunsets and mountains , all custom jobs by our world famous and underpaid artist and manic liquid Len - Roy.
The whole time we have been here we have seen no pig at all , but although we are here tucked away under ther trees in the middle of nowhere we have still ben having a constant stream of visitors from London - which is all very well but we get hear whats going on !
So now is nearly time to sling all our rubbish back in the busses from whence it hath lain since we slung it out .
Friday 5th June: Milton Keynes Bowl
The Beast was the first to leave the laybye bound for Belchly and MOT land. The plan being to suss another laybye to use as a base while MOT'ing . The laybye we found was next to a fairground at, of all places, Milton Keynes Bowl.
As the sun hung low in the sky , the Beast was the first to leave the laybye to give enough time for Perry and Mac to catch up. The da at Milon Keynes was spent inside the meltdown Keynes gigantic plastic pyramid, cunningly disguidsed as a shalow end swimming and paddling pool with palm trees at the central apex focal pont and all.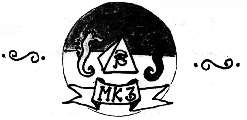 T he next impossible step is to communicate our position via our newly acquired answering phone 24 hour service - known as the Legalise Cannabis Campaign- to the rest of the troupe.
LCC had never heard of us - they said - so we left a message with Ziggy's phone as well.
Three hours later and we get the original message we gave to L.C.C. relayed back to us !
four hours later - nothing
five hours later- nothing
Six hours later and on the horizon amidst glowing sunset appears Maclunch and Perry Monster and in they roll. Out from cockpit leaps Perry flaunting clouds of laughter and M.O.T pass certificate !
Mac isn't and The Buzz and The Burden are still where we left them , hung up on brakes and other bus diseases.
And so we three busses are forced into staying the night at the laybye next to Milton Keynes bowl full up with the annual fair ground .


The night passes with shady business men , paranoia , dudes in fast cars buzzing us and wearing out their tyres and other such adrenaline rushes , until this morning when we are still here in one piece thinking about the strawberry fair, how are we going to do it ? , the other busses , how are THEY going to do it ? .

side view of artwork on the Buzz © Janet Thompson


As the sun sank still lower we neared Cambridge and in we pulled to the first Green King on route. However, we couldn't fit in the car park on account of The Buzz , The Blob and buddies already being there .
And so after a few swift jars The Beast heads off first again equipped with the knowledge that The Burden is already on site in Cambridge and as near as damn it, almost in one piece .
Before we know it we are there too and almost as suddenly , so are the rest and the rests , until at last here we all are again , in horse shoe formation with just enough daylight to sling up the marquee , SLING and its up , facing the albionic big top giving the appearance of some medieval field.
By the early hours of next morning the finishing touches were being added to the stage in the marquee by those few who hadn't had too many pipes and chillums but they soon enough joined the ranks of those who had.
Sat June the 5th.
Midsummer Common , Cambridge.
| | |
| --- | --- |
| So here we are at the | |
at Midsummer Common in Cambridge , I got out of bed , scratch my head , look out of the window and there it was . Hundreds of people milling around , queuing for hot dogs , burgers, tea, coffee, toilets , slugs and even strawberries . They were all there, mums and dads slapping sticky little kids wrists and hanging on to grandads reins , aunts, uncles, nieces, nephews and students. All milling around having a jolly nice afternoon out , milling around with their ice creams and cans of lager and generally havign an absolutely Saturday afternoon mill.

On the way to the Strawberry Faire 1984 © Janet Thompson

As often happens an hour after three o'clock, came four o'clock and time for a band practice . We set up the equipment on the stage in the marquee but hump as we might it would not collapse as it had some hours previously, and so we played .
And played and played . It was beautifully weird with lots of rhythm and discord . We dug it and it worked . We finished and noticed that the faire just about had too ! So we decided to pack it all up . Ready steady go . Down it all came woosh and up it all packed PLONK . By this time it was midnight and we were ready to leave . The Burden got the first aid it needed but just then The Blob got botty trouble and shee-it we nearly panicked.
We was on the verge of calling the A.A but it wasn't necessary , for the most high the big DL had not deserted us and fixed it himself.
And so , with our faith restored , off we snuck like a huge grumbling caterpillar through sleeping Cambridge into the night to- who knows where ?
Well it begins with lay and ends with bye and its got us in the middle.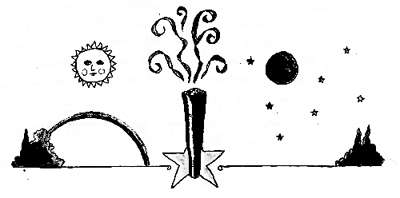 Monday June 8TH ; Dawn .
And thus has ended another 'band practice' in the beast of highness and energy and lets have an evening out of it trip , culminating in Wystic Mankation to the daylight and bitter Llama himselfness , and wots more archive insight into the ancient wisdom that the noses on these busses used to be known as 'Bedfords'
And so the continuing saga of 'life in the layby's' is interrupted as once again we take to the road with our heads bound by reality to Stonehenge via Belchley to have another crack at M.O.T's on The Lunch Bus and The Burden .
And as we have it the Lunch bus has passed !!!! ???? So now we sit in the the ....yes you've guessed it .....another laybye at that old Milton Keynes bowl waiting with baited roll ups and tea for the verdict on The Burden .
And we should receive the results any minute now . Until then lets have a little light entertainment with little Simon on stewed apples. Thank you Simon and take it awayyyyy .......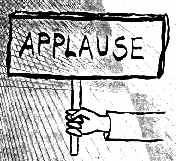 And here comes The Burden now . Its turning into the laybye now and Toni and Greame have left the bus and are entering the beast now ... and ... its failed . Oh well, thats the way the hashish crumbles.
So here we are again . No dope and no diesel and a hundred miles in between . We apologise for lack of colour- normal service will be resumed as soon as we find out what it is ....
Stonehenge Free Festival.
Sat June 12th
And so , after Lunch trek , through the night with the infallible Star Fleet Tib UK , we arrive at Stonehenge. The first rays of the sun have not yet dispersed the early morning mist and as most there are still asleep the Tib UK bus trekkers bus, truck in slow grumble around the site looking for prime pitch . We drop anchor in the first space big enough to accommodate our modest enterprise with a good view of the Stones .
" Naw man the Stones will never turn up here man ,I heard some guy say that Spirit might drop by though .... "
Its now about 7 am Sat June 12th . The troupe is all totally spaced on no sleep and night driving . I've just gone for a little walk round the site and sold out of lysergic gasket paper. As I look back to where the busses are parked something deep within me stirs as I see half a dozen figures, all in blue overalls with white faces and red eyes and totally blank expressions zipping about putting up the marquee . And all this before breakfast ! We are not alone !
And indeed we are not alone as by now the rest of the festival is waking up. Stonehenge Freedom Festival 1981 is waking up !
Editors note. : here the journal cuts off its narration and we are left with tantalising glimpses of the rest of the summer's activities. Mainly posters and pages of TUMT madness , which you can find by following the thumbnails at the bottom of the page . We reproduce here a transcript of a days madness at Glastonbury and hope that one day we will be able to fill in the blanks that took place during this most busy of summers , for both yours and our delectation .
---
Glastonbury festival 1981.
E.C.O. party summer camp
Sunday
Tibetan Ukrainian Mountain Troupe Marquee Program .
All day Annual general meeting : World Peace Mission .
Discuss.

Formulate Action .

Act formulations .

Topics seminars to include ;-

(A.)The Rolling International Roadshow to Lhasa for the first World ecological Peace Conference
(B.) Probability consequences of the great alignment including where will you be at in 1982.
(C.) World famine and the local dope shortage . These can be set to music.
(D.) Learning manhood prior to unlearning it .
(E.) Protected species status - the probable consequences of the removal of the species 'homo sapiens ' from the protected species schedule.
(F.) Psychic engineering -techniques of spacing out by precisely controlled degrees for exact and finite times.
(G.) Unlearning reading symbolised.
(H.) Unlearning to tell the time .
(I.) Learning to joke about money.
(J.) Demystifying the pyramid and Michael Evis.

Subjects to be lead by Gunther Leibenstraum , Bobo Zimbabwe , Gorballa McCracker.
Public smash your watch demonstrations.
Opportunity to contribute simple sums of money rather than your entire lives to any of the research programs .

Stop Press.
Bring your own twatting stick.
Seminar leader volunteers may be needed. Gunther may have to chair the free festival polyethylene Bag Conference at the women's rights on festival sites peace talks .
Bobo Zimbabwe was arrested in Shepton Mallet with his transistor sound theatre- mistaken for Michael Eavis
Gerabllo is continuing his peace missions to Liverpool and Moss Side.
---
click on the thumbnail to see a larger image
---
Books of the Road and other oddities ....
Were you there? Did you ever encounter the Tibetans in performance ?
If so , we want to hear from you , send recollections, press cuttings , photos etc,Contact us if you can help.
Visit the C Is For Dog web site and investigate the Wystic Mankers recordings for sale within.
Also there is now a TUMT forum as well as huge photo galleries here
---
Free rock festivals of the 70s and 80s