Big BIG thanks to our sponsor Neil !

For information on today's festivals see eFestivals.co.uk
Updated Feb 2019, New pictures of the site and audience
Dec 2011 new photos of the Pye Recording crew and Miles Davis's engineer Stan Tonkel and producer Teo Macero
Best viewed at 1920 x 1024 res .
NB: MEDIA- If requesting contact details to use images for publication, please send the url, image file and name of Photographer to us so its easier to give you their contact details. Due to the impermanent nature of the web, people change addys frequently- so we don't have contact with all of our contributors.
---
| | |
| --- | --- |
| | Freek press issue Two |
Unfortunately, this copy was so badly degraded it was unreadable, so we have transcribed the data the best that we can- now read on ....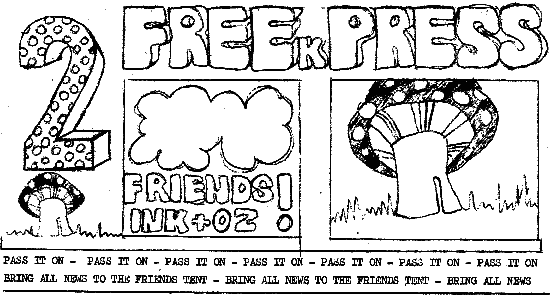 Dogs and Pigs fight it out .
Police early this morning called the security dogs handlers and warned them that they could be sued if their animals attacked anyone. Security officials defended their hounds and threatened counter suits for any legally minded victims. Security men also attacked police' they're everywhere, why can't they leave the kids alone ?'
A sentiment that is received with irony from hillsiders , who have been dodging security dogs for the last two nights. Securicor men roamed desolation hill with six dogs early this morning. They were greeted with a barrage of rocks and insults , mainly in french. Already police used their own dogs several times to scare off French Anarchists armed with knives.
Stop press.
At mid- day so called Anarchists began tearing down the outer perimeter fence , led by a mustachioed white smocked frog and all beating the corrugated iron hysterically . A sizeable hole began to appear . A securicor trio burst through the hole , grabbed Mr Smock and an aide de camp and dragged them both into the the security arena. After much screaming and kicking he was silenced by a quick blow to the stomach, seconds later both frenchmen escaped back though the hole.
Poet assaulted
Not long after author Robin Farquharson left the Friends tent to distribute Freek press he himself freaked out and scared bystanders . He was quickly ejected from the site and just as quickly returned on the hood of a taxi shouting 'right on,right on '. He was beaten and taken to St Johns by security men . He was removed in a land rover as no one got an ambulance. Many of the St Johns team have not dealt with drug cases before.
Stop Press !!!!!!!!!!
63 drug arrests. 24 theft arrests.
Fuck the water board
In response to mounting tension from festival goers about the disastrous site facilities, Fiery Creations have blamed the local authorities. The water board is responsible for the great bog scandal." We had difficulty with the water board from the beginning. They approved a site for sewerage at the bottom of the dam which wasn't't a a catchment area and spot wouldn't pollute the water supply. They later said we could not use that site because it would pollute the water sources and threatened libel if quoted on their earlier statement ( fiery creations )
Apparently all the lavatories had doors originally- people have complained about lack of privacy , but the doors have been removed by people wanting to create shelters.
Accommodation has been one of the biggest hassles, Fiery creations have been unable to physically acquire any sort of tents to provide cover shelter. Litigation has been started by the distributor who provided tents last year . Absolutely all the building has been done in two weeeks . Up till that time the site was quite. Two councils reversed their decisions afrter having previously cancelled their original site on the other side of the island. Fiery c are already involved in legal fees of 20,0000 pounds but are not considering how many ticket buyers they need to cover cost.
Thanks to Graham M Watson and Michael McNamara for the copies of Freek Press.
Does anyone have any more copies of the Freek Press ?, if you do ,Contact email
---
Contents
Isle of Wight 1970 festival menu
updated March 2019

The Underground press- NB: opinions expressed in these articles do not represent our opinions of the organisers or any other people involved in the running of the festival, it is possible that they may be innaccurate in some details or facts.
International Times.
Reports from the "Straight "press
updated March 2019
External links
The White Panthers
---
Other IOW festivals.
If you have any info you can contribute to the site, especially regarding the 1968 and 1969 festivals, such as details of recordings. recollections, programmes, tickets, pix or articles don't just sit there , Contact us
---