In 1979 , the last year of the festival, there was a change of management , with Chris, Dave Andy and Eddie deciding to let others be the prime movers . This was due to some disagreements over the direction the festival was to take, both in philosophy and of a practical nature. In 78 there had been some problems with people overstaying their welcome after the festival, Also, as the event became more popular,the usual issues of cleaning up the site, just how free a festival could be in terms of drug use and other illegal issues became a major issue which was not easily resolved .
Unfortunately , the change of management was not successful on all fronts. There were big problems in clearing up after the festival, when vital equipment was not returned to the hirers , as well as basic hygiene issues not being addressed . This souring of goodwill, combined with the change in ownership of the land, was enough to ensure that the Valley was not made available for a free festival again and the venue was changed to the far less salubrious Pickup Bank.
There was also another difference in opinion regarding whether name bands expenses should be paid for by the festival .Chris Hewitt , Dave Edwards , Andy Burgoyne, Eddie Kledjys , Henry Kledjys and " the camp of hippies with an attitude of lets think of the long term consequences of what we are doing " were supporters of this strategy .
Chris Hewitt ; regarding the payment issue in 1978
"I rang Steve Hillage's manager Steve Lewis and we negotiated . I gave him £500 for Steve ,Miquette and David Id their sound man ,as well as the rest of the band ,to fly back from Finland [ where the band were appearing at the Festival of the Midnight Sun ] and appear at Deeply Vale. This was the best night ever "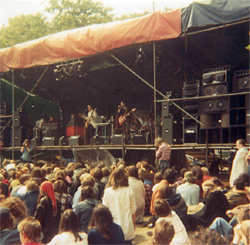 Here and Now Deeply Vale 1979.
©mark kupsz.
To view larger versions of Here and Now pix click on images