The Archive.
updated july 2021
Big thanks to our sponsor Neil !

For information on today's festivals see eFestivals.co.uk

---
Deeply Vale Free Festival . 1976-1979
The History : 1976-77.
---
September 1976.
1978 © Janet Thompson

The inspiration behind the first Deeply Vale festival was another free festival held locally in the summer of 76. 'Basically we had had a good summer ' recalled Andy Burgoyne, one of the originators of the festival ' We'd been to a free festival at Rivington Pike , Horwich and we just thought , lets have our own '. Fortunately , they had a pool of ready made talent to call on , as Rochdale band Tractor and their manager Chris Hewitt were keen to be involved , with members of the band Steve Clayton ( drums ) and Dave Addison (bass ) getting stuck in improving the access roads and helping bulid the stage . Chris Hewitt also had a great PA system that was made available for the festival.

After only a few weeks frantic planning the dream was a reality and in the woody region of Ashworth Valley , Deeply Vale played host to a gathering of musicians and fans alike , peacefully enjoying themselves and generally being at one with Nature . The brains behind it were understandably jubilant when after only three weeks of planning and with a stage built the night before ,there were several hundred attendees and the overall organisation proved to be successful.

Rochdale is not only birthplace of the Co-op and home to two Nobel prize-winners and Don Estelle, it has a crucial place in the genealogy of modem music. Gracie Fields aside, it was also the site of the North-west's own Woodstock, at a place called Deeply Vale, an unfeasibly beautiful natural amphitheatre on the borders of Rochdale and Bury. In four years in the late Seventies, the festival was transformed from a gathering of local youth into a Stonehenge with black pudding. With its eventual mix of punk, new wave and hippie it gave birth to the proto-crustie.
The origins of Deeply Vale reads like a social history written by Vic Reeves. Chris Hewitt, who owned the only hippie music shop in Rochdale, also managed a prog-rock band from Rochdale called Tractor, signed to John Peel's Dandelion Records label. Hewitt had the business acumen and the hardware that allowed the first festival to take place.

A group of hippies in a commune in Rochdale decided they wanted their own Glastonbury. But because there was no money,this small group got on their bikes, hustled, and became experts in stage construction, electrics and lighting. And above all else they would go round each year to the local farmer,Frank Turner get him drunk and persuade him to sign a contract to rent out the land.

The Independent. 1996

The first festival attracted only a few hundred people, which the straight world would see as a failure , but who gave a damn, no one was in this free festival business to turn a profit anyway, that was the whole point , to prove that it could be done outside the normal set of rules . What mattered was that the seeds of the idea were sown and it was sufficient to inspire the organisers to do it again and to do it bigger and better .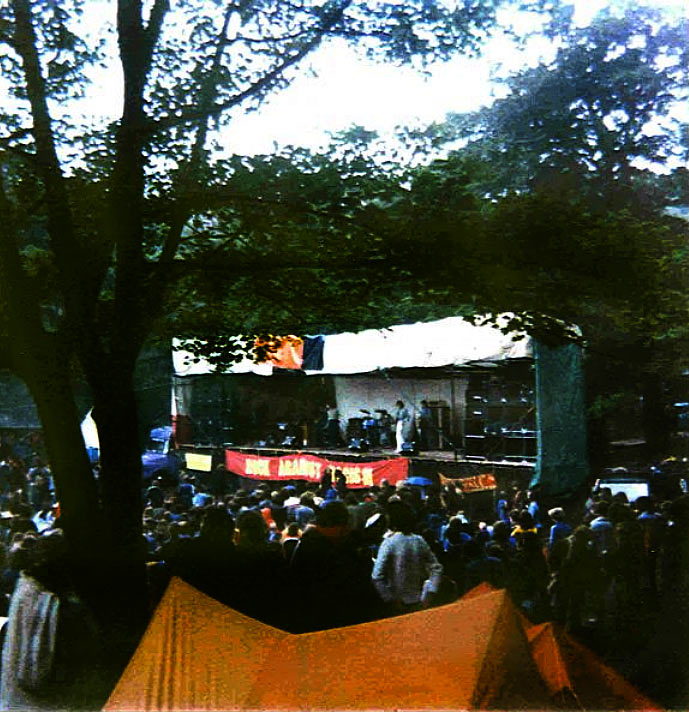 © Janet Thompson
The organisers
| | | |
| --- | --- | --- |
| John Clarke and Chris Hewitt, 1978 . | Dave Edwards and Eddie Kledjys. | Andy Burgoyne |
If the values of the free festival permeated Deeply Vale, what gave it it's unique sensibility, what made possible the creative clash of styles and the mutant crusty culture it spawned was Rochdale itself and the Rochdale satellite towns and villages Wardle, Littleborough, Whitworth, Heywood and Bacup- where many of the original organisers and musicians came from. The sublimely wild landscape of the moors that surround Rochdale constructed a mental geography where hippies had bite and punks had soul. Henry Kledjys [ brother of the late Eddie Kledjys] now working as a producer in television on programmes like The Bill and Phoenix Nights, was involved in the Deeply Vale Festivals, both Henry and Eddie became involved in Deeply Vale from a Street Theatre aspect but three years later they had learnt everything there was to know about staging rock events.
Henry recalls returning from university in the mid seventies to one of the wildest places in England –Rochdale !!.It was a major cannabis centre and was also the home of one of the highest circulation alternative magazines in Europe- Rochdale's Alternative Paper- RAP survived quite a bit longer than a lot of the other underground press. Chris Hewitt first met Pete Farrow and Trevor Hyett at a RAP Garden Party , Chris was a student at the college,used to help fold RAP for the early issues, had just started road managing Tractor and within two or three years would be working on quite a few left field musical events with Trevor Hyett often compereing and Pete Farrow doing one of his superb acoustic sets.
All those involved claim that for a moment there was a "synchronicity" in the Rochdale music and arts scene and Deeply Vale.
Grant Showbiz gives Rochdale"maximum points for madness"
Chris Hewitt

'The original 1976 organisers were Dave Edwards, Dave Smith, Andy Burgoyne,Chris Hewitt [manager of tractor and tractor music shop and rehearsal rooms] , Steve Clayton [drummer of tractor/the way we live] Jim O'Neill, Patrick O'Neill, Cliff Jackson, Andy Sharrocks, Gordon Tilstone etc etc. This increased with the involvement of Henry Kledjys and Eddie Kledjys in 1977. They came along with street theatre in 1976 and got involved in 1977. '

Right : poster for Tractors original single. click on the image to view a larger version
Andy Sharrocks: DJ and also musician in Accident on the East Lancs went on to work in tour production

Henry Kledjys:street theatre organiser and stage builder- went to work in television

Nigel Lord: drummer in Frogbox- now a journalist writing for music magazines

Chris Hewitt: Deeply Vale production 76/77/78-runs the record company that produced this cd
and manages Tractor and the Deeply Vale archives

Jim Milne: Tractor's guitarist

Steve Clayton :Tractor's drummer- Also writes and paints

Nick Ashworth: bass player in Frogbox and Accident on the East Lancs- still a bass player and also actor seen in TV soaps etc

JK: John Keegan of the Silver Hill String Band-Now runs the Amateur Astronomy Centre

Dave Bottomley of Alchemist plays in a Toto tribute band TotoRecall
---
July 22-24th-1977.
'Sounds' - July 2nd 1977
A free festival is scheduled to be held at Deeply Vale near Bury , Lancs , from July 22-24th. The festival will be a mixture of rock, street theatre, poetry and folk music. Acts due to appear are Tractor, Cry Tough, Mudazanas, Gin-Seng ,Pegasus, Physical Wrecks, Body , Alchemist, SFW, Frogbox, Starfinder, Snapper, Moonchild, Bashful Alley, White Fire, Welcome Leviathan, Sanctuary , Trigger and Movement Banned .
Does it always rain in Lancashire ? It was my first visit there for many years and it was wet the whole time .The pre-arranged site turned into a bog and the three miles of pot holed dirt track was enough to put off the most hardy and acclimatised festival goers . Yet 1000-2000 of them turned up, bringing with them their fair share of welfare problems .

These problems weren't the fault of the festival organisers- they were very together people. They had made very good toilets made from 40 gallon oil drums sat on the ground with a hole in the top and a seat, surrounded by a canvas shelter. They had supplied plenty of plastic rubbish sacks and water was obtainable either from a nearby stream or from the heavens . The local farmer too was very helpful and he spent much time towing cars out of the mud, bringing cinders for the track and he helped to clear up the site after the festival.

Home office report.
---
Music press report.
All along the Watchtower is getting to be something like the theme song for 1977s burgeoning free festival movement. Several bands and ( slightly better but still uncomprehending )several solo folk singers sang it like NOW it meant sense at this Northern (near Rochdale ) festival in picturesque Deeply Vale. .Are these anarchic Aquarian happenings the blueprint or perhaps the vanguard of a bright and golden new age ? . Or are they merely degenerate drug orgies for disordered redundant hippies ?

And what does it mean when the music is uniformly basic and dreary too ? Seventeen different bands played versions of Jumping Jack Flash . Twelve played Route 66. The recorded sound favoured 1972-ish post acid downer sounds like Aqualung, Paranoid and Captain Lockheed and the Starfighters. DJ Emperor Gordino and the stage manager maintained a constant argument/dialogue over the PA occasionally interrupted for up to date bulletins on OD's , epileptic fits, cars turned upside down in the river, rip offs and plugs for the rough cider pub the Frog and Coathanger .
Some 2000 attended Deeply Vale- the second year the festival has been held. The weather was terrible . Northern freaks are better organised and down to earth ( as in practical, rather than indicating a close kinship with the sod ) than their Southern counterparts. Whereas at Stonehenge and Glastonbury things had come together just like that (and they had ) Deeply Vale was set up by local dealers and record companies , complete with administration site ( The Magic village ).
Tractor - a local band with a single (No More Rock and Roll ) were heavily advertised, but they will have to ease up on their " only here for the beer" attitude. Two adept space bands- Body and Quasar , promised well for the future- the former an especially thrilling three piece. Nothing more then music to drift off to- and none the worse for that .
---
The festival history 1978-79
---
This site contains a goodly part of the Deeply Vale Archive , graciously provided by Chris Hewitt , but we are always interested in contributions from attendees. I
Any info to add ?-well don't just sit there , Contact us
---
For more Deeply Vale content visit -
OZIT records Chris Hewitt's record label- one of the original organisers of the festival , features recordings of festival artists, home of Tractor and the Deeply Vale Archive .

Deeply Vale menu
---
---