The Archive.
Last updated August 2010
---
---
The Doobie Brothers.
---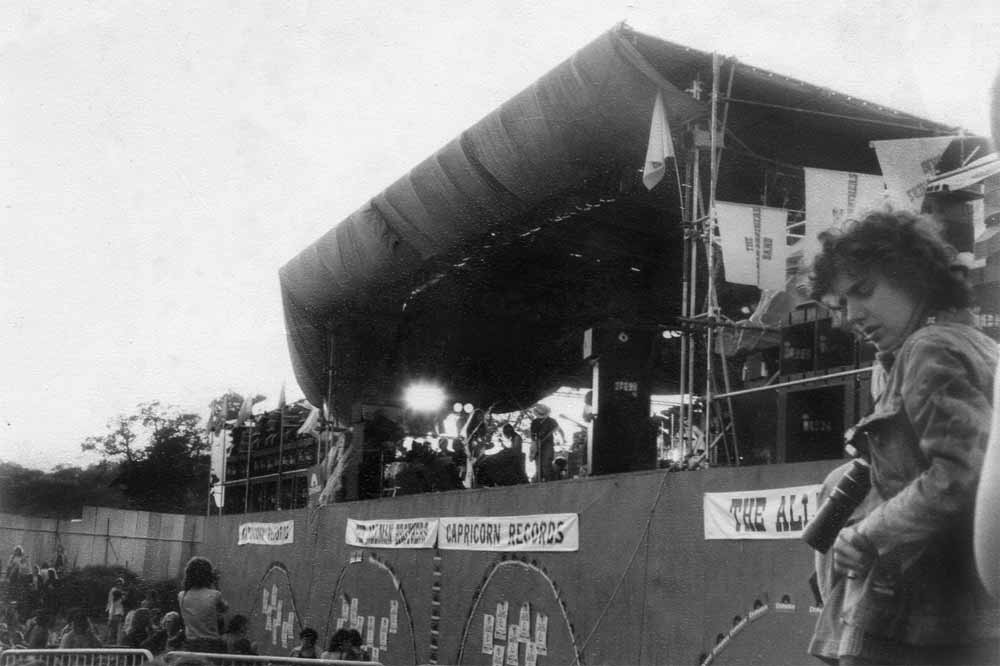 The Doobies strut their stuff as the sun goes down ... © Tony Brigg
Photo courtesy of Henry Cobbold , Knebworth House.
The Doobie Brothers were something of a mainstream band , at least if one judged them by their records, but live they were another matter, on stage they were an extremely funky and soulful outfit . They were billed above Van Morrison on the strength of a few hits such as Listen to the Music and Jesus is Just Alright . I never owned all that many Doobies albums, but I had friends who were real fans , and we spent a fair few hours laid back listening to their albums, the best of which are probably Toulouse Street and The Captain and Me.

Photo courtesy of Joseph Kolmansky.
Photograph © Bazza.
To view a close up of the band click the main photo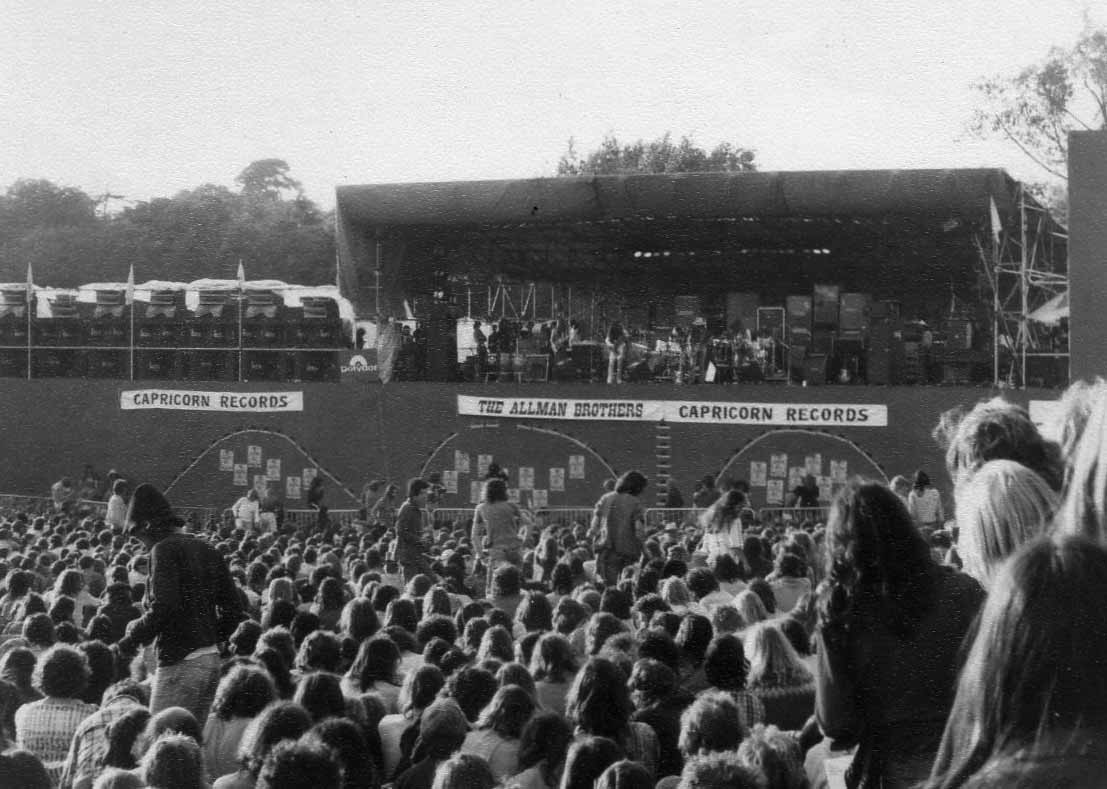 View of der Doobs from just about where the Archive editor was sitting © Tony Brigg
I was expecting to be mildly entertained , but the band were top notch . Not an outfit who were going to go in any different directions on any given night, but still a highly professional band of talented musos who were capable of stirring up a crowd and giving them a good time, mainly driven by the twin guitars of Pat Simmons and Tom Johnston, their eminently soulful vocals and a rhythm section that was as tight as a latex glove. They also had more than a few damn good songs and the combination of the twin intermingled guitars and spot on vocal harmonies was hard to resist. This show was hot and featured most of their big hits. By the end of their set they had most of the crowd on their feet and dancing madly to their music.


Personnel

Tom Johnston - guitars/harmonica/vocals
Pat Simmons - guitars/arp/vocals
John Hartman -drums/percussion/vocals
Tiran Porter - bass guitar/vocals
Michael Hossack - drums/congas/timbales
Jeff (Skunk ) Baxter- guitar


Excellent photos of a Doobie Brothers concert in Arizona in 1974 can be seen here .

Set list

Listen To The Music
Black Water
South City Midnight
Lady.
Rockin Down The Highway.
Don't Start Me To Talking
Without You.
Clear As The Driven Snow
Eyes Of Silver.
Without Love
Down in the track
Road Angel
Jesus Is Just All Right With Me
China Grove
At least one audience tape exists of this show . Big thanks to the intrepid J K - who taped the show - for this set list . As he says " a highlight of this show was Tom Johnston's " put your hand together " routine which worked so well and still gives me a thrill after all this time"
Hopefully this tape will surface digitally sometime on the trading circuit, although ominously, JK no longer answers any of our emails......as none of us are getting any younger, lets hope he is still around .
---

Doobie Brothers links.
Official Doobie Bros homepage- mainly promotes the bands activities today ,but not a lot of info on the bands past .
Rough Guide to Rock - Invaluable site which gives background info and album details for almost every band you can think of.
Doobie Bros Fan pages Good site , but incomplete at the moment, lots of pix.
---
Contents .
or you can read the individual
Band reviews which also contain recording details, set list and band line up info as well as links to each artist where available..
---
Can we get a witness ?

We have been endeavouring to collect as many recordings of the artists that featured at these concerts as possible, so we can effectively review the performances, provide set lists and band line-ups. Any info displayed on these pages or which is sent to us for review remains the copyright of the contributor and the Archive makes NO PROFIT from its use. The intention is to also display as many personal histories of the festival as possible for the benefit of readers of the site and we welcome all written contributions, no matter how long or short.

If you can contribute in any way, with tapes, reviews , photos or personal histories, please Contact us.

Knebworth Concerts 1974-86
Knebworth links
---