The Archive
view at 1280 x1024 res for best results
---
click HERE to find out more !

Big thanks to our sponsor Neil !

For information on today's festivals see eFestivals.co.uk
Last update May 2013
---
Knebworth Park. July 5th 1975.
Pink Floyd

Steve Miller Band

Captain Beefheart

Roy Harper and Trigger

Linda Lewis

Graham Chapman

DJ'S John Peel & Pete Drummond
---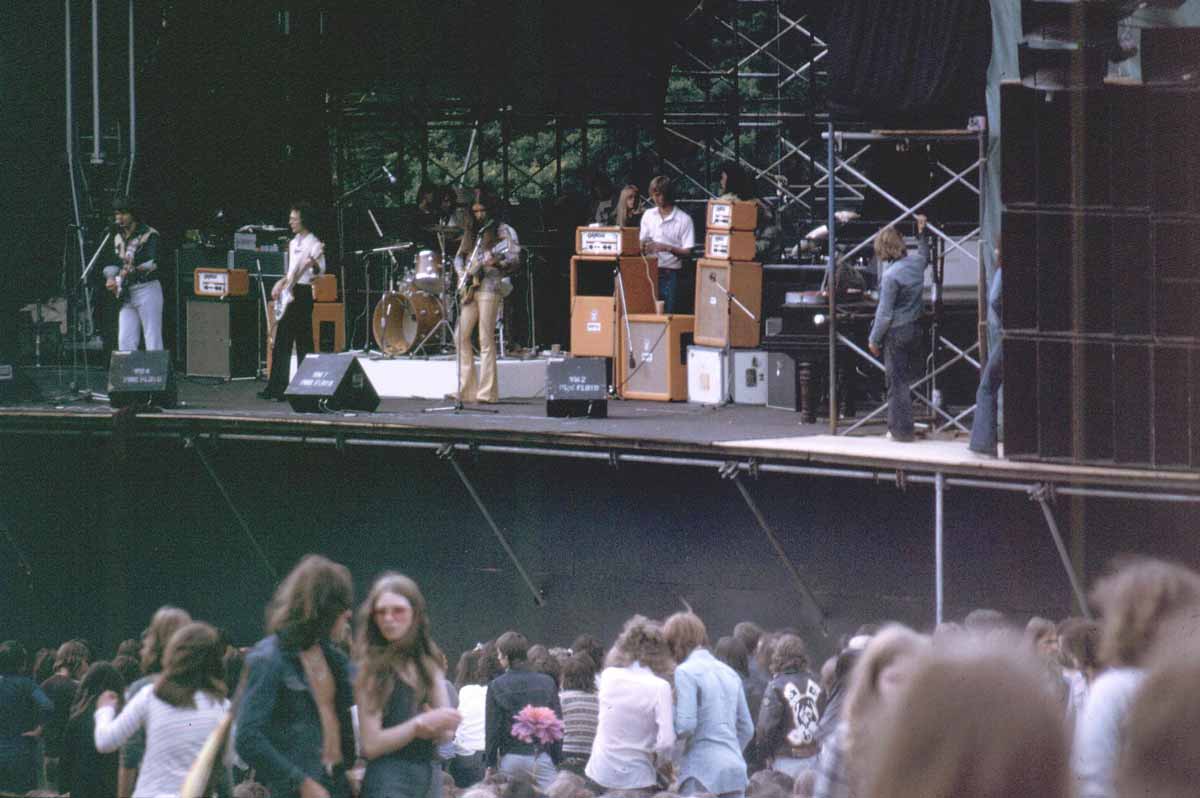 The Steve Miller Band entertain the vast audience at Knebworth 75 © David Miller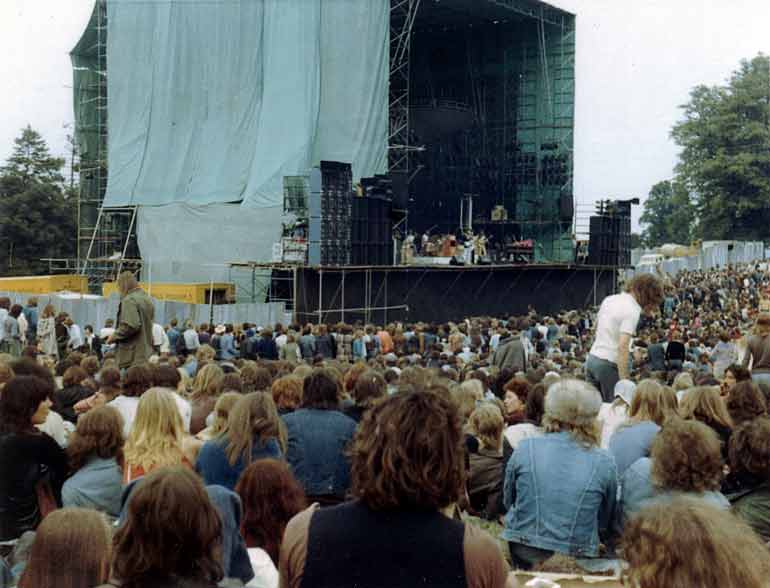 The PA looks pretty puny compared to most of the rigs we see nowadays, but this could also be dwarfed by the excessive height of the stage © Martin Starnes
| | |
| --- | --- |
| Photos © Martin Starnes | After the success of the 1974 Bucolic Frolic, veteran rock promoter Freddie Bannister promoted another large outdoor concert in the grounds of stately Knebworth Park, scene of the previous years show. |
This time round the draw card was Pink Floyd ,backed by a solid bill consisting of

Linda Lewis
Monty Python
Steve Miller,
Captain Beefheart and the Magic Band ,

And being the ultimate show of their 1975 tour, this should have been an artistic triumph for the band , but events unfortunately conspired to make this rather less than that , at least as far as the Floyd were concerned.
Photo© Henry Cobbold

The festival also played host to the mother of all traffic jams ( left ) and queues stretched back for up to ten miles in length, something that had not happened to this extent in 1974. This was partly due to the fact that although the festival was a sell out - and the organisers had asked people without tickets NOT to attend -many fans still arrived in the hope of scoring tickets from touts, or just hanging around and listening to the show from outside. Car breakdowns on the connecting roads also did nothing to help things and the fact that the police took control of the traffic arrangements apparently did little to cure the problems either.

These pages are intended to be a celebration of the festival, the second in a long line of one day events held at Knebworth Park. You will find here as many details of the day as we can muster, most especially oral recollections of those who attended, details of performances , photos ,press accounts ( can anyone help with providing some more of these ) , band personnel, set lists , available recordings and links where available.

We 'd also like to thank the following people for contributing to the development of the pages so far.

Richard Arrridge, David Miller ,Martin Starnes , Henry Cobbold, Neil Rice , Graham Edgar ,Ove Strindh and Chris Atkins.

Thankee gents ....
---
There Must Be A Better Way
The abridged Knebworth commemorative set There Must Be A Better Way is now available and anyone wanting to know more about the sets should email the Bannisters -
You may read an impartial review here go to 'reviews'

( NB : The Archive has no commercial ties with Freddie Bannister or his products , we include this information to inform our viewers about the availablity of these items .Please note that most of the audio on the bonus discs supplied with the boxed sets are audience tapes and vary considerably in quality )
---
Contents.

---

Reviews
The performances from Knebworth 75 that are known to exist on tape .Pages contain recording details , photos and links .

As far as we know none of the other acts were recorded . But here are the details of their performances , plus a photo of Linda on-stage provided by Henry Cobbold.

---


Site details .

---

Can we get a witness ?

We have been endeavouring to collect as much information about this festival as possible, all aspects are important .Any info displayed on these pages or which is sent to us for review remains the copyright of the contributor and the Archive makes NO PROFIT from its use. The intention is to also display as many personal histories of the festival as possible for the benefit of readers of the site and we welcome all written contributions, no matter how long or short.

If you can contribute in any way, with tapes, reviews , photos or personal histories, please .Contact us

Knebworth Concerts 1974-86

Knebworth links

---