The Archive
Last updated Dec 2012
---
---
The Beautiful People ? .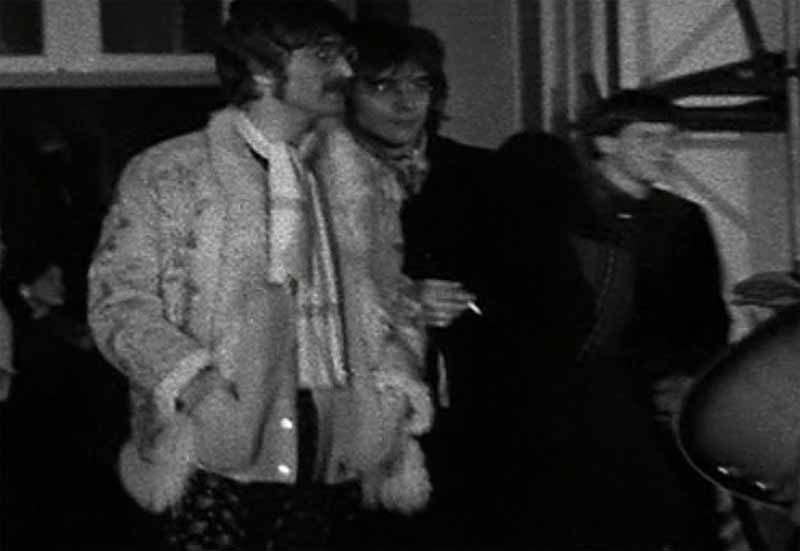 Of course the most famous person to be there was John Lennon seen here arriving with John Dunbar, Lennon had dropped acid earlier in the night and looks quite spaced.
The fliers said they would be there , but were they ? Well , that would depend on your definition. Anyone who expected a cavalacade of long hair, beads, bellbottoms and paisley, would be disappointed, at least if one went by the sights on sees in the film of the event . Undoubtedly many of London's growing hippie population were there, but they were outnumbered by those, who , at least in terms of their clothing and hairdos, had yet to " get on the bus" . In fact mod clothing and short hair seemed more the norm.
But , as we see below, both young and old attended , although neither of these folks should be considered the average attendee. Its sobering to contemplate that the little girl would now be at least 40 and the longhair , who is called John Nicholson and who contacted us last year ( 2010), is now 70. Time flies and none of us get any younger.......--- of course it goes without saying that anyone the organisers considered to be ugly were shown the door right sharpish.....:-)
---
CONTENT
There are links to accounts of this show as well as photographs of many aspects of the event.
If you have any info regarding the festival please get in touch Contact us