The Archive.
Last update 8th Jan 2002. View using Netsacpe Nav at 800 X 600 res .
---
24-26th July 1970
Ecclesden Common.
Worthing
---

SUNDAY DAYBREAK AT THE FESTIVAL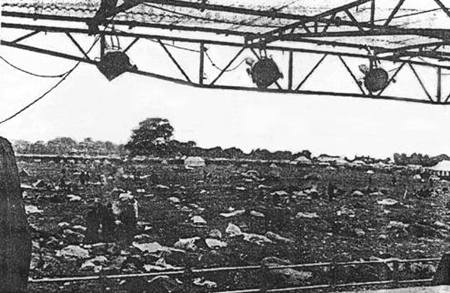 But for the deserted stage in the foreground, the onlooker might take this for a medieval battleground. This was in fact the scene on Ecclesden Common on Sunday morning , when the pop festival fans were just beginning to stir after the concert of the night before.
---

Phun while it lasted.
Phun City has gone. The bright lights were turned off last night and the fans who created it and caused such a stir in the small village near Worthing moved off to pastures new , leaving behind sodden trampled fields , abandoned love nests in the woods and murmerings of discontent among residents.

Peace and quiet returned to the village today after its biggest ever youth invasion . There was little trouble , the only complaints were about noise.

The Rev H Neal Snelling , Rector of Clapham and Patching , addressed the 1000 fans who remained in the rain yesterday. He didn't condemn the behaviour of the young fans to their face but afterwards he told reporters of young girls running away from home to join the hippie set , leaving parents frantic with worry. He said he knew of one 17 year old girl who had not been heard of for a week and was said to be living with the hippies in the woods. .
He said that what had been happening in the woods was low , immoral and disgusting . He said he had seen youngsters making love in the woods i full view of those who had walked past. He also bitterly attacked a scene on Saturday night , when the male band stripped naked ( The Pink Fairies of course ) and others watching followed suit.

---

STRANGE , HAPPY POP WORLD.
| | |
| --- | --- |
| | |
| Saturday's crowd at the Patching Pop festival was the biggest . The weather was fine and the "cats" in the crowd were able to " blow their minds " whilst the sun shone benignly down. | This invalided hippie climbed onto the top of his carriage to get the atmosphere ( and the sound ) of the festival. |
Contents
If you have any info regarding the festival please get in touch Contact us
Memories sweet memories
Band Photographs
Publicity and underground press articles.
Press articles
Recordings of Phun City and band details
---
More information about Phun City organizer Mick Farren and the UK Underground press can be found at these excellent sites.
---
Big thanks to Keiran McCann , Celia Bouquet ,Rich Deakin and Phil Jones for the donation of the press articles that have enabled us to construct this site and to Ronald Jensen and Dicky Howett for the great photographs.