The Archive.
Big BIG thanks to our sponsor Neil !

For information on today's festivals see eFestivals.co.uk
Updated Oct 2011
Formatted at 1280 X 1024 res minimum , lower res will result in some formatting errors in page display .
---
The Picnic at Blackbushe Aerodrome 1978.
Camberley, Surrey .
---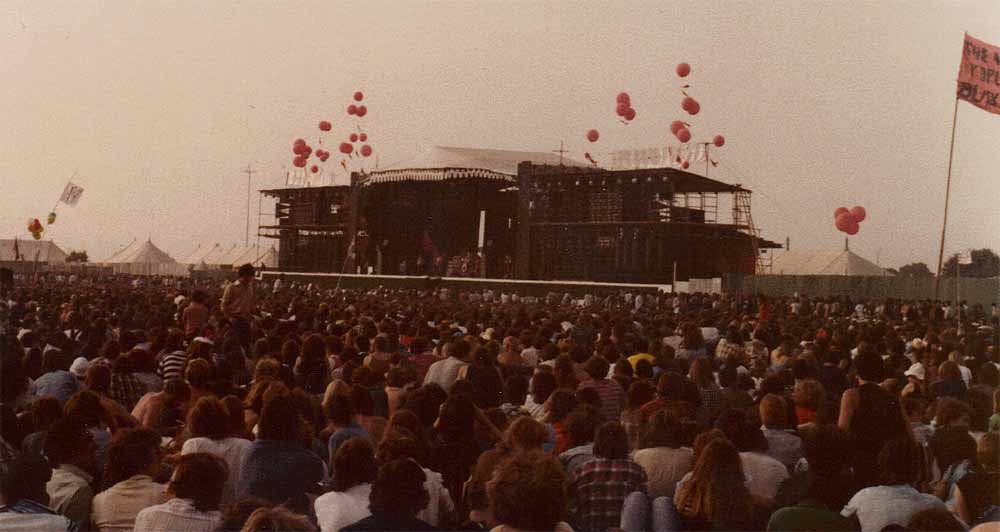 Blackbushe stage © Richard Edwards-Longhurst.
Saturday July 15th 1978.
Bob Dylan

Eric Clapton and Band

Joan Armatrading

Graham Parker and The Rumour

Lake

Merger
| | |
| --- | --- |
| Photo © Chris Cooper | Reputedly the biggest ever audience for the Big Z ( although IOW 69 would have been close in the running stakes ) , The Picnic at Blackbushe was also one of the biggest ever events staged by promoter Harvey Goldsmith ( of Crystal Palace Garden Party fame ). This time round Goldsmith continued the ' English Country garden ' theme he had adopted for Crystal palace and applied it to Blackbushe. Unfortunately the Aerodrome was not anywhere near as picturesque as the verdant surroundings of Crystal Palace, it was , like almost all aerodromes, flat and featureless, and when the 200,000 plus punters had managed to cram themselves into its confines, if you were up the back there wasn't a great deal to see really , as there were no video screens . |
There were also many forged tickets and a number of people spent hours outside the arena negotiating their entry into the enclosure with the police and the promoters.
Dylan's and Clapton's sets were recorded by various plucky audience members, but the results were not that good, as the audience were fuelled by various substance mixes and were noisy - always a bummer for audience tapers .

We have gathered Festival Welfare Services reports, setlists, recording information , exclusive photos and audience members accounts together to present as full a picture of the day as is possible at this remove, but we are always looking for more information on this and other outdoor events from 1960-80 , please Contact us if you can contribute more.
| | |
| --- | --- |
| Tshirt :courtesy Pete Guy | A genuine ticket , kindly sent to us by Andrew Orr , we also have a counterfeit example here . |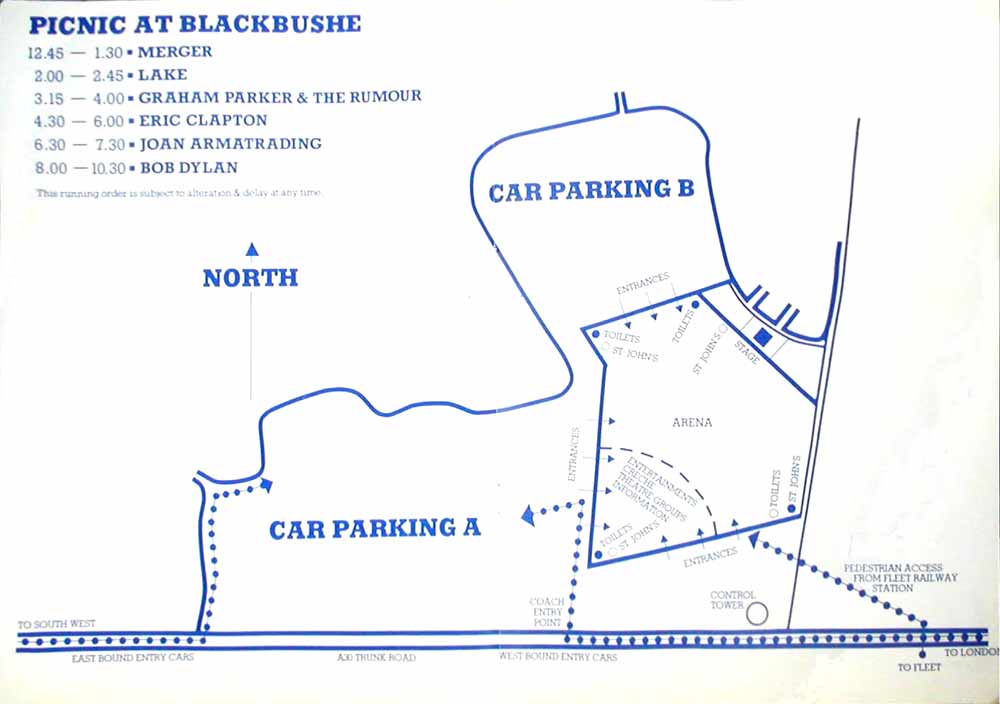 Site map : courtesy Pete Guy
Any info to add ?-well don't just sit there ,
Contact us
---