The Archive.
Updated Oct 2011
Formatted at 1024 X 768 res, lower res will result in some formatting errors in page display .
---
The Picnic at Blackbushe Aerodrome 1978.
Camberley, Surrey .
---
Saturday July 15th 1978.
Bob Dylan

Eric Clapton and Band

Joan Armatrading

Graham Parker and The Rumour

Lake .
Setlists and Recordings.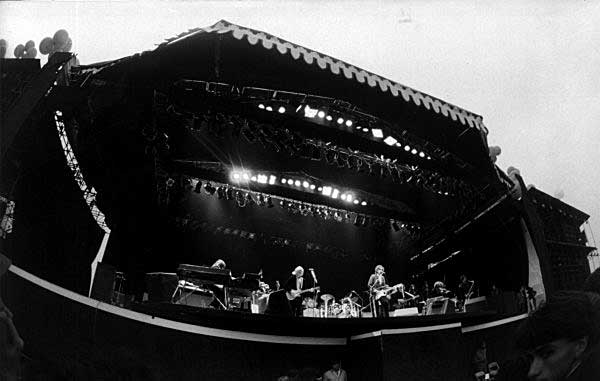 Photo © Chris Cooper
The Core
Worried Life Blues
Wonderful Tonight
Lay Down Sally
Rodeo Man
Fools Paradise
Cocaine
Double Trouble
Nobody Knows You When You're Down And Out
Badge
Knockin' On Heaven's Door
Key To The Highway
Layla
Bottle Of Red Wine
This audience recording has been readily available as a bootleg or in trading circles.

Bob Dylan
My Back Pages (Instrumental)
Love Her With A Feeling
Baby Stop Crying
Just Like Tom Thumb's Blues
Shelter From The Storm
It's All Over Now Baby Blue
Girl From The North Country
Ballad Of A Thin Man
Maggie's Farm
Simple Twist Of Fate
Like A Rolling Stone
I Shall Be Released
Is Your Love In Vain?
Where Are You Tonight? (Journey Through Dark Heat)
A Change Is Gonna Come ( Carolyn Dennis vocal)
Mr. Tambourine Man (Helena Springs vocal)
The Long And Winding Road (Jo Ann Harris vocal)
What Would We Do If No One's Dreams Came True? (Steven Soles vocal)
Gates Of Eden (Acoustic)
True Love Tends To Forget
One More Cup Of Coffee
Blowin' In The Wind
I Want You
Senor (Tales Of Yankee Power)
Masters Of War
Just Like A Woman
Ramona
Don't Think Twice (It's Alright)
All Along The Watchtower
All I Really Want To Do
It's Alright Ma (I'm Only Bleeding)
Forever Young
Encores:
Changing Of The Guards
The Times They Are A-Changin'

Photo© Chris Cooper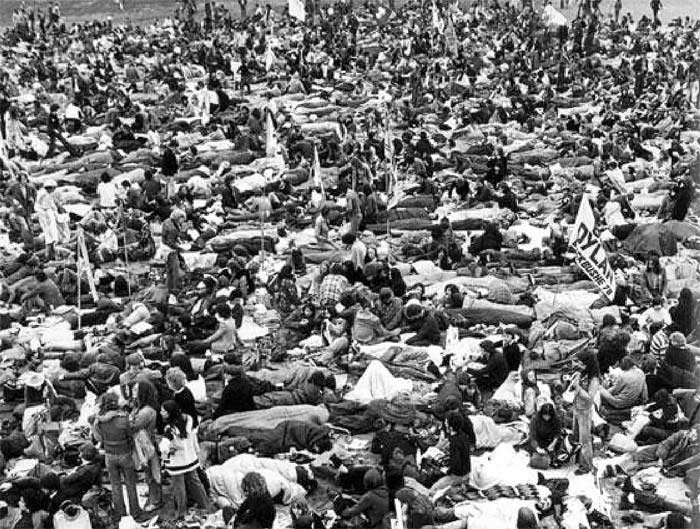 Photo courtesy Gordon G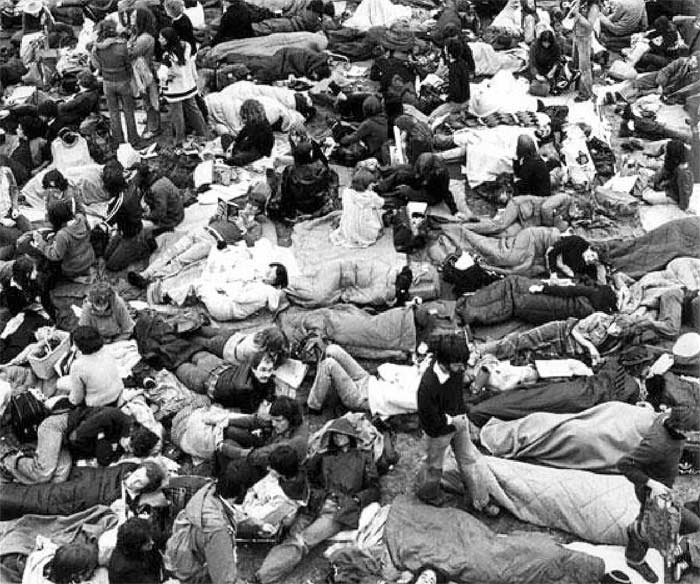 Photo courtesy Gordon G
This rather noisy audience recording has been readily available for years as a bootleg or in trading circles. This show was the last on the 1978 European tour and is notable for being one of the longest ever Dylan shows as well as being the first time "Where Are You Tonight "was played live .
No recordings from this concert seem to exist of any of the other artists on the bill .
Any info to add ?-well don't just sit there , Contact us

---