The Archive.
Big thanks to our sponsor Neil !

For information on today's festivals see eFestivals.co.uk
Updated Nov 2013
Formatted at 1280 X 1024 res, lower res will result in some formatting errors in page display .
---
The Picnic at Blackbushe Aerodrome 1978.
Camberley, Surrey .
---
Saturday July 15th 1978.
Bob Dylan

Eric Clapton and Band

Joan Armatrading

Graham Parker and The Rumour

Lake .
© Anna Adamsczewska
The View from the Mud: Reviews and Recollections.
Alasdair
Hitched a lift from deepest Herefordshire with a kind soul who drove us virtually to the door. Spent the day with a quarter of a million other people. Climax was Bob and band who were like little ants out there in the distance .... returned to public tent area to hear the boots already being played round the camp-fires. What a day!!!! Still have a badge (for Street Legal) that was dropped from on high attached to a mini-parachute.
If you were at Backbushe ,

Contact us and make a contribution to the reviews page.

Photo © Chris Cooper
| | |
| --- | --- |
| Photo Ian Fry | Photo Ian Fry |
My first gig, aged 14. We had a mate who lived in nearby Fleet so we stayed at his parents house.
Queued for hours to get in with our beer and fags - no ganja in those days! I remember going down the front for Graham Parker, (well, front and 100yards to the right, up against the fence). "Hey Lord Don't ask me questions" was great and I remember thinking "Fuck.That's loud!" Having never been to a gig or stood next to a huge PA before I was a bit scared!
Most of the day was long and boring as we couldn't see anything and the sound was constantly blown around.... it was a big, flat aerodrome. You'd think someone would have realised....
Clapton got a big cheer and we recognized a few tunes like Cocaine. Again, couldn't see much and the sound wasn't great. I remember seeing a "Clapton is God" sign and not really getting it. Still don't...
After an enormous wait there he was! Bum Dildo!! That was the pet name we had. Ah, youth.
Most of the songs I didn't know, until years later when I got into Dylan properly. Looking at the set list today it was a great Greatest Hits show! The only bit I remember with real clarity was the acoustic section when a German guy let me use his binoculars (damn, why hadn't we thought of that?!). I remember Gates of Eden and It's Alright Ma with Bob in his battered top hat. Wierdly the wind dropped so we heard these really clearly, especially the harmonica which did send a chill. For a brief moment I got a glimpse of why all these people were there and what Bob meant.
Took us hours to get back to our mate's house but the mince and mashed tatties that his Mum had waiting for us tasted magic!
Years later I got a dodgy cassette bootleg and it sounded much like the day... muffled.

Carl Stickley
---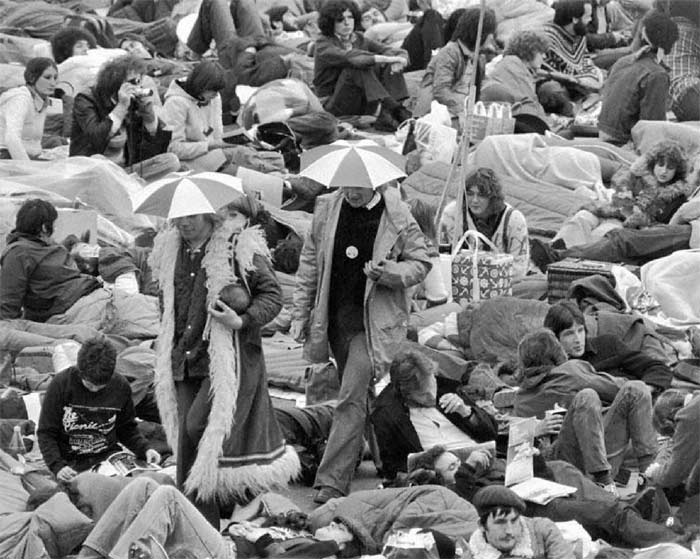 Photo courtesy Gordon G
My best friend's family and I were holiday from San Francisco that year. The first day we arrived in London we notice tickets on sale for Blackbushe. Bob Dylan and Eric Clapton in about 4 weeks near the end of our trip. We bought 6 tickets for about 12.5 pounds/each. (I still have the stub).
We took several trains and buses from Sussex early in the morning. The closer we got to the festival the large the crowds. Beautiful sunny day, and everyone was in great spirit. After the last bus ride everyone had to walk about 2 miles on a closed road to get the site. Then a good mile or so on site. It was hard with camping gear, but nobody complained. Great cheer.
We were veteran concert/festival fans from the San Francisco bay. We had been to many 60,000+ stadium shows, and a few 100,000+ shows in Golden Gate Park. This show felt we were walking to Woodstock. We had just attended the Macroom Castle Festival, featuring Rory Gallagher near Cork, Ireland. So we had a taste of a euro-festival. But that was only about 25,000 people.
We put our camping gear at the camping site and went into the gig. We packed food, whiskey, scotch, and water. Were surprised that they let large 2 liter cans of beer in. We made right to the front fence dead center. While the opening acts played, and everyone sat down! This was the opposite of a US gig. We sat because we were tired, and wanted to plenty of energy for Clapton and Dylan sets. Joan Armatrading, and Graham Parker and the Rumour were good shows.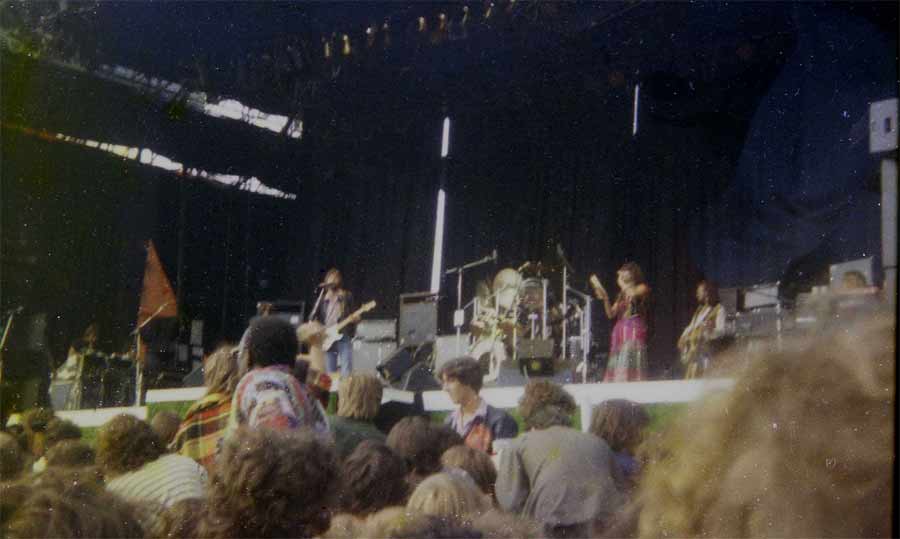 Eric C and Friends © Jules
Clapton started and Bianca Jagger and Ringo sat on fold out chairs within arms reach of on the other side of the 4 high security fence. I still have a picture somewhere. So we stood up to see the show in all of it's glory, like good yanks do. People started throwing cans at us. The security told us to sit down which was not easy do given the density of the crowd. We were confused about everyone sitting and being quite at a rock-n-roll show. Eric and his band were awesome as the late afternoon sun stayed warm. I really wanted to hear Key to Highway, and yelled it quite a bit. Eric actually acknowledged me with some kind of funny mumble before he played it. They featured most of the Slowhand LP in perfect concert versions. The sound system was awesome.
There was quite a long break after EC's set. The sun was going down. I played a portable handheld cassette player loaded with Beatles tune for Ringo. He gave a thumbs up when heard the tunes. All of sudden after they removed the gear from the stage, a motorized stage rolled out over the base stage. It had all of Dylan's gear on it. Amazing stuff for 1978. Instant Dylan. Tons of equipment for multiple guitars, horns, keyboards, mandolins, extra vocalists, and percussions.
Dylan came on at twilight. Top hat and coat and a focused looked on his face. His band boomed. As darkness approached, everyone was standing. (Us yanks were happy!). The show was 30 songs plus. Almost all the greatest tunes he ever conceived in one show! He switched from acoustic to heavy electric tunes seamlessly. The band was hot. The lead guitar player had screaming Les Paul gold top. His solos were big league. Horns, keys, and pedal steel and mandolin rocked too. Even a flute was played. Completely orchestrated and perfectly choreographed show. Clapton came out for one tune late in the show, but he was too high to play lead. He a grinned from ear to ear just listening to Bob tell the story of the song.
I am sorry to hear the audience recordings of this show were not so good. I have been to many Dylan shows before and after this show. This one was the most sophisticated show in terms of setlist, arrangement, number of musicians, stage setup and sound quality. There absolutely rehearsed from the crew to the band for this show. Fantastic.
We arrived home in the San Francisco bay two days later. We saw the Rolling Stones Some Girls Tour at the Oakland Coliseum on Saturday July 26 after the Blackbushe experience. The music from Blackbushe was still in our heads.
Bob Dylan at Budokan (February 28 and March 1, 1978) is closest representation of the material played at Blackbushe. But the show at Blackbushe was more energetic than this recording.
Bob Dylan - Rhythm Guitar, Harmonica, Vocals
Billy Cross - Lead Guitar
Ian Wallace - Drums
Alan Pasqua - Keyboards
Rob Stoner - Bass Guitar, Background Vocals
Steven Soles - Acoustic Rhythm Guitar, Background Vocals
David Mansfield - Pedal Steel, Violin, Mandolin, Dobro, Guitar
Steve Douglas - Saxophone, Flute, Recorder
Bobbye Hall - Percussion
Helena Springs - Background Vocals
Jo Ann Harris - Background Vocals
Debi Dye - Background Vocals
Myles McCarron
---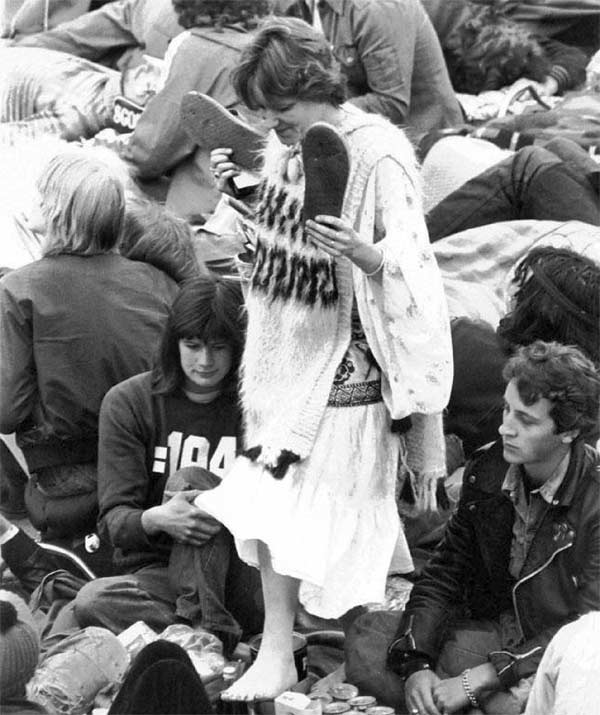 Photo courtesy Gordon G
HI ,
A date I wont forget... First time I had a spliff and lost my virginity the same night!!!
Got train from london and it was packed with heads [ I was 15yr old]. The old mary Jane was being passed around , folk talking about jack kerouac and the death of keith moon-- Solid Air in that carriage- Changed my life - Same year I went to my first free festival at Deeply Vale - and earlier on Genesis at Knebworth.... Back to the picnic.... remember signs along the roadside .. ' Hippies graveyard" - Didnt think much of ' lake' - [German Band I think], Joan Armatrading was a good act - and again mary jane was passed around everywhere throughout the day.... Great stuff.... I remember Clapton coming on with Dylan for a few numbers- Dont know if my memory is playing up but I was sure Clapton fell over during the set with Dylan...... On the way back spent a few hours in some woods with a girl I went with [ Annie] - Well what else could a 15yr old skool boy ask for ?...... Great Stuff!!!!
John W
---
I have just found your site and it brings back a lot of memories.we were just about half way from the front ,just in front of these giant speakers that relayed the sound to the rest of the crowd. To be honest I cant remember a lot of the concert now. must be my age- now 50.I remember my mate todd who was in a weelchair .when the concert finished we literally had to cary him out as it was impossible to push his wheelchair due to all the cans and bottles
I have been to a few outdoor concerts over the years but have never experienced such a large audience as this - unbeleivable. It took us a good 8 hours to get out the car park.
Mark Handyside.
---
Photo courtesy Gordon G
Blackbushe '78,
I remember that show, I was 15 at the time (tickets were £7 or £8 i forget), I went with my girlfriend Jessica and her older sister and boyfriend and a few others.
This was my first big 'festival' gig, (i went to Reading Rock several weeks later). I remember the huge queue to get in, and the already massive crowd. We settled for a spot about 50 yards from the stage, between the 2 sound piers approximately in the middle. I remember Merger were first on stage, they were a steel drum/reggae band, seemed to go down well, after them i went to get some food (MISTAKE), I didn't find it back to my friends until half way through Graham Parker !!
Due to the 'Party Seven' can we'd already consumed (remember those !!) I took that opp to go to the toilet (latrine)...no chance, enormous queue, so use the fence like 500 others.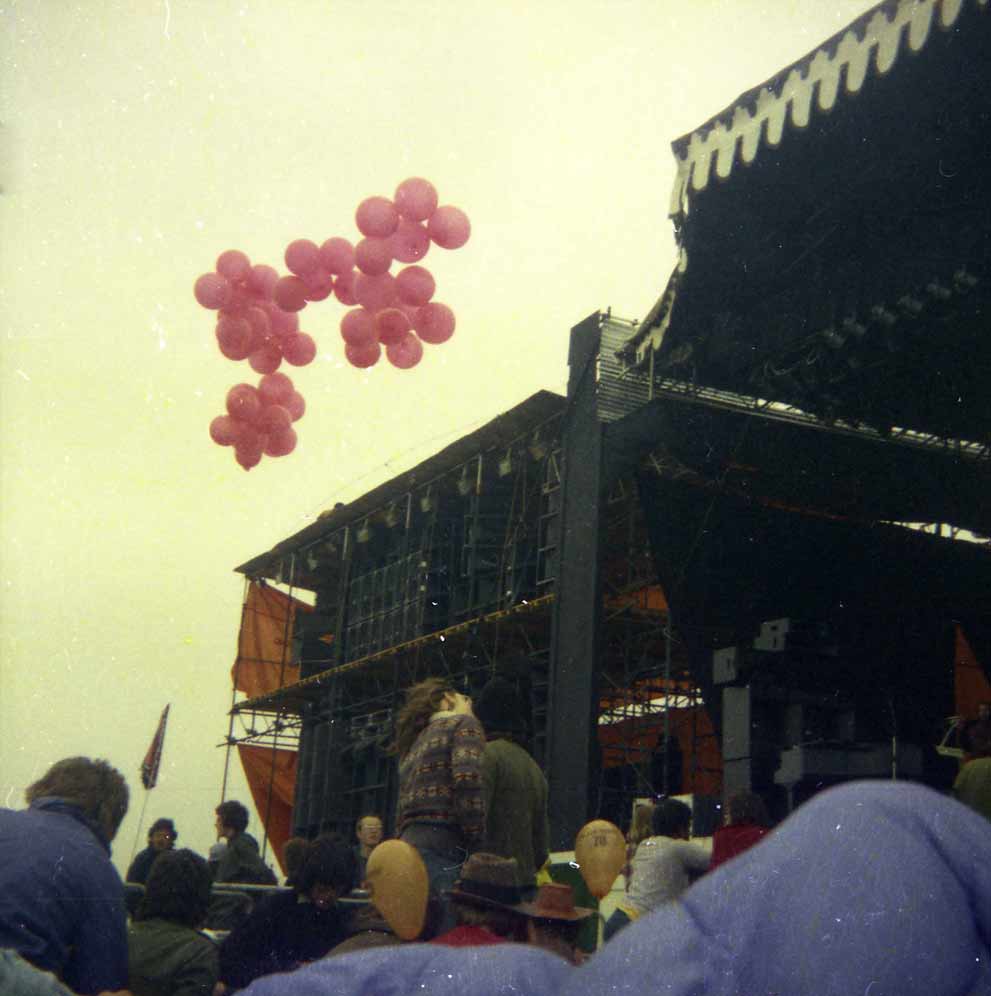 The balloon goes up © Jules
Most of the crowd sat down pretty much all day until Eric Clapton came on. The sound wasn't that good but the guitar playing from Clapton was awesome, Layla and Cocaine (EVERYONE sang that one!!) unforgetable show, it energized all around us.
Joan 'Arma-plating' went down very well, everyone loved that song of hers...err 'sing me a little love song, this time with a little dedication' ..
then later Bob Dylan came on... old shaky voice, he looked 190 yrs old back then, that was 30 years ago and he's still touring, at the time we thought 'well this is probably his last tour', how wrong we were !!
My girlfriends sister was (probably still is) a huge Dylan fan, and of course we'd all heard his "millionth" studio album 'Street Legal' ..
'Is your love in Vain' , 'Baby stop cryin' etc, well it was good, but he looked tired on stage, and after a short while i was thinking 'Bob please stop singin'....I believe there's a famous Jimi Hendrix quote which applied that day,"If Bob Dylan can sing, so can I !!" then later when he'd gone off stage, it was my first gig where everyone lit their cigarette lighters and held them above their heads... 'what's this all about I thought?',there were about 100,000 lights aloft, i didn't smoke, but not to be outdone (or feel left out) I grabbed a discarded 'Picnic' program, tore off the back cover and lit that up like a flamin torch...hahhaa, I've got the best flame here huh... bits of it started to separate and float away still lit...oops, I was shouted at to 'put that out' !!
Anyways Dylan came back on, and if i'm not mistaken 'Stop Cryin' was done a second time as one of the encores??,
yeah... I thought you'd fluffed a few lines the first time too. :).
Eric Clapton definItely stole the show, and if i'm not mistaken i think that was a headline in 'Sounds' music mag the following week.
Terry Roberts
---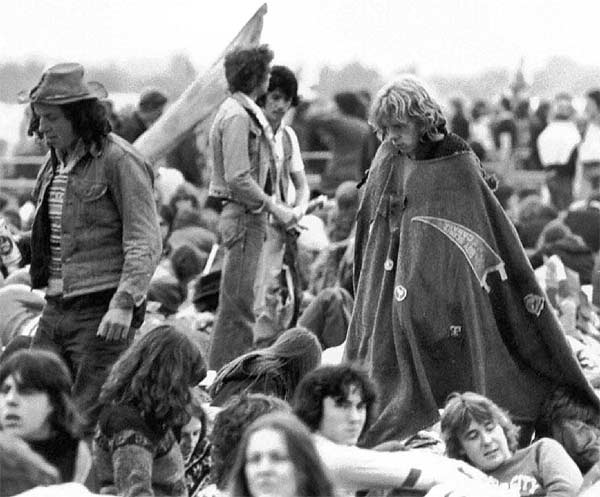 Photo courtesy Gordon G
Blackbushe, we had friends out front who were selling burgers to raise some money to pay their mortgage - they went on to have a small chain of successful restaurants in London, and become vegetarian. Possibly as a result... We went out front every so often to hang out for a while with them and to see a bit of the performances, but would retreat backstage sharpish as there were so many people there and it was so crowded. But backstage you couldn't see the performances, which is why I can't really remember any of the music; even your bill didn't prompt any memories.
I think we left before the end of the Dylan set as we wanted to get back before the rush. It wasn't the greatest festival ever, by any means. But it didn't rain, not that I remember anyway.
Jennie McFie
---
Just logged onto the Website after watching Glastonbury from the comfort of the front room. My memory was that there were 1/4 million people which this site confirms.

It was my first big outdoor event, a great atmosphere, as all gigs are, and wonderful to see such an excellent line up.

The size was just too big, don't remember there being any screens back them; we were close to the front - which was like being at the back at Knebworth. It took about 2 hours to find the car, which we slept in while most other people queued all night to get off the site.
Excellent memories.

Mel, Derbys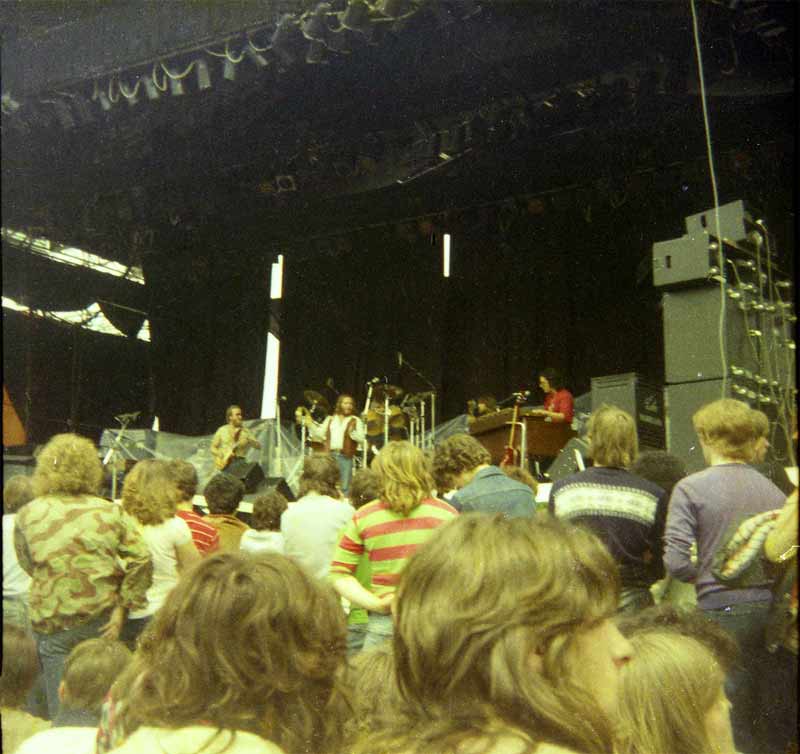 Is this Lake ? © Jules
---
I got a Blackbushe ticket because I couldn't get a ticket for the Earls Court concerts. I had seen Dylan only once before, in the 1960s in the old Capitol Cinema, Cardiff.

I went by myself but in the hotel at Paddington, I met a couple who were also going to Blackbushe. But they didn't know how to get there so I helped them out as there was a pull-out special in the Melody Maker. So we arranged to go together the next day. We caught the Tube to Waterloo, train to, Thame, I think, and then think it was a mixture of taxi and walking to the site.

We were so far back, we could hardly see the stage but could make out Dylan in his borrowed top hat when people started passing binoculars around now and again.

It was a tremendous show on a hot day but you couldn't really wander around the site or you would never get back to your spot. I took some food etc with me so I survived.

The couple, from Manchester, I think, told me later that they got engaged during the concert.

Getting back to Paddington was difficult as there were huge queues for taxis when we got back to Waterloo. I think that in the end we got in a "taxi" with a cowboy female driver. I don't think she ripped us off but she didn't seem to know Paddington too well.

The couple did not show up for breakfast at the hotel the next day. We had arranged to have a drink in one of the local pubs but somehow we didn't meet up and I didn't see them again. And they had left some of their fruit in my bag during the concert!!
PHIL

Photo courtesy Gordon G
---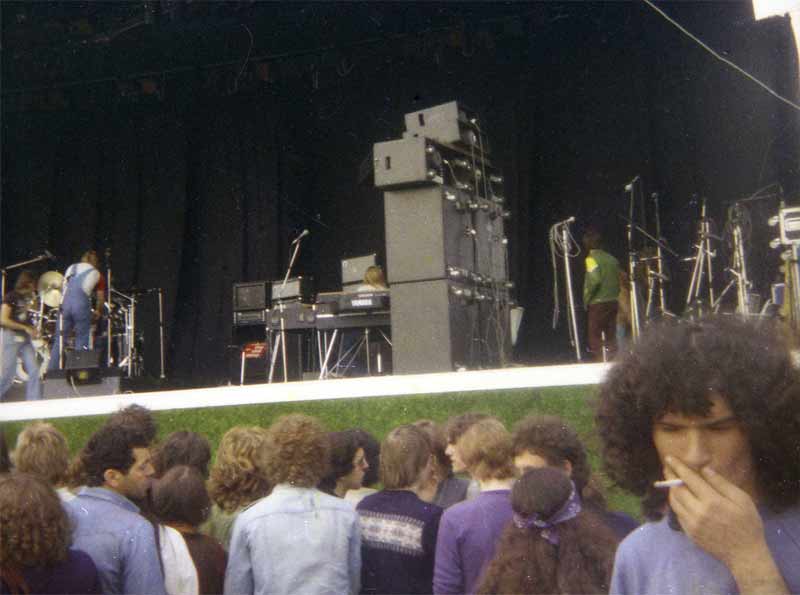 Setting up © Jules
Hi
I attended the day and will remember it with great affection. I managed to squeeze my way up to near the front and had a great view of Dylan whom I thought was in great form that evening! I have a few pics inc one of me drinking from a large cider flagon! I still have the programme and the tee shirt somewhere in the house. Always felt sorry it wasnt properly recorded for posterity!
Patrick Marks
---
I was 19 when I saw Bob at Blackbushe. I went with a group of friends in a hired minibus. In the previous May I had broken my leg in a motorcycle accident and was in plaster from toe to thigh. My idea was to see Bob Dylan and be able to say that he was 'totally overrated' but I thought he was really something. It took all night to get out of the car park and it was broad daylight on Sunday morning when we got home only about 50 miles away. It was only recently that I noticed Eric Clapton was on the same day – he did not make any impression on me.
Tim Betteridge.
© Anna Adamsczewska
---
Hi Guys

I have been fascinated by your website about British festivals and I am having a great time reliving experiences from my youth as I attended a portion of the festivals of the 1970's & early 1980's. I am in the process of a bit of DIY & decorating at home and found a couple of treasures in an old shoe box. I thought you may like to add the attached ticket stub to the Blackbushe 1978 page. I have others that if I find I will forward to you if you are interested.

I have very little to add to the contributions already sent for the Blackbushe page, indeed the photographs say it all really. A flat featureless airfield is not the best place to hold any outdoor gigs, not only is the viewing difficult from 50 meters back without any video screens but the sound gets carried away on even the lightest of breezes. If I recall of all the gigs & festivals I attended this one had the worse sound balance for that reason. The photograph you have of the Eric Clapton band shows Yvonne Elliman with her hands at her mouth. I believe she is playing the harmonica during what would have been a rare rocked up rendition of Fools Paradise, one of the high points of the day.

Excellent website – keep up the good work.

Andrew J.Orr
---
courtesy Elaine Ramwell

It may be important to put this concert in the context of it Dylan's first visit to the UK for nearly a decade.
After news of his six-night residency at Earl's Court broke in Apri, fans slept on pavements for three nights to get tickets at outlets across the UK .
The shows were so over-subscribed that Harvey Goldsmith decided to put on an extra show, expecting about 100,000 people but the attendance was at least double.
Harvey Goldsmith told me personally recently: ''Dylan was on fire during that tour and at Blackbushe we couldn't get him off the stage''.

This was a worry as 'local' residents had tried to stop the concert from taking place on noise pollution grounds and Goldsmith was worried about falling foul of the law..

Dylan's three hours 05 minutes performance was his longest ever continuous appearance on stage though he did leave the vocals to backing singers and band members at one stage to 'make a telephone call'.

GM
---
© Anna Adamsczewska
remember the complete chaos at the end of the concert, when we arrived and parked the car all the bays were numbered and taped into sections, after the concert was over all identifying markings were removed. I thought I was never going to find my way out. By the way , great place to have a festival, flat and boring couldn't see a fuckin thing.
Orange
---
Hi, I found your website the other day whilst trawling YouTube for some old songs, and I have a few pictures you may be interested in. My memories of the event are a little hazy, as you would expect(!) but I still hold some images in my mind's eye of the green fluorescent flashes all over the aerodrome whilst listening to Dylan in the dark. I recall a helicopter flying over and dropping loads of these fluorescent neckbands and wands which were being waved by whoever had been lucky enough to pick one up....the view from the helicopter must have been amazing...and I also remember vividly the emotional response to the final song, Forever Young.

I was lucky enough to have a great view of the stage and wish I'd had today's technology to take photos or videos. All I'm left with are some rather crumpled bits of paper and a badge, and having read your comments on the website, a suspicion that my ticket may not have been authentic, as it differs from the one pictured on your website. It got me in, anyway. (see left )
The other abiding memory is the utter chaos of leaving the site and the desolation of being stranded when the shuttle train was cancelled. I dozed on the grass verge for a few hours, being stepped over (and stepped on, occasionally) by others trying to get home, and spent the whole of the following day trying to return to Carmarthen, where I was living at the time. I was unable to get home in time to put in an appearance at the hospital where I worked nights, and was given a disciplinary interview and a written warning, despite having telephoned to explain that I was doing my best to get home!

To add insult to injury, that night on the damp and cold grass verge gave me a nasty chest infection.... but I'd do it all again, it was a great gig and I feel privileged to have also seen Clapton, Parker and Armatrading, who were terrific too, although I have no recollection of the others who played....
I hope these photos will be of interest, wish I had more to offer.
Best wishes,
Elaine Ramwell
---
You asked for a counterfeit ticket – one attached!

This is a ticket my brother Dave retained. Our stories differ, (age and substances no doubt!) but basically we drove down from Liverpool, in my Big Yellow Taxi, a big bright yellow Bedford van which we used for lots of festivals around this time. We must have taken about 20 people down all crammed in the back on mattresses and the odd sofa, some who had tickets but the majority didn't ! We arrived at some unearthly hour, some like myself the driver, crashed out, others wandered about surveying the scene.

My recollection is that we gave one of our party all the cash to go and queue for the tickets at a sort of temporary box office outside the huge perimeter wall to save us all queuing.

Anyway, he bought from one of the touts of course and instead of being at the front of the compound as we had planned we were all marched into a police compound and kept there for hours watching as the best part of the reported 250,000 people went in before us. The guilty man was questioned by the police but Harvey Goldsmith eventually let us all in - but of course by this time - right at the back!

I remember the stage seeming like it was 5 miles away and the sound being poor and much like a transistor radio constantly blowing around (not surprising you might say). It was like watching ants in the distance. We did try and hussle our way closer to the front, but this crowd was enormous.
I also remember the security was very heavy, not just outside but also inside the compound, with lots of well built guys and flash jeeps. A friend and I wrote complaining about this seemingly new level of heavy security at festivals to the music rags and Sound's (weekly music newspaper) printed the letter and a cartoon which took the piss out of the event on the whole of their back page. Somebody out there must still have a copy. I'd love to see it again!
Best

Paul Cary
---
I was 16 when I went to Blackbushe - pretty much my first concert.... I was working in an hotel in North Devon with a few people who were absolutely hooked on Dylan (amongst other things!). Before the concert we would hear snatches of Street Legal played on Radio One, these were the days before itunes, so hearing new tracks was a rare treat and we would huddle around the radio shouting at people to be quiet.
So, we hired a small VW Van which just about took a double bed mattress in the back (which was inserted) and an unbelievable 17 of us travelled from Lynmouth to Blackbushe. Things didn't go great as the van wouldn't go up Porlock Hill -a one in four.... so we had to get out and walk, picking up the van at the top! As we exited the van a large cloud of suspicious smoke followed us out - we really laughed at that.
We were innocent teens really, which was made obvious by the fact that we spent our hard-earned cash on, what turned out to be, forged tickets and were promptly refused access. We were all shown into a giant holding pen - however the organisers decided to let us all in! Amazing result, thank you Harvey!!
My memory of the concert is 'Lay Down Sally', 'Cocaine' and then, finally Dylan........ superb, mind blowing, almost life altering to a young 16 year old. I also remember the hours it took to get to the lavatories and the difficulty in finding our little group again.
Some people were peeing into bottles, I was too shy at that age to attempt such a thing. But it felt hours to gently tread over thousands of people... But it was worth it 'Where Are You Tonight' is still fresh in my mind.
Street Legal is still a favourite album, I don't listen to it much, but when I do it brings back those distant memories of giant wigwams, a tightly packed VW Van, nothing to eat, no sleep, early morning departure.... so many memories, life seemed so different then and so much has flowed under all of our bridges........
Neil
---
Hi!
I have fond memories of Blackbushe Festival. I arrived with a group of mates, some of us had tickets, but I didn't. I didn't have the money to buy one, even if I had met a tout. I thought I could find some way in for free, but was confronted by a site that was surrounded by high corrugated iron fencing that looked impossible to get over. My friends either went in or went home, but I scouted round the site, thinking there might be a chink somewhere, but there was no break in the fence.
Then I noticed the band buses, parked up outside the fence, but near the stage (on the left of the stage as you looked at it). I saw that it wouldn't be difficult to climb up the buses and drop over the fence from the top of one of them. So that is what I did. Once at the top, I didn't really look to closely, just checked I wasn't going to land on anyone and then jumped down. It was just a bit scary and a bit of jolt landing, but I was OK.
I picked myself up and started wandering, as casually as possible, away. Nobody seemed to notice me, or didn't think anything of it. After a few moments I realised I wasn't in the main section of the crowd. I was in a section that had a side on view of the stage and that there was another iron fence between me and the rest of the crowd. I cottoned on that I had landed in some kind of VIP enclosure! There were quite a lot of folk there, but obviously I didn't know anybody, so I thought maybe I could get over the second fence and into the main crowd to find my friends. I found a chair and stood on it next to the fence & I could just see over the top into the main crowd. What a sight! A huge crowd, packed in so tight that most people couldn't sit down if they wanted to. It was immediately apparent that I would have great trouble finding my friends in that crowd, but also that it was much more pleasant in the VIP enclosure.
So I spent the time in there. I'd like to say I made friends with famous stars, but I didn't. I think I managed to bum a smoke and maybe some drink off some folk in there. As I remember it, Bob was rather disappointing but Joan Armatrading turned in a great set. But on the whole rather boring without any mates. Another lesson in what is important in life, I guess.
Andy Macdonald.
---
Excellent website, brings back terrific memories.
I was 18, and having just arrived from Dublin to spend a student summer working in London, had found myself at a superb Bowie concert in Earls Court on my first night. I travelled out to The Picnic by myself, looking forward mainly to Joan Armatrading and Eric Clapton.
They were great, even though I needed binoculars to see them. I remember being amazed by the age range of the crowd, including babies and grandparents (or so they seemed to me). I made friends and shared food & beer etc. with others sitting nearby, most of whom were there for Dylan. I wasn't that interested in him, as to me he represented my big sister's generation, but stayed on, happily enjoying the atmosphere.
He came on at dusk, and I remember the stage lights glowing warm colours in synch with the brass section for the Changing of the Guard and other Street Legal songs. I was utterly bowled over, and found to my amazement that, like almost everyone around me, I knew the words of almost all songs, having been brought up with them playing in the background! It was close to how I imagine a religious experience must be, an epiphany made even more intense by Dylan's apparent ability to look right into my eyes (through the binoculars) as he sang! (I have noticed this about him several times since at other concerts in Ireland, the USA and Spain - it must have something to do with his make up, or maybe it's just Great Presence!).
I joined in with the backing singers (excellent) and choruses etc. whenever I could, and danced like there was no tomorrow. The set just went on and on, and I was in seventh heaven!
I floated blissfully back to my crummy hostel in Gloucester Road, and stayed on a high for several days after, wrapping sausages at the end of a production line in Putney. I have been to many festivals since, but none to equal Blackbushe for intensity.
Francis B
---
We were at this gig as a group of about 8 of us from West London, up for the day by train via Fleet.
This was the summer of Graham Parker & The Rumour for us, and he / they blew everyone else away that day. Clapton and Dylan (and Joan Armatrading) were quality acts, but only GP had the injection of energy. It was my first Dylan gig and there was no doubt he was special, so we stayed right to the end, and in fact I've seen Dylan 5 or 6 times since, but it was a pretty flat evening between GP and Bob.
My abiding memory of the day is the group of us running marine style - calling out our names in turn - as we weaved at high speed through the
crowd to catch our train back to London, without getting separated.
Ian (Psybertron)
---
Would love to know if I am alone in remembering a spectacle at the end recreating close-encounters film with spacecraft and lights, probably rigged up with helicopters. Quite impressive -or maybe the contents of the green-box delivered a shared vision...
harry
---
Just found my ticket in a box of photos. £7 for that line-up! Unbelievable.
we were in the very front row - recall seeing Bianca Jagger and various celebrities of the time in the enclosure between us and the stage.

I remember Bob doing some standards but with different arrangements - It's All Over NOw baby Blue being one? And of course lots from Street Legal just out that summer. And a LOUD version of Rolling Stone...

I remember falling off the train when it reached Liverpool St station. A tall American lifted me to my feet: I was exhausted - and that's all !!

Susan Richardson
Thurso
---
Any info to add ?-well don't just sit there , Contact us

---