The Archive.

Best viewed at 1280 X 1024 res .
---
Last update Sept 2010
---
The Knebworth Park Festivals.
Knebworth Park Concert .

August 4th 1979.

Led Zeppelin, Todd Rundgren's Utopia, Southside Johnny and The Asbury Jukes,The New Commander Cody Band, Fairport Convention ,Chas and Dave.

August 11th 1979.

Led Zeppelin, New Barbarians, Todd Rundgren's Utopia , Southside Johnny and The Asbury Jukes,The New Commander Cody Band,Chas and Dave.
---
Festival Welfare Services .
Its easy to forget that behind every major (and often minor ) UK outdoor concert or festival was an unpaid and dedicated group of volunteers who gave up their time to minister to the concert goers who needed services that promoters could ( or would not ) provide, such as first aid, information, drug counselling , support and other essential activities . In addition, they also provided feedback to promoters and councils so that festival services could improve as the years progressed .We have the reports for the 1979 Knebworth festivals and reproduce them here , they provide a fascinating glimpse as to what went on behind the scenes and are a fitting tribute to all of those who helped out at these events over the decade.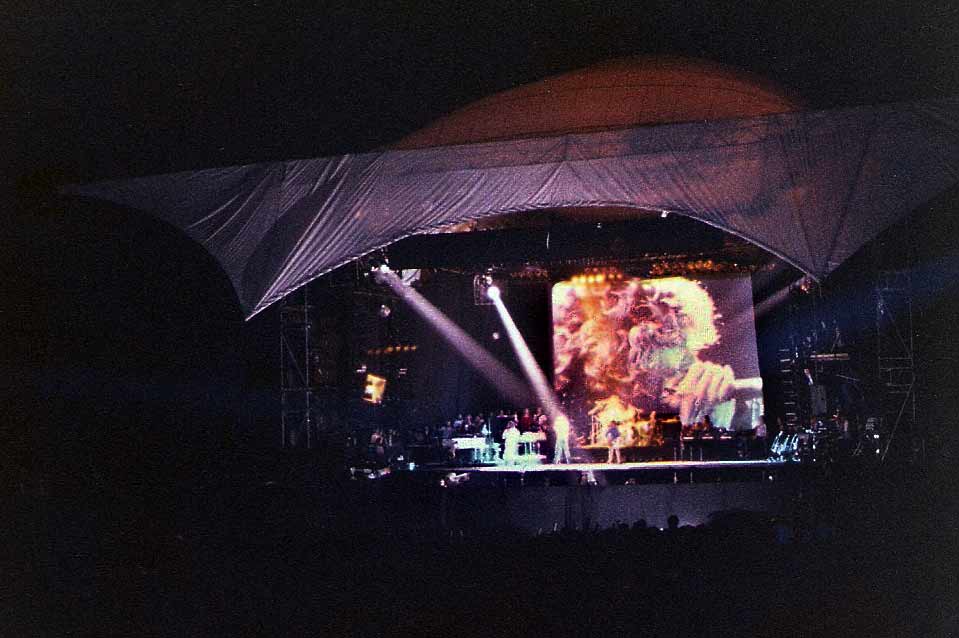 © Jacques Luce
Civil Aid Report September 1979.
Brief Report on two Knebworth Park Festivals 1979.

The Civil Aid team, in company with the other FWS member organisation found the 1979 concerts a marked Improvement on previous years, especially because of the efficient, unflappable and competent management engaged by the Promoter for the Admin, Stage, Backstage, Arena and Campsite areas. They were a pleasure to work with.

The various FWS teams worked well together and liaised effIciently.


Photo 8-11-79© Ken Walton

Civil Aid tasks were three fold:
( i) Information Centres - Arena and Campsite. Both worked well,
but we believe a sImple card index system would be an Improvement
In the future. It would simplify the "A looking for B" aspect in particular.


(ii) Emergency Force - As in 1978 the Emergency Force found itself primarily occupied with controlling spreading camp fires. With the best will in the World it is impossible for the Emergency Force, even broken down into two or three teams, to be every where at once in a vast congested camp site. They were unable to prevent one serious fire involving vehIcles, but during the second concert, prompt action in extInguishing a tent which caught fire probably saved the lives of the two people asleep in it.

(iii) Loo Servicing Staff - We have made this the subject of a separate, more detailed report. It is sufficient to say that the volunteer teams do not want to repeat the performance. It is, on this scale, a job for highly paid labour receiving supplements for dirty work, danger, and 'unsociable conditions and hours'.
We will only mention here that the provision of toilet rolls tied on to each cubicle, is a great Improvement on previous years when no toilet rolls were supplied.
After the first concert two members of the "Loo Teams" were physically ill as a result and on the Saturday evening of the second weekend, one Civil Aider had to be taken by ambulance to Stevenage Hospital for treatment of an eye splashed with concentrated disinfectant. However, he walked back to the site and carried on with his job.

Photo 8-11-79© Ken Walton


The earlier concert was more than twice the size of the second one but for Civil Aid there were more problems during the second weekend.


Future similar events

Photo ©Pete

We have two suggestions, Civil Aid tasks would have been facilitated had our Loo Team and our Emergency Force been allocated portable radios. Promoters Management Staff could have speeded up our arrival at crisis points had we had such a direct link. As It was the Promoters Key Staff allowed us to make use of their radios when necessary.


Secondly, Civil Aid arrived fairly late on the first Friday and there was no space anywhere near the Campsite FWS tent to put up their encampment. It was therefore established at the back of the Admin. Area. It is suggested that FWS in future should be based there as well.

There is peace and quiet for those snatching an hour or two of sleep, feeding was facilitated and there was dIrect access to all areas.

As a post script Civil Aid is not Grant Aided and the subsequent financial failure means that our volunteers, who willingly gave their time and labour are unable to recover all their out of pocket expenses and will have to wait an indefinite period for whatever proportion of our outstanding expenses we eventually (hopefully) receive.


D.M.Harper
(Civil Aid National Officer in charge of this operation).
---
---
Links
The events in this tangled chain can be read in Freddy Bannister's book, " There Must Be A Better Way " , which chronicles his adventures in promoting the giant concerts at Knebworth from 1974-79. More info about these concerts can also be found at the Knebworth House site and at Rip Gooch's site, which contains substantial portions of text from the now defunct book Knebworth Rock Festivals, by Chryssie Lytton Cobbold.
---
Can we get a witness ?

We have been endeavouring to collect as many recordings of the artists that featured at these concerts as possible, so we can effectively review the performances, provide set lists and band line-ups. Any info displayed on these pages or which is sent to us for review remains the copyright of the contributor and the Archive makes NO PROFIT from its use. The intention is to also display as many personal histories of the festival as possible for the benefit of readers of the site and we welcome all written contributions, no matter how long or short.

If you can contribute in any way, with tapes, reviews , photos or personal histories, please Contact us

---

Knebworth Concerts 1974-86

Knebworth links
---
---