| | | |
| --- | --- | --- |
| | | For information on today's festivals see eFestivals.co.uk |
View at 1280 x 1024 for best results .
Last update Oct 2013. New recollections.
---
The Knebworth Park Festivals.
Knebworth Park Concerts

August 4th & 11th 1979.

Led Zeppelin .
The View from the Mud : Recollections.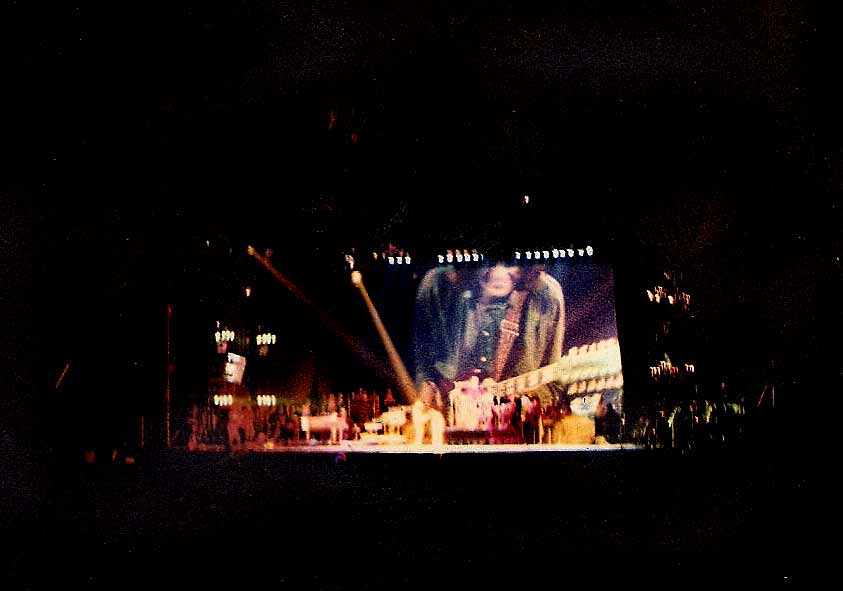 © Jacques Luce
August 4th 1979.

Led Zeppelin, Todd Rundgren's Utopia, Southside Johnny and The Asbury Jukes,The New Commander Cody Band, Fairport Convention ,Chas and Dave.

August 11th 1979.

Led Zeppelin, New Barbarians, Todd Rundgren's Utopia , Southside Johnny and The Asbury Jukes,The New Commander Cody Band,Chas and Dave.

Hi all

You may be interested to know that my good friend and Tight But Loose editor, Dave Lewis, has marked the anniversary of the festival on his website, here:

You will also notice that Dave has published a book about Zeppelin at Knebworth called 'Then As It Was'. It features many many reminisences from the fans about that festival event, and I thought it might be worthy of a mention on your website??

More info here:

Cheers
Gary Davies
---
Hello my name is George. I attended knebworth on 8-4-79.I can't say whether there were 100,000 or 300,000 I can only tell you from where I sat there were people everywhere .I was stunned to hear it was not a profitable venture .There was a point during the festival where the crowd started to clap then stamping their feet , it felt like an earthquake. Maybe some scientist can calculate how many people it takes to make a sizeable place like Knebworth to shake .

Regardless of all the problems I am so glad Zeppelin played and I was so lucky to be there. That concert is something I will never forget as long as I live. .I would love to see a video of it from start to finish , I guess I may have to wait another 25 years .Thanks for letting me talk about the concert of as lifetime . I'll be back to see what's new.

George Vassil
Zeppelin onstage 8-4-79 photos © Ove Stridh

Hello

My name is Barbara Bergman ( Gibson in 79) I just came across your site.I was at Knebworth in 79 and 78 the most amazing experience of my life!.I lived in Hertford Heath near Haileybury College until I married and moved to the US in 85. I watched a DVD of Led Zep a couple of nights ago with them at Knebworth the most wonderful memories came flooding back.Who knew it would be john Bonhams last and that we all witnessed history.
Regards Barbara
click on the photos to see larger versions
---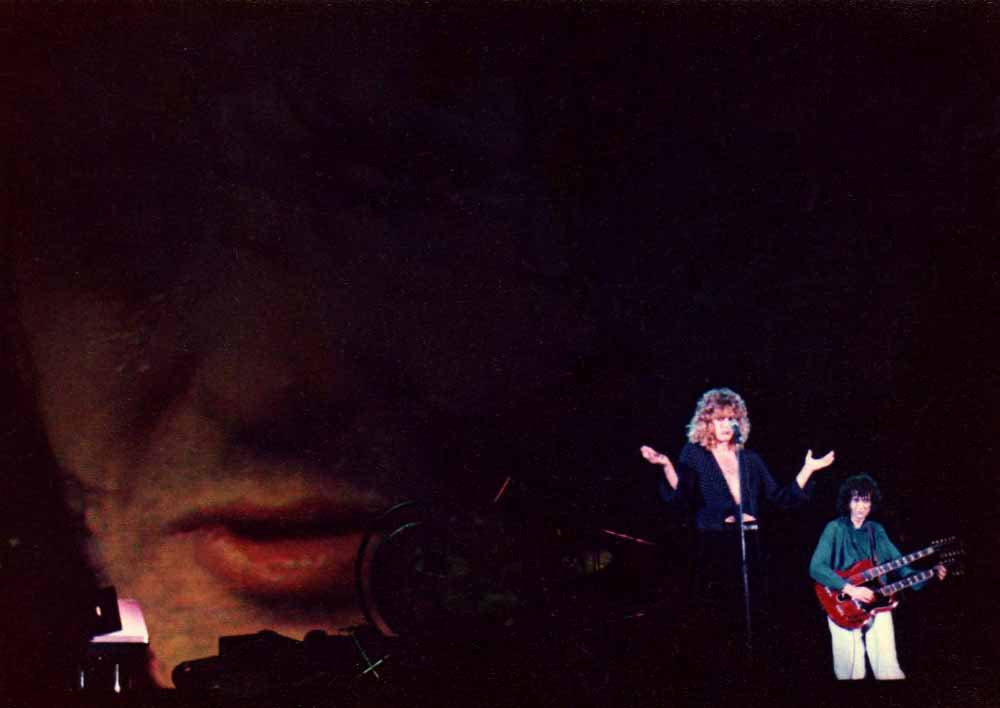 Plant, Page and a very large friend © Pete Still.
We were there with Todd Rundgren, whose manager Eric Gardner was a friend. That Saturday, Todd was wearing a skintight fuchsia pink jumpsuit; I have some transparencies somewhere and if I can transfer those to jpg files, will send them to you one day. He was strictly vegetarian at the time, very slim and had a very, very thin model girlfriend - Eric's girlfriend referred to her as "Miss Biafra". Anorexia was not a word in common use back then.
I had seen Led Zeppelin at Earls Court a few years before (which was possibly the only time in my life I have actually been rendered speechless by a performance, thanks to the mesmeric power of Jimmy Page's solos and the incredible depth and texture of the sound). Knebworth, being open air, did not quite match that but it was still an amazing show.I remember sitting at a table in the backstage restaurant talking to Pete Thomas from Elvis Costello's band, who was just as starstruck as I was by the idea that we were actually in the same tent as Jimmy Page and Robert Plant. Were we trying to egg each other on to get their autographs? Or is my memory playing tricks....
One thing stands out clearly; I never forgave my (ex-) husband dragging us away before the Zeppelin set ended ......
Jennie Macfee
---
IMPRESSIONS OF A FESTIVAL , KNEBWORTH - 11th August 1979

I was in my forty-eighth year and I had never been to a Rock Festival before. In 1979, my daughter and son wanted to go to Knebworth. Driving the day before from North Wales, we stayed overnight with friends at Biggleswade, and set off at about eleven the next morning to cover the sixteen miles of the A1(M) to Stevenage. Despite heavy rain in the night, the roads had dried quickly in the hot sun, and the clouds shone clear and silvery, very high up. Traffic moved briskly. Tall sallow bushes on the central reservation hid the cars rushing past on the other carriageway. Suddenly, the normal road signs were obscured by sacking, cars jumped lanes as the inside lane slowed down, faltered, stopped, started again and forked off onto the huge industrial estate between the motorway and Stevenage.
Those of you who are insisting that around 180,000 attended the second show- see all that bare space ?

© Ken Walton 8-11-79
A long file of people was crossing the bridge over the main road, like pilgrims heading for a shrine. There were police in bright yellow jackets. The short dry grass on the verges was burnt dead and golden by the sun, with evidence that a small army had camped there the night before. Along the four-lane highway of the industrial estate, past British Aerospace and I.C.I. Plastics to a tiny car park - 'Staff Only', all with luck at home cutting their lawns on this sunny Saturday in August.

We loaded our rucksacks with food, drink, torches, wellies and waterproofs and walked back down the long road to the bridge, with time now to read the notices - 'Do Not Buy Tickets From Unauthorized Dealers', 'Ticket Numbers E15001 - 20000 Were Stolen...No Admission...' Some quick calculations, at £7.50 a time over £35,000 worth, they didn't really think they could sell them, did they? But three swarthy youths lounging on the grass a few yards ahead hailed us - 'You want tickets? Heh?'

Photo© Ken Walton 8-11-79
Ignoring them, we joined the pilgrimage and were shepherded across the first part of the road by a policewoman. I thought 'Just like a Sunday School outing. Only they never made us walk this far.'Safe on the other side we were guided by white tapes past the campsite where many had been camping the night before. I guessed that some of them had probably been there since the week before, because there was a curious odour in the air ('Like when the hamster cage needs cleaning' my daughter muttered over my shoulder), not entirely masked by the sharp scent of wood smoke and the savoury smell of things frying in hot fat.
Stalls with badges, stalls with T-shirts - 'Knebworth 1979' - stalls with cheap jewellery, Heineken in cans, cigarettes, fruit, and silver balloons. A ten-year old driving his brother up and down the dusty track on a small motor-cycle. It was hot. We sweated past several car parks and a wood, up a long sloping hill, and through a field of ripe corn through which the organizers had cut a swathe twenty yards wide, edged with pylon-mounted floodlights, each with its own petrol driven generator.
At last we could hear the music, blowing fitfully on a slight breeze. More ticket touts and finally the turnstiles, set in a wall of corrugated iron, a group of guards at each. My ticket was torn down its central perforation and half retained. As I inspected the surviving piece it was removed from my grasp by a second guard a few yards further on. Fantastic! Did they think someone was going to glue the bits together and sell them?

(nb: security for the second Knebworth concert was taken over by Peter Grant . Led Zeppelin's manager , after doubts about the gate take at the first weekend concert, they were no doubt being super tight about ticket numbers - Ed )

Photo© Ken Walton 1979
We were inside at last. The music, records between the bands, was quite loud now and coming from an oddly shaped black and white structure with a background of trees at the lowest point of the amphitheatre enclosed by the barricades. This was the stage. Between it and us was an immense sea of colour and movement, broken here and there by flags fluttering from poles the tallest about sixteen feet high and held in place by four guy-ropes. About four fifths of the crowd appeared to be static at any given moment, sitting or lying on blankets, coats or sheets of polythene. The remainder was in a state of constant movement; a glance at the barricades near the main entrance showed two files moving continuously in opposite directions.
| | |
| --- | --- |
| Photo© Ken Walton 1979 | We took up a temporary pitch in a group of trees where the shade and a slight breeze provided a welcome relief. A group of Indians had laid out a selection of wares on a blanket behind us. A queue, some fifty people long, waited to use the piped water tap whose overflow had turned the ground into a morass downhill from it. One overheated customer stretched the waistband of his jeans, stuck the pipe inside, and flooded the cool water down his crotch. Beyond the trees, but still in the shade, an immaculately set up tent; beside it a lady in a sun hat seated in a garden chair, placidly knitting. A man eyed me curiously for a couple of minutes and then approached, opening his fist to reveal a piece of angled brass piping. 'Do you know where I can get a fill for this?' he asked. 'What is it?' I said, in some amazement. He repeated his question, and I noticed a small label on the object which read £2. It suddenly flashed through my mind that he might be trying to sell me this device, and equally quickly I realized what it was. |
'No friend, I'm sorry.' He ambled off to try somewhere else. My daughter returned with a tinkling ankle-bracelet and I told her. She laughed - 'Chillum pipe' she said 'they're selling them over there.' She pointed to the Indians behind us. 'At your age he probably thought you must be a dealer.'
We moved to the other side of the enclosure, negotiating the soggy flood from another tap which had spread fifty yards downhill, and took up a position where there were fewer people, and some space to move about. On stage, Commander Cody finished his stint and thanked his largely unresponsive audience. More records. We dozed, woke, drank cold beer and ate bread, cheese, apples and fruit cake, then dozed again. The breeze faded and the sun shone hotly. Next to us a dark-jowled and tidily dressed young man played with some small electronic game. He and his bearded companion were stretched luxuriously on a peach coloured blanket. I noticed that everybody who passed them, skirted carefully round it; obviously this was the way to stake out a pitch.
I visited the makeshift toilets for the first time - vast, reeking trenches surmounted by plywood booths, each shielded by sacking. Coming out I noticed that many of the men (it's a tough world, ladies!) never reached them, but simply strolled over to the barrier and soaked the ground at the base of it. Security guards inside conversed with those outside over its top; people rested their backs on it and ate hot dogs; in its shade a young woman stripped to the waist knelt on the ground chatting to a man who knelt opposite her.

There were queues waiting for griddle-cooked hamburgers, a group of girls in neat blue uniforms selling Gauloises at a stall, a girl brushing her teeth at another tap, this one with a soak-away beneath it. I joined a group laid out in the shade of an oak tree and stood with my arms stretched out to cool down. A man passed me in tight peacock-blue trousers, a cream top, lime-green socks, carrying a pair of bright yellow boots. I took some photographs and read the printed T-shirts - 'Status Quo', 'Sunday Times Classified', 'Thin Lizzy' and, foretaste of things to come - 'Led Bloody Zeppelin That's Who'.

Photo© Ken Walton 1979
I rejoined our little group; more beer, another nap. We seemed to have been there all day, all week, always... It was four o'clock, the sun less fierce behind a cloud. Southside Johnny and the Asbury Jukes took over from the records, tiny figures on the huge stage a quarter of a mile away, but the PA system carried the sound to us easily, good rhythm, a loud and accurate brass.
Giant jets floated noiseless behind the barrage of sound, gliding down an invisible slope towards Luton airport. Was the captain pointing out the sights to his passengers, packed in even more closely than we were? 'Right below us, you can see the crowds at this year's Knebworth Festival...' The afternoon dozed on; when I came to, we were back to records. More food, more beer.

In the early part of the evening, the style of the music changed. Todd Rundgren hit us with a powerful, polished delivery, even evoking some enthusiastic applause, some whistles. The sun went below the cloud line at last, it was slightly cooler. Gallon jars of Sainsbury's vino were drained to the bottom; the young man with the electronic game snuffled with hay-fever.

Photo© Ken Walton 1979
I felt sufficiently revived to go for a stroll, avoiding the dense carpet of empty beer-cans, melon rinds, chicken bones and broken glass. Five people dexterously lugging three insulated boxes between them; bikers with brass-studded leather jackets, just arriving with great armfuls of canned lager. I got lost on the way back, and stood gazing helplessly at a Morris Motors flag which had been to our left - or was it right? Luckily my daughter spotted me, and I was safe.
It was twilight by now and the stage lights went on. Promises, apologies for the delay, then they arrived - the New Barbarians - a scratch group, but fronted by the legendary Ron Wood and Keith Richard from the Rolling Stones, moving patterns of glittering lights as they stomped around the stage in metallic red jeans. For the first time I examined the stage through binoculars. Its dimensions were deceptive at that distance, but it looked to be the height of a five-storey house and the length of a small street. An impressive movie set of scaffolding and black canvas, its semi-transparent wings concealed loudspeakers in dozens. The result, even at this distance, was like sharing a small room with a disco.

The Barbarians played some beautiful rock - tightly organized, superbly timed, loud but controlled. They bowed to well-earned applause, encored with 'Jumpin' Jack Flash', and were swallowed up by darkness once more. An announcement warned us that it would probably take an hour and a quarter to switch equipment. It was nine o'clock.


Photo © Pete
We re-organized our encampment, pulled on woollies and dozed again. Sweet wreaths of cannabis smoke drifted round us from nearby smokers, who had obviously been keeping it in reserve for the main event. Two very young bikers climbed into their sleeping bags. A girl with an abrasive, penetrating voice had a smouldering argument with her boy friend as to whether or not they could make a final dash for the toilets without losing their pitch. They went, and got back safely. A few rockets burst against the fading sky. Across the crowd, heads, necks and wrists glowed green with the cold fire of chemical lights, bought from stalls during the afternoon. A Welsh dragon had one decorating its flagpole.
Another doze. Records.
| | |
| --- | --- |
| Photo© Ken Walton 1979 | Then, abruptly, out of the blackness, the speakers hummed, crackled into life and without any preamble roared 'Ladies and gentlemen - Led Zeppelin', and the entire crowd was on its feet, clapping and whistling. I could see nothing but backs and waving arms. Then, just as suddenly, like a field of corn blown by the wind, the whole tumultuous throng subsided quietly from front to rear, and was seated. Clicks from the mike, mutterings, and with a conflagration of lights and a screaming chord from Jimmy Page's guitar, the show we had waited all day for was under way, with 'The Song Remains the Same'. |
For those whose world does not include this kind of music, the show would mean nothing. For enthusiasts, it arouses the sort of emotions only understood by those who have shared them. The group went through all their old standards. Laser lighting dazzled the eyes, smoke filled the stage, brilliantly illuminated by banks of floodlights. High above, to the left of the stage, a translucent screen some forty feet high relayed what could be seen by a battery of video-cameras onstage - Robert Plant's face in huge close-up, concentrated, intense - 'Since I've Been Loving You'; Jimmy Page, dancing knock-kneed, his hands weaving intricately over the strings; John Paul Jones in washes of startling burnt-out colour.

Somewhere, in the middle of the performance, the lights dimmed, and their suits glowed with an eerie, pale phosphorescence. Page played his ethereal piece on guitar with a fiddle-bow that glowed red and hurled a pencil-thin green laser light into the surrounding darkness. In what seemed an unbelievably short time, the stage lights dimmed leaving a network of light-beams, criss-crossing the canvas cupola, and the performers were gone.

The audience were clearly familiar with this routine. Minutes of prolonged applause, and the players erupted onto the stage once more in an explosion of lights, and it was just as though we were starting all over again. They roared into a cut-down version of 'Whole Lot of Love', my own special favourite. As he reached the line '...now he's reached the age of twenty-four', Robert Plant, with a nice touch of self-mockery left the audience to supply his real age. Two more numbers, including the timeless 'Rock 'n Roll' and they were gone again, this time for good.

Right : Keef backstage at Knebworth 8-11-79 with a bottle of what looks like Southern Comfort , he still looked half human at this stage in his career.

© Jenny Macfie
The stage was deserted, the mounted floodlights by the barrier sprang into life, and the magic was over. But we carried it with us out through the gate and past the struggling cars, now completely immobilised by a vast flood of humanity. In the bright moonlight, whole fields were alive with an army of perhaps a hundred-thousand people. We flowed round obstacles, stumbled over bodies already worlds away inside sleeping-bags, clung tightly, arm in arm as we were tossed and lifted bodily, four abreast, through a gateway. At last, the road, and lights, fires, tents, traffic, stalls ('Only two left now; here you are'). Policemen steering us over the road, the wide avenues of the industrial estate filled with people. A patient policewomen, no older than my daughter, - 'Will you try to walk on the pavement, please?' The crowd thinning, piling onto late buses, swallowed up by underpasses, the music still throbbing and drumming in our very being.
Ken Walton
---
Had a lot of fun looking at your site so I thought I'd contribute!
I was at Knebworth on 4th August 1979. I was an 18 year old Zep freak and it was my first (and last!) rock festival. I'm not a fan of festivals but would have crawled over broken glass to see Led Zep at this time(not far from the actuality, as anyone who's been to a British rock festival will know what I mean I'm sure! At least the weather was ok so no mud..).


I went with 2 friends and we camped overnight at the campsite they had set up outside the gates. I don't know where the figures of 100,000 came from, I'd been to Wembley for a cup final and there were more people at Knebworth that day than would ever have fit in to Wembley. I'd say 200,000 was about right. The 4th, fortunately was a hot sunny day and after getting in the gates at the crack of dawn we set ourselves up in a good position by the sound desk, and spent the day less than enjoying a mediocore festival bill.

Photo © Pete
There we were fresh out of the 6th form, straight south London lads who didn't even drink much surrounded by older people doing substances of all kinds! Fairport convention were ok, but I couldn't believe Chas & Dave were on the bill, it must have been a piss take! I had to persuade one my friends not to leave! Southside Johnny was good, better seen in a small venue though and I didn't know his stuff too well then. Him & Todd Rundgren were the best support acts. The picture you have of the band with the guy in the yellow jumpsuit was indeed Todd Rundgren, who I remember quite enjoying, the first time we heard some rock guitar all day!
Photo © Pete

Anyhow, after that we had a long wait before Zep came on just as it was getting dark. The opening chords of the Song remains the same rang out over the field, hails of beer cans came flying from the people behind accompanied by cries of 'sit down yer wankers!' so we all sat down and I was then on another astral plane for the next 3 1/2 hours. Having recently seen the DVD portions of this concert, they indeed were just as good as I remembered. The great thing was, they had stripped down their act a bit and were really tight apart from an extended piano solo from JPJ during No Quarter. Not too much jamming apart from that.

Highlights were many, Kashmir, with explosions of dry ice. Achilles Last stand, sounding better than any of the bootleg stuff from the '77 US tour. The Rain song and Since I've been loving you. It's still the best rock concert I've ever seen and the memory will never fade. I'm just so glad I got to see them, who knew that Bonzo only had just over a year to live? That night it seemed they could go on forever. After encores of a stunning 'Rock and Roll' and Whole lotta love we thought that's it and headed out.

But we were wrong, as we left we heard the unmistakeable opening riff of Heartbreaker. After that it was an horrific journey back to London on the train and back home for some much needed sleep. As far as I'm concerned it was worth the deprivation and discomfort, but there's no way I could do it again now!

Regards

Keith Foster
Then from South London, now living in New York.
---
After queuing up all night outside virgin records on a rainy sunday night in Swansea many months earlier to secure the 'Golden tickets'. My brother and two other mates travelled up on the friday in a battered fiat. Allthough we were only 17 we were already veterans from previous knebworths and Reading 3 dayers. I can remember queing up at the roundabout and slowly working ourselves further into the grounds.I can remember hearing the band rehearsing during the day and then late friday evening, the huge roar when they decidied to open the site gates early. Does anyone else remember the fantastic Gypsy caravan and Robert Plant commenting on it during the set?.
I Remember listening to Tommy Vance on Radio 1 rockshow with his 'Knebworth Serenade' special. Huge crowds. I had to go find the toilets just a sea of bodies for seemingly miles like the aftermath of some great civil war battle. How I managed to get back and find my mates I'l never know!. Saturday turns out scorching got a nice suntan! ....Todd Rundgren wanting to turn it into the 'biggest disco in the world'(?!) Southside johnny , can't believe no one has mentioned Chas and Dave! brilliant music to chill out to. then the big event. classic moment must be 'in the evening' the first time it had ever been played live such power . excellent show and fireworks . History in the making.
Malcolm Best
---
I suppose I didn't really knew how lucky I was to have gone to see Led Zeppelin @ Knebworth. How we got the tickets was a bizzare twist of fate. One of my friends was driving his car through the country side when he came across a big luxurious car (a rolls he told us but who knows) the driver had a puncture and my friend stopped to help, to his surprise it was John Bonham!! who was very appreciative and duly gave my friend 4 tickets to the concert. Wow!!!! I think I was offered a place because I had a car big enough to take everyone down there.
we got to the concert early morning - I'd driven throughout the night and Iwas Knackered. we found a spot a third into the eventual crowd and I fell asleep for a few hours only to be woken by the shouts of "It's the death of rock and roll" it was the last track of tod's and I was a bit dissapointed I'd missed him anyway the rest of the concert is history what stands out in my mind was the Laser show I'd never seen anything like itand after it had finished for a few seconds there was an eerie silence.
Regards
Mark Fisher
---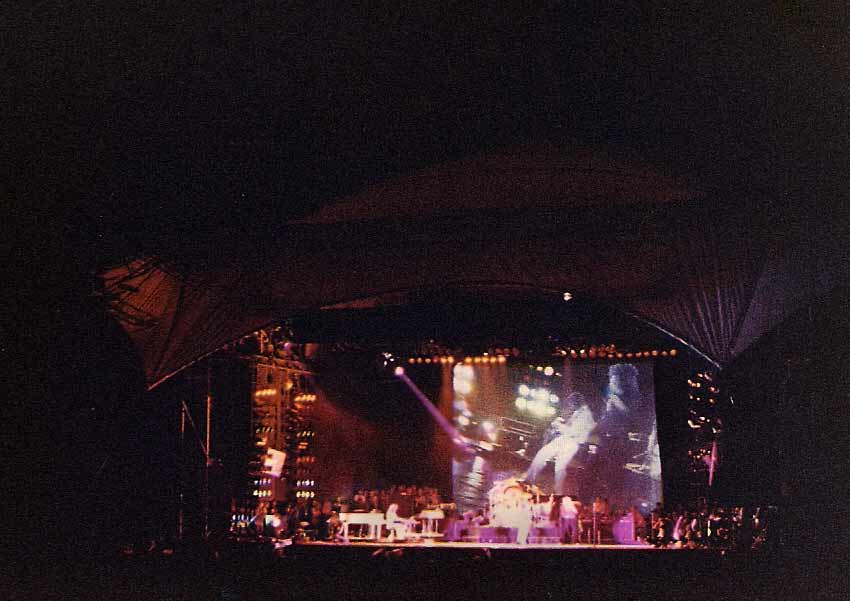 © Jacques Luce
I've visited your web site and it served to trigger many happy memories of the event.
I was still a university student at the time at Leeds University but had arranged to go to the gig with pals from Darlington. We duly caught a train to Stevenage from Darlington the day before. I remember having our rucksacks packed with beer and very little else apart from a couple of salad sandwiches made by my mate's mum.
The train was packed with folk travelling down for the gig and we managed to drink most of the beer hat we'd packed on the train . Our first mission on getting off at Stevenage was restocking with ale and I was gobsmacked to see the procession of supermarket trolleys laden with cases of alcohol making a beeline for the festival site. At every major obstacle e.g. fence off dual carriageways, there would be a mountain of empty trolleys. As the obstacles became more difficult to get past with trolleys the mountains of trolleys got higher. I thought that the entrance to the site would be the final impassible barrier but no, there were trollies inside the site too!
I was taken aback by the size and extent of the camp site and the area in front of the stage. What was amazing is that we managed to meet up with folk that we'd arrange to rendezvous with amongst the 100,000+ people that were there. Figures between 170,000 and 250,000 were bandied about in the ensuing weeks but that's another story. Some serious drinking disposed of the night before the gig and most of the daylight hours before the gig.
Ironically the draw for me was Fairport Convention and most of the supporting bill was great. The biggest mis-match was Chas and Dave and lots of people caught up with some sleep during their set. The day of the gig was scorching and one of my pals fell asleep using his rucksack as a pillow. He managed to get a tan on one side of his face. The most bizarre event of the weekend was when I went to the 'drop box' toilets and heard a large splash as I was using one of them. Looking down through the drop I saw a bloke doing the breast stroke in the cess pool. He was shortly joined by a couple of others. I finished making my contribution to the pool and went round the back of the drops to see a crowd wearing Tadcaster Turd Tossers t-shirts egging some of their members to jump in. My mind boggled.
The day was perfect, the music great. I was converted to Led Zeppelin by their set and I experienced awe and wonder in the dark as they played. A life-long Led Zep pal who was with us didn't have a great experience. Having being rendered unconscious by copious amounts of Pernod, he woke up during the final song and asked "Have they just come on?" I look back on our cruelty with a degree of shame. I can't remember why we didn't wake him up.
Knebworth is still the most memorable major musical event of my life. I doubt that it will ever be equalled.
Vernon Levy
---
© Pete Still.
Greetings,

I was a US service member in the UK from 1979 to 1981. My friend Sammy and I attended the Aug. 4th Knebworth festival. The one thing that sticks out in my mind was that when we arrived the night before the festival, we found some tall grass beside one of the entrances to the festival grouonds to bed down in for the night. As we laid there and smoked some hash I will never forget noticing the constant flow of people walking past us. the people passed us all into the night and when we awoke there was still this steady flow of people. I felt like it was the second coming of Christ. other than that, I remember being very far away from the stage and not really getting a good look at Zeppelin.

Greg Mead
Spokane, WA USA
---
Hello

I saw Led Zeppelin in 1979 on both dates the 4th and 11th August 1979. I was 18 and queued up all night at Our Price (I think) in Slough for my £7.50 ticket. I was and still a Zep fan from being introduced to the group through listening to my older brothers albums. Furthermore Jimmy Page had purchased the old mill house in Windsor from Michael Caine, only half a mile from where I lived. It was in 1981 that John Bonham died at Jimmy Pages Windsor residence. On a happier note it was nice to see Jimmy wandering around Windsor town centre with daughter and I presume grandchildren completely unrecognised, except by me.

We travelled to Knebworth by train and camped, it was packed and noisy night. The next day walking up to the arena early to get a good vantage point I noticed a guy from school who was working on the gate, and then I saw another chap from school. I learned later that one of my best friends had got a job working on the stage and watched the whole performance from the wings and he was only there for the cash and hated Led Zeppelin.

The whole day was hard work as it was so busy getting any where. For example getting to the toilets would be a round trip of an hour and a half. The toilets were deep pits with ply wood cubicles build over the top with a hessian cloth for a door, lovely 6ft drop for a dump.

As for the Led Zeppelin performance I thought it was fantastic but that was through a naive 18 year old eyes. Watching the DVD thirty years later although enjoyable and that I can say "I was there" Robert Plants vocals were on occasions struggling. But fair play to Plant he is still going and adapting his vocals to suit his age.

Strangely I preferred the Beach Boys a year later because firstly we drove to Knebworth and back home on the same day and thus no disturbed camping. Secondly the crowd capacity was only 45,000 and all the amenities, shops and hot dog stands were easy to get to. Thirdly we had a great spot and Santana were excellent as were the Beach Boys.

Regards


Tim Clare
---
I attended both weekends my memory was that the first weekend lots of people and the second not so many. I do remember the fence being broken down a few times, a couple of motors just piled through the fencing. But for me the unforgettable moment was the first weekend and Led Zepplin did stairway to heaven and all the cigarette lighters were glowing sends tingles up my spine to this day. And of course i can tell my friends that i saw Zeppelin twice with the great John Bonham. Cool, the hash was good in those days which added to the whole experience .
Peter
---
Hi,

Just browsed the site and noticed you wanted a few personal experiences.

I went to the 2nd gig - my first concert aged 16. I vividly remember turning up by train with my best friend Michael Bunney. We had just got back from a week in Belgium and went straight to Knebworth. We were well prepared - 4 cans of special brew each and a space blanket and that's it.

I remember the night before we were kept in a holding area, and the strange fragrant mist of dope hanging over the camp. One guy had caught a Pheasant and cut it up on the barbed wire fence before burning it on his campfire.

We were moved on to the venue early in the dawn , and I recall it wasnt light. I had never seen so many people - a massive column of dozy people trudging along. We staked ourselves slightly left of centre and about 1/2 way back. I remember being bored by Todd Rungren, but the New Barbarians were good. We boo'd Chas and Dave. Led Zep were fantastic, even though it was mostly tracks from "In Through The Out Door".

We kept going for freshly made Doughnuts - serious munchies, and that was all we ate.

I still have the programme shown on the website, though the T shirt was chucked 10 years ago.

To be honest its all a bit of a blur now -but my 20 year old nephews are most impressed .

Peter Taylor
---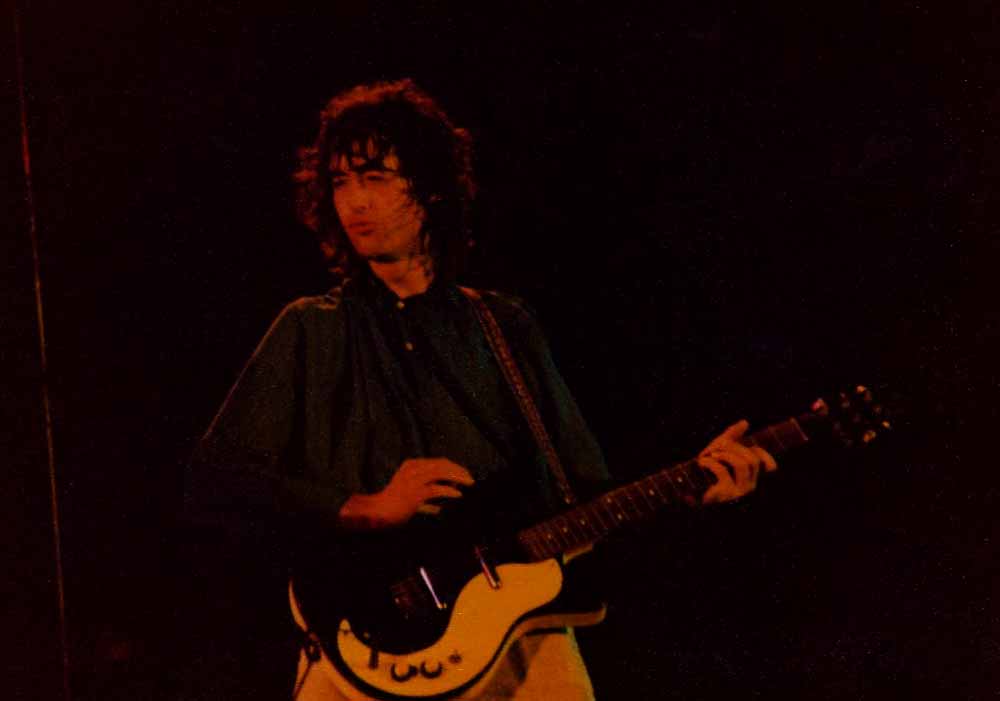 Young Master Page © Pete Still.
I was at the first show on the 4th.
As a 17 yr old having just left school, I had travelled by coach from Devizes, Wiltshire, and arrived at Kings Cross station. Got the train up to Knebworth and walking to the festival site Friday afternoon,
and set-up a borrowed tent just outside the concert ground. During the evening whilst getting stoned on some fine Double-0, a huge beer can fight broke out. I distinctly remember some guy next to me getting twatted by a party-4!, even though he was still in his tent, and came out with blood gushing from a head wound.
Early next morning a crowd of people had ripped down the fence to get in, (although we had to queue at the turnstiles). I packed up the tent and followed the crowd. The tent at this point was doing my head in, so I climbed a tree and stashed it, (never found it again, which cost my dad £20 to the owner). I had all the supplies I needed in a small rucksack, (stash/chillum, coach ticket home, beer, sarnies & a few quid).
By the time I got in and settled down, I was about 20 feet from the barrier centre stage. By the time mid-morning arrived there were people as far as the eye can see behind me.....insane! I was sitting next to an American girl, who was also there by herself, and proceeded to share my stash/food etc with her throught the day and night. This was real handy, as one of us could nip off for a pee and the other would watch our gear. I remember it must have took an hour to get to the bogs and back .....nightmare!
I vaguely remember the support acts. I really liked Commander Cody though. Zeppelin were brilliant as a stoned 17 yr old would appreciate.
Getting home was another story. I remember leaving the site, sans tent, and making my way to the motorway slip-road. I don't think there was any transport back to London that time of night. Anyway, I ended up sleeping just off the slip-road waiting for daylight. At about 5 in the morning the slip-road was becoming really congested with hitch-hikers. I don't recall how I got back to Kings Cross, but I did. Got the coach back home to Wiltshire on the Sunday a happy bunny......oh those halcyon days of youth!
Tony Regan.
---
I was there, as an 18 yr old, my first and last major open air music festival. I drove a car of four friends, we all slept in the car, freezing despite the August weather, but with the rhythms of Kashmir throbbing us to sleep. I cannot remember the date, but I think it was Fairport Convention rather than Keith and Ronnie so maybe the first concert. In my memory I recall feeling I had been to John Bonham's last UK concert, so maybe I'm wrong.

Someone just in front of us had an epileptic fit during Todd Rundgren's set and medics fought their way through an incredibly mellow crowd to haul him out. Despite the immense number of portaloos I recall wading through urine soaked turf in queues which lasted forever and have put me off going to festivals again.

God bless John Bonham. At the age of 50 I have taken up drumming, should have done it years ago – and am eternally grateful to have heard live the greatest ever proponent of the art….

Allison

---

Hi, just visited your website , what fantastic memories. we were there for the second show having travelled down from Llandudno the night before. We made it to the camp site and pitched up, just being there was an experience in its self. At around 1am a section of the fence was brought down and the fans started climbing over it, there was one guy on crutches but he still managed it. They must of opened the turnstiles early when they realised we weren`t going away. Once in we legged it to the front of the stage and managed to get a good pitch it was not easy as the guy i travelled with my good friend Mark Duncan (r.i.p) had just had an operation on his hip and was not yet fully recovered but we made it.

We managed to get some sleep in the rain,then awoke to glorious sunshine, beautiful topless girls and guys getting stuck in to beer, wine and various other things. We couldn't believe how many people had arrived during the night. During one of the change overs i walked to the very back of the crowd to look at the stage, considering it was the largest mobile stage in the world it looked like a matchbox.

When the Babaas went off and Zeppelin were due to come on we realised just how many people must of been there because it became so tight you couldn`t move. I have been in some big crowds before (Stones, Floyd ) but this was something else. Some say 40,000 to 60,000 but this was probably a figure put out by Peter Grant, knowing how savvy he was. but i reckon it was between 120,000 and 150,000... but hey size isn`t everything...keep up the good work...

cheers

Bernie "the bolt" Winter.

© Pete Still.

August 1979 , I was 19 years old and a lapsed Led Zep fan , it seemed to me (then) that their time had been and gone. Two mates of mine were big fans though and persuaded me to go along. I really did not have a clue and set out with nosleeping bag , blanket , food , nothing except money for beer !
We travelled by train from Liverpool to London the day before the concert with the vague notion of then making our way to Knebworth that night. After a day crawling the pubs and dives of SoHo and the West End we headed for Kings Cross. No trains until..... 5am !!
With nowhere to stay,and the worse for wear already , we devised a cunning plan. The Who film "The Kids are Alright" was showing allnight at a cinema in Leicester Square , so we paid our money down and settled down for the night.I think we managed 2 and a bit showings before they sussed us and kicked us out into the cold night air.
Back at Kings Cross I remember some winos who had a fire going being swamped by Zeppelin fans trying to keep warm , before some bright spark at British Rail decided to lay on an extra train to Stevenage in the early hours.We arrived at Stevenage , but we were too early for the first Festival buses to Knebworth, so settled down on the platform for a quick kip. Along came Mr British Rail ... "alright clear off you lot !!" , "aw cmon mate we're doing no harm" we replied.... "oh youre english you can stay , thought you were bloody french !!" ... those were enlightened times.

Finally arriving at the Festival site it took a while to become accustomed to the vast sea of humanity laid out before us. The crowd were not really
densely packed as I'd expected but sprawled out across the parched grass. Mick,Gary and myself joined them , and spent a great day in the warm sunshine , drinking , snoozing ,beautiful girls , music , what more could you want ? ... as for the support bands Chas and Dave were good for a laugh , Commander Cody and Todd Rundgren weren't. Southside Johnny was great , Marshall Tucker I have no memory of at all.
What I can remember is the interminable wait for the next band ... The New Barbarians (Ron Wood and Keith Richard and mates) , I think they were 2 or 3
hours late on stage , no explanation given , hey thats rock n roll for ya ! Were they worth the wait ..... er no.
The sun was gone by now but luckily it was still dry and warm as the mighty Zeppelin finally hit the stage , for the last time ever in England (that reunion
last year doesnt count) , and pummelled the audience into submission. I really liked the later stuff such as Achilles Last Stand, Kashmir ,and Trampled
Underfoot, but I definitely nodded out for a while when Jimmy Page did his violin bow solo's. Legendary .....
And so to home ..... heading off the site back to the buses i'm sure it was almost light again , but after that I cannot recall a thing , mustve enjoyed it
though cos I did it all again the next weekend for The Who at Wembley !!
Best Regards
Steve Anderton
---
Hi

My memory of the event is a bit sketchy although I remember being bored stiff by the support acts. You forget what an impact new wave had at the time and most of the support played stuff that seemed old hat and a bit cheesy especially to my friends who were a year or two younger than me (as the old man of just turned 21 I drove them to the event!) When Led Zep came on I do recall very open drug pushing. Oddly I think I'd appreciate their set far more now than I did at the time. Back then because of my age I didn't know their early stuff at all apart from Led Zep 4 but had liked Physical Graffitti when that came out in 1975. It was great to have seen them in my life but in all honesty I have been to far better gigs and festivals. The day had dragged slightly and better known supports would have put us in a better frame of mind when Zep appeared. The Zep set actually seemed overlong with some excessive guitar soloing that sounded a bit dated by 1979. They were some great moments though and IIRC Stairway was truly mesmerising.

Incidentally I have never seen so much blue denim before or since!

Hope this helps you in some small degree.

Cheers

Rob Cannon
---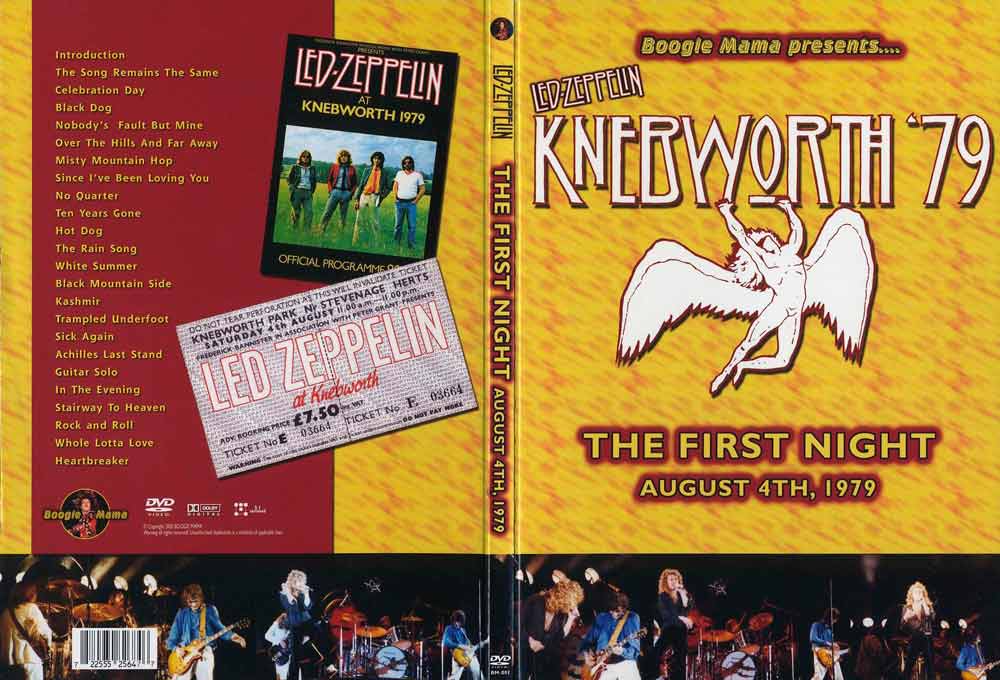 Hi, was looking at the info about Led Zep in '79. My dad was at the second show...

He never said much about the numbers because he was only 18/ 19 at the time and it was his first festival, so any size of crowd that's been estimated would have seemed big to him at the time. What he did say though is he thought the support was a bit of a cop-out (particularly Chas & Dave). He did think Utopia were excellent (they obviously are a very talented band) but didn't think they were really right for the festival & in general, when he looked back at some terrific previous Knebworth line-ups, he thought it seemed quite likely that Led Zep didn't want any competition.

At the same time, he was only really there to see Led Zep & said they were easily the best live band he'd seen. I know he was particularly pleased that they played Ten Years Gone. To be honest, he hasn't told me all too much about the set, but I could always ask him if he'll write something for your site.

Cheers,
Bobby.
---
I was there with two friends. I was eighteen at the time, we had travelled down from the Wirral in a Beetle VW. I still have the programme.

My memories are a bit patchy because of, obviously, time and I was drinking cans of beer throughout the day so consequently would not have been the most observant spectator. I do remember the stink of the 'toilet facilities' which consisted of large ditches screened by canvas - and it was a very hot day. Phew !

The music was fabulous. I particularly liked the New Barbarians. I remember Led Zep's live performance of Whole lotta Love was OK - probably not their greatest live performance of it. I do remember there being a large contingent of American Led Zep fans near to us - whom the lead singer spoke to directly from the stage, acknowledging their loyalty and perseverence.

Great day. A long time ago now of course (I turn fifty next month).

Regards,

Peter Charnley (Wirral).
---
look guys you run a fantastic site which i love - but just having read the figures again [ which will always be disputable i agree ] the problem with event attendances - isnt official figures - but the vast amounts people who entered the arena without paying either due to security lapses or i suspect [ i watched it happen at the turnstyle as i entered ] people on the 1st day handing cash after being told tickets were already sold out - bannister taking more money for a overbooked event ?
Alex
---
hi
i was 17 and at the army apprentices college,chepstow,gwent.
i'd been to a few gigs,but this was my first festival.
a guy in my room,kevin/alf/taff stevens(from a mining town in south wales,tonypandy)? brother got the tickets and 4 of us went in his car.i dont remember many finer points,mainly due to my intake of wine,gold label and some'pot' which was getting passed around the group of people next to us!
i remember chas and dave,cos they were on early and the obvious novelty factor.they were good and heavier than i expected.i hadnt heard of anyone else except for todd rundgren,who all had different coloured what looked like wet suits on and for me,it was all about led zep.
we were sitting about 2 thirds back and near to the perimeter fence on the right,near to a first aid station.in which,a woman reportedly gave birth at some point!
i fell asleep for a while and came to for todd.dont remember much as i didnt know his stuff,but they were good.
led zep blew me away in all respects.sheer presence(thats a pun if you like),power,delicacy and the lazers which were pretty rare for the time.the pyramid of lazers around jimmy which were green and the purple one coming from the violin bow he was using on dazed and confused impressed me no end.
hot dog stood out for me too,being from in through the out door, which i hadnt heard, was just so country/rock n roll and not like their usual stuff.
the perimiter fence took quite a drenching from those too desperate or impatient to wait for the toilets, to the point that a section of it collapsed! naturally some folk took advantage and gained entrance there.i dont think it got repaired,either too late in the day to bother,or just not noticed.
they encored with whole lotta love which i think took it passed the 12 oclock cut off point and the cost the organisers a few grand.after about 10 mins of the song,we started to leave to beat the surge.i was quitely pleased cos i was a mess and had a pounding head.then they went into what another number and we contemplated rushing back in to watch that,but by then there was a mass exodus occuring and it wouldve been impossible to wade through it.
if any of that doesnt add up with anyone who has finer memories,i'll believe their recollection!
i glad i went,incredible experience,atmosphere etc.it was a monumental event in my life,as well as the delight in winding up fans who never went.their jaws usually drop and have a distant look on their face.
great.
peter nowell(48)
---
Hi

I happened upon your website after looking at my unused ticket .

I had followed Zep for years saw them at small venues and at Earls court.
I eagerly awaited their return to Knebworth and bought a pair of tickets along with my mates.
My girlfriend at the time had never seen them and was not sure she wanted to go, so I dumped her and was not risking taking someone who might spoil the show.

So I ended up with the ticket (see pic) thoroughly enjoyed it despite some of the reviews.
Of course the music stands today as some of the most innovative ever created, and I noticed there is a new film released this week that has a Kashmir riff (of course the kids wont notice)
I did go to the Pink Floyd concert there in 1975, and do not remember it being as crowded as that night Saturday August 4TH 1979.
I left England 12 years ago for Florida and will never forget that once in a lifetime experience.
Thanks for the memories.
Sean.
---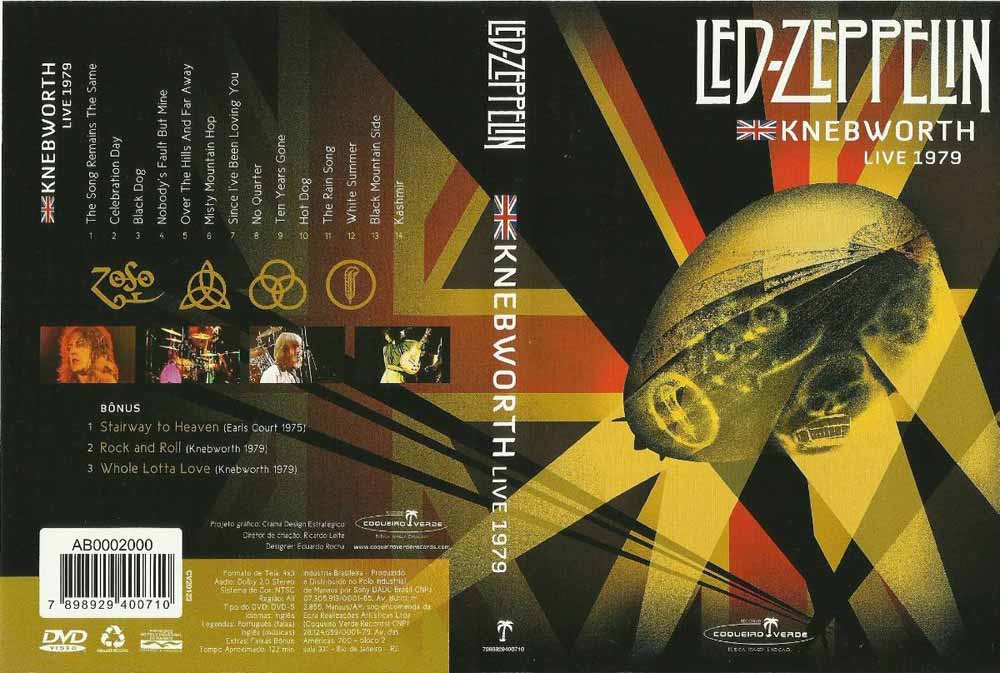 Led zep no 1 1979
I would say there was a slightly bigger audience for this one than Knebworth 1978 with more of a "hard rock" feel. The night before was more trad festival, crashing around bonfires, reefer, tales of Jimmy Page's occultist habits etc.
Unfortunately zep themselves were poor. The only time I saw them live and a big let down after hearing old Radio1 in concert sessions etc. On a par with "the song remains the same" movie ie turgid. Page was missing notes left right and centre. I read later this was in the middle of his smacked out period so that figures.
Todd Rundgren was pretty good despite this being his dodgier period.
The evening after the gig was spent in a sleeping bag in the car park of Knebworth police station which rounded off an adventurous but slightly disappointing trip.
Chris Davies
---
Dear Sirs,

I attended the Knebworth festival on 11 August. I also attended the Genesis festival the year before. Although it is now a very long time ago, I do recall that the crowds for the 11 August 1979 was much larger than the event in June 1978. The campsite was more crowded. The queues to get in were longer. It was tipping down with rain when we got into the ground. However, by the time that Chas & Dave came on with the immortal words "Imagine you are in a Pub" we said the sun was out and we got sun burnt.

Regards

Ian Jackson-Reeves
---
I seem to remember Todd Rundgren taking the mike and appealing to the audience to stop throwing bottles and other missiles at the stage. I cannot remember who was performing at the time although I am sure it was not rundgren.

Paul R
Merseyside
UK
---
Not sure what made me decide to google Knebworth this morning, but I found your link and boy did it bring back memories. I was stationed in England and a group of us went to the show. It was one wild weekend. I still have a sheet banner that we made for the show. It's been kicking around for years but I haven't been able to bring myself to throw it out. I don't have any recordings, but I do have personal experience of being there.
Laurie
---
I was 15 and although I had seen a number of bands by then, this was my first festival. A friend's dad pulled up on the A1, two of us jumped out and made our way to the camp site. We had rolled up sleeping bags, bin liners but no tent. We were invited to join a group of about 10 blokes sat around a huge fire made from the fencing from the side of the A1. As obvious youngsters we were 'looked after' by the more senior members of the group. I had never seen anyone share 'cigarettes' before and our mentors thought it best if we didn't partake as they were passed around.

We got a couple of hours kip under the stars before being woken by one of the 'mentors' and told that the site was open (~2am), and so we trekked in. It was probably 4-5 before we got a spot in what seemed like a sea of people sitting and lying around. Even at that time we were 100-150M from the stage. So then it was more kip before it got too bright.

The morning was beautiful. Blue skies, sunshine it was just perfect. I can't comment on the number of people there, I can just say that people piled in to the site from before we got there, right up to the start of Zep's set. It was the largest collection of people I have ever experienced. A trip to the loo was a risky business, not just because they were pretty grim, but because finding your way back to your spot was incredibly difficult in an ocean of long hair, denim, tie dye t-shirts and patchouli oil. One thing I clearly remember of the crowd was the regular shouts of 'Wally?', and I know where the 'Where's Wally' books got their inspiration.

The acts started at 11am, as I recall, and generally improved as the day wore on. I had never heard of Todd Rundgren before that day, but have been a fan ever since, although the skin tight jumpsuit was a little ott in the punk/indie, late seventies. So, finally, after what seemed like an age after Utopia finished, Led Zep were announced and the whole place just went mad. The PA was cranked up to the max (which I guess was 11) and Zeppelin just exploded into the summer's night.

It was now dark enough for the lighting to really work for the first time, and everyone was awestruck. The huge laser pyramid with Jimmy Page in middle might look slightly poxy now, but it was mind blowing then. What will stay with me for the rest of my days (and I still say this to the kids when watching one of the DVDs) is that there were just four blokes on stage! The wall of sound was so rich and had so much depth that it was unbelievable. I've since seen stages full of muscians yet producing a horribly thin, patchy sound. I guess that is what they were famous for, and it was truly magical to experience.

By the end of the set we were all knackered but extremely happy. We got the encore's and shouted and waited for another, but eventually realised it was over. We had another night of part kipping, part moving on. We finally got to Stevenage railway station and kipped some more until the first trains started running. We headed home, still smiling and with a ringing in the ears of an intensity that you would swear couldn't be achieved at an open air gig!

John Hannawin
---
I went to Knebworth for one of the dates; there were three of us from Mansfield (Notts) – me, a mate from the 6th form college and his brother.
We were going to go in a Reliant Robin, but my mate's dad loaned him his Volvo instead so that was better; I'm not sure the Reliant was all that reliable really.
I remember Todd Rundgren's band swapping around instruments, Chas & Dave doing Rabbit, and being so far back from the stage that there was a gap between seeing things on the screens and the sound arriving.
The highlight of the concert was the change from the instrumental Black Mountain Side to Kashmir (which both use the same DADGAD open guitar tuning).
I've still got the T-Shirt, but sadly it doesn't fit me anymore; I wore 26" waist jeans back then – now I'm a 36".
As a sideling, I happened to meet Jimmy Page a couple of months back and my opening line was "I've seen you and I've got the T-shirt!".
Other things I remember: listening to the radio on the way there and Rainbow's "Eyes of the World" getting its first play, my two mates taking some dope to sell there and ending up smoking it all themselves (I didn't partake), the pong from the toilet pits.
Of course, the gig itself is on the How The West Was Won DVD which is just great.
Paul Rowlands
---
ALL the coaches back to the north fled at 24:00.
There we 10's of thousands of us all stuck in fucking Hampshire, sleeping in a ditch without a penny.
Scottish lads, Yorkshire, Lancashire, Midlands.
Matt R
---
We need your recollections NOW, before you snuff it :-)
so don't hestitate to send them along and we can build an archive of memories here like we have for all the other Knebworth Festivals.Contact us
---
Contents.
---
If you can add in any way to this material ,please Contact us.
Offsite Links.
The events in this tangled chain can be read in Freddy Bannister's book, " There Must Be A Better Way " , which chronicles his adventures in promoting the giant concerts at Knebworth from 1974-79. More info about these concerts can also be found at the Knebworth House site and at Rip Gooch's site, which contains substantial portions of text from the now defunct book Knebworth Rock Festivals, by Chryssie Lytton Cobbold , and finally , at Kevin Shewan's Knebworth 79 pages .
---
Can we get a witness ?

We have been endeavouring to collect as many recordings of the artists that featured at these concerts as possible, so we can effectively review the performances, provide set lists and band line-ups. Any info displayed on these pages or which is sent to us for review remains the copyright of the contributor and the Archive makes NO PROFIT from its use. The intention is to also display as many personal histories of the festival as possible for the benefit of readers of the site and we welcome all written contributions, no matter how long or short.

If you can contribute in any way, with tapes, reviews , photos or personal histories, please Contact us

---

Knebworth Concerts 1974-86

Knebworth links
---