The Archive
Big BIG thanks to our sponsor Neil !

For information on today's festivals see eFestivals.co.uk
Last updated Jan 2012
" I personally have god's authority for the festival, although I realise that people will laugh "
Bill "Ubique" Dwyer 1972
---
The Brotherhood commune.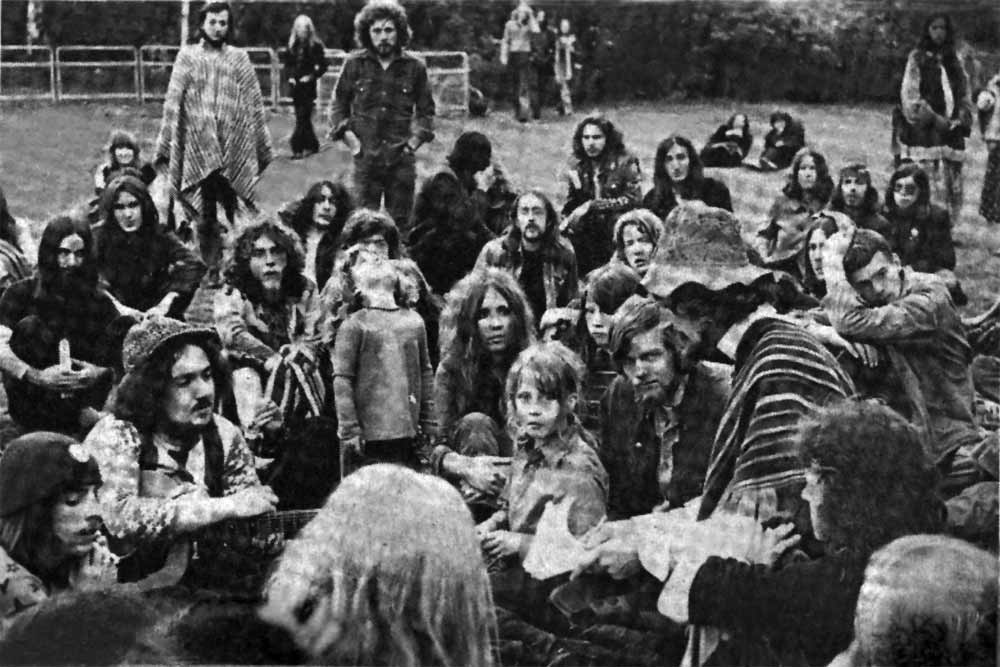 The first Windsor Free Festival public meeting in Holland Park May 3rd 1972 :from the Kensington Post 10th May 1972.
Kris Grey front row , second left wearing hat, Bill wearing his usual poncho on right.
Hi

By chance I stumbled upon your website, I had been wondering what happened to Bill. I met Bill Dwyer in early 1972, I had not longer come out of Borstal at the time and he was looking for people to stand up in court and state that LSD had been beneficial to me, I volunteered but it never came to that. Bill was impressed by my musical ability and loved a song that I had written in Borstal, The Man From Naz which was a hippie take on the feeding of the 5,000, the stoning of the 5,000 where Jesus keeps rolling joints, (you have to hear the song).

He invited me to take part in the first Windsor Free Festival and to help him organise the event. He held a press conference in Holland Park on 3rd May 1972, where I sang the song to the small crowd. I attach a press cutting of the event, from the Kensington Post, it's straight out of my scrapbook which highlights the date and has arrows to Bill and myself. At Bill's instigation I recorded the song under the name Grobbert and Duff and it was released as a single in 1972, copies change hands now for over 200 pounds!

I also attach a subsequent cutting, from the Evening Mail 10th May 1972 about Bill and the Festival, you can see Grobbert and Duff (Sunshine Band - Bill added this) listed as appearing in the last line.

Bill had a healthy approach to LSD, he viewed it as food and was happy to distribute it to anyone who wanted it. I certainly partook in many trips, some with him. This included a reconnaissance trip to Virginia Water to check out the area for the forthcoming festival with my then wife Moira and a friend Tim Wyatt.

It started to turn nasty when, after we had dropped a few tabs, Bill started to get out of control- hurling abuse at a Royal car that came past us ( I didn't see who was inside ) and also at a bus load of football supporters. We had to drag him away and, still heavily under the influence, drive back to Earls Court.

I remember Bill fondly, guessed he must have passed on considering he had been 40 when I met him 40 years ago, he recognised my talent when I was barely 19, I haven't done bad since then. I did go to the festival but it was so shambolic, nobody know what was going on, so unable to find Bill I turned around and went home, wish I'd stayed.

Kris Gray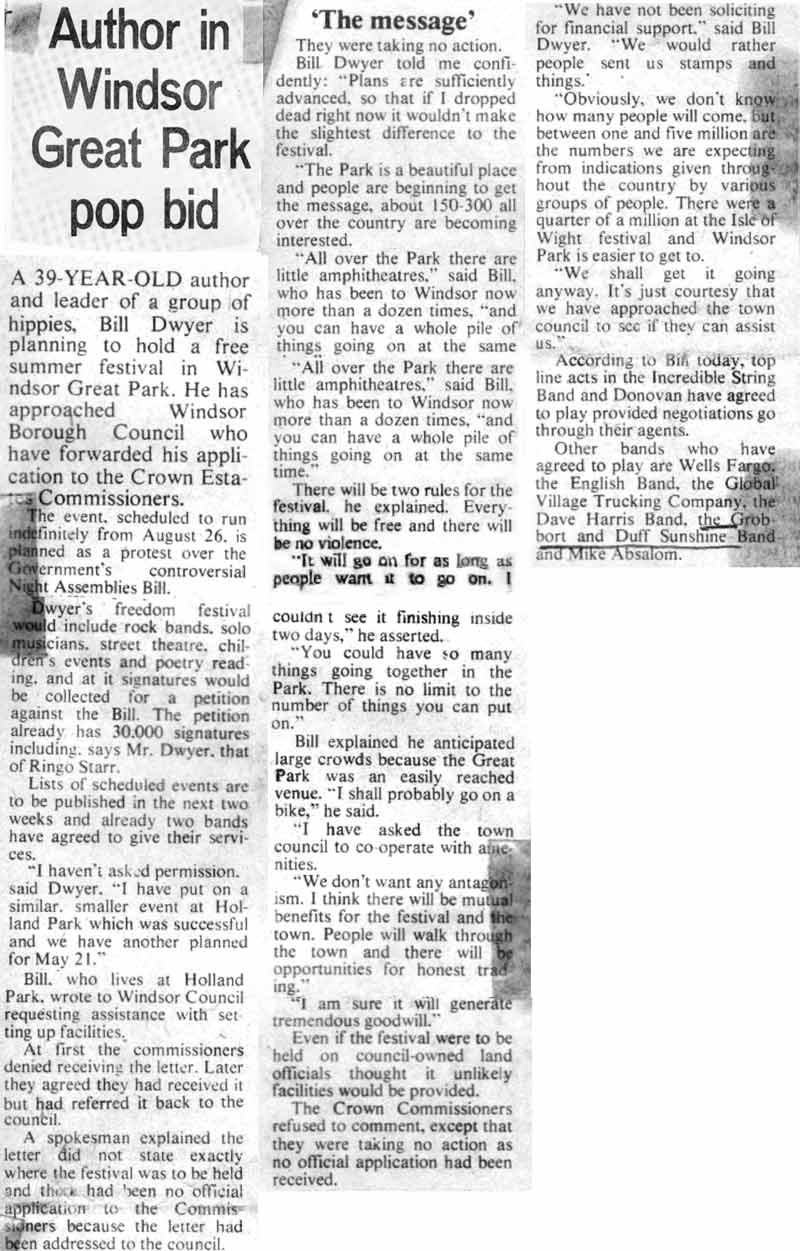 Clippings courtesy Kris Gray
---
Ubi Dwyer and "The Reverend" Pawlowski
This was the first attempt to hold an event at Windsor Great Park and as such, it has to be admitted that, if viewed in conventional terms , it was largely a flop.

"Preparations for the festival are now well underway." said Bill Dwyer, "Support is substantial. We are profoundly peaceful and the prospect of well over a million of us should cause no alarm. Hippies are exceptionally well mannered and civilised."

" A Windsor police spokesman said " I have seen their leaflets and I think it is absolutely ridiculous. I would think they are as mad as hatters and I have no doubt it will completely fizzle out . But the trouble is that if a lot of these hairy specimens hear it is going on they will probably turn up anyway . "

After reading this enlightened and objective statement , it was a wonder that every self respecting freak didn't go to Windsor just to cock a snoot at the representatives of lore and ordure. But most of us didn't read the Evening Mail , so this explains the lack of numbers. It needed to gather momentum by word of mouth and poster, which was what happened over the next two years.

A crown commissioners spokesman said," there is nothing to prevent people coming to the park provided they behave themselves and do not cause trouble."

Evening Mail 1972

---

Despite Bill's wild overestimate, only 700 turned up . They were almost outnumbered by the police, who (perhaps worried by the prospect of a million hairy freaks invading the park ) proceeded to assign 600 officers to oversee the festival. Despite a ban issued by the Crown Commissioners, Dwyer was undeterred, stating that " I personally have god's authority for the festival, although I realise that people will laugh "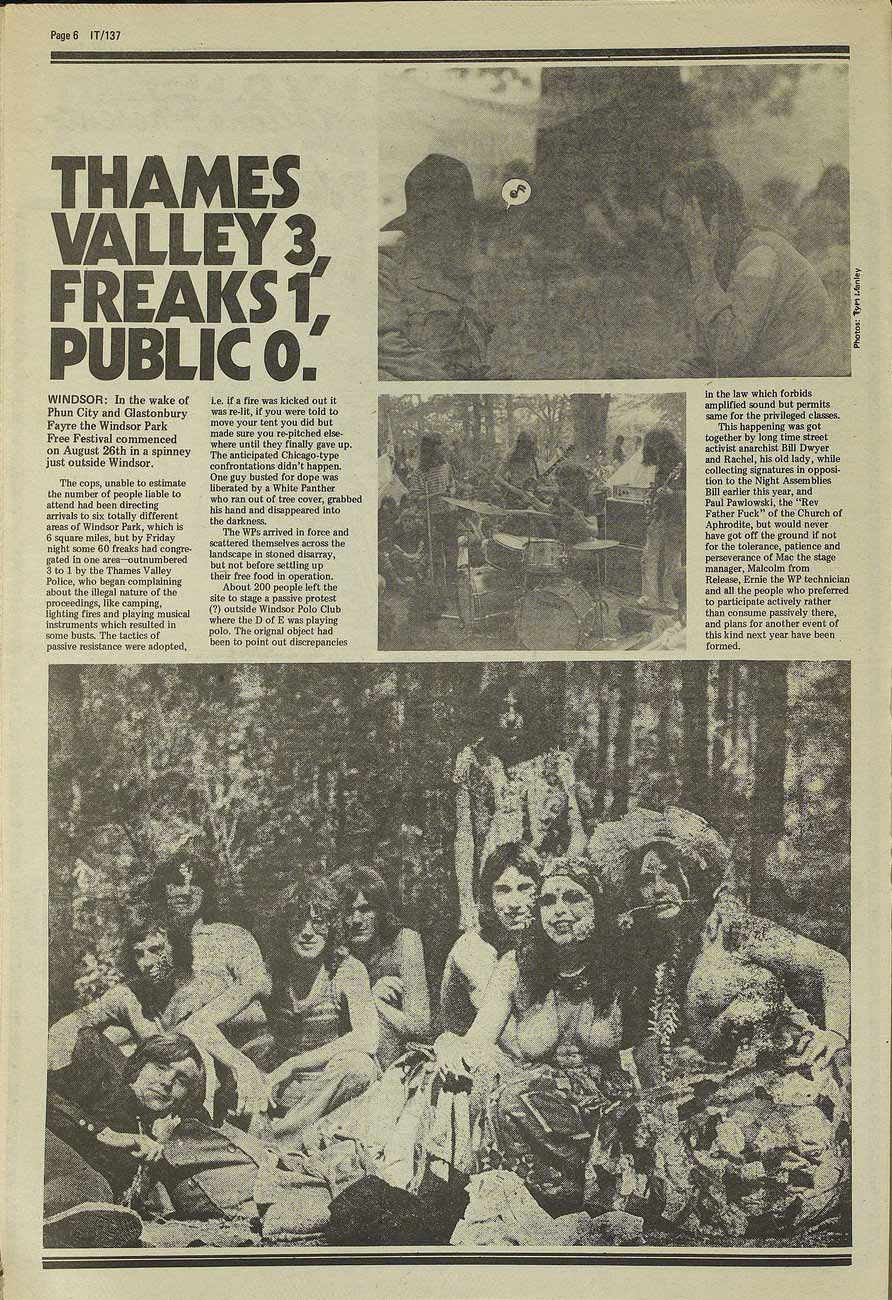 Entire archive of IT is online here
NB: Several weeks after the festival, both Bill and " The Reverend" Pawlowski were hauled before the beak on charges of cultivating cannabis plants at their squat. Paul was found guilty, Ubi was released. ( source rockmine , follow the link to read the full report. )
---
1972 Festival menu.
---
If you can contribute any memories, documents , photos or details of bands and recordings from Windsor, please
Free Festival links.