The Archive.
Big thanks to our sponsor Neil !

For information on today's festivals see eFestivals.co.uk
---
Last update June 2013
The Who

Put the Boot In .

The Valley. Charlton Athletic FC

5-31-76.

Celtic Football Club Glasgow

6-5-76

Swansea City Football Club .

6-12-76

The Who, Sensational Alex Harvey Band ,Little Feat, Outlaws. Streetwalkers .
---
Charlton recollections .
We need your memories or reviews to build this page , so if you have any anecdotes or info that we can use on the site, please don't hesitate to contact us so we can document these three shows more fully .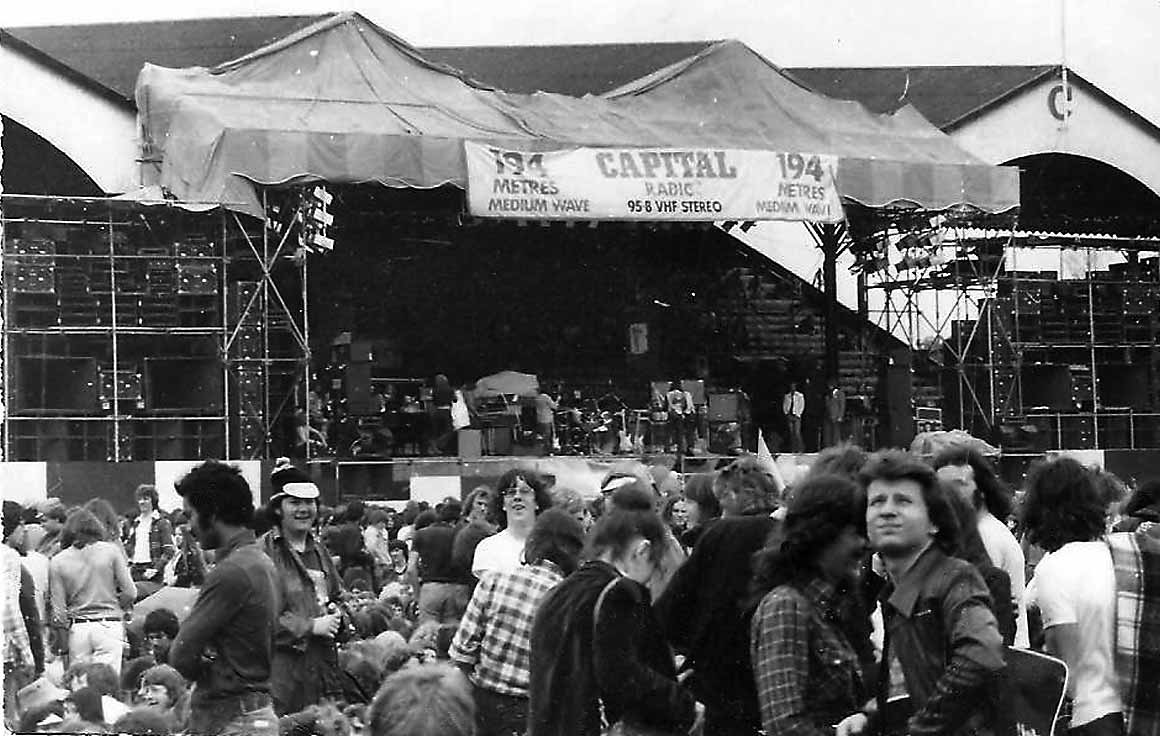 © Rigoberto Gruner
Charlton

I recall there was some rain, but for much of the day it was overcast, but not raining. It was quite loud (I've been to louder), but we were quite a way back. I think there was some trouble with people climbing the floodlight stands earlier on in the day, which was of concern to the event organisers, since the mirrors being used to bounce the lasers around during the Who set were located on them, and could have been sent skew wiff. There was a real problem with there being a major flood of forged tickets (plenty of notification in advance), and I think the organisers were seriously concerned that the ground was too small for all the people who were likely to show up with tickets.

Although I knew our tickets to be genuine, I was still concerned that we weren't going to get in, since we arrived part way through the first set. There was a lot of drunkenness around - I think I got 'stuck in' early on in the day, and ended up with a crushing headache through the Alex Harvey set, and slept it off some, but recall the Who's set bringing me back to some semblance of sobriety. They were stunning, as were the pyrotechnics.

I do recall some noisy Scots calling for Alex (Harvey) all the way through Little Feat's set - which pissed me off more than somewhat - then some wag a way behind us rejoined the plaintive call for 'Alex' with the riposte 'bollocks' - which said it all, really. The Who went down a storm, as you can imagine. The Outlaws I recall being pretty good, although I remember their albums being a lot flasher than their live set (maybe I'm wrong about that one).

Sorry I can't furnish you with any set lists, after this length of time the old ever-failing is doing its job again!

Martin Faulks

Crowd photos © Martin Starnes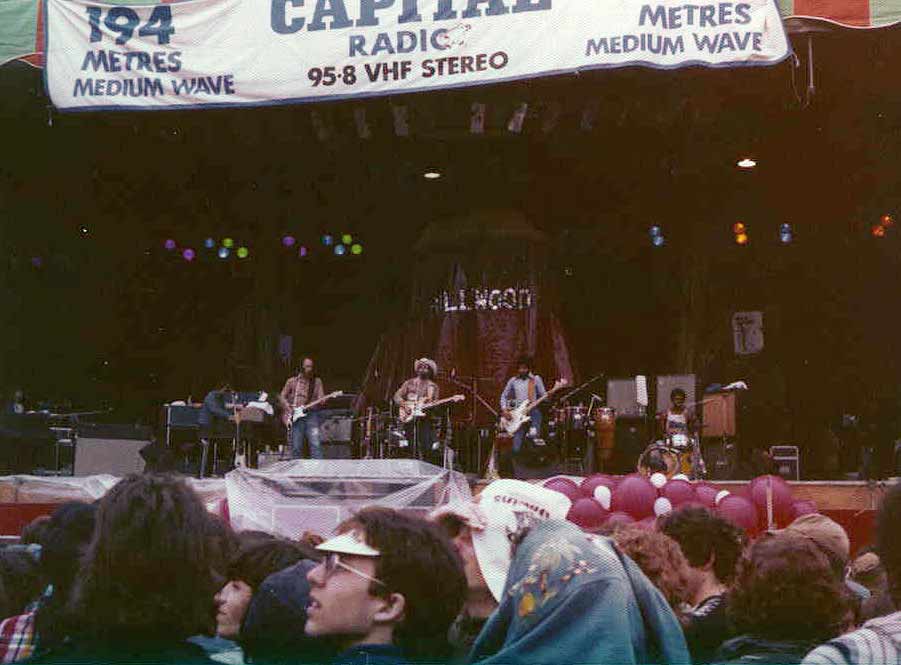 Crowd in process of foolishly ignoring Little Feat
Photo© Nick Gough
---
The 1976 gig was a bummer as I recall it rained virtually all the way through and both myself and my girlfriend were soaked. It didn't detract from the music though which was fantastic especially the Alex Harvey band and The Who again took the stadium by storm, although it was clear they were not happy bunnies. I well remember the comments made by Moony to Pete Townsend about his "vested interests" etc.

Another memory was Daltrey swinging the microphone around on about 20 feet of cable during an instrumental part of one of the songs and bringing it straight back to his mouth for the next verse and also, as a result of all the swinging around of the mic it came off the heavily gaffer taped cable.

© Martin Starnes
His roadie immediately threw another which Roger caught and carried on singing without any loss of tempo or anything, superlative showmanship.
I still have the posters which I cherish.
Keith Parker
---
My first major gig, so I couldn't give a shit if I got wet. I WAS GONNA SEE THE 'OO'!
Great line up of bands, Streetwalkers and Alex were great, Little Feat were soooo laid back and even the Outlaws were OK.Widowmaker were excellent too. Shame they fell apart so quick.
Don't make 'em like this any more!
Incidentally, as it was my first BIG gig I am desperately trying to track down bootlegs from the day. Anyone help?
Cheers
Steve H
---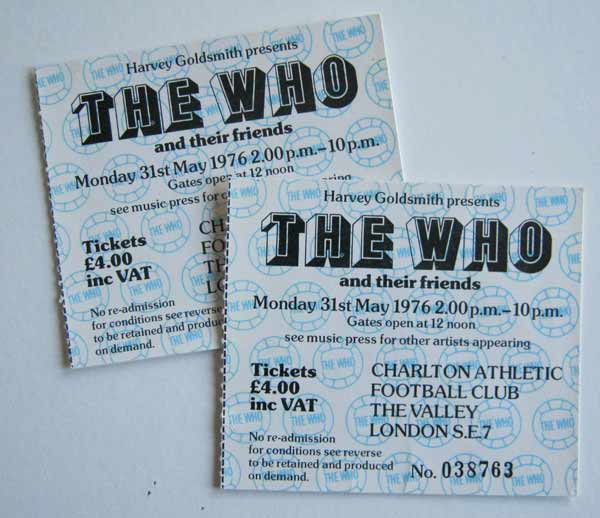 © Brigette Grundy
I was a 15 year old who freak allowed to go and see the boys for the first time and in london! AWESOME.
A few memories of a special day do linger, these include the skips provided outside for the booze people were not allowed in with, the aeriel acrobatics in the floodlights,and SAHB really grabbing my attention(does anybody remember Alex eating a rose during ''love song''.)

Then it was time for the 'orrible 'oo, they did not disapoint, they come running on and Daltrey slid flat on his arse it was so wet (he played barefoot in the end). They played a powerful set that was complimented by the awesome laser display that seemed to fill the sky. Pete Townshend threatened to send in his lightweight bouncers to sort a scuffle out at one point.
A SPECIAL GIG.
Gary C. I.O.W.
---
Hi
I went to both Charlton festivals mainly as I am a Who nut.
76 was musically a far better Who gig than 74, the only problem was the bloody rain.
The first memory I have was the security guys making people either drink all their alcohol or throw it in a skip before entering the stadium.
This created the scenario of thousands of pissed festival goers by late morning and consequently led to all sorts of nastiness later on.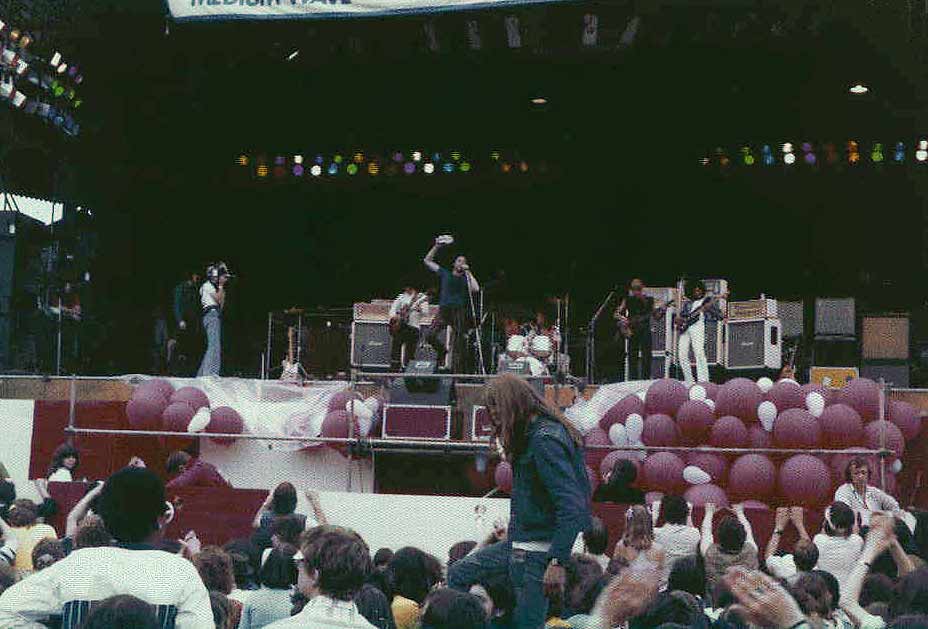 Chappo with (as yet ) unsmashed tambourine
photo © Nick Gough
Alex Harvey I would now thoroughly love but I spent his set moving myself and my beautiful hippy lady through what was a war zone to be close to the stage.The Who kept us waiting a long time ,they always did,and I remember Daltrey mopping the stage with a shirt .A huge fight erupted immediately in front of us ,a young guy took an almighty swipe with a smuggled in wine bottle at some bloke and nearly croaked him. My girl was terrified but there was no way I was leaving especially as the scrap had opened up my view.Townshend said 'Pack it in down there or we send in our bouncers '
Anyway the Who were great .It was to be the last time I saw them with Moon and I suppose the last time many people would watch the best live act the rock world has known. Biased ,maybe but tell me a better one.
The stupid thing is I don't think they did an encore ,they very rarely did, but as the crowd walked away into the tight streets surrounding the ground The Who must have heard 20,000 voices singing 'Pinball Wizard' I hope Moony did
Cheers
Paul Trew
P.S. my ladys name was Dianna Jones and if she ever reads this I hope she's forgiven me ,but you got to see THE WHO .......
---
If you were nineteen in 1976 the Who were a band that the "old blokes?" at work (who were 30 at least), used to listen to.
You remember them on black and white TV, ten years ago at least; Ready Steady Go when you were nine, mods, crap record players, buying ex juke box records with no middles, etc. I remember learning the words to Pinball Wizard and singing it on a school holiday in Switzerland aged 12.
Everyone hates the very recent past and only gets nostalgic for it when it ages a bit . . .
those fucking lava lamps for instance, all of a sudden everyone loves them again and people
who would never have admitted having one suddenly whip them out of the garage and back on
the coffee table.

"Who's Next" was a bit like that, for us it was new music and all of a sudden everyone "always liked the Who". I never heard it until 1974, it took longer for albums to get heard back then, especially if they didn't't have a "single", although I think "WGFA"was released as a single in a shorter version. Not only were the Who "back" but they were relevant with a new anthem that was actually an anti-anthem if you listened to the words but still had bollocks.
The Stones still had bollocks but were remote, this was different, an aggressive sound but with lyrics that played loud in your head as you walked home along deserted wet streets at dawn on a cold Sunday morning with your head down and your hands deep in your pockets, lyrics that actually seemed to be about you in real life, about everyone . . . you all know them so I won't bother quoting any. . . who hasn't been Jimmy at least once?
When you look at things in retrospect it's easy to classify everything and mix a lot of stuff in that weren't connected at the time.The '70s for instance.Most people think of platform shoes, flares and Saturday Night Fever, but there was much more than that and not all at the same time.
The mods were long dead, hippies had come and gone, skinheads, suedeheads . . . Punk wasn't until next summer, the music scene was a bit stale, no new bands for ages. I loved the Faces at the time and Bowie was still reinventing himself every now and again.
Being young was probably the same as now; as a teenager you were into sex drugs and rock'n'roll, although admittedly mainly drugs and rock'n'roll, you lived in hope. Drugs weren't as easy
to come by then, and even rock'n'roll was fairly difficult. No internet or phone booking services. As
soon as you heard about a concert that was a definite or at least a definite rumour, you
had to take a day off work, go to London, queue up for fucking hours or go to record shops and go through the laborious process of ordering a ticket, which involved getting all your mates
to put money in, then if you were the one organising it putting all your money in 'cos they promised to "give you it on pay day".Then after you'd paid you had to go to the shop every lunchtime for about a month until they finally admitted they'd forgotten to book them, the staff had
stolen them, or miraculously, as in this case the tickets finally turned up the day before.
The night before in the pub someone knew someone from his brother's mate's football team who
had some blues to get rid of. I was voted the buyer and so . . .armed with only 30 quid, half a packet of Rothmans and a digital watch that you had to push the button on to tell the time . . . I went off to a Ford Zodiac parked down the customary dark alley to do the biz. There was a lot of looking over shoulders, checking mirrors and trying to look tough, streetwise and cool all at the same time.Following drug etiquette I tried a bit of haggling, but of course they never belong to the bloke selling them and in this case he claimed to be an agent of the near legendary "Black Ron", so it went without saying that he wouldn't let them go for any less than the asking price.50p each and 'cos I was buying 60 I got one thrown in for luck in case of a miscount.
We met at the station. Everyone had a plastic bottle half full of vodka and half orange which had spent the night in the freezer and was now a solid block. Glass bottles usually weren't allowed in at outside concerts so it seemed a good idea. I had divided the pills up and everyone got 10 each on the platform, mainly 'cos I figured being caught with ten was preferable to being caught with 60. Everyone was in a great mood the night before, about 3/4 of the pub were going to the concert and the atmosphere was good, plenty of Who on the juke box etc.
Consequently we all had killer hangovers and it was early.
The train ride was pretty silent until the blues kicked in and by the time St Pancreas station came up in half an hour we were all "leaping along". Charlton Athletic football ground was strange. It was at the time a fairly average-to-crap team (apologies to any supporters) that had a stadium out of all fucking proportion to it's talent/support. The biggest football ground in London besides Wembley Stadium.Figuring the pubs were going to be packed round the ground we had a couple in the Euston Tavern near the station then headed "up west". Picking a pub that was fairly empty we proceeded to talk our way through around 12 pints of lager each in 2 hours (not an exaggerated figure, the strange thing about blues is that alcohol doesn't seem to affect you until I suppose it overtakes the speed.)
Back on the tube to Charlton, think the nearest station was London Bridge. When we got there blokes
with great stacks of tickets were standing at all the entrances, I was fucking pissed off that I'd gone through all the hassle of getting tickets and could have just paid a couple of quid extra and got one here.
Then we noticed that ours were blue and the ones for sale on the street were green.
After being released by the old bill (probably only because there was nowhere to put us) for pissing up a wall en-route (12 pints of lager has to go somewhere) we found an off-licence (liquor store). There was a huge queue. All of a sudden cases start coming over everyone's heads "quick pass 'em back". When ours came over we grabbed two and ran off up the street thinking we'd just pulled off the hospitality industry equivalent of the great train robbery.Anyway two streets later we stopped and found we had just knicked two cases of fucking nonalcoholic pear juice.

At the gates it was bedlam.There were at least as many people with forged tickets as there were with real ones, so to avoid a riot they let everyone in. So the attendance figures of 76,000 published were bollocks. It was packed.

The real mccoy, courtesy Graham Rosso
The support bands were dutifully ignored, while we got into the sort of 'deep and meaningful'
conversations that go with lots of pills. I grew to like one of the support bands, Little Feat a few years later, but at the time didn't take much notice.We drank the vodka which was by now warm, spent hours at the time honoured outdoor festival sport of picking our way through the crowd to go for a piss, trying not to tread on anyone, smoked a bit and got wet. It pissed down on and off all day.The stands (bits with a roof on) were packed so most people stayed on the pitch so as to be nearer the stage when the time came.One of the support bands was the Sensational Alex Harvey Band, they were quite big at the time, and sounded pretty good live, but there's something strange about seeing even good bands in daylight . . . I can't explain it but it's sort of unnatural.
As it got a bit darker although still not really dark, a big roar went up, everyone craned their necks to see what was going on and, as usual, fuck all happened. This went on a bit and just when you were starting to ignore it a curly haired figure slid in the water on the front of the stage and said "the Who on ice".
Everyone was up and scrambling forward, I lost the others but it didn't matter. It started to rain again.Pete was wearing a white boiler suit and doctor martens, Roger had jeans and t-shirt, John, I can't remember, but I think everyone who went and could see the stage will remember what Keith wore: A full fox hunting outfit, with red jacket and hat . . .Mind you, most of us in crowd had flares and cap sleeved T-shirts on, so who I am I to take the piss?
Townshend tuned up a bit then walked to the mike and said "So . . . you're wet".This worked wonders in getting the audience going, a challenge,so much better than all that "where are we? Oh, Sydney Australia, gee we love it here, it's our favourite place" I still had 4 blues left, took two and gave one to a bird who was standing next to me, she later gave me an ear bashing for singing along to "behind blue eyes" too loud . . .Talking of loud it was fucking loud, (not my singing, that was just crap) but the concert was louder than an orange suit at a funeral. Most outdoor concerts aren't a patch on indoor ones because it's never loud enough, but this one was!
Being a football ground there were floodlights, I had never seen this before and don't know if anyone else had done it, but as it got dark one, by one, lasers went from the stage to the pylons of the floodlights and were reflected up into the dark London sky, it looked fucking brilliant if you'd never seen it before, and probably even if you had.
I still remember some "stage banter", Pete saying something about Keith and him saying "yeah, I don't have to wear a white suit to prove I'm a star" I can't remember exactly what he said but Townshend had a bit of a go at the audience during "we're not going to take it", the irony of paying to stand in the rain to watch I suppose. The hypnotised never lie (promise not to use any more lyrics, but you can hear Pete sing "Do ya?" in WGFA.)
Back to the music, by this time everyone was up and right into it, you imagined that everyone in London could hear it (probably close to the truth).The thought of "wow it's really them", even when they played old stuff that you remembered seeing on top of the pops as a kid. TV never did them justice, the power and agression on stage, all feeding off each other and sort of held together by Pete, who was windmilling and leaping around as good as he ever did. It's funny but if you ask a teenager who he'd like to be in a band that he likes; most people pick the lead singer. But everyone wanted to be Pete.
The Tommy excerpts went down really well, by now everything was just black (and wet) and nothing else seemed to exist except the bright energy radiating from the stage. If you go to a concert now, probably even a Who concert, there's loads of people who are there just because it's trendy, or they work for the record company, etc.There didn't seem to be any there,no-one who wasn't a die hard fan would stand in the rain all day just to watch a band they didn't particularly like and I think theatmosphere was all the better because of it.
If there's a better finale song than Won't Get Fooled Again I've never heard it (and I've seen Zeppelin do Rock and Roll). Everything I've seen before and after pales into insignificance.The laser show went along with the music and the opening bit on the organ with the stage in total darkness and just one light after another going out across the sky as far as you could see was brilliant. Every few minutes Pete's docs were visible above the heads of the crowd as he leaped into the air and it seemed that the whole day, year even was just created just for this one song.
In the end the lasers criss-crossed the whole sky,pretty tame now I suppose but . . . you had to be there. The band just left the stage as the last note was stil ringing in our ears. No encore . . . class.
Then the usual problem of how a minimum of 76,000 people who are soaking wet, nearly deaf, half pissed or out of it get home. I had to wak back to the mainline station from London Bridge. Met the rest on the way.We stayed at St Pancreas station for the night on the plaform, just us and about 500 people. I remember a big cheer going up when the station clock got to 5.15.The first train out was known as the milk train, but we searched all over and not a fucking bottle in sight.
I'm older now than my dad was then. I live in Sydney Australia by the beach in a 'cool' suburb, it looks nice, its not often cold, a bit like living in California I imagine (but mercifully without Rod Stewart). There's lots to do . . .but somehow, when I hear a Who song it still conjures up not 'mean streets' as such, but terraced houses and narrow English city streets, it isn't 'sun and fun' music. For me it will always be 'the numbered seats in empty rows it all belonged to me you know.'Why should I try to write something that would take me 3 pages to explain when these lyrics do it in one sentence?
You want your heroes never to grow old, to stay the same and to be great forever.There is always talk of a " new oo" I think the Jam were the closest thing to it. But to me the Who will always be the band who played " Won't Get Fooled Again" in the rain at Charlton and convinced a skinny, 19-year-old that he was in the presence of greatness.
graham rosso
---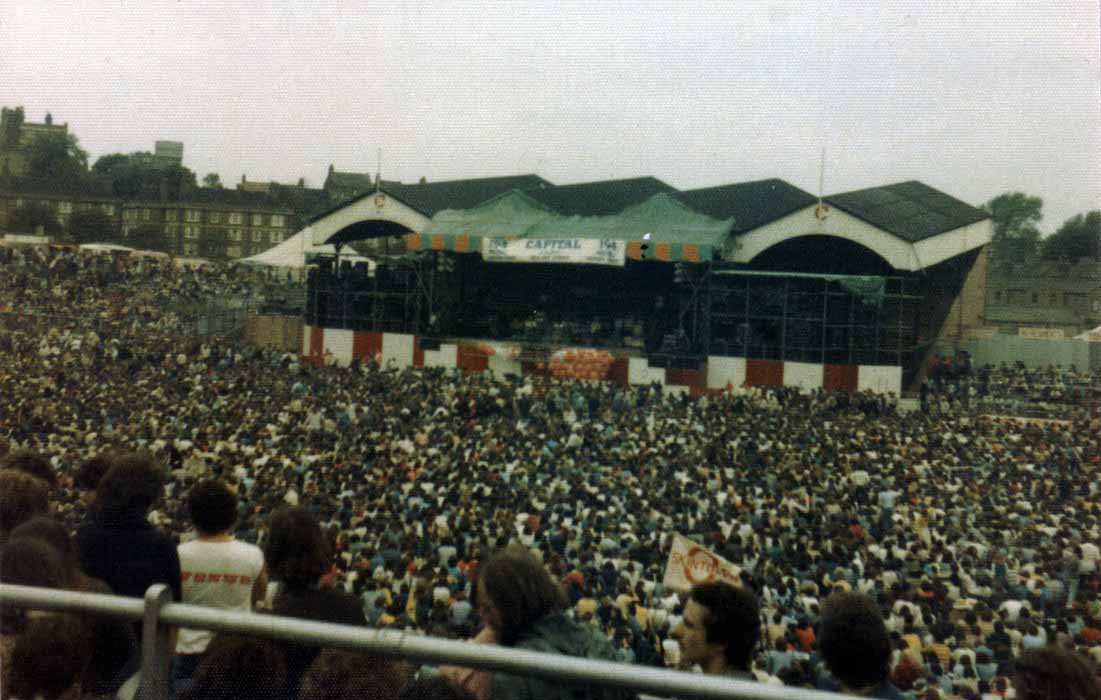 © Martin Starnes

I knew I was there with a bunch of mates, but forgot it was my 17th birthday. Who better to celebrate with?

Sadly, I have few memories of the day, except:
• At one point, we were trying to move around the pitch (where many of the fans were), and the sheer number of people trying to do the same thing was frightening. I was fairly used to the old-style soccer stadiums in London, and the occasional crush of people when goals were scored (or nearly scored). This was much worse, to the point where we were basically being crushed for several minutes - a human logjam, with way too many people in a confined space. Close to panic.You read about the various tragedies at places like Cincinatti (The Who again), and all the English soccer disasters, and you realize that it could quite easily have happened at Charlton. (The promoters just weren't very scrupulous about safety and numbers.)
• The Who were my favourite band at the time, and I can't remember a thing about their set. (No chemical excuses, even.) Shame on me, and my memory. However...
• I remember Streetwalkers...Roger Chapman was getting his share of press in the likes of NME, and he and Charlie Whitney had a new album out, "Red Card". I bought it in red vinyl (eat your heart out). At Charlton, they did a rousing version of the "epic" song from the album, "Decadence Code."
• I'm pretty sure SAHB played "Delilah"...
Keep up the good work!

Jonathan
---
I was at the 1976 Charlton gig with a mate, Frankie Allan, sadly no longer with us. Catching the train from Nottingham then a tube before finally another train to Charlton, we arrived early before the gig had started so missed a lot of the reported nonsense that happened later on.

At first we sat on the terracing furthest away from the stage, we watched Ariel Bender's Widowmaker in the sunshine from there. I don't recall them being particularly notable. Chapman and Whitney in Streetwalkers livened things up and were very enjoyable as you might expect from the ex-Family men.

The Outlaws were not particularly my kind of thing at that time as I was very much more into British bands. They were however excellent with their southern boogie. At this point we steadily edged our way forward to within a few feet of the stage where we watched the rest of the gig from. Although I was into Lowell George at that time after seeing Little Feat on the Whistle Test etc they really didn't set the heather alight with their set. At about this time I noticed some of the nastiness developing in the crowd.

If I recall correctly the rain began to pour during Alex Harvey's set, it didn't seem to matter though as SAHB brought the house down with a fantastic set. Alex, bassist Chris Glenn and Zal Cleminson did their stuff with one foot on Alex's pirate treasure chest posing whilst singing and playing. The band were turned out in their usual attire, Alex with his buccaneers coat and stripey tee-shirt, Chris Glenn with his underpants worn outside his trousers! Zal in his clown costume with full make-up and drummer Ted McKenna in his pin stripe jacket. Alex had his usual dusty tome in front of him with which to tell his stories.

Half way through the set Alex shouted loudly 'stop that f***ing fight' at an altercation near the front of the stage, stopping the band whilst pointing accusingly at the perpetrators. The fight fell apart meekly.

By the time The Who came on conditions were pretty soggy. Roger Daltrey sprinted out and slid straight on to his back side shouting 'The Who on Ice!' as he did so. Shortly after this I felt a huge blow on the back of my head as an orange flung by someone hit me on the back of the head. It felt like a housebrick!

The Who set went on pretty late and our train home became in some doubt. Knowing the The Who habit of not coming back out, we decided to make a break for it and legged it out onto the street behind the stage as the band sailed into the usual set-closer Won't Get Fooled Again. The sound of that song was incredible as we ran through the back streets of Charlton - a feeling I'll never forget. At the same time the green overhead lasers continued to amaze people.

We shouldn't have bothered as we ran to the local train station only to find a huge queue already there. We missed our train and consequently missed our connections back home to Nottingham. The night was spent sleeping on the platform at St. Pancras before catching a 'milk train' to Leicester in the morning. We finally arrived back in Nottingham at lunch the next day, weary but with memories for a lifetime.

SAHB were fantastic and would have probably stole the show from any band apart from The Who. The Who, as always, were absolutely immense though - the best live band ever in my opinion.

Stuart Frew
---
Ah memories of this day...Ticket price £4.00 just imagine ...!!,bought in conjunction with "The Sun" Factor in 10.000 forgeries...you have a crowd of 80,000 plus.
First up Widdowmaker... Aerial Bender formally of a latter day Mott The Hoople,only "hit" and moment of the day "Pin A Rose On Me"
Next up DJ Nicky Horne of Capitol Radio spinning The Eagles (One Of These Nights),Daryl Hall & John Oates (She's Gone) and The Stones (Sympathy For The Devil).....The Stones instantly bring rain...Lots of it!!
Next Chapman Whitney....Me and me Horse and Me Rum,Burlesque and My Friend the Sun....during rain!!
The Outlaws.... Imagine guitars instead a of a fiddle...Turn up the power...then loosen up... then turn it up again..you've got 15 minutes of "High Tides And Green Grass"...country rock madness at its finest!
Then the mighty Little Feat, one of the finest bands on the planet...except on this day..
It's tea time and it's raining,some hero has climbed the floodlights(who knows what he is on!!) and is hanging by the back of his knees god knows how high in the air....so it's all eyes on the drama as security try to talk him down...Sadly no-one notices the Feat.
And so to Alex....with a stand in keyboard player...Ladies and Gentlemen,Boys and Girls I would like to take time to introduce you to my band...it shouldn't be one of SAHB's finest hours but somehow...opening with a cover of the Tull's Love Song and Alice's School's Out ..they pull it out of the bag."Amos Moses" rocks..Alex bursts through the wall during "Framed" dressed as Hitler.No he isn't embracing the right wing..he's just sussed enough to recognise the rise of the national front and is holding a mirror up to the situation......the day's only fight breaks out and it is stopped immediately with the immortal words from Alex.."Stop That Fucking Fight"...no one argues with Alex!!
And so to The Who..
The rain abates...the band run onto the stage..first Pete stage left,he immediately chops out the chords for "Can't Explain",,,he's followed by Moon and Daltrey.
Daltrey slips on the rain lashed stage...the whole thing looks likely to collapse at the start but is somehow retrieved...
I look at the set lists on various websites...where is Bellboy ? Pretty damned sure it was played that day...Maybe I'm mistaken,a look at the NME review of the time
will confirm or not,I'm sure I remember Moon swearing in the London night air...well it was 6 months before the Sex Pistols v Bill Grundy!!
And so to Tommy...by this time I have a girl from South Africa on my shoulders and I'm in heaven ...Moonie does his Uncle Ernie bit...Pinball Wizard..I'm Free.. then the lights are killed..
Smoke begins to billow from behind Moon's drum riser....See Me... just visible,Townshend windmills furiously,Daltrey,marching on the spot swings his mike...Feel Me...
A green laser rises from behind Moon and hits the stage right floodlight...See Me...
It hits a mirror and bounces to the rear floodlight and then around the stadium and back to the stage...Feel Me...
Green lights criss-cross the floodlights...See Me....
(approximately) 6 lasers span out like fingers into the night sky...Feel Me...
A red tracer beam just hits the first light and simply bounces off the other lights and returns towards the stage...See Me..
Finally spotlights light up the sky from behind Moon...Feel Me..
Add 80,000 hands all raised and clapping in perfect time...LISTENING TO YOU I GET THE MUSIC...
I'm sorry but my words alone cannot describe the scene...
My Generation follows...as does Won't Get Fooled.. But NO BLOODY ENCORE !!!!
My first Who gig and still the finest....

Winty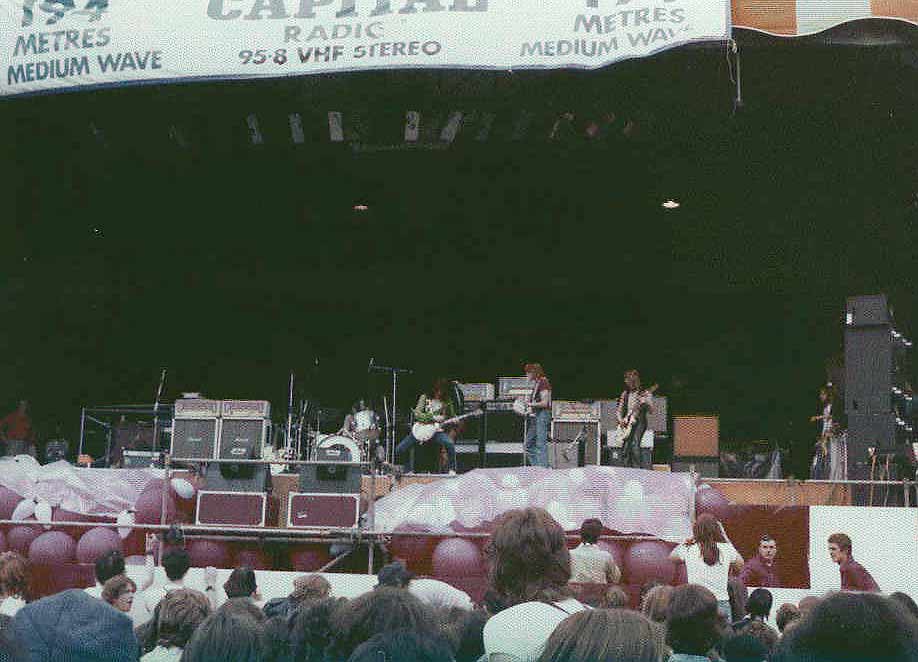 Widowmaker © Nick Gough
---
Your site has refreshed the old brain cells.
The acrobat on the pylons was jaw amazingly good (we thought it must have been a pro).
The ugly atmosphere I can now remember along with the rain.
The Who & SAHB,Streetwalkers were top class, I find it very odd now to think that Little Feat are legendary but at the time we saw them what did us youngsters know? Hindsight Eh?
I'm now 53 and looking back to the gigs we went to - The Who, The Clash, The Jam, Lou Reed, Frank Zappa, Jack Bruce, Genesis, Humble Pie - it reads very nicely to say to my kids - yeah I was there!
(not forgetting our local band XTC).

Keep up the great work

Alan Webb
Aged 53 and not giving up yet!
---

Charlton 1976 was the first festival I had been for a while and my, did I feel old at 27. On arrival, we were frisked for bottles by the security and my brother and his friends thought I was so cute when I asked why. Never thought it would be so soon that I would be coming out with "In MY day......" The previous festival I had been to was Isle Of Wight 69, when it was all Peace and Lurve. Still, it gave me the idea to insist that we stay way up the back and away from the front of the stage, and sure enough, there was an almighty punch-up there before it all started.
Yes, the people climbing the light towers did kind of distract you from the proceedings, which were pretty nice, despite the rain.
The Outlaws were really good and turned me on to Country Rock, which I had never really liked before, thanks lads. Little Feat seemed rather subdued to me, which was a surprise as they always had a good following. I saw them later in Japan and they were much the same, did I catch them on two off-days? Streetwalkers seemed to get the most applause for playing old Family songs. Roger Chapman was always a favourite of mine, what a player. Alex Harvey was not exactly our cup of tea, but there were a couple of hairy Glaswegians standing next to us, so we thought it would be safer to feign some interest.

Of course the second that the Who crashed into the first chord of Can't Explain, there was an unquantifiable leap in sound, excitement, whatever, and the crowd responded instantly. Definitely the best live band in the world, and the laser effects later on only made things more impressive, if such a thing were possible.When you think that Moon was no more a couple of years later.
The Old Geezer
---

Your website asked for stuff about the Who "putting the boot in" at Charlton. A lot of my memories other people have documented. But stuff you might like to know:

1) Being blown away by the Sensational Alex Harvey Band. I saw them a few weeks later "without Alex" at the old Marquee in Wardour Street. The guy that used to dress as a clown wore a kilt and no make up and I spent half the gig wondering who he was. D'uh!

2) I didn't see any of the violence you mention. The only thing I did see was that, early in the day, it was very risky to watch bands standing up if you were on the pitch. Anyone who stood up was met with shouts of "Sit down!" followed by a volley of beer cans!

3) The place was truly heaving. If you were on the pitch getting to the loo and back could take ages. I saw a woman trying to piss into an empty Party Seven can rather than make the trip. Very disturbing for the young teen I was.

4) I saw the Who again after Moon died in Birmingham, and again this year at Glastonbury. They still rock. "See me, feel" had me close to tears....

Jem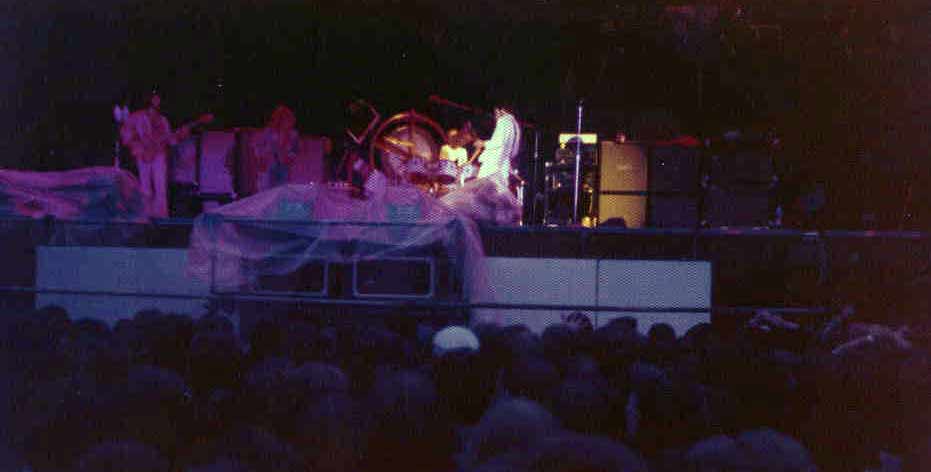 The ooo on Ice
Photo© Nick Gough
Hi.

Went to Charlton to see the great Alex Harvey, and got so wet that I even bought a new shirt just to be dry for a while. What a great day, what a never to be repeated line-up. First time exposure to Little Feat, who were amazing. The Who came on stage and Pete Townsend slid across from one end to the other (it was so wet); grabbed the mike to say "Hey, it's the Who on Ice!". Happy times!

Mark Carpenter
---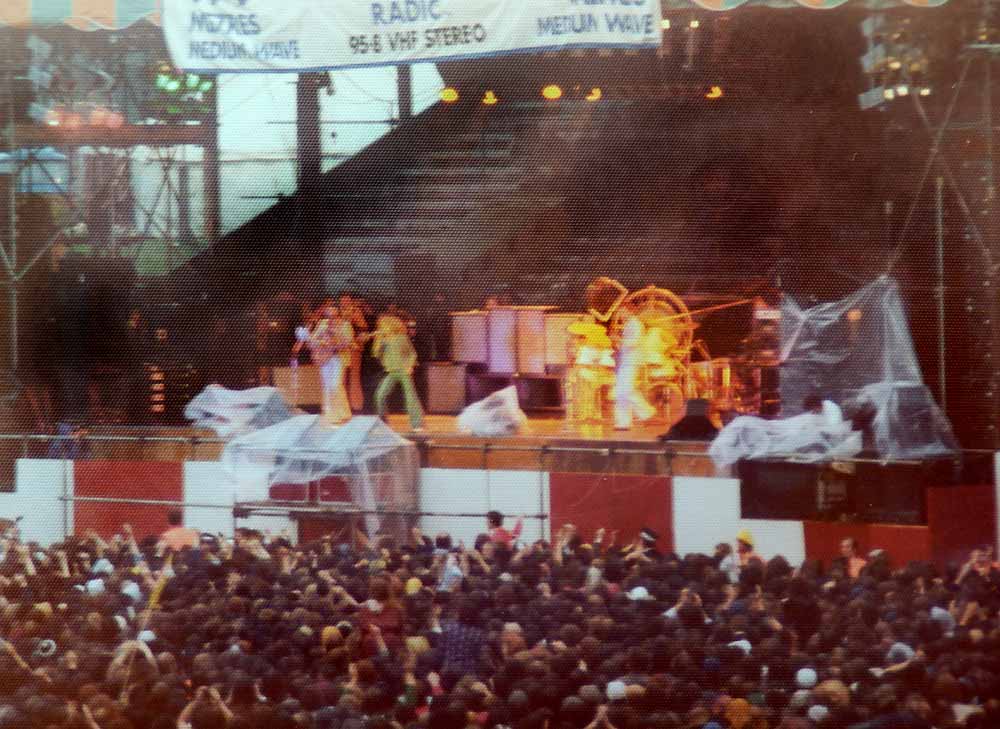 © Kevin Edwards
Love your festival site, brings back so many memories. I was at a few of the festivals on your list. I was at the Who' Charlton gig in 76 and have a few very hazy memories.

I went up from Surrey on the train with a couple of mates (Dave 'Reg' Prentice and Kazam Modaberi) and remember meeting a hippy who we gave thirty pence to so he could catch the tube with us. I think we were a bit in awe, he had a guitar and was way older than us, probably about twenty or so.

I don't think we saw Widowmaker, probably too busy trying to get someone to buy a bottle of cider for us but I can picture Streetwalkers to this day. They played the old Family favourite Burlesque, and Chappo was on top form.

I remember the Outlaws being good but my only recollections of their set was when they walked on stage and Henry Paul (?) looked out and pointed at two flags (one American and one British) being waved by two guys next to us and said 'Man, it's like f***ing concorde'… we didn't understand the aviation reference but cheered anyway. In hindsight he was probably talking about Lexington.

Little Feat played all the favourites including a long version of Dixie Chicken. I look back with particular fondness on the day because unlike many Brits I can say I saw the great Lowell George live.

Now this is where it starts to get somewhat hazier but as with all these events you tend to remember the small details. I think the compere that day was Eric Idle of Monty Python. His rambling introduction of SAHB was being poorly received by the crowd when suddenly Keith Moon swung across stage on the end of a wire, wearing a white towelling robe and led him off stage much to the crowds approval.

SAHB played a great set. Delilah went down a storm and they played the Hitler version of Framed. Zal Cleminson was wearing some sort of jesters outfit and played a quiet guitar solo sat on stage whilst various roadies built a wall across the front of the stage out of plastic bricks. As the solo finished Alex came smashing through it hanging from the same wire Moon had used earlier.

As we waited for the Who I remember the idiots on the pylons. They were told to get down for their own safety, not just because of the height but also as the Who had lazers and mirrors set up on them. By the time the Who came on we were soaked and for some reason I had become separated from my plimsoles (Dunlop white flash as I recall). They soon made an appearance as they were sent arcing towards the stage. Thanks Reg ! The hippy (remember him) then picked up his guitar which seemingly had been brought to the gig for the sole purpose of being smashed to bits in some sort of homage. All very rock n roll.

The Who played a blinding set. I remember Moons speech to Pete about his robes and also a song (possibly I'm Free) being dedicated to the lags in the Scrubs.

As usual we missed the last train home and got the 'milk train' at some unearthly hour. With no taxi money I had to walk the last 3 miles home… barefoot.

Keep up the good work. Great site.
Clive Temple
---
i was lucky to go to the whole tour,charlton celtic and swansea .my memories of charlton was the rain and a big fight up the front.the who came on and townsend said (god has given us rain).the laser beams that came on in see me,feel me,still give me the tingles.during wont get fooled again,afterthe keyboard break ,townsend slid half way across the wet stage and stopped just in time to deliver the chord where daltry screams yeeeeessss,perfect timing.my main memory of the celtic gig is that when the who did wont get fooled again,the stadium was half full because in scotland at the time the pubs were closing at 9.30 or 10.00.it was all a fantastic experience and i cant believe it was 32 years ago
Ian Davey
---
Charlton 76 was great, despite the big punch-up in front of the stage. ( we stood well up the back ) Many bands were good that day, but the second the Who crashed into the first riff of Can't Explain, then the audience went bananas, and stayed in that state for the whole set. The best live band in the world, without a doubt. Earlier in the afternoon, does anyone remember the loony who climbed to the top one of the rather flimsy light towers in an obviously drunk or stoned state? How he didn't fall off was a miracle.
Chris Barnett
Tokyo
---
A group of us from school went to The Who festival at Charlton that year. On the train from Enfield.
I remember one bloke climbing up the stadium lights, being told to come down but the security wouldn't go up to get him and he wasn't moving. Both gesticulating at each other. And, a drunk Scots bloke offering me a soggy sandwich of some description before wondering off down the front coz his band Alex Harvey were coming on. There was the mandatory can fight too, one bloke was stretched away after being hit by a party seven can.
I don't remember the ticket problem, maybe coz the group I was with all got in with no bother.
Highlights were obviously The Who but TSAHB were brill, Alex crashing through a wall on stage, Swampsnake, Faithhealer, great stuff.
Nowadays, the oneupmanship game when a great group appear on the box or radio is; when you've seen 'em live!
Who 76, Zep 79 (mention that and it's almost like you've met the Messiah), Reading 80, Monsters 82 & 84. Great times. If you're reading this and you've got teenage kids, get 'em out to concerts.
It is the one regret I've got that I didn't go to more when I was in my teens.

Ains.
---
Hi,
With two mates and my brother I hitched down to London. When we asked directions to Charlton FC we were told "You don't wanna go to Charlton from 'ere,mate"! We arrived PM and soon after The Sensational Alex Harvey Band came on. There was a long intro. to Faith Healer. They also did Delilah. It was an amazing set. Some say there best gig ever. The Who, as always were excellent. I have no recoIlection of the other bands. It seemed a cool event with good vibes and a great atmosphere.
Les.
---
This was my 1st Who concert,after getting numerous sold out letters through the post i finally got tickets to see my favourite band.By the way no internet then for tickets an add in melody maker or the nme and sounds music papers.
A 1st class stamp, and you were in the lap of the gods as far as tickets were concerned ! My memories of the day,myself and my two friends tim and chris were quite close to the stage,just to the left a bit.There were few fist fights going on due to drink i think ,and how the guy that climbed the floodlights didnt fall i will never know.Cant remember the forged tickets bit ,we travelled up from Bournemouth and got into the ground quite early and it rained !
When the Who came on stage i think Keith moon slipped up on his backside due to the stage being so wet.The band were great and in those days the lasers were quite something,probably not by todays standards though.As for the other bands well we were all 18 then and we really were only interested in the Who so dont recall a lot about the others.The streetwalkers were pretty good i think we didnt Appreciate what we were seeing as far as Alex Harvey and Little Feat were concerned.
Great memories ,and a great site thank you.
Mark Handyside
---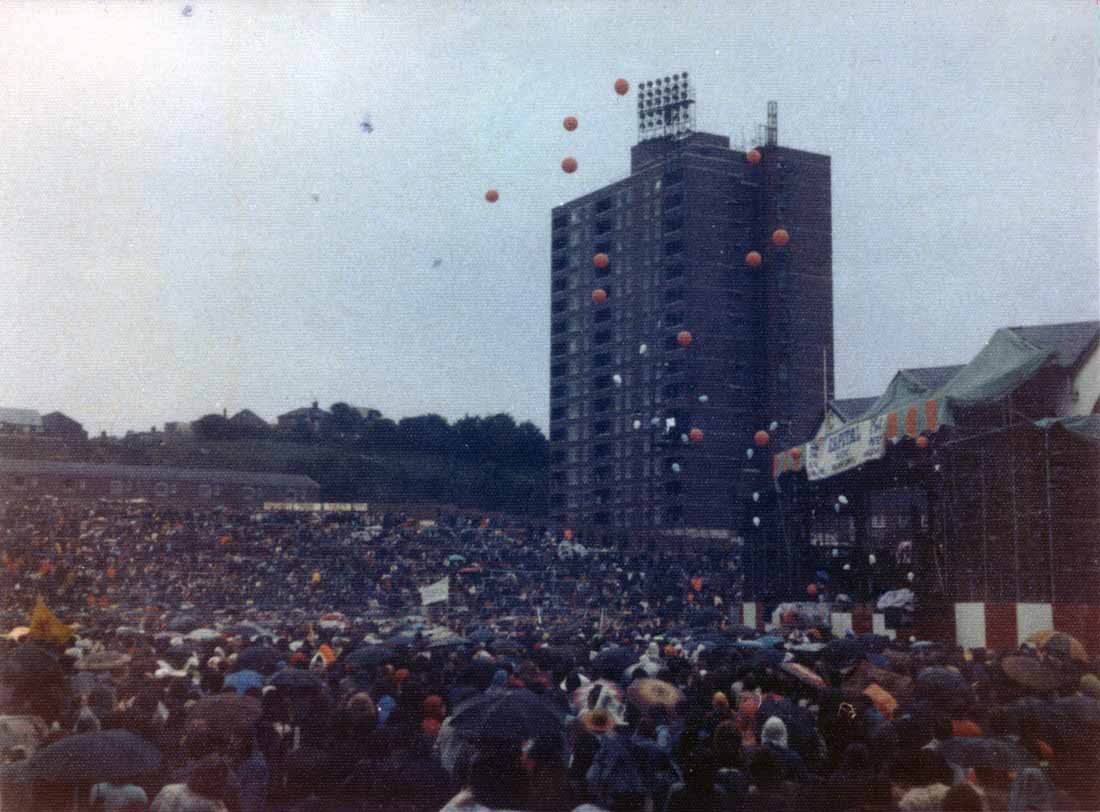 © Martin Starnes
It was the first big concert I had been to. All my friends were going and I did not have a ticket but I went along hoping to get a ticket at the venue. As we approached Charlton ground I was offered a ticket by a tout. I can't remember what I paid but I had a ticket!!!!!!! All my friends went thru the turnstile but my ticket was a forgery and the guy on the turnstile was in the process of turning me away and I was resigned to missing the show when the promoter walked by with some policemen and asked if any duff tickets had turned up. The gate guy pointed to me and the promoter asked if I could remember the guy who sold me the ticket. Of course I replied. So off into the back streets of Charlton with the promoter and a bevy of coppers to find the tout !! Needless to say we did not find him and we returned to the ground where I was escorted to the back area were there was a police station used on match days.
There were about 15 of us with dud tickets and were being held as witnesses just in case they found the touts. After about an hour we were told that we would all be allowed in to our great relief. A couple of coppers escorted us thru some alleyways which went past allotments and tennis courts towards the ground and it appeared towards the rear of the stage. As we went into a car park several Rolls Royce's pulled in and out got the WHO!!!! One car each which was a bit wasteful. We were being shown to a gate at the side of the stage so we could get into the ground. Just as we all got to the gate I noticed a door open leading back stage!
I quickly left my group and went back stage and no one stopped me! Streetwalkers were half way thru their set and I just stood and watched. Looking out from the back of the stage was great but I was also thinking how the hell was I going to find my mates. The band stopped playing and I saw a guy with some binoculars and I borrowed them and walked to the front of the stage and looked for my mates. I knew they had a pub umbrella which was green and white with Carlsberg hof on it and up in the stands I saw it and jumped off the stage and made my way too them and enjoyed the best concert I have ever been to. I should on reflection have stayed back stage as no one was bothered by my being there and to have seen the WHO playing up close would have been great!! Anyway wow what a day I will never forget it and it is still as clear as anything even accounting for my age. OLD HIPPIES NEVER DIE!!
Ken Redfern
---
The man with the pony tail who climbed the lighting tower was Dougie Squires the son of Eric the porter at The (Royal) London Hospital Students Union where I was a student. I recognised him as he descended safely much to to everyone's relief.
It was a fantastic event and I enjoyed every act and the excitement of the occasion.
David Hawthorn
---
I am 15. This was in the Guinness book of records as the loudest rock and roll show ever - 126 dB 32 meters from the stage -for a decade and a half. It seemed very quiet to me in fact. My mum packed me egg and cress sandwiches on brown bread and I didn't feel strange bringing a packed lunch to a rock festival at all. Interestingly this was the first time lasers were used at a rock show…ever as far as I know. They used almost the same lasers when they played the Superbowl 2010 half time show this year – high on the sports arena lighting with dry ice machines attached to each. They added to the drama and spectacle of 50,000 people sitting out on a grey London evening. There were many bands that day – I spent my time staring at the crowd though. I was innocent. I kept my pocket knife close. People were taking drugs openly. There were bare breasts… I was 15 and my mum packed me lunch. We left the arena a few minutes early to beat the traffic.

Last song of the show… I remember exiting along the side of the stage and looking through past a huge wall of Crown dc 300 amplifiers and on to the stage while 'Won't get Fooled Again 'was starting. I could see Keith Moon's headphones duct taped to his head and Roger Daltry almost hitting the rigging with his huge microphone twirls. Something about that last song made the hairs on the back of my neck stand on end and for some reason almost moved me to tears. It still does. I lingered behind the group I was with and got lost. I could not walk away. This was my music graduation. I was this and this was me – I wanted more.
Jon Connell
---
Yeah I was at the Who Charlton gig in'76. I'd gone with some friends from West London we got there about 12.00 and the first thing I rememember was the ticket inspection for forgeries and people being pulled out of the queues to get in. I also remember it was one of the first all dayers to stop people bringing in bottles (cans & plastic containers were okay). I remember rivers of spirits running along the gutters where people and security were emptying them. We had taken a bottle of whisky and a bottle of vodka plus loads of cans of lager and between the seven of us we drank them before we got in!
As for the violence, It seems most of the DJ's that were there commented on their programmes over the next few days about the can throwing that led to some fighting in the audience. Well we were the one's that started that and threw the first cans (empty) they were aimed at and hit a large group of lads that were pushing through the crowd. When asked to sit or move on they refused and started abusing the people around them. We threw the first cans in retaliation quickly followed by more including full ones from people around us and we were involved in the brief skirmish that followed that stopped when 'the other side' realised they were about to take on all the audience around them and quickly moved on.
Other than that I remember the day that had started out sunny became very wet and somewhat spoiled my opportunity to see Alex Harvey and his band (on scaffolding) and a very tense Little Feat who were both my favourite bands of the time.
I also remember the rain slowing to next to nothing just as the Who minus Keith Moon initially, came on stage. The fantastic laser light show and one of the best live shows I'd seen the Who do are now distant memories.
Incidentally, our paths crossed a few times in the mid to late sixties and several auto biogs have mentioned Roger Daltreys liking for a fight and that he sometimes got involved in do's when not with the band.
I can remember a time at the old Eel Pie Hotel in Twickenham before it closed for the final time. The local-ish gang that I hung around with had a confrontation with our then arch rivals from Chiswick and amongst their number that night was a curly haired blond guy wearing a plaid shirt and jeans who was none other than dancing Mr. D. We were more interested in getting him to sign things rather than fight and he was well pissed off, ha ha.

Regards,
Lee
---
I was there, 16, penniless, cold wet, drunk, spent train fare home. A day I will never forget, now I am a chartered surveyor and know now what was meant by the lyric in My Generation " hope I die before I get old", sometimes I wish I was still the penniless teenager. I kept my badge for years and when I stopped wearing it on my Levi jacket, it stayed in the bottom of a drawer, if I looked hard enough I reckon I'd find it. Hitchhiked home to Rayleigh in Essex, people stopped for hitchhikers then, we got a lift all the way from Charlton to home in a Ford MkII Cortina driven by a bloke who had been there too.

The Who remain, their lyrics are the lyrics of youth, they are as relevant now as they were then. I usually use a motorbike to travel to work but if I'm on the train I often find myself humming 5.15, the brass intro still makes the hairs on the back of my neck stand up. My second favourite live band, The Sensational Alex Harvey Band were there too and were brilliant, I also remember Burlesque by Streetwalkers, I haven't heard that for years.

1976, a good year to be a teenager. Colin, if you read this, I hope you are well old friend.

Charlie
---
Hi, just a few memories from this event. I went with my late sister Ann, it was a sunny day around 20 deg, being a south London boy I was proud that the event was held at Charlton, early on there was a good atmosphere.
Montrose played a very solid opening set and I really cannot recall whether it was Lindisfarne or Bad Company on next, although there was a very strong rumour that the bands came to blows arguing about who should be on first. Bad Company started with the Freddie King number Palace of the King.

Humble Pie were next on and they basically nailed it as far as the crowd were concerned, Steve had them eating out of his hand and their sound was crystal clear.

To me the turning point of the concert was when Lou Reed came on, he was obviously on something and in no way coherent, some people in the crowd who I recognised from my area threw a bottle at Mr Reed it missed him but hit the keyboards player who wasn't very happy! Roadies or entourage appeared from both sides of the stage and started pointing fingers at people-they got more bottles as a kind of response. Uncle Lou was totally oblivious to all this.

While all this was going on a couple of chappies were doing acrobatics from the floodlight pylons. In between the bands Capital radio played the music, I remember Nicky Horne playing for the love of money by the O'jAYS over the main PA and thinking how great it sounded and to this day its one of my favourite songs. Maggie Bell set was marred by sound problems but I do recall she played the Ringo Starr number 'my oh my' I believe she had an album out around this time and it was very different from the Stone the Crows stuff.

The Who came on and straight away Townsend seemed to have the right hump, I had seen the Who on at least 6 previous occasions but they seemed fed up. The nice atmosphere of the early part of the day seemed to evaporate and there were bottles being thrown around and my sister had had enough - she left with some friends and I stayed on. TheyWho played Tattoo and things suddenly got better the set vastly improved climaxing with Tommy.
I met a friend of mine and we managed to bunk into the post gig party, we lasted about an hour until this big geezer came up and said what are you 2 fuckers doing here? We were escorted out of the exit beneath the stand. All in all a great day and for once I didn't have to cross the river northbound to see a name band.
George
---
Badges courtesy Howling Pete
In May 1976, I was 17 and had never been kissed; a fine and fortunate age to be then, on reflection. I wasn't old enough to be there for the late sixties/early seventies rock/college events but the mid/late seventies weren't bad at all. My first gig, in September 75, was Argent and I followed this up with Dr Feelgood, Neil Young, 10CC and Supertramp/Joan Armatrading, all at the Hammersmith Odeon. Prior to the latter show, we saw Tommy, just released in 'Quadrophonic sound', at the Leicester Square Odeon, and went ice skating at the Queensway rink – how sweet is that?

I'd become interested in the Who's music the previous autumn when Stuart Henry (on Radio Luxembourg) and Nicky Horne (on London's Capital Radio) regularly played songs from their new LP The Who By Numbers-if only I'd taken the plunge and gone to the Who autumn Tour of 75. But we forget that most of us didn't have loads of cash to spend on concert tickets and LPs (new or secondhand) – and consequently it all seemed a bit more precious.
The Who at Charlton was advertised heavily in the music press and on Capital Radio- in fact I remember the ad using a refrain from the band's In a Hand or a Face ("I am going round and round"), and at £4 it looked a great deal (with no booking fees back then, of course - a stamped SAE guaranteed tickets literally by return of post)

Pete, Norman, Tony and I set off fairly early from Letchworth, and I remember the sense of excitement as we boarded the Southern Region train at Waterloo for Charlton: all those RAF coats, Pigs Making Bacon T shirts, and that shapeless greasy hair. One West Indian Guard quipped, "It won't be as good as Hendrix, man."

Merchandise at the show was actually pretty good: I bought some unique badges, a big poster, white T shirt and the very impressive 40 page colour programme for 50p. It was a spoof on Playboy featuring Moon as the nude centerfold Baggage of the Month, interviews with the Who, a board game entitled Check In (whereby you get to check in to a rock hotel, throw TVs out of windows and get intimately acquainted with the female staff) and generous features on the other bands on the bill.
We settled on the extensive terracing (at the time the Valley's capacity was 70,000) and were disappointed to have missed Widowmaker. I can't remember much of the Streetwalkers performance, but was pleased to have seen Roger Chapman sing/growl. It rained a lot and there were scuffles and fences being kicked in; not the greatest atmosphere in which to contain over 50,000 people for a whole day. I later read about the forgeries in circulation. This was, of course, before the days when security became so tight that the atmosphere lost its free spirit and became sterile. I think, and it's quite sweet now I remember it, that I took a packed lunch with me. The sharp business acumen of today's money lenders and money changers wouldn't allow that now, of course. How old are we, eh?

I thought The Outlaws were fantastic. I'd heard a song or two on the radio and they were promoting their Lady in Waiting LP. The triple guitar assault of Billy Jones, Hughie Thomasson and Henry Paul gave me a huge lift and they played songs like Breaker Breaker, There Goes Another Love Song and the nine minute Green Grass and High Tides. I bought the LP the following week. Sadly, three of that band are no longer with us.

Little Feat I didn't know much about but I've become a big fan since. I do remember being impressed by Lowell George's slide playing and Richie Hayward's colossal drumming. Memory can play tricks but I do think the crowd was slightly underwhelmed by the Feat's display but what did people want? If it had been a sunny day, things would have been different. But it was certainly a very geezerish audience - you definitely didn't want to look at particular people in the wrong way.

I think we moved down on to the pitch early evening for The SAHB. Needless to say I wasn't familiar with their material except for Delilah, but I thought it was a dynamic theatrical performance. Alex Harvey was such a great frontman, if scary, and Zal Cleminson's mime make-up made me wish I was even slightly flamboyant.

I've read people's accounts of the rain, the violence (30 people taken to hospital, seven with head injuries, two with drink related injuries and the rest with cuts and bruises) and the transport problems. But I'd like to state here, 35 years on, that this was, and still is, one of the most exciting days of my life. To be present at one of the great festivals and one of the original Who's last public performances in Britain - it was a life changer for me.
I'd missed the Who's performing peak (68-73?) but their 90 minute show that night still remains the most complete, exciting performance I've ever seen, and I've seen hundreds since. The power, the musicianship, the humour (the Stones and especially Led Zeppelin aren't going to offer you many laughs, are they?), and of course the songs. A massive chunk of Tommy, the stand out being Sparks, Baba O'Reilly, WGFA: in Spinal Tap terms, I really did feel at one with the band and all the people around me.
And Moon was immense. Never mind the dressing up as milkmen and Nazis - one of the greatest, most innovative drummers that we have ever had.
PT, the most exciting, get-off-my-fuckin-stage guitar player to date, who turned pop culture on its head.
The Ox, Middlesex Youth Orchestra stalwart, and responsible for the loss of a generation's capacity to hear properly.
And the sheet metal worker, twirling his mic and singing as if his life depended on it.
Howlin' Petes Quad weekend

I have never liked Squeeze Box but only they could get away with it. The loudest concert in Britain ever, they said: John Wolfe's lasers, we all forgot the rain and the hassle, this was our boys from London going in hard. I went on to see the Who (without Moon) about 15 more times, 5 times on the 81 Tour, at the Hollywood Bowl, Tommy at the RAH, but none of them truly compared to this.

Most people would say "That was the day I decided to be a Rock Star"… My sights were slightly lower - I just wanted to be Down The Front, for the rest of my life-and I'm still doing it. At our wedding 20 years later, my lovely wife Penny declared,
" One of the things I love about Pete is how much he loves the Who." My future wife, imagine that? When people try and start me off about the Best Live Band in the World, I have to make my excuses and leave - I really can't be bothered to discuss it.


Self-confessed Who Champion Barbara Charone in Sounds the following week
" Charlton was one of those infrequent moments that happen in rock n roll. Charlton was ugly and seedy, wet and dirty. Stripped of any surface glamour, Charlton was the supreme test. How many other bands could make 50,000 kids forget that they'd been standing in a steady downpour for over six hours? The lasers were just decoration, the Who were the real magicians, absolutely brilliant."
This gig was officially logged in the Guinness Book of records as the loudest concert ever played. The sound measured 120 Db , like a jet engine 200 yards away. I acquired a tape of the show several years later, recorded from the audience, and it was fine. I foolishly lent it to a Who fan I didn't even know - and that was that.

I'd seen the Stones the week before, for £1 ("obstructed view" - though it wasn't) at Earls Court. It was a massive event, I made my own T shirt with iron-on Tongue transfer. I enjoyed it but can't remember much about it. It just didn't have the magic.
As we filed out, I lost my mates and made my way back to Waterloo on my own; then ran across Central London to Kings Cross to get the milk train back to Dullsville, in order to be at the desk of my crap insurance office job for 9 a.m. What was that all about, then?
A few years further down the road, I was quitting jobs to go grape-picking, and to India. I should have walked out and gone to both Swansea and Glasgow to see my new mates - and their mates from Scotland and America. And I wish I had …

Love the site- a real labour of love and it's much appreciated. I shall endeavour to write about all the Seventies Festivals I went to, the least I can do. Thanks a lot.
Howlin Pete
---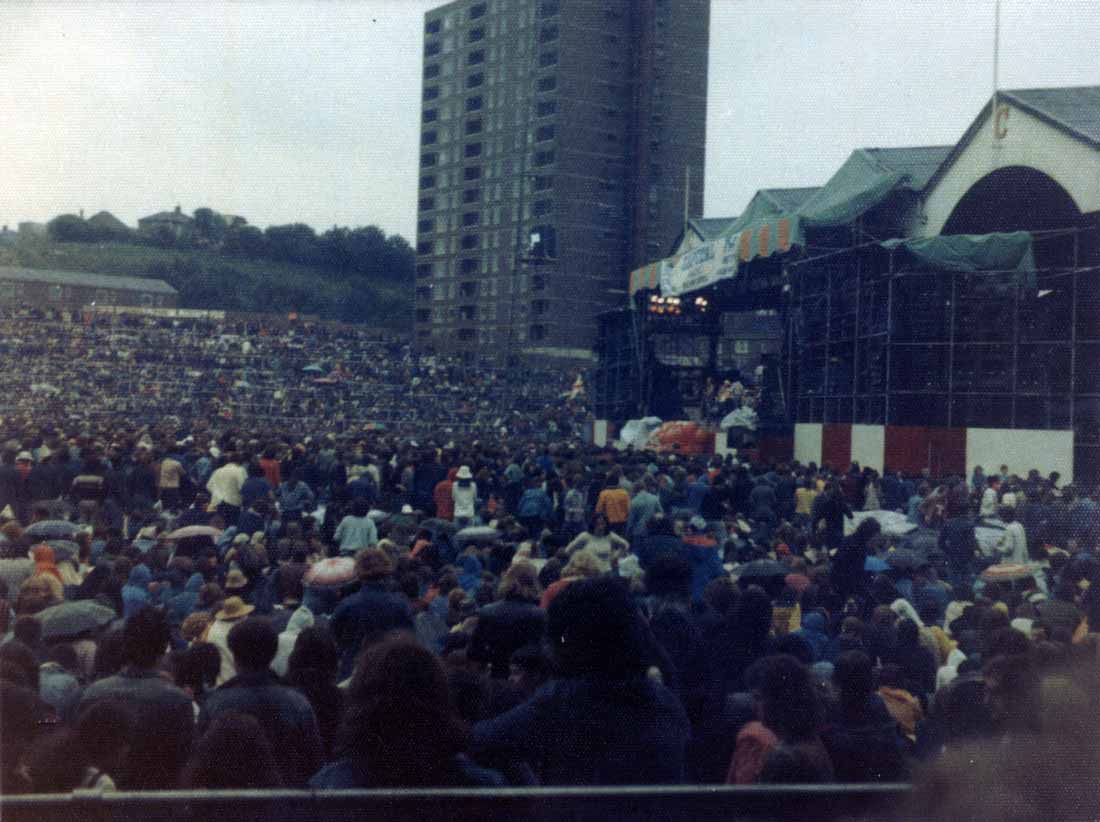 © Martin Starnes
Stumbled across your blog and it brought back happy memories of the day. A few friends and I drove up to London and arrived early afternoon; the place was already packed with all the forged ticket holders. We couldn't find anywhere to sit, but eventually squeezed under a control box in the stand opposite the stage. I remember the incessant rain and a couple of strange guys' novel makeshift hats - they had Sunblest sliced bread bags over their heads with holes poked in to breath through. Nice! A girl nearby to us was having a really terrifying trip and was hurried off by her boyfriend to get help. The Outlaws, Little Feat and SAHB were all great, with Delilah especially memorable. Having endured miserable weather for most of the day, the rain stopped just as The Who came on. Bright white lights flooded the stage and it was an extraordinarily euphoric moment. They played the most amazing set culminating in Won't Get Fooled Again, the track that first got me into them. I'm so pleased that I was able to experience the event as an 18 year old and am soon taking my 18 year old son to see the remaining two (Townsend and Daltrey) putting on the Quadraphenia show at the O2 in June 2013. It is still my go-to album if ever I'm feeling sad or pissed off. Love reign over me!
Anthony Wallace

---
---
Any info to add ?-well don't just sit there , Contact us
---
Back to the main Archive.