The Archive. Last modified Jan 2016

View this page at minimum 1280 x 1024 res to see correct formatting .
Film footage of Jonathon Kelly in concert is needed as there seems to be nothing in the vaults anywhere, contact his management
---
The Watchfield Free Festival .

23-31st August 1975.
---
Bands.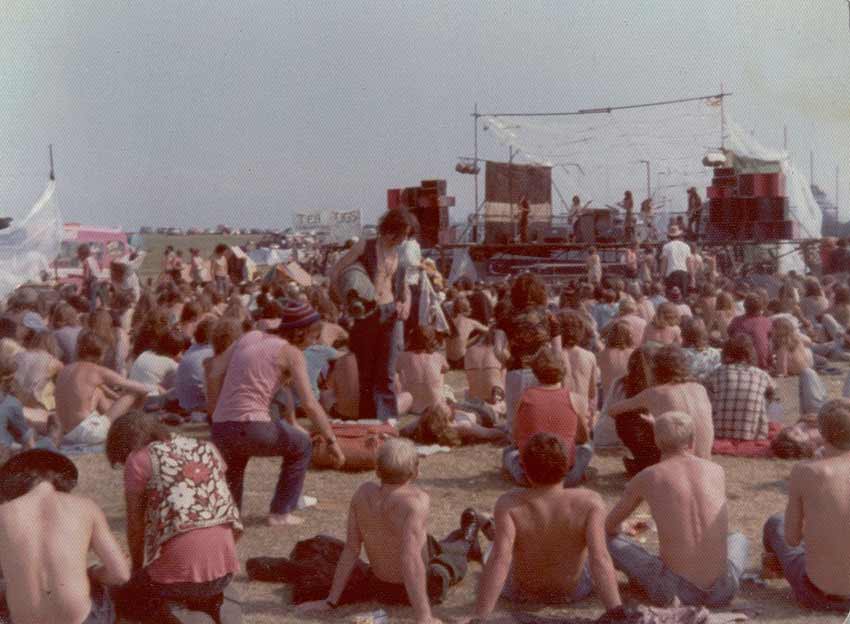 Solar Ben onstage © Charles Tyler
Provisional list of bands scheduled to appear .Taken from International Times .Thanks to Garry Gibbons for the information.
Monday
slug addict
alan clayson and the argonauts
conventional douglas
strife
Valhalla
ressurection
judy and the heart brothers
east of eden
gong

Tuesday
esme hippo productions
the rose mountain band
crazy lizzard
toad and the wet sprockets
synthesis
scrap yard
sky church
after the shallows
jonathan kelly
Wednesday
nobby
mirage
jinx
the spangled mob
gas works
magic city
the rose mountain band
Thursday
ingrid brikk
stampede
lanthanum
houston grit
ace kefford's band
eyes
dr dose and the acid drops

Friday
babegee
rock island line
gazelle
beam flyer
child
cisco
Wooden Lion
Heavy water

Saturday
oakenlode
heavy water
fever
irma's tubes
jive bombers
visitors from 2035
Tibet
Wooden Lion
Stevie Winwood, Jim Capaldi and Viv Stanshall


Sunday
everyone involved
pandem
byzantium
circle jerk
mammon
snaps
sheerwater
Watchfield festival featured these bands but there were far more groups who played , a full list would now be obscured by the mists of time .
Hawkwind ,
Jon Owen
Tibet
Strife
White as White and Twice as Dirty
Human Abstract
Here and Now
The Stranglers
Scylla
National Flag
Slug addict
Baker Gurvitz Army
Conventional Douglas
Valhalla
Duce Dog
Funny Farm
Rosemary Schonfield
Allan Clayson and the Argonauts
Big Licks
The Nova Mob
Quinquere
Change
Stonefield Tramp
Solar Ben
East Of Eden
Fever
Jann
Street

Warp III
East Of Eden
Gong
Cyclops
Henry Cow
Arthur Brown
Traffic
Asph
Icetope
Outrider
Wandering Spirit
Cocksparrow
Tibet
Writers Write
Flint
101
Molybendium Liphook
Hum Strum Lilt
Brenner and Kane Band
Edge
Rent a Luny
White as White and Twice as Dirty
Jonathon Kelly
The Movies
Dr Dose and the Acid Drops
No Sweat
Orpheus
After The Shallows

Cover of Hawkwind at Watchfield
The recent discovery of some old issues of the Watchfield Freek Press has given us this running sheet , which no doubt is not compleetely accurate but does nevertheless give a good idea of which bands were supposed to go onstage ,where and when .

If you were a member of a band who played , please contact us and we will add your details to the page .....
Photo© C Cooper

All the above appeared on the rent-a-loony, harry higgins or polytantric stages.

This list is by no means complete,or even accurate ,we know that Tibet, Strife, Poltergeist, Warp III, Human Abstract , Cyclops, Fever , White As White and Twice As Dirty , Henry Cow, Here and Now ,Gong , Solar Ben, Arthur Brown ,Johathon Kelly and Hawkwind all played at some time during the festival and probably a number of the bands listed did not show and were replaced by others that did .

If you were a member of a band who played Watchfield please let us know so we can establish an accurate record of who played at the festival.

Left: The inestimable Gong onstage at Watchfield .
---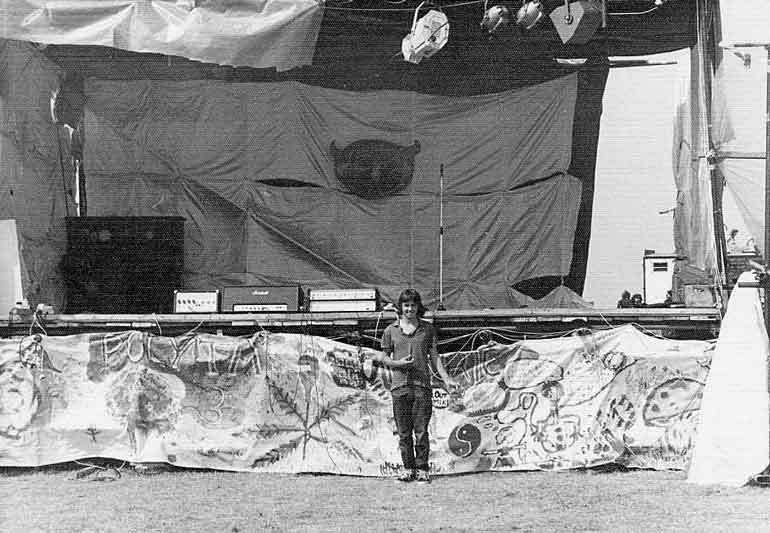 © Steve Austin
Strife at Watchfield
Thanks to the members of Strife for the copy of the video from which we have extracted these few viewable stills . Its a great shame it has deteriorated so badly as it was a good show .

The stills on the Strife site are from a disc which contains two sections of the set from Watchfield -
As far as I can remember, Strife borrowed a copy of their complete set on film and had it transferred it to video - very high tech in those days! (presumably borrowed from someone from the cable TV company who filmed it) The results were a bit of a disaster - as you will see - certainly not easily watchable!
The video deteriorated, and a few years ago, the most watchable bits were transferred to disk. I have no idea who, if anyone, still has a copy of the film - sorry.
All the best,
Martin
---
Whether this guy was the one who filmed Strife, or whether this was equipment used by film students to record the festival or not is debatable, but Nasher has this to report ....
Hi.....I was operating a community based film resource in Bath in those days,Workshop Films, and supplied some equipment to a guy who was making a film of Watchfield in 75 ......he had some equipment (I think an Arriflex camera) and mebbe supplies scrounged from HTV Bristol.
Cheers
Nasher.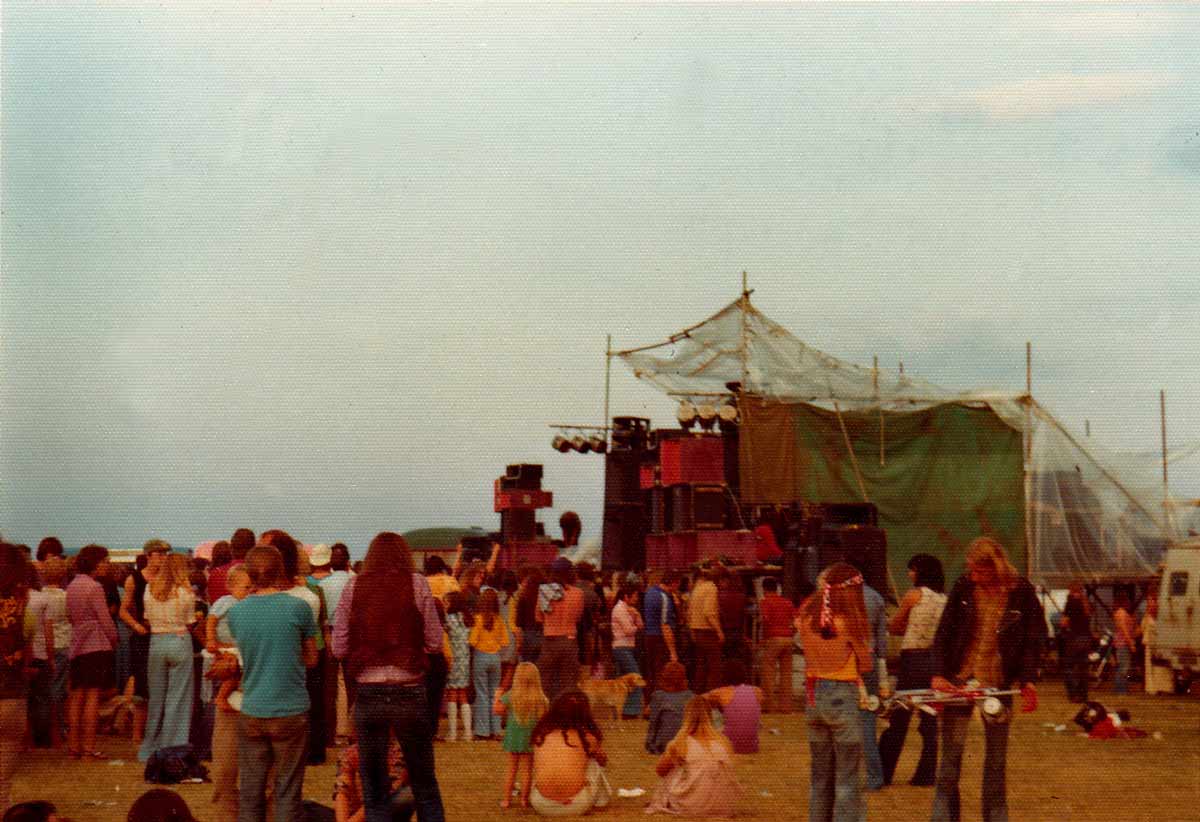 The main stage © Dave Roberts
Hi

My name is Dave Roberts and I was part of the stage crew on the main stage at Watchfield. I even helped build the main stage. If you look at IMG_0010 you will see me on the stage on the left hand side wearing the red shirt.
The band on the photos are of STRIFE from Merseyside.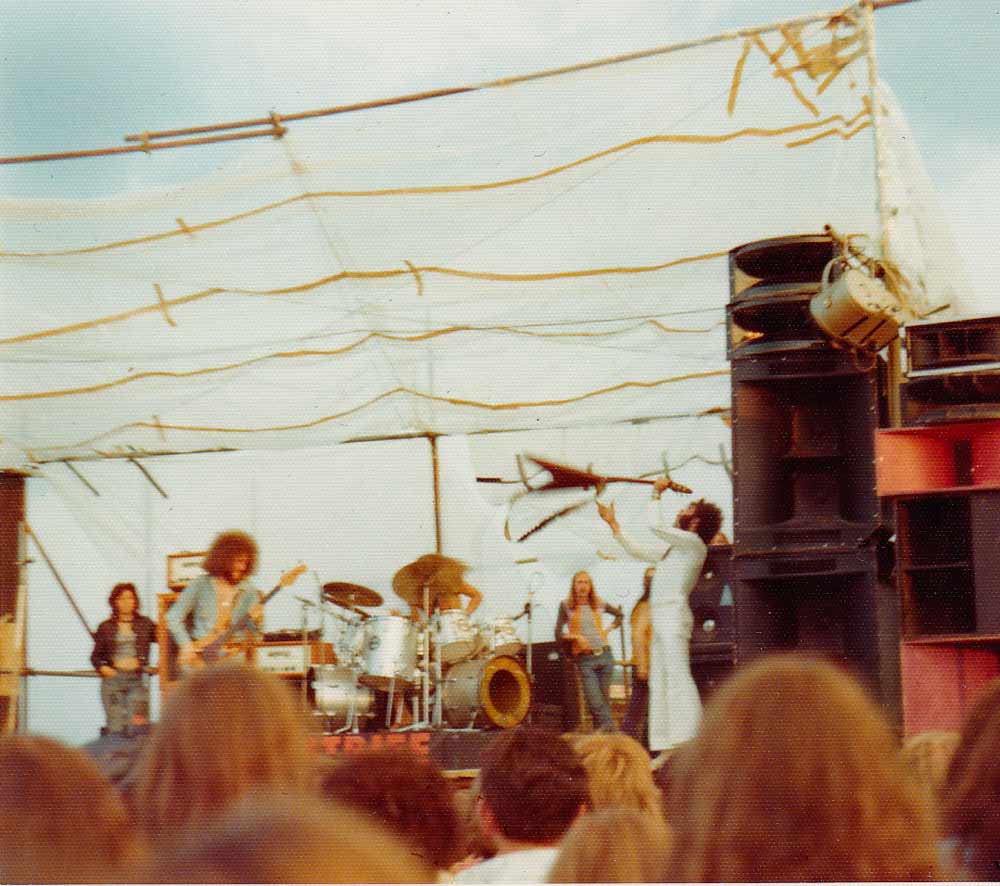 Strife member attempting to drink his guitar © Dave Roberts
I got to the site about 9 days before the festival started, there was only about a dozen of us there and we were all crashing in one of the barrack buildings. We had a room each I seem to remember.
I remember going in to Swindon were we bought a brand new Alluminium dustbin which we used to cook in. One of the guys had an air rifle and we lived on rabbit and vegetable stew.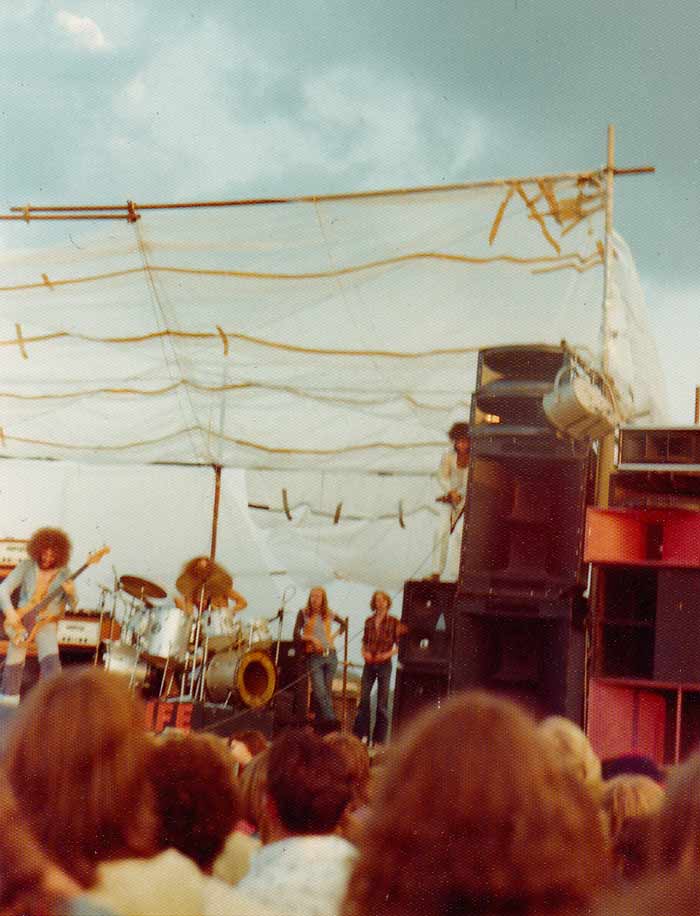 Strife © Dave Roberts
At the time there were all kinds of rumours going round saying that Pink Floyd were going to turn up and play, but they didn't.
Steve Hillage actually loaned the festival some PA gear. When Hawkwind played on the main stage on the Saturday, on stage B a Liverpool band called Warrior played, they were basically a Hawkwind tribute band.

Regards

Dave Roberts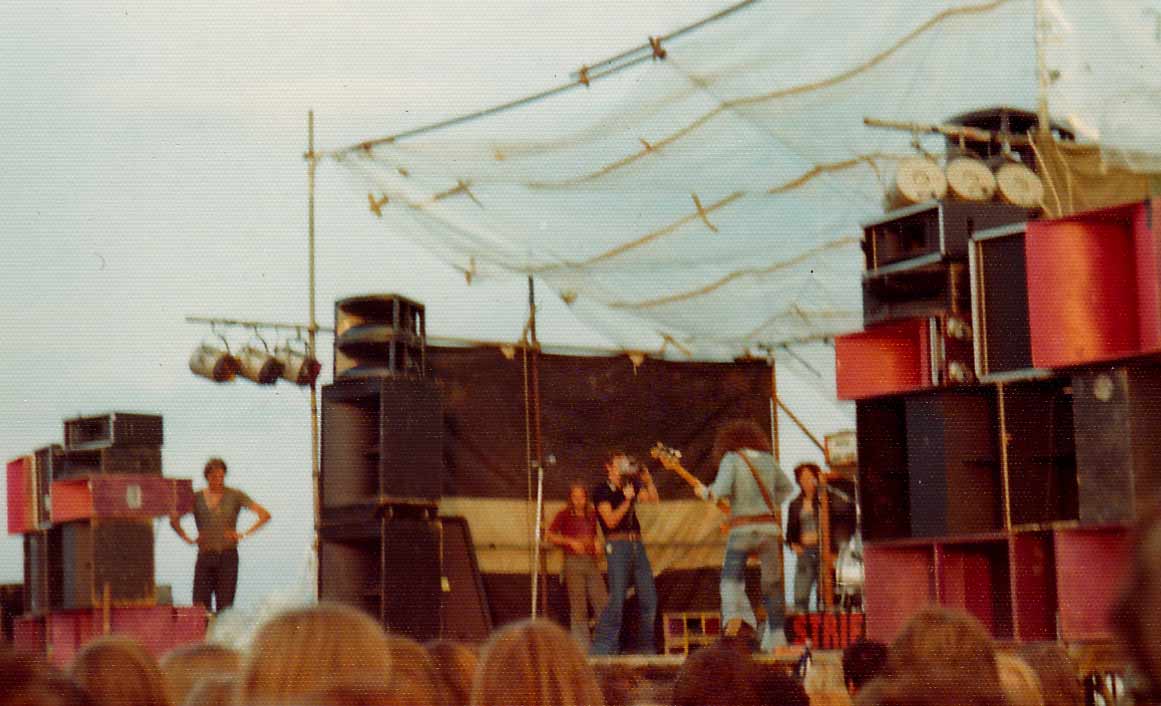 Video crew busily shoot Strife watched by Dave Roberts in the red shirt © Dave Roberts
---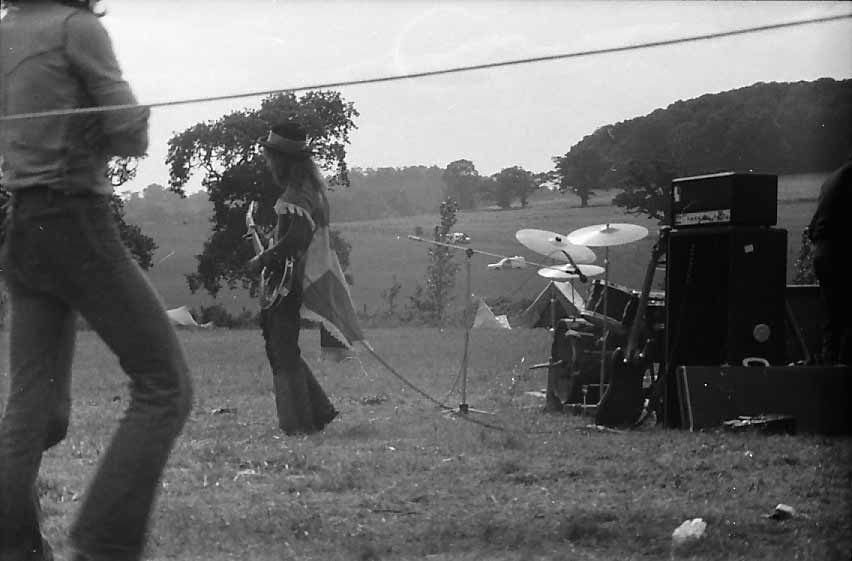 Who needs a stage when you have a nice soft field ? © Tim Brighton
I've just found your site - very interesting!
I was a roadie for Strife and can aim you in the direction of a couple of photos of the band at Watchfield - in glorious technicolour! They are at www.strife-music.co.uk (under photos).


My memories of Watchfield are pretty vague - when we arrived it was suitably chaotic - there was trouble with the PA. I remember that the band before us (sorry I can't put a name to them) played a pretty good version of Love's 'Alone again or'. We then decided to use our own PA in order to give some time to repair the festivals PA which was distorting badly. The guys played well and injected a bit of energy into the proceedings. (it was flagging a bit at the time)

The bands were being filmed for the local cable television - is there still some footage available? I was in the centre of the crowd wearing my luminous green beany hat (a gift from the band - "where's the prat in the hat?) mixing the sound. The crowd were up on their feet and I had a job to keep people from stomping on the mixer! - a couple of encores and it was over. The festival PA had been fixed so we loaded the gear back into the van. East of Eden followed us on stage - kicked off with "Jig-a jig" I think? Rob (the other roadie) and I walked round the site for a while - it was going dark, and the camp-fires created a great atmosphere. Then it was back on the road - we were one of the hardest working bands at the time - no time to stop and watch.
All the best

Martin - The Bean




The Movies ( not Public Foot the Roman ) onstage at Watchfield 75

Steve Austin ©
---
Hi,
Loved the site. Some wonderful memories there. Out of interest, the picture you have captioned as blessing of the hippie sinners at Watchfield in the 4th Free Festival 1975 section (copy attached) shows in centre background facing camera Jex, writer of the letter below in your webpage.Stage manager of "A" Stage.

Myself, wearing sheriff's badge (security) and in the centre, looking very young with the combat jacket is none other than Stephen Budd, whom you may have heard of. Hangs out with the prime minister these days... hmmmmm.

Keep up the good work

Ross Davies
---
just to say i just happened to find your web site just now
I still have the tee shirt, i "helped" on stage 4 in 75 and ruined my exhaust on the temporary road
and since then I did help, not at the moment, with the free festival at Wallingford ( BunkFest) but a rather different affair
no dope or hippies, Morris dancers and beer !
David Seed
---
Hi
I remember (just about) Playing at Watchfield 1975 with my band Orpheus although there doesn't seem to any reference to us being there.. we were joined onstage by a tambourine playing Steve Winwood..Great days.
The Lineup

Graham Mcgill: Lead Guitar/Vocals
Mark Mansfield: Bass/ Lead Vocals
Rob Wilford: Drums

Unfortunately I have no photos of the band or a set list. It would be great if anyone out there has any info or photos.
Mark Mansfield
---
Conventional Douglas © Steve Austin
Hi
I played keyboards in the band After The Shallows – and yes, I had 2 Mellotrons!
Sadly no photos, but I do remember it clearly(ish).
I've still got some tapes, but nothing to play them on.
Andrew Williamson –Bass
Patrick Case – Guitar/vocals
"Lucky" – Vocals
Adrian Snellgrove – Keyboards
Derek Dodds – Drums
Tim Dowdeswell – Percussion
"Flower" - Roadie
Happy days….
Adrian Snellgrove
---
Hi,
A correction if I may. The band at Watchfield captioned as "Public Foot the Roman" was, in fact, "The Movies" (and if you look closely you'll find that their name actually shows in the image). Although The Movies did have two members in common with Public Foot the Roman, it was an entirely different band.

And the name is a neat little story. You know those old cast, embossed signs they used to use to mark public footpaths? Well, one day one of our pals from Cambridge was out walking in the Gog Magog hills and he came across one of those signs which had somehow broken off. It had originally said:
Public Footpath to
The Roman Road

The broken piece, which he brought back to show us, said:
Public Foot
The Roman
We took it as "a sign" and it became the name of the band from that moment. Just as well because if I recall correctly our name until then had been "Free Beer", which we thought might attract more people to gigs :)
And one other correction I'd like to make for the record. It may be a matter of opinion but I don't think of The Movies as being a renamed and further developed PFTR, as seems to have become the way the history is written. The reason I say that is that the composer, lyricist, and lead singer of PFTR was Sean Byrne and he wasn't part of The Movies. He was the soul, really, of PFTR. He's living in Mexico these days running a hot air balloon company.
As for me, I built a career in hi-tech, now living in Canada, and still playing a lot of music though I've migrated to double bass these days. Just completed a new CD actually, check this out: http://www.ericafeiningersinger.com/

Cheers,
Howard Tweddle
(bass player of Public Foot the Roman)
---
Gong at Watchfield.

Audience tape 80 mins Good quality, remixed .

Invocation 1.54
Master Builder 5.12
Jam 12.06
Solar Musick Suite 13.24
Isle Of Everywhere * 13.13
Flying Teapot 3.55
Never Glid Before 8.26
Improvisation 14.50

Is this a sign ? Fever at Watchfield
---
Hi
I was the roadie for Wooden Lion who opened on stage C on the Friday night & played after Tibet on stage B on the Saturday night.
The lineup was Tony Morley Lead Guitar & Vocals, Terry Morley Bass Guitar, Wal Mansfield on Drums, Cardinal Biggles (Alan Essex) on VCS3 & 12 String Guitar, & The Captain (Roy Wood) on Lead Vocals & Costumes.
Roy still has the back stage pass
Also when Hawkwind came over from Reading on the Saturday ,Del Detmar didn't come with them & Cardinal Biggles did the noise making.
Other bands I remember being there were Thor/Nova Mob (they kept changing there name) & pre Clash Joe Strummer with 101ers
Travelling back to London in the car with Tony on the Sunday we blew the engine up
I last saw Sid Rawles running the swingboats at an all dayer in Victoria Park in the East End of London back in the late eighties.
Keep up the good work
Steve Wollington
---
Roy Wood, of Wooden Lion , also sent us this update on the bands time at Watchfield and plans to reform in 2004
Hi,
I was the singer from Wooden Lion who played on a couple of the stages at this festival. We were there throughout the whole festival .Our synth man also played with Hawkwind (I was a friend of Lemmy's and they were trying to steal him at the time) at their show on one of the evenings. Strangely enough we have recently all got back together and may even get round to doing a few shows. I went on to have a couple more bands in the late seventies and then became a sound engineer :
Wooden Lion Homepage
Someone pointed your site out to me ages ago and I had meant to write for some time but some how never quite got around to it. I was sitting here last night waiting for a file to finish downloading and I thought I would drop you a line. I wonder how many other veterans of these festivals are out there and have never got in touch. I wonder how many are still playing. Maybe we should arrange an 'Old Hippies Reunited' (tongue firmly in cheek in case you are wondering). This area is a bit of a haven for old hippies and I have met a few since I moved here. The amazing Arthur Brown lives up the road in Lewes and plays round here regularly. He was at the festival because I remember talking to him behind the stage on night but I cannot recall if he played.
We actually have almost the same line up as when we played Watchfield. We have a different drummer that is all (oh yes, and we are a lot older!).
The trouble with trying to recall what happened at these festivals is, quite apart from the time passage, some members of the band had a tendency towards a bit of puff and acid. I do remember that, when we got on stage, I announced that we had arrived with very little dope and asked if anyone had some to sell maybe they could see us after. All through the set people came up to the stage and just left stuff for us. Our roadie, Steve Wallington, (still a good friend and probably going to do the job for us again if we get round to doing a show) collected all the stuff. Part of the way through the show I took a pyramid and I think that is how I wound up on top of the scaffolding at the front of the stage at the end. I remember looking at the stage in the morning and realising I had bent the top.
I do remember some of these benefit gigs. One was in a house in Regents Park. It was a squat and someone turned up at around 3 am in his dressing gown and slippers to complain about the noise. We did one gig which was in Basingstoke and I think that was something organised by the Watchfield / Windsor benefit people Alan, our synth player used our PA just for his noise machines because the Half Human Band's PA was available for the stage. The review in the local paper said something like 'a horrible howling noise was heard all over Basingstoke' and the local council officially banned us from the town.
When I look at things like Glastonbury and Party in the Park I realise that the technology has come on a long way from when we did these shows in the seventies but the spirit then was so strong. In the course of my work as an engineer I did a lot of festivals all over Europe but nothing compared to those early days when it was all for free and the main reason you were there was to have fun and make a noise.
Regards
Roy
---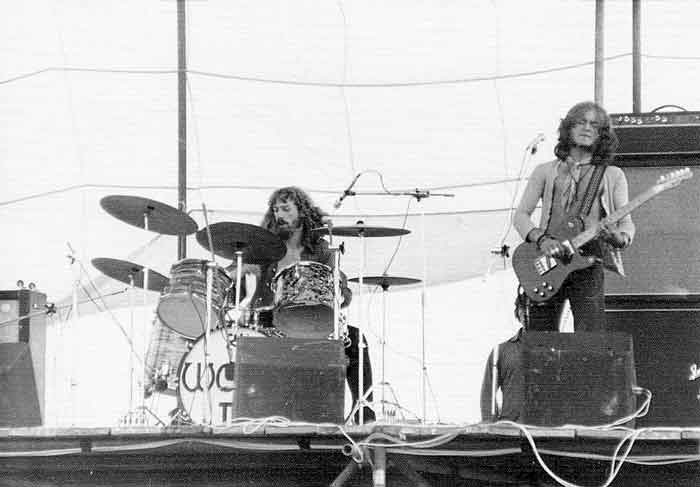 Warp Three ? © Steve Austin
Another band to play at Watchfield were White as White and Twice as Dirty , John Bently sent us this
We were the only people on site who thought Zorch were boring (they played from 11pm till 5am and we wanted to get to sleep!
(White as white were a pre punk racket with psychedelic interludes...)

I remember White as White being the first band on at watchfield and it being mentioned in the telegraph and later joe strummer borrowing Ian's guitar for the 101ers set. Stranglers and Traffic also played at watchfield but I remember the festival as being slightly disillusioned after windsor. Didn't even get arrested!

love John

PS :Wally Dave Bennett and I arranged some Windsor benefit gigs around this time in Aldershot with a wonderful band from epping forest called Wooden Lion where are they now? they played at the festivals too
Paul Trew of White as White also contacted us about the group's involvement at Watchfield
Hi
I played bass in 'white as white and twice as dirty'
we opened the festival in the early hours of the morning after having come straight from a Watchfield benefit gig at Bedford town hall,we played there with Tibet who were a strange German band
The sunday papers were full of lurid accounts of how we kept all the villagers awake,which i suppose we did....
White as white were veterans of windsor and played 5 times at the festival, i think we were the last to leave By the way we were just 17.
I remember the 101ers racing around in their van, they were probably the only band to play more times than us.
I saw Hawkwind minus Stacia who I think was getting married and I too got my picture in Woman's Own dancing to Hawkwind stood next to a guy with a paper bag on his head
I recall the carousel toilets with horror, particularly when a dog got stuck in them and there weren't many volunteers to pull it out
white as white broke up about 6 months later, Ian the guitarist went on to play with 'Ballaaam and the Angel ' and me,rich and paz have all carried on playing with local Hampshire bands, I'm currently with Bluestate on the south coast.
Paul Trew
---
Another band to play the festival were Poltergeist
I was lucky enough to play at Watchfield in 1975 in a band called Poltergeist. When we arrived we went to the HQ where we were told which stage we were playing on. We managed to plug our appearance on the pirate radio station that was operating out of an old toilet in the HQ! The pirate station was annoying radio one at the time because the frequency was very close to theirs.
We started playing just as it was getting dark and it started to rain. But this did not put off the audience who built themselves a fire in front of the stage and soon a large crowd gathered to watch our set. Halfway through one of our songs a massive cheer went up.
We thought we had finally made it but later found out that this was because a couple had taken refuge under the stage to get out of the rain and had started their own 'performance' in time to the music!
The band on after us was White is white and twice as dirty.
Frank Baldwin
---
Charles Tyler was at Watchfield with his friends Solar Ben.
I used to hang out with them in Wales when I lived nearby. They all lived in a beautiful Welsh farmhouse called Fynnon Wen at the end of the Rheidol valley. Barry Coleman played guitar, Steve played bass, Robin played drums, Michael Wilding (Elizabeth Taylors eldest son) played sax and Betine sang. The bus in the pics here and in the Meigan Fayre pics belonged to the band. You can see Robin in it with his long red hair. We took it to a number of festivals in those years.
| | |
| --- | --- |
| | |
Hi
I was the guitar player with Synthesis
The line up was:
Dave craggs..Bass
Phil Witton...Drums
Wild P Hucker..Guitar & Vocals.
I remember a no pressure, very peaceful afternoon gig. And it was the Tuesday that we played, the highlights for me were Gong on the main stage, and Tibet on some other stage.
When I root through my archives I may find other info and will contact you again.
I went on from Synthesis to being one of the founders of Ogre a notorious festival band from 1978-99 Now I'm with MSM an ambient soothe & groove thing.
You can check it out here:
www.wildphucker.com
www.ogreland.co.uk
Email: wildphucker@ogreland.co.uk
I've enjoyed visiting your site keep up the good work
Regards
Hucker
---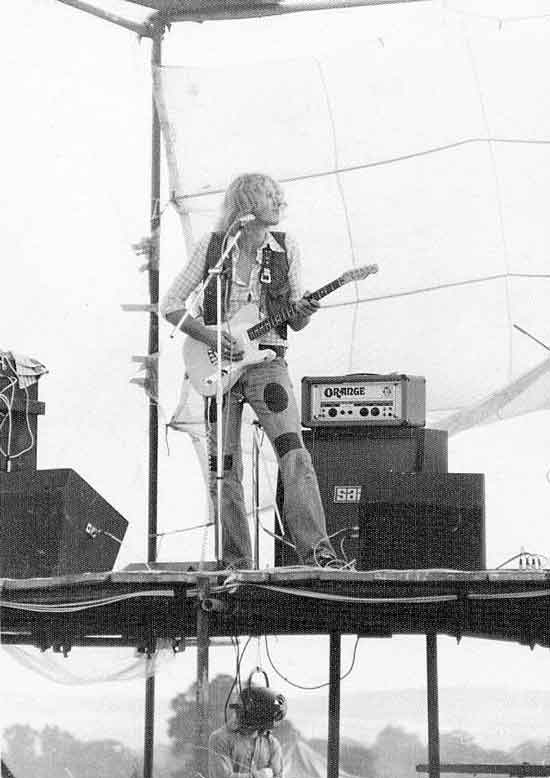 ? © Steve Austin
Hi there,

I have great memories at watchfield, we were a very young band called Fever, we did a short 20 or 30 minute slot early evening on the Saturday, what great times we had, we did one or two self penned numbers and a few covers.
The band was,
Tony Barnett, lead vocals.
Dave Lloyd lead guitar.
Neil Walker bass guitar.
Dave Ziggmund drums.

Regards.
Tony Barnett.
| | |
| --- | --- |
| | |
| | |
Above : Fever , having a ball at the Watchfield festival 1975
Well i might be a bite late in stumbling across your sites, but i was there
too....
My band, Wandering Spirit played at Windsor '73 & '74, Stonehenge '73, '74, '75, & Watchfield '75.
Certain members (and non-members) of the band got together with a couple of Here-and-Now members at Watchfield, and briefly became Captain Snort and the Hog-Fuckers from Hell, the only band known to have demolished a piano
on stage, while in search of the lost chord... (ahhh, they don't make Acid like that any more...) We also attended Seasalter & Meigan, but didn't play.
Gareth Williams
---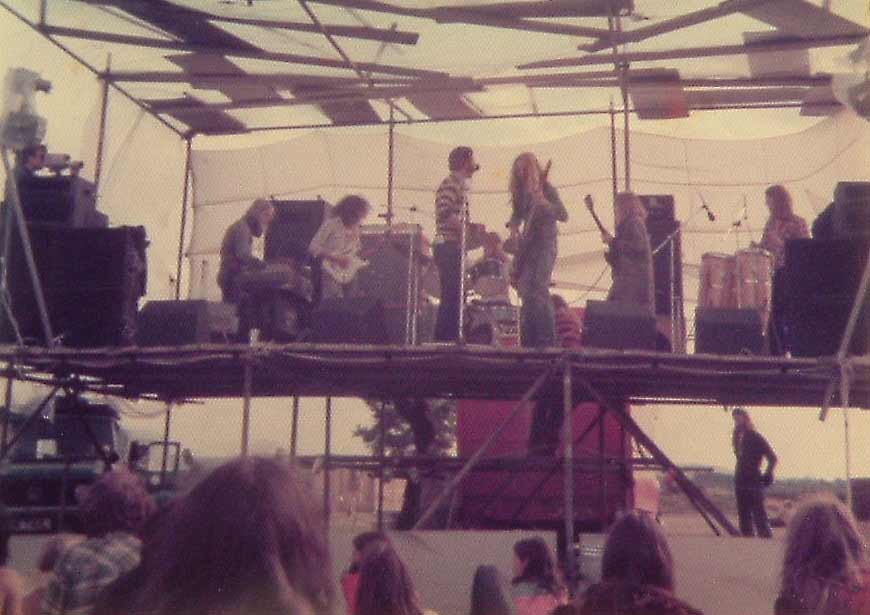 Wandering Spirit play Watchfield 1975 © Graham Cole
Hi

I was the drummer in the band Wandering Spirit from Hertfordshire and we played twice at Watchfield in 1975. We were starting to get used to this playing at free festivals- a bunch of young hippies who lasted as a band for 5 years making a mainly instrumental racket sometimes with a lightshow and mostly having a great time. Our second appearance, on a stage I can`t remember the name of( see photo),we were joined by a singer friend from Herts called Martin and he improvised some very interesting vocals over our material with titles such as "If I should wake before I die", "Stroke", "Are you dead or just revisiting?" and "Furthur".........
A Government -approved free festival site? It felt different to the other ones at Windsor and Stonehenge but still wonderfully anarchic and we got in and out with no hassle from the boys in blue-unlike next year at the strange Seasalter event in Kent........
Love `n peace,

Graham Cole (now 52 and full-time vegan-organic gardener)
I just found the photos of Watchfield via the Bands link which I'd obviously missed the last time I looked, and to my pleasant surprise there are my congas on stage with Wandering Spirit, I remember lending them to the guy when he approached my friend Budge and myself while we were sitting in the field (as you do at festivals) with my congas next to us, he seemed so pleased he'd found some and I was happy to do him a favour, I asked him what time he was due on stage and he said NOW! Which probably explained why he looked so happy or even relieved, so between the three of us we rushed from one side of the site to the other with just enough timr to set them up and set the mics up. I'm sure he told me what his name was but I don't remember, I wonder if he's still playing? They are the same congas that I had in Darting Tongues and in fact still have and play, although they are now stained one colour.
Clive.
---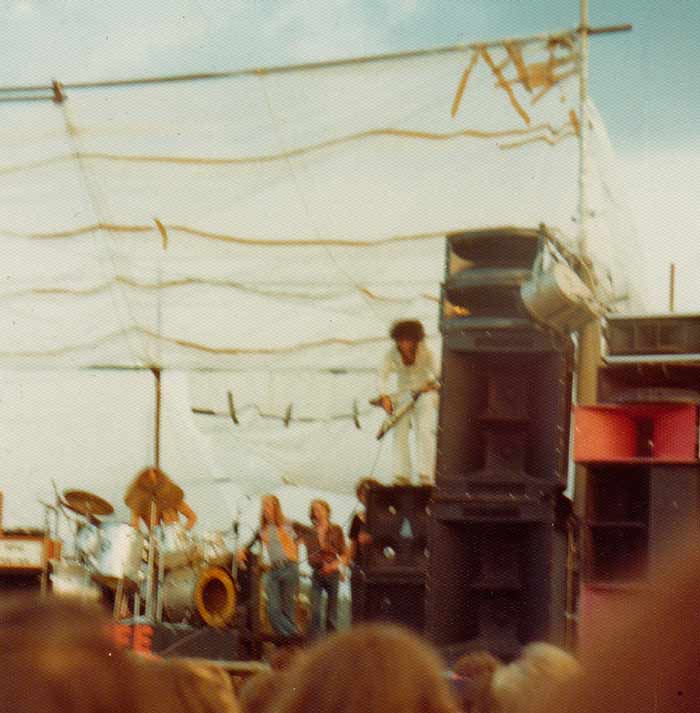 Ha, the old " climb on a stack to get the audience going trick eh?" Works every time.....© Dave Roberts
Played bass in the band After the Shallows at Watchfield (band name was my idea - stupidity of youth - aged 18). We were prog rock - no surprise there. I remember arriving playing and leaving. Wierdly, I remember the smell of perfume or perfumed talc on stage. Would have loved to have found photo.

Line up was probably:

Patrick Case - Guitar, vocals (most recently of Immense - Bristol band)
Adrian Snellgrove - keyboards (2 mellotrons!)
Andrew Williamson - Bass
Derrick? - Drums

Thanks

Andrew Williamson
---
Hello
My name is John Johnstone. Im from Glasgow Scotland and now reside in San Clemente, California. I was part of a band named Jann and we played Saturday August 30 1975 during the day about 1 or 2 pm at the Watchfield Festival. You can contact me at this email address and I will respond with any more information you need. I look forward to hearing from you. "Music is the best"
Sincerely
Johnnie
---
What a brilliant website and what fantastic memories.

I was almost 17 and arrived as part of the 'Dr Dose and the Acid Drops' band which was formed specifically for Watchfield. I remember being amazed how organised the festival was with the Co-op tented supermarket and row of payphones in the Control Tower. However, my rosy first impressions were shattered when I saw the toilets which consisted of separate cubicles fitted with a communal plank with cut out holes which meant everyone was crapping into the same pit!!! It needed some dexterity to hover your arse away from the hole then place your backside over the pit at the last minute. The penalty for messing up your timing was the possibility of receiving someone else's 'splashback'. No wonder I was hideously constipated by day three!!

The Dr Dose truck was a former aircraft catering lorry with a large 'balcony' ( and viewing platform) over the cab which would have been used for accessing the aircraft's hold. However, the truck was now used by a small racing car team as a car transporter. It was gloss black with a huge shell (petroleum) sign. We added the words 'Dr Dose' in 3" wide white tape on the sides and it become quite a focal point - indeed a recognised meeting point to the rear of the main stage for lost party-goers.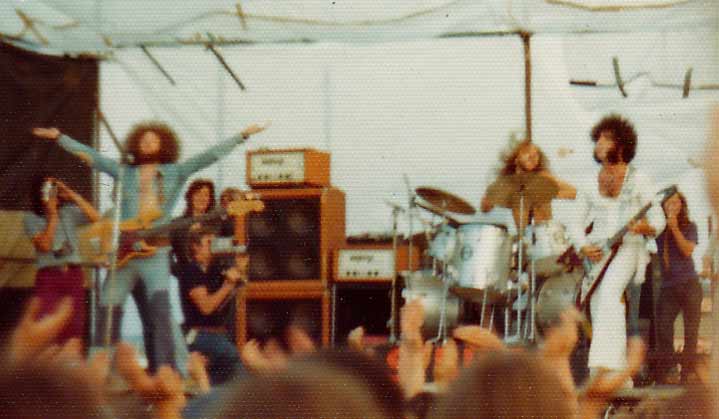 Strife whooping it up © Dave Roberts
I remember Hawkwind, Arthur Brown. I recall the sound of the Hare Krishna mob first thing in the morning and this persistent smelly 'fog' across the site at dawn. I remember a 'plain clothes' drugs squad officer being identified by a M.C. between bands and watching him scurry away fearing his life. But please excuse me if as a 16 year old male with raging hormones, my main memories are the women. At least ten million of them if I remember correctly. Most naked and choosing to wash using standpipes next to the Dr Dose truck. It was heaven!!

Lastly I recall a free drugs party at stage three. In essence it was an all night jam by musicians that had never met before. I was one of about four audience members who were watch this crap drug free and was bored stupid by the hideous never ending feedback inspired noise. I approached a bored ice cream vendor at about 3am. The poor bloke didn't stand a chance with all the free other stuff on tap and had not sold any ice cream for hours. As he began to draw off soft ice cream from his machine, nothing happened the BANG it exploded like a scene from Bugsy Malone. Ice cream everywhere. God knows what 2 or 3 rows of stoned audience members made of it. I had it licked off me - but that's another story!

I loved this Festival. The friendly carnival atmosphere was incredible and sadly introduced me to a life of cynicism of the press, as what many of them wrote did not reflect what I experienced in any way.

Thanks for the trip down memory lane. The photos have also amused my teenage kids to think that I could have been part of such an event and could ever have had such long hair!

Regards

Richard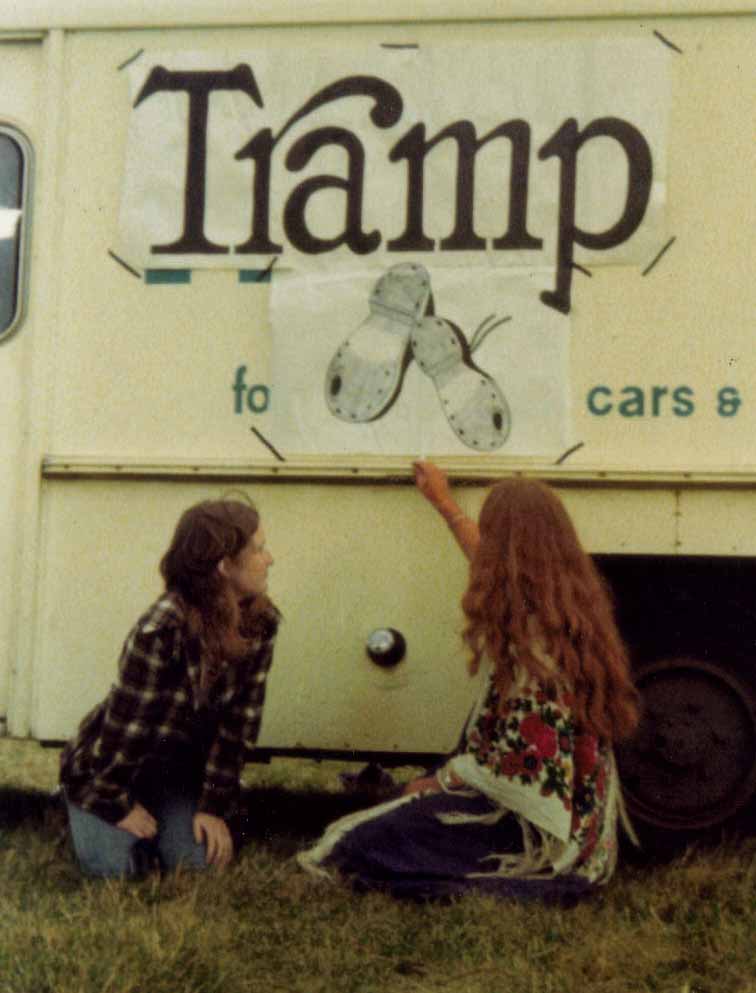 Tramp Van and admirers © Terry Friend
Hi There,
my name is Terry Friend, and I am a member of a band called Stonefield Tramp that played at the Watchfield Festival in 1975. I have just discovered your website, and would like to send you some photos that I took whilst Stonefield Tramp were on stage. We had our own label Tramp, and took three bands down there with us. Those bands being Stonefield Tramp, Change and Quinquereme (I might have spelt that wrong!)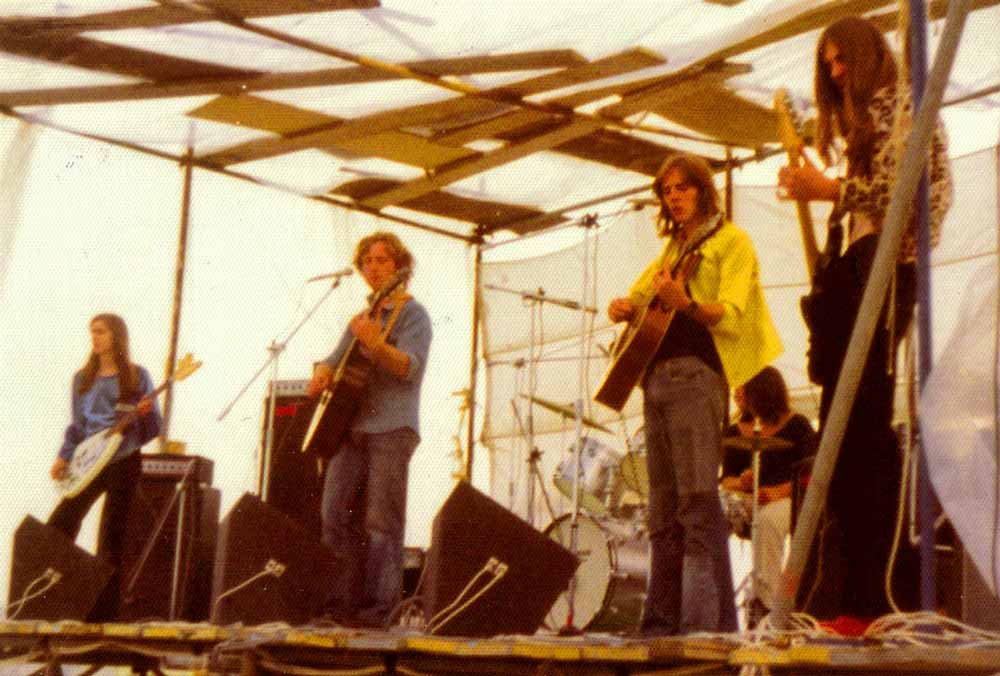 Stonefield Tramp © Terry Friend
To the best of my memory, Quinquereme played on the first saturday, then the heavens opened and that was the end of that! So, Change and Stonefield Tramp came down on the second weekend (saturday) and played. We all enjoyed the experience and were very glad to have been asked to take part. Since those far away days, Stonefield Tramp's album 'Dreaming Again' has achieved a cult status, among those of us that care about a certain kind of songwriting. So much so, that the Spanish label Guerssen re-released it in Vinyl and cd format last year. I would really appreciate it if you could install these photos into the website. If anyone out there wishes to learn more about either, my solo songwriting career, or Stonefield Tramp, they will find everything they need in my website listed below.

Many thanks from
Terry Friend.

ps. Stonefield Tramp are Rob Van Spyk (Guitar and music) Terry Friend (Lyrics) Dave Lloyd (Guitar) Chris Sutoris (Bass Guitar) Pete Kiely (Guitar) and Andy 'Eggy' (Drums)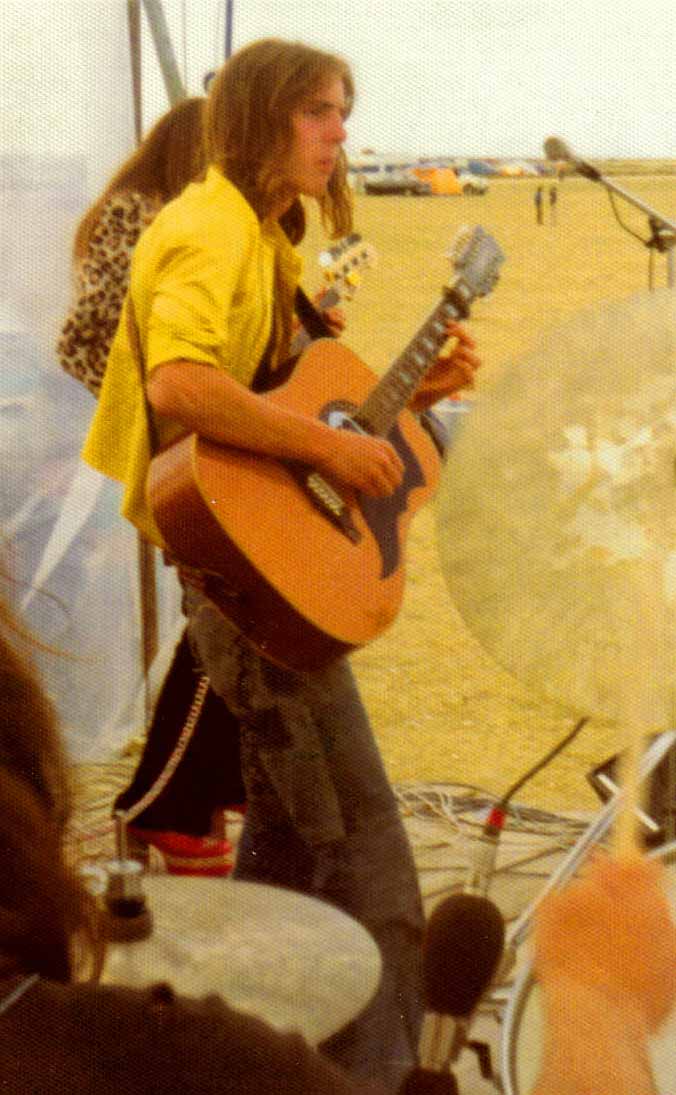 Stonefield Tramp © Terry Friend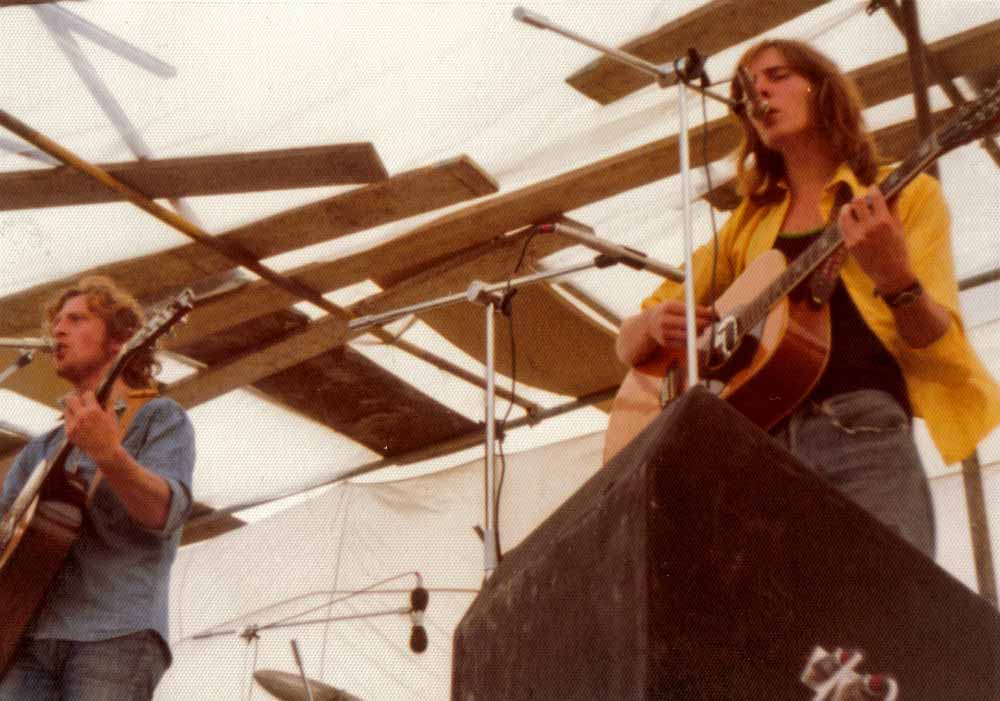 Stonefield Tramp © Terry Friend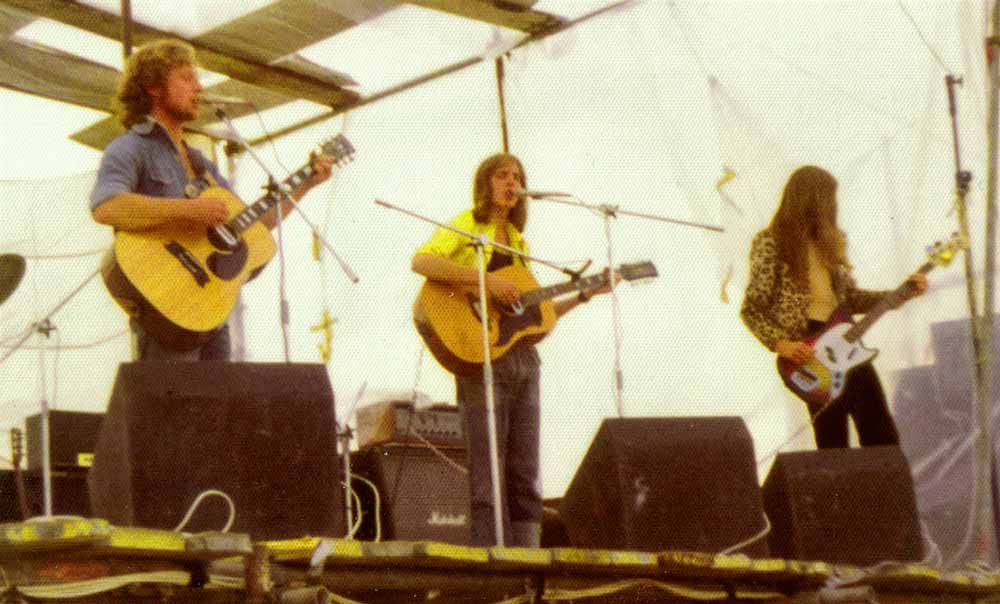 Stonefield Tramp © Terry Friend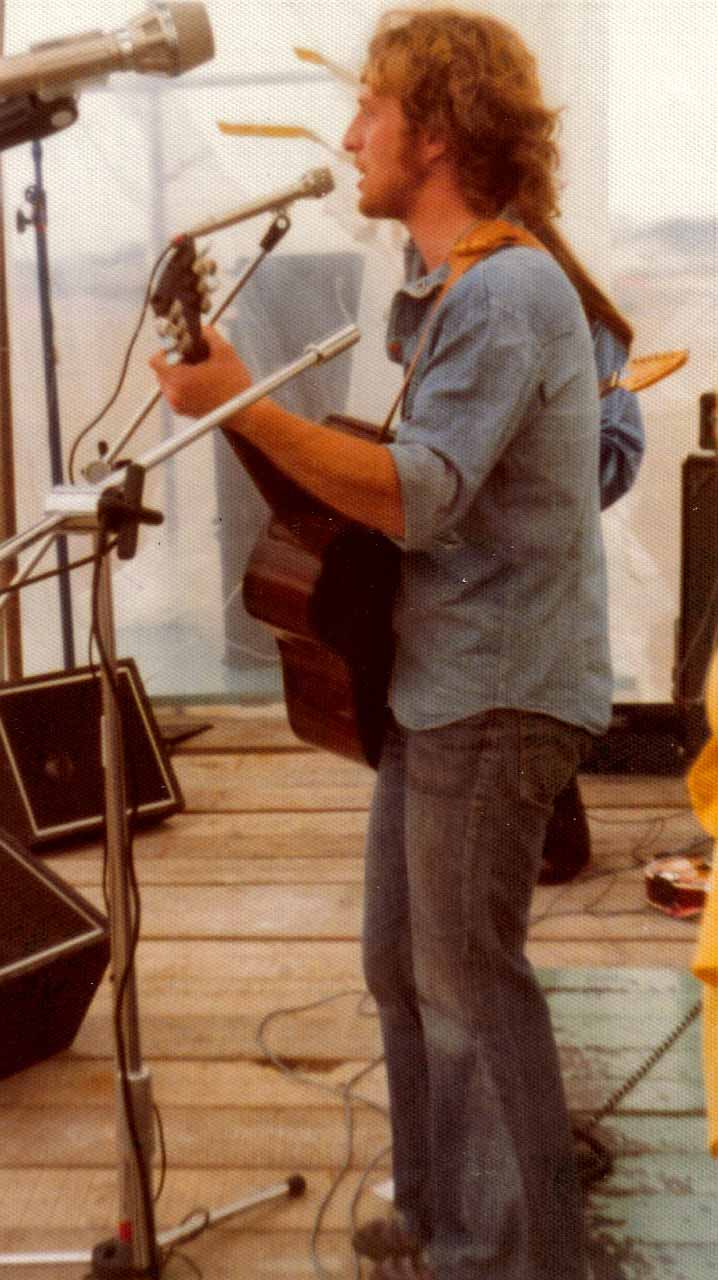 Stonefield Tramp © Terry Friend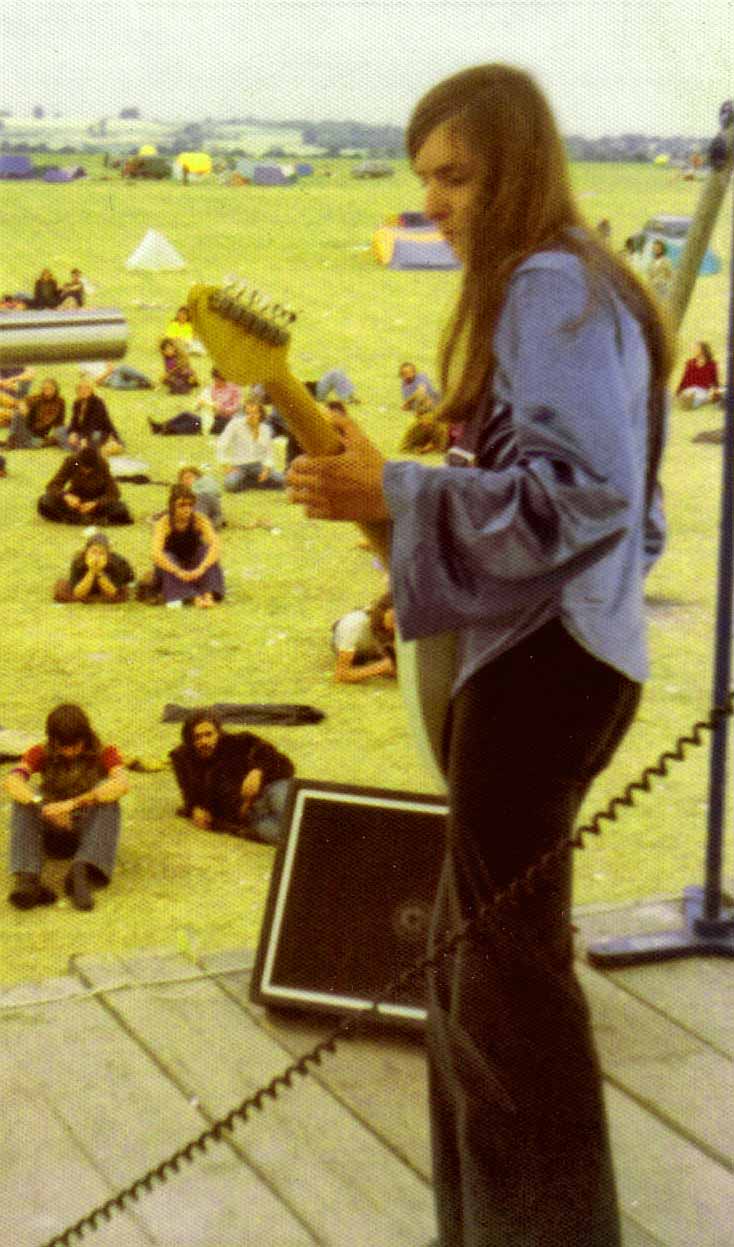 Stonefield Tramp © Terry Friend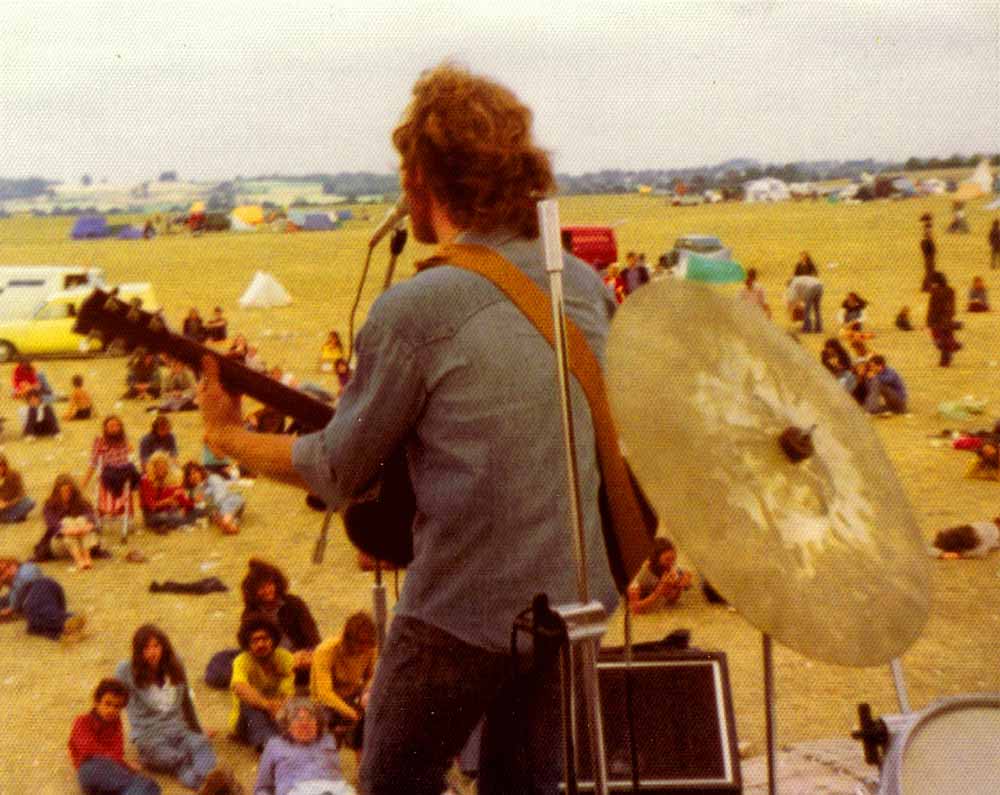 Stonefield Tramp © Terry Friend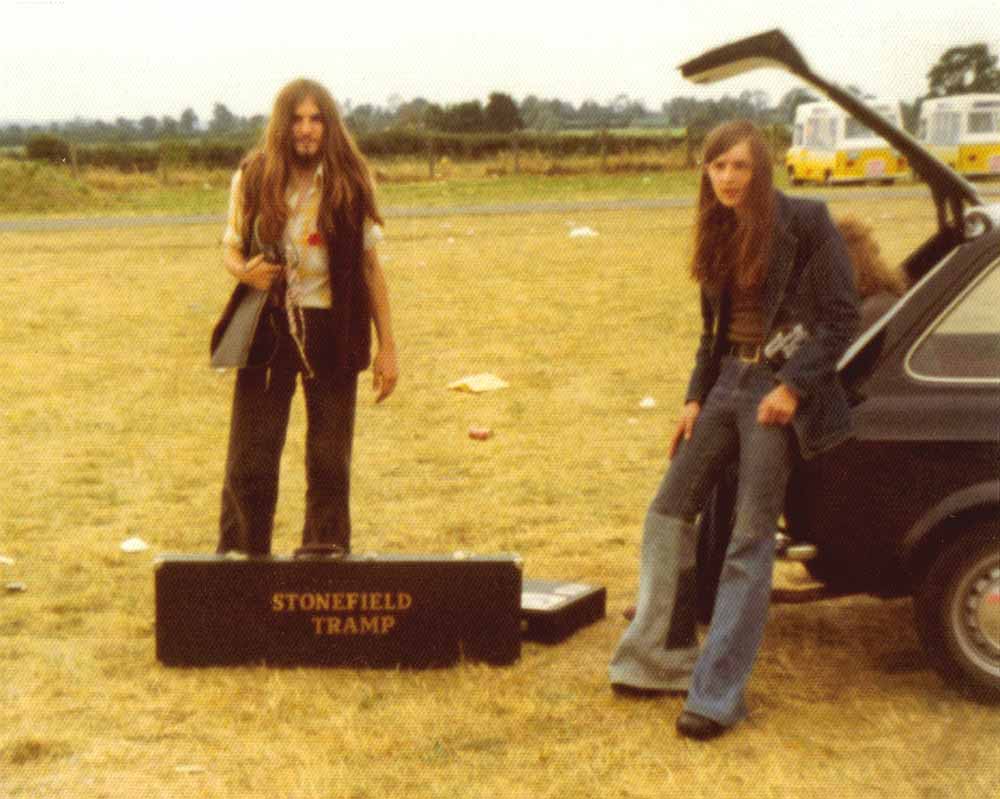 Stonefield Tramp © Terry Friend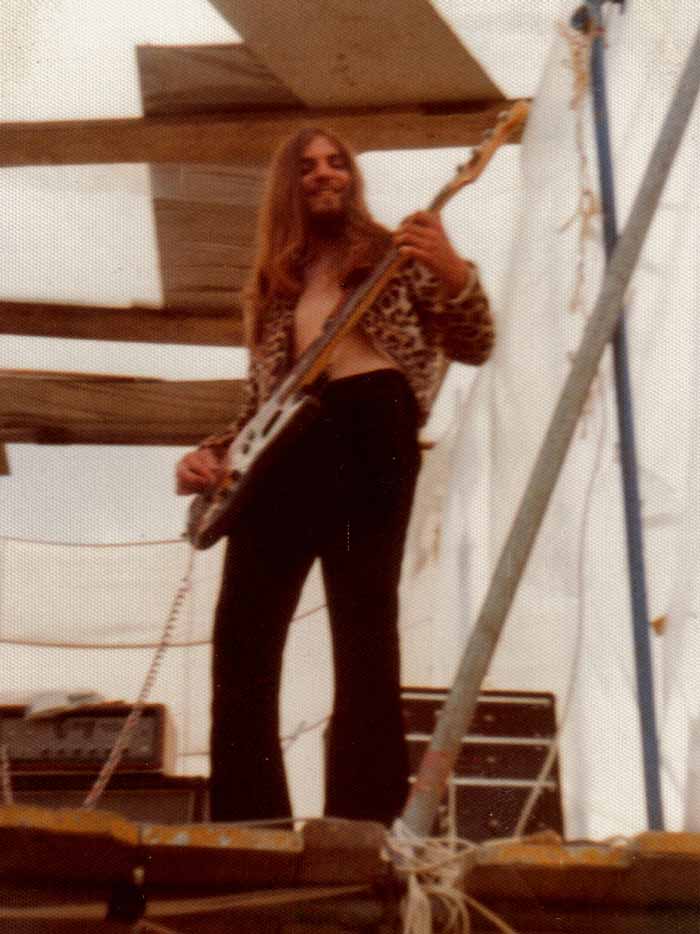 Stonefield Tramp © Terry Friend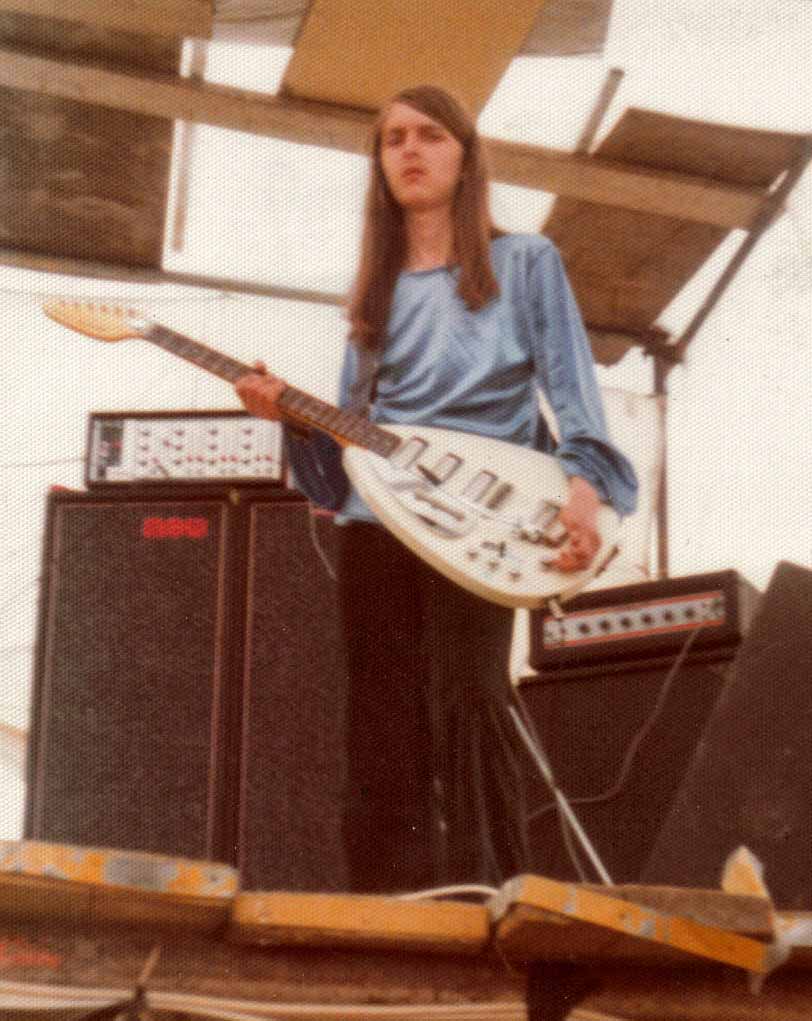 Stonefield Tramp © Terry Friend
---
Hi Baz Walker here,

I was the drummer with a band called No Sweat who played at the festival in 1975.
We originated from Feltham-Hounslow.

Vocals/Harmonica….. John Rankin
Lead Guitar………………..Alan Carroll
Rythmn Guitar/Vocals…..Dennis Parker
Bass Guitar/Vocals………Roy Hamilton
Drums/Vocals…………….Barry Walker

Roadie's…………………..Peter Grant & Roy's Brother

We played heavy-ish rock and blues, mostly originals, we went down really well.

For photo's go to No Sweat Watchfield on google.

It was a really good festival, the crowd were fantastic.

Regards

Barry (Baz) Walker

Right :No Sweat onstage at Watchfield using the ubiquitious "The Movies" foldback speakers

© Baz Walker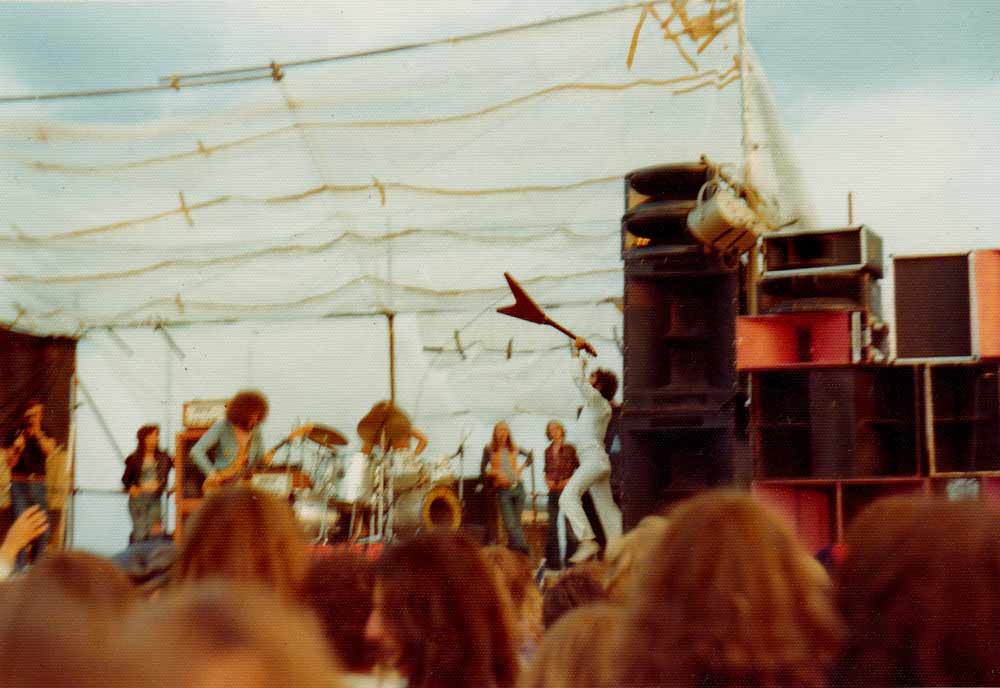 Strife © Dave Roberts
Hi there,
Just saw this site. We were a five piece band from Basildon, Essex called STREET who got this gig after a lead from John Otway and playing a series of gigs at The Boot in Stonesfield (now a private house), Oranges & Lemons in Oxford, Friars and the John Hampden in Aylesbury and the Hunt in Leighton Buzzard. I cannot remember what stage but I think it was Sunday and we played between the Stranglers and The 101ers feat Joe Strummer.
STREET lasted some 4 years and the lineup was;
Keith "Geese" Dixon...Lead Guitar and Lead Vocals
Andy Hussey, Second Guitar and Vocals
Roger Hussey, Keyboards and Guitar
Neville Bourne (later Chris Woods) on Bass
Alan Bearham..Drums

I remember us going down well and the HUGE crowd (well for us anyway!). 8000 or so as I heard it.
Band later morphed into GILMARTIN and in early 2000s 3 of the above worked as DHB/ YER BLUES (Dixon, Hussey, Bearham) 3 piece at local Essex gigs; we also got a slot at the Upton Blues Festival and a good review for our CD in Blues in Britain. There may be more yet.
We played all original material in STREET utilising twin lead guitars and some quirky and powerful vocals from Monsieur Dixon.

In 1996 or so I met Jet Black & the Stranglers who were doing a PA in Glasgow. During our conversation various gig venues got a mention...Jet remembered us playing after them at Watchfield and also us doubling up with them at gigs at the Cart and Horses in Stratford, London E.

nice to have been part of this history; it was a great festival

Hope this info is of interest

All the Best
Alan Bearham
---
Any info to add ?-well don't just sit there , Contact us
Free rock festivals of the 70s and 80s