The Archive
Last update February 2014.
Best viewed at1280 x 1024 resolution -lower resolution may give badly formatted results.
Big thanks to our sponsor Neil !

For information on today's festivals see eFestivals.co.uk

---
| | |
| --- | --- |
| | Bob Dylan. Isle of Wight Festival . August 31st 1969. |
---
Dylan's presence was by far the biggest draw and his appearance, backed by The Band , was one of the first after his motorcycle accident. He is described as looking nervous by some spectators, but this was probably understandable given the change in direction he had taken with the new album and the recuperation from a major trauma which had affected his voice. There was a two hour wait after Richie Havens left the stage before The Band took to the stage and Dylkan only played one hour, which was a huge disappointment

DYLAN UPSETS FANS IN U.S.
5,000 ticket requests for Isle of Wight

AMERICA is "up in arms" over Bob Dylan's forthcoming Festival appearance at the Isle of Wight! Raymond Foulk, of promoters Fiery Creations Ltd, who flew back with the Dylan contract from the States last weekend, told the MM on Monday: "The Americans are a bit upset at Dylan appearing in Britain and not in the States. We have already had many applications from America for tickets, and some people are chartering planes to fly over specially for the concert."

Raymond Foulk also discounted rumours that Dylan might appear in a Hyde Park concert while here. "We hold the rights for the exclusive appearance of Dylan," he said. "Any rumours that he might appear in Hyde Park are false."

Meanwhile, ticket applications for the Isle of Wight Festival have been flooding in. Says Raymond Foulk: 'We had 5,000 requests for tickets after the press story last week."
It is expected that at least 100,000 people will attend the event. Bob Dylan and the Band will appear on Sunday evening, August 31. But the afternoon's attractions start at 2 pm through to 6 pm and star Ritchie Havens, Tom Paxton, Pentangle, Julie Felix, Liverpool Scene, Indo-Jazz Fusions and Gary Farr - brother of Rikki Farr, who will compere.

Tickets for Sunday afternoon and evening cost £2. Tickets for Saturday cost 25s. A season covering the two days costs £2 lOs. A huge marquee is being erected on the Festival site at Woodside Bay, near Ryde, just five minutes from the beach. Special boats are being laid on from Southampton, Bournemouth and Southsea
DYLAN LATEST
New songs for Britain: 200,000 fans expected
Bob Dylan is writing special material for his historic Festival appearance at the Isle Of Wight on Sunday, August 31. And it is "more than likely" that his next LP will feature tracks recorded "live" during the event - which is acting like a magnet for artists and fans from all parts of the world.

GOOD VIEW
When Dylan arrives for "D-Day," he will he bringing in a retinue of some 300 American pressmen and photographers. And he personally is likely to stay on the Isle of Wight for at least five days "He has fallen in love with the place from a colour movie he saw" added the spokesman.

BOB DYLAN DUE TODAY

BOB DYLAN arrives in Britain to-day (Thursday)!
He was due to fly into London at 2 am this morning and will go direct to the Isle of Wight where a 17th century manor house has been put at his disposal.
Dylan's arrival brings a sigh of relief for Fiery Creations the organisers of the Isle of Wight Festival where Dylan stars over Bank Holiday weekend. Last Friday, his wife Sarah and son Jesse were due to sail for Britain from New York. Jesse was taken ill and the ship's doctor advised the parents to get him to hospital. They left the ship. The boy has since recovered and is expected to accompany Bob and Sarah on their flight.

Press account
With much pushing and shoving, more than 100.000 people crammcd into the arena here tonight to see Bob Dylan. the American singer, make his first major concert appearance for more than three years. He finally appeared about 11 o clock tonight. more than two hours late. He walked on to the stage and without any preliminary announcements went straight into his first song. A tiny figure. dressed in a white suit, white shirt and trousers ,he was enthusiastically applauded by the audience who had been getting restive earlier in the evening when empty beer cans were thrown towards the stage. After his first song he said:

" Hello. Great to be here" Then he went into his next number.

The programme ran late because there were simply too many peopie with special passes to the so called press enclosure. The organizers tried to clear the area without much suceess`. Eventually thc press were sitting, on each other's laps. The main audience was no less crushed and there were several calls for doctors and stretcher bearers. Dylan's performance was the climax of the three day festival of pop music. But the concert ended shortly after midnight after Dylan bad been on the stage for just one hour. After repeated cheering and whistling from the audience he returned to perform for another 10 minutes ,then finally left.

Jeering and booing broke out from some sections of the audience, and the compere. Mr. Ricki Farr, placated them by saying: " Bob Dylan came here to do what he had to do and he's done it, and I'm afraid that's the end" : In all, Dylan and his musical group, called The Band, had been on stage for less than two hours. Mr. Dylan is reported to have been paid about £35,000 for this performance.
You can view many great photos of Dylan at IOW 69 ( as well as most of the other acts )here at Robert Ellis's photo site
if you have any info you can contribute to the site, such as details of recordings. recollections, programmes, tickets, pix or articles please
A portion of Dylans set is now available on DVD - not a legit release .

4 Reel productions is the "distributor ". The portions we have seen feature very poor camerawork, constant zooming and movement. for completists only....

Bob Dylan setlist
Source unknown


She Belongs To Me
I Threw It All Away
Maggie's Farm
Wild Mountain Thyme
It Ain't Me Babe
To Ramona
Mr Tambourine Man
I Dreamed I Saw St Augustine
Lay Lady Lay
Highway 61 Revisited
One Too Many Mornings
I Pity The Poor Immigrant
Like A Rolling Stone
I'll Be Your Baby Tonight
Quinn The Eskimo (The Mighty Quinn)
Minstrel Boy
Rainy Day Women # 12 & 35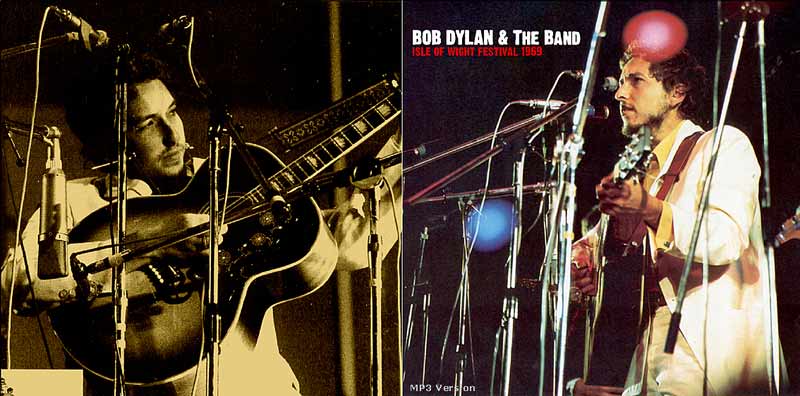 Bootleg CD cover of Dylans set
| | |
| --- | --- |
| | This still from the Dylan DVD shows that the quality is not the best, although one would expect the DVD looks better than Youtube footage |
| | |
| --- | --- |
| Backstage with Sarah . | |
You can view many great photos of the acts at IOW 69 here at Robert Ellis's photo site

if you have any info you can contribute to the site, such as details of recordings. recollections, programmes, tickets, pix or articles please Contact us

Contents
1969 Festival

Other IOW festivals If you have any info you can contribute to the site, such as details of recordings. recollections, programmes, tickets, pix or articles don't just sit there , Contact us

---

Courtesy Richard McMillan
---