The Archive.
---
Last update June 2013
THE WHO

SUMMER OF 74

Charlton Athletic FC

5-18-74.

The Who, Humble Pie ,Lou Reed , Bad Company . Lindisfarne, Maggie Bell, Montrose .
---
Recollections and reports.
The highly salubrious and picturesque surrounds of the Charlton ground.... © Mark Pitfield.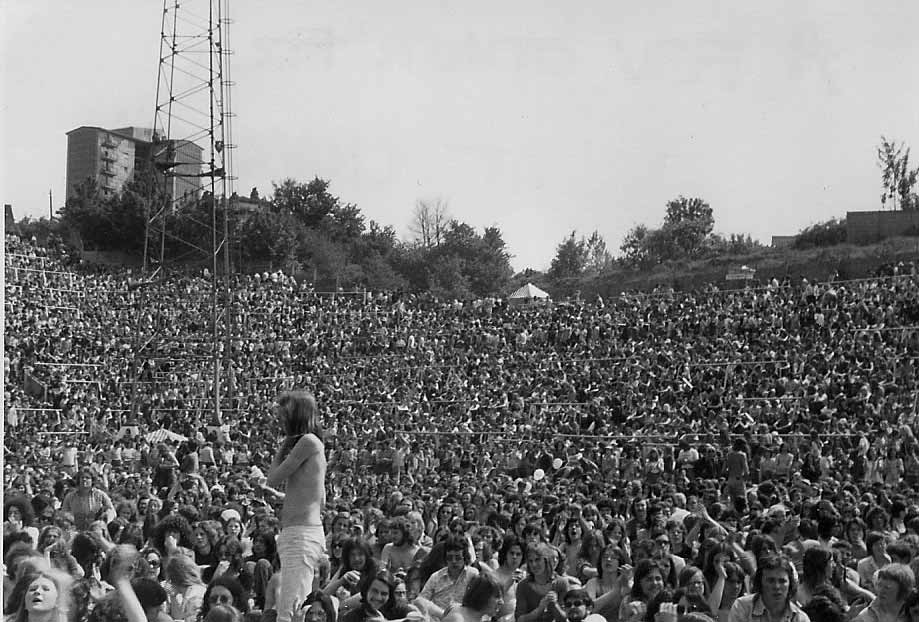 © Chris Keegan
| | |
| --- | --- |
| ticket stub courtesy Mark Pitfield | Townshend -" At Charlton I got completely pissed... I was so happy to get out of it. For Madison Square Garden we had to fight and snatch the time off from the film and consequently when we got there it wasn't really all that wonderful from our point of view... I felt really guilty I couldn't explode into the exuberant and happy energy our fans did. I screwed up every inch of energy doing it then would be brought down by a monitor whistling or something and I'd have to work myself up again..." |
---
Bad Company

I remember the day pretty well.

I can't recall any feeling of impending violence in the audience but I'm sure Pete Townsend had a better view then I did! Drunkenness yes certainly,( ever been to an open air without it?) but all in all the audience seemed to be fine!

I remember the rain, but also later the sun coming out for the rest of the day and things getting pretty hot....I was bright red the next morning!

As far as the sets went I remember being very impressed with the then brand new Bad Company and also Montrose who played I think their first British gig at Charlton.....the last song being Space Station Nr, 5 which went on with its feedback end for about 2 minutes after the band had left the stage.

The Who were great as was Lou Reed who had a great band with him at that time. Can't remember Lindisfarne too well (although I loved them at the time) except for their sing along standard "Clear White Light" which as always went down well.
All in all great day and we were singing all the way back to Brighton!!
BFN
Ian MIlls
Bad Company photo courtesy Repfoto© 1974.
You can view and buy many great photos of Bad Company at Charlton and other venues at Repfoto
---
| | |
| --- | --- |
| Let me rock the boat and support Pete Townsend's comments regarding violence on the day. I got separated from friends at the start of the day and ended up on the terraces overlooking the field. Good vantage point though, facing the stage. Montrose stood out as the most enjoyable for me, a great rendition of 'Space Station Number 5' rocking the crowd. Anyway... about mid-way through the day temperatures and tempers started rising. I watched as a food fight started on the pitch, the sandwiches were finally accompanied by empty cans, then half empty cans, some of them of the paper-bin sized Watney's Party 7 variety and then finally bottles, as things, quite naturally, got nasty. | Lou Reed and Transformer Charlton 74 |
My day nearly came to an abrupt end as a beer bottle shattered on the back of my head. When I came too I made my way to the First Aid Tent. Scalp cuts always shed a lot of blood hence the effect of a wet red shirt and blood soaked jeans created quite a stir including a few screams (maybe mine!) on my way there. The St. John's Ambulance had their hands full with similar casualties. Speaking to one of the ladies binding my head, she told me that there was "Some lunatic out there wandering around with a foot-long spike, he's sticking it in peoples necks." ... They had already had a few victims to attend to already and the police were trying to track him down.
A trip to the local hospital in an ambulance with others. A stitched scalp "No need for an anesthetic, it'd make a bigger hole than you've got there lad!" I remember the thread pull on every one of those 5 stitches like it was yesterday. Though I think I was much more concerned that they had to shave off some of my beloved hair.
Managed to persuade them to take me back in one of the returning ambulances and finally got a security guard to let me in. My belongings were still where I left them. I got back in time to see The Who performing Boris the Spider so all was not lost. Though I've still got a full head of hair, I occasionally get a gleeful comment regards the bald spot surrounding the scar on the back of my head -
"So you're going bald then!"
"Nah mate... beer bottle... Charlton Athletic '74." "You should have seen the other bloke."
Brian Farnan
---
Greetings,
I was there ( all the way from Rhodesia ) with my brother Robert and we were there for the Who, a band we had been following since the 60's.

We got there quite early, about 2 hours before it all started , and got ourselves a spot up near the back wall of the terraces opposite the stage. We figured we had the best seats in the place and it soon filled up.

Some guys next to us bailed over the back wall into a garden, paid the householder some money and trotted off to get alcohol for all of us who contributed. They were back in half an hour and we all started sucking on wine and vodka.

The early sets were all good with Maggie Bell being very astonishing in her enthusiasm and skill. Bad Co. were great too. Lou was very "star" like, but hey we were there for the Who.

Before they came on some guy in our zone started making monster submarine like joints which went down well all along the watch tower. At that point one of our neighbors decided that the booze and the dope had made him indestructible so he just did a swallow dive off of the back wall. He was quite broken after landing head first on the concrete terrace, blood flowing and some unhappiness. We passed him overhead all the way down to the pitch where some St John's Ambulance Service guys stretchered him off to carry out repairs. We all thought it was the height of fun at the time but the dude could have killed himself I guess.

The Who came on and were just the most thrilling live band we had ever seen. All of the set was startling the comments by Pete and others notwithstanding. I was taken by the "Who's Next" numbers cause I knew them but the Quadrophenia stuff was a revelation. Such a step up in the whole game for the Who, so much so that I bought the double album a couple of days later and I was broke.

Me and Robert had a great day that day and we got back to Earl's Court still very "up" from the whole experience. I would have to say that it was my most memorable concert ever and both me and my brother are staunch fans of the Who to this day.
Warm Regards,
Keith Battye

---

Hi, I went down from Manchester to Charlton for the concert with a couple of friends. It was a hot day, there was no rain. We were initially on the pitch but moved to get refreshments as the day wore on. By the time we got to the counter it was tea or nothing. We ended up in the stand to the right of the stage.The crowd mood was a bit grumpy and there was a bit of fighting at one point in the evening on the pitch. I think a bottle might have been used.All that said it was a wonderful day completed by trying to wake up the guy where we were staying in the early hours to let us in without waking his landlord who lived above and didn't allow visitors to stay!

Those were the days!

Best wishes

Chris Mossop

Lou Reed - note camera operator - so wheres the bloody film eh ! © Chris Keegan
---
It was nearly 30 years ago but here are the things I remember.

Firstly, my memory is that the weather was good, don't remember rain at all. Secondly, I remember Maggie Bell having some equipment problems that made her stop and, whilst the problem was being rectified, she said in her broad Scottish accent "It had te happen te me, right" – presumably a reference to the loss of her boyfriend Les Harvey who had been electrocuted on stage next to her a couple of years before.

I can confirm that Lou Reed did perform "Heroin" and that he was absolutely out of control from what I could see. He kicked what looked like a bucket of water over a TV cameraman at one point. I also remember being a bit surprised at his bleached blond hair after the black curls he had the last time I saw him live in 1972/3.


The late great John Entwistle Charlton 74
I was given a free copy of Montrose's album (which I still have) at the festival by someone, presumably someone from their record company, and, looking back, I'm amazed that it made it back home given the crowd.

The Who were, despite Pete Townshend's opinion, fantastic as far as I'm concerned. I too didn't sense any violence in the air (other than the good natured, minor episodes of bottle throwing which occurred at just about every open air event in those days). Pete's comment that we were the largest crowd The Who had played in front of since Woodstock was greeted with the loudest cheer of the day I think.

S. Smith
---
I recall both the 74 and 76 gigs as I lived nearby at the time and attended both. I was certain that Status Quo opened the first concert, I dunno why? I remember Nicky Horne from Capital Radio introducing the start of the concert on what was a fantastically hot day. I certainly remember Lou Reed with his bleached hair and Montrose whose set was superb and the effects from Sammy Hagar's Stratocaster were amazing. I consequently went out and bought their album Rock the Nation as a result. I seem to recall reading Sammy had some kind of gadget fitted to the scratchplate which emitted varying frequencies depending how far away his hand was.

Humble Pie started their set with Thunderbox as they'd just brought out the album of the same name. I always felt sorry for Maggie Bell as she went off after 20 minutes due to sound problems, by then the crowd wanted The Who on in any case. The stadium erupted when The Who came on stage a little late and were I think using a laser light show for the first time (unless that was '76?). All the bands were fantastic and apart from a bit of bottle throwing at the front, which was still going on about an hour after the gig finished, the atmosphere tempered with the weather made it a great day.

Keith Parker
---
Wow ! 30 years ago? I too dont remember any violence and i dont remember the rain either. We got there just in time for Lindisfarne to start their set, we didnt know Montrose had played till we read the report in MM the next week. What stood out for me was Humble Pie, i thought they were absolutely brilliant that day with Stevie Marriot on the top of his form. During the Who's set somebody had the bright idea of turning the floodlights on ( i think it was when they were playing 'See Me, Feel me') to reveal the whole stadium swathed with the raised arms of the audience.
A wonderful day.
M Barrie
---
hi

In regard to Pete Townsends comments about drunkeness at the festival. I remember not being allowed to take bottles and cans into the ground,it was either drink it or plastic containers so a lot of people were drinking bottles of wine in a few minutes to get in for a good place (i know my group did) which led to the inevitable hangovers a few hours later.

I left after being disapointed with Lou Reed's set (seen him 2yrs before with the tots), Bad Company opened the day I think it was their 1st gig, Lindisfarne were good. Friends who stayed said The Who were great but they ended up sleeping in Hyde Park as they missed the last train.

good site thanks

glyn
---
Hi
Recollections of Charlton 74 are indelibly printed in my brain.

We got there early enough for me to purchase a whole load of Who posters for 10p each,.that was one thing about the Who they didn't rip their fans off .The problem was by the end of the day said posters were somewhat creased ,I've still got them though.

First band up were Montrose ,they had Sammy Hagar singing and Ronnie Montrose playing a flashy silver guitar and weren't bad at all.

Lindisfarne were next, who had by then split into two with Jack the Lad being their other side ,they were really great ,a real festival band but I would have liked to see them further up the bill.

Montrose at Charlton 1974
Next Bad Company, by now the clouds had disappeared and it began to warm-up. I had been looking forward to Paul Rogers et al as Free are one of my favourite bands but I was a little bit disappointed as I think this was one of their first gigs.Rogers was all in white and Boz played well but Mick Ralphs was not Paul Kossof ,if you get my drift. I think they played "Little bit of love" last.
Now to someone very strange- Lou Reed was two years ahead of the pack at Charlton. Peroxide hair black leather jacket and drainpipe jeans when everyone (believe me ) was wearing flares.His first words were "Im fucking'' to which the bloke behind me added ''Yeah fuking ugly''.I've always remembered that .Anyway he had got rid of the Steve Hunter, Dick Wagner guitars and his band weren't up to much but he was so obviously a star.

By now I was dying of thirst and we set off to find fluids,we left our cosy little nook by the mixing tower and eventually found our way to the back of the stand where householders whose properties backed onto the ground were giving hundreds of people free water .I think there were very few outlets in the ground ,totally different to today.The people who lived around the ground were brilliant,bemused but brilliant. Anyway we then watched Humble pie from the vantage point of the huge terrace that existed at the old valley,I could be wrong but there must have been 25,000 people on that stand. The Pie were bleeding wonderful ,from that moment on I became a huge Marriot fan .They opened with whatcha gonna do about it and Marriot had 50,000 people eating out of his hand .That day they ran The Who close.

Maggie Bell, I have to admit I used her set to get closer to the stage .From what I remember she was a very brave lady,a Who audience aren't the most patient of animals but she growled and snarled her way through her set like a Glaswegian Janis Joplin. I wonder what she's doing now ? I have no idea.
Right -The Who.It wasn't the best set I ever saw them do ,but, they played songs that I never saw them play again i.e. Tattoo and I'm a Boy ,they did a superlative version of Young Man ,parts of the Quadrophenia set were the best I ever saw them do it. Add to this that Moon was on top form as was Entwhistle and even a bad Who gig knocks 99 per cent of other bands. Townshend I think got in a strop early on ,cussing roadies and his sound and unusually for Pete he didn't really talk to the audience,The trouble with the Who was you never knew which one to watch as they were all capable of astounding things.

Paul Trew
---
Hi there,
Firstly great site,Its in my favourites.

I was 16 when I went with my best mate Wayne Bridle to Charlton.We went really for one band and that was Humble Pie.
I can't remember the rain but do remember the sunshine.When it started we were about 20 meters from the stage on the left hand side.The atmosphere was fantastic where we were.
Not really sure about who was first between Bad Company or Montrose,but boy Montrose were fantastic.I think that 49,999 of the 50,000 people thought that. Fantastic band, Bad scooter ride,Space station No 5 and the rest.
Bad Company were good -can't really remember much of their set but remember enjoying it.
Lou Reed I thought was crap - until I heard him live.
What really has stuck in my mind up to this day is that the bottle throwing began in the set from Lindisfarne,it started when in one of their numbers they called to the crowd to "Stand up and clap your hands".Really bad call.I remember behind us people were shouting "sit the fuck down "and the replies from the people in front of us"Fuck you".

Then the bottles started going back and forth, the guy in front of me got one on his head,bad cut but he was so pissed it didnt really matter and the blood dried up fast with the sunshine and even with all the blood around we didn't have to worry about Aids then.


Still can't understand why they got Lindisfarne to play anyway.
Der Ox © Jimmy

It was time to move to the front for Humble Pie,this was pretty easy and we got right at the front a bit mid center on the side where Steve played.

I remember that after the concert there was a report in Melody maker or Music Express and I was in a foto taken from the stage,ANYBODY who reads this maybe you have this foto or magazine???

Then Humble Pie came on stage and it was fantastic,can't really remember the set but Thunderbox, No Doctor etc etc it didn't really matter what they played. Maggie Bell can't remember a thing,
I wasn't a Who fan at all,saw them once with support act Ian Dury and they didnt impress me then.

We left just after the Who started their set not because of the violent atmosphere but because we thought they were crap.Sorry if I have offended any fans but it was the talk of the town after the concert that Humble Pie were the best act and that Pete Townsend thought it was crap as well.

A great day its such a shame that I can't remember much really, but wouldn't it be great if about 40,000 people gave their memories on your site.
Thanks a lot and as Steve always said :Rock on"
Regards,
Kevin Hanson.
---
Don"t know if its me but i was at both the who gigs at charlton and remember the first one as being on a piping hot day when street traders were ripping us off for overpriced drinks through the railings...the 2nd gig 2 yrs later was indeed wet as i recall sitting on the then steep teracing with friends under sheeting to keep dry and warm sunburn was the order of the day in 74....
Philip Canty
---
Hi

My Experience

I was one of a crowd that attended The Charlton Rock Festival in 1974, I believe it was in the month of May.

Being a healthy rock fan of 19 I was into all the bands and musicians that appeared there.
Montrose opened as I remember, followed by Bad Company. Both gave estatic performances and Paul Rodgers was vocally talented as ever.

Despite it being a little wet, during the afternoon the temperature rose and it was quite warm. My friends and I sat on the stone steps that looked down across the fan filled, overgrown pitch to the stage.

Maggie Bell and Lou Reed both gave excellent perfomances, although very different in nature and style.

The crowd was well impressed with Humble Pie, A1 Performance and had the crowd in their hands as they went through their set.
The highlight of the day was of course The Who, by which time everyone was moving towards the stage and the heat was almost unbearable as bodies got closer and closer, a couple of people fainted and I felt close myself. The Who tore away for 2 hours, Pete Townshend jumping and doing his Windmill Guitar playing, excellent stuff, Roger Daltrey swinging his mic around in the air and catching it, really great showmanship.
What can I say, great rocking stuff!!!

When it was all over it took some time to actually get to the exit area as so many people there.

My only reservation was that the refreshment facilities could have been better. Taking 20 minites to reach the refreshment van only to be told no drink left, and this was at 4.00!! I could have waited for them to get stock but decided to get back to my pitch, thirsty.....

I did not myself witness and hostility and the journey back to Gravesend was quiet, as much as it could be!

All in all it was a great day and I am glad I was there to witness it.

Leslie Mayers
Gravesend
Kent
---
Congratulations on a great site - a small contribution if I may......


During the 70s I used to work at The Valley selling beer and hot dogs in the bars during matches. Our regular spot was a shed at the top of the main terrace, which was the sort of vast concrete standing-only room now long gone from English football stadiums. We were asked to do the catering for the concert, and thought we had a great spot for the day - but actually worked flat out non stop serving food and drink, and narrowly avoided some unpleasantness at the end of the day (more later). As other people have mentioned, there was no real attempt to provide enough catering or toilet facilities for the number of people the ground could hold - for football around 60,000 I think - and it was packed on a hot and sunny day (no rain that day folks).

Because of that I can't honestly say I remember the acts in great detail, although Humble Pie were definitely the most impressive in terms of sounds and crowd reaction. It is also true that trouble gradually increased throughout the afternoon, and we saw a fair bit of bottle throwing on the terraces below. Stewarding and crowd management was pretty primitive in those days.

When late on our bar started to run out of the basics and the lengthening (and by now fairly drunk/stoned) queues began to get agitated, we decided it was time to disappear, and closed the shutters on the pretence of receiving more supplies. There was actually no chance of the caterers bringing any more supplies up through the crowd - and no way for us to contact them for help - we were on a hiding to nothing. As a bunch of 6th formers of below average courage it didn't take long for us to work out that the hut would soon be overrun and us with it.

Maggie Bell © Jimmy
To add to the tension, we still had most of the days takings - several hundred £s ("a lot of money in those days" you may remember). So we hid it in a rubbish sack, together with all the miniature spirits, and slipped out of the side door one at a time to blend into the crowd and make our way to the north exit.

My last recollection is looking back from the gate to see about a dozen people pounding on the corrugated roof of the shed, with the panels buckling at the edges. I can only presume they helped themselves to the remains of the bottled beer and Wagon Wheels and had an evening to remember - or perhaps forget.

I think we got a couple of free beers for our troubles but missed the end of the concert - by the sounds of it no great loss.

Having said that, this day is one of my great memories of 70s rock and my copy of the programme (hidden in the black sack) survived and is carefully tucked away.

I have attached scans of part of a Charlton FC programme advertising the concert - don't know if you have seen this before. Reminds you that marketing and PR have come a long way.....

Regards & best wishes

Richard Polom
---
Bad Company © Chris Keegan
In this stadium, in front of a giant stage covered with the complete Elton John and Deep Purple PA systems (a kind of an atomic bomb in sound power), in this stadium THEY are gathered in the thousands, ready to react, to tremble, to vibrate, to suffer during 12 hours of Rock, let's properly say Hard Rock: the wearing down and bewildering rhythm of today' Great Britain.
Bunches of little balloons are flying up to the light blue sky, the air is filled with 'fish and chips' smell, some terrific lagerlike loos were dug around the place: down there, on the right, someone's doing a fast streaking. I can see girls who look like living fairytales, and one hundred bad gorillasready to make black and blue everyone who, like me, forgot to readily show his press pass.
All around the stadium there are horse mounted policemen with long menacing truncheons, and a very disciplined public who leaves mountains of bottles and cans out of the gates.
There are all the kinds of British flags, and Tottenham and Manchester scarves, all waving like banners from the Middle Ages.
Stretchers come and go, people are fainting, and fainting too often. An enormous, unknown crowd that makes you feel alone and scared, a terrible nazilike crowd, the Rock nazism for the price of a couple of pounds.
Lindisfarne are already on stage and playing, and I missed Montrose before them.Alan Hull & Co. have just changed their record company, from Charisma to WB, and they are the only band here who doesn't play Rock: a kind of an oasis, but unusefully scheduled too early in the line-up. They play a kind of very communicative funky-folk, with mouth harp instead of pipes and violins, and danceable rhythms and singalongs. They joke, someone throws up, a policeman enters the stage in the middle of a song and the group covers him with beer all of this brings the new-Britain people in the crowd out of their minds. To the other side of the public, to the old-Britain ones, the gigs and ballads are dedicated. Lindisfarne: a pleasant oasis.
Bad Company have a formidable , portentous bass sound: Boz Burrel (of King Crimson fame) has reallygot very skilled in playing his bass. Boz is the focal point in the music of Bad Company, the new group of former 'Free' Paul Rodgers (voice) and Simon Kirke (drums), with Mick Ralphs from 'Mott The Hoople' on lead guitar. I could compare Bad Company to another "Island" group, the Sharks, but they're less polished and heavier. The group is just in the beginning, but the nice guitar duels, an unique voice and Boz' bass playing make me foresee a great future.

Lou Reed arrives when Bad Co. are still playing, he appears from behind the stage and stands still for a moment, paralyzed by the sight of the enormous crowd. He's small and slim as a skeleton, the opposite of his current 'media' image of an apelike Frankenstein monster. His face is small and triangular, on the thin and malignant lips smile has died forever; he's got bleached blonde and very short hair and light blue glasses, he's a tiger disguised as a cat.
He slides and creeps onstage while rock rhythm beats hard; everything in him, the mimicry, the voice, is symbolic, every word is accompanied by a gesture to evidence the ambiguity, to show the hidden meanings, to push out every syllable. The spring inside his music is loaded through the incisive notes of "Vicious", "Heroin", "Sweet Jane" and "Walk on the Wild Side": the latest is a little masterpiece, soaked with Lou's typical timbre and painted by fugacious keyboards.
Then the spring is released. The band, lead by an admirable guitar player, leaps ahead with feline rage: the final piece, "Rock'n'Roll", is overwhelming. Lou leaves the stage, but the audience reaction is scanty, not too many cheers, to be true; maybe he doesn't satisfy the punters' taste, maybe a stadium isn't the right place for his music. Lou Reed is probably still looking for his own, personal live dimension, for a way to propose in the most various places his music, with gestures and mimicry, inborn and evident provocations and self-indulgence: his Velvet Underground heritage.
His performance at the Festival has likely been a test.
Humble Pie
I hate them, but a single can hardly win against 80000: 80000 x 2 it's 160000 arms to the sky, 160000 hands clapping the beat. Hard Rock nazism's got his moment, guitars burning like coarse words, deafening and heavy, tragically heavy. The crowd is delirious while Steve Marriot and Clem Clemson show everyone how easy is to become some kind of Slade.


While all around me I can see Eno, the Faces and Dave Gilmour coming to enjoy the show,Maggie Bell steps on the stage. Her voice is fascinating and makes the listeners to fly. She somewhat follows Janis Joplin' steps, but respecting her own personality and ambitions.

She too sings some Slade-like stuff, but in a more human, gentle way, a warm Bluesy way which asks the public for an answer, and doesn't force it. And she stands in the middle, her muscles hard and contracted, her voice a benediction.

Silver floodlights keep the night away, ears are buzzing and TV cameras, broadcasting in real time, move through the stage curtains. How to become and stay immortal, this is what The Who are going to show us soon. Four men who can tame, even destroy the will of 80000 people. They spout out overbearance from every pore, they're hard but melodically irreproachable,
they're monsters charged with thousands of watts: the Who open air live in front of an immense crowd are really frightening. Nevertheless the band isn't in top form: the beginning is dazzling and busting, the following part is tired and rambling, with a series of mistakes, disappointing the players first. But anyway, looking at this Rock celebration, you understand how much the Who are myths, half-gods of this unrestrained sonic expression.
| | |
| --- | --- |
| Backstage antics | Pete arrives by limo |
The violence thrown on instruments and amps now assaults the listeners and nails'em with screams, on the huge space of certains fugues of notes, on the dynamically held stage.
And the Who, with the same relish for playing of their debut times, accept anytime the challenge born with "My Generation", the charismatic power of summing up in themselves the entire meaning of a generation, its violent joys and fluctuating alienations.
Marizio
---
I'm an American who was there for the 1974 concert in Charlton and along with all the all the other commentators, I want to say the bands were tremendous. I especially loved Lou Reed and also The Who. Nearly as fantastic as the concert was the exit from the stadium where thousands of us came upon a long line of double decker busses and the bus drivers let us all ride for free, and we packed them way past capacity and the busses drove away in a caravan with many of the participants singing "Magic Bus". After a significant ride, I got off in downtown London and forgot where I was staying and ended up sleeping in some kind person's front yard near Piccadilly Square. When I woke the next morning I was transformed.
Thank you, London,
John Funk
---
Hi guys,
I was at Charlton in 74 as a 19 year old hippy. Near the front, the very front, so I have been scanning some of your photos. I'd like to pick up one tiny detail; my recollection is that Bad Company were below Lindisfarne on the bill but come showtime, BC couldn't be found so Lindisfarne went on early. And were brilliant, as were Humble Pie. When BC came on they were absolutely awesome but I suspect they were playing showbiz games. Came to know the repertoire later but was struck by the quality of the material on first hearing.
Maggie Bell had a lot of stuff thrown at her as she was on just before the Who and some folks were impatient. And she wasn't well known and didn't become well known (Taggart excepted!). The Who and the rest of the bill were mainly for boys, I think anyway so she never really stood a chance.
Montrose were an unknown quantity but impressed and were, of course, a geetar band and so on the right bill. I really enjoyed Stevie Marriott, particularly "I Don't Need No Doctor". Outstanding.
There was a bit of violence, some fighting and stuff but nothing dreadful, I do recall a guy with a lot of blood coming from his head but bottle or fight, I can't recall. I also remember Pete remarking that they were coming on at sunset, recalling another gig they did at sundown ie Woodstock. It was hot but overcast. I did see a BBC film of the show but the sound didn't do them justice, the lighting and the lighting effects were groundbreaking for their time but as a Floyd fan ( Rainbow benefit for Robert Wyatt and Knebworth 75) not a patch!!
For my money, the Who were in their pomp and this was as good a gig as I have seen, not the best ,but up there.
The food and drink situation wasn't great but there was plenty of other refreshments available and were freely shared!! Happy times.

Liam Logan
---
Hi!
I remember well the Who's classic Charlton gig in 1974 - my brother & I went to many such big one-dayers in London in the Seventies, including other fantastic Who gigs at the Oval & Wembley; it's now (gulp) 44 years since our first Who gig in Derby!

For some reason, we took a little cassette recorder with us to Charlton, and its batteries held out long enough to allow very crude audio memories to be captured - the tape is still intact,though unofficial DVD / CD versions are preferred.

It was a great day out, and I remember Humble Pie's brief but rockin' set and particularly Bad Company's first UK gig - Rodgers & co in superb form.
The Who were brilliant, too - not their best ever show, but the atmosphere was electric even at a fair distance from the stage up on the massive banked terrace.

Can't remember the rain, but if others say so I must have been just lost in the music - yes, as one other contributor said, the Who were/are indeed a transformative band - at their peak, the greatest rock band I've ever seen. Only Bruce comes close!

Love to Pete & Roger & the memories of Keith & John - and all true Who fans everywhere...Long Live Rock!!

Dave & Paul Mortimer, Birmingham.
---
Hello,
I have just come across your web site following a search for info on the above concert. I was lucky enough to have been there: wonderful weather and fabulous music.
Some information I can give you is that Humble Pie, in addition to the tracks you have listed, played "Thirty Days in The Hole". I definitely remember this quite clearly. I also think they played " Hallelujah I just love her so", but I am not as certain about this.
I also remember Lou Reed kicking a drink with full force, at a cameraman from point blank range. I don't know if the guy was hurt or not.
The transport getting to Charlton was pushed beyond the limits. I ended up missing Montrose and most of Lindisfarne due to delays on the tubes. Fortunately for me, Bad Company came on after Lindisfarne so I managed to see all of their set.

Many thanks,
David Booth
---
OK, you asked for it!!! Charlton 74!!! One of the few warm fests I attended in the 70's!!!
Top line up with The Who being one of my all time greats, have seen them so many times, this was one of the first and Wow!!! They blew my sox off!!! (and due to being out of it they don't even remember it I saw in and interview recently!) This day just worked from start to finish, the bands the weather and have to say the crowd. The band pics feature Bad Company (Paul Rogers supporting white hat), Humble Pie, following Lincoln it was sure good to see these guys again with some sun above them! Another fine set, and the other is a rather red/blond Mr Lou Reed....just a perfect day!
Again, hope you like.
Cheers
Chris
---
was in London visiting a friend when I heard about the show, so we decided to make the trek out from town. I don't really remember the violence, but that may be from the fog of intoxicants or age, or from the fact that we were towards the back on the lower part of the terraces. I do remember thaat Humble Pie and Lou Reed were especially good that day, and the Who, although good as usual, seemed out of sorts. I guess it wasn't ntil quite later when I read about the violence and hooliganism that it made sense. I still have my ticket from the show and am presently in negotiations to purchase a kiosk poster from the show. I still have pleasant memories of the event despite it being 36 years ago.
Steve Sokoloff, Missouri, USA
---
I arrived at the Charlton gig a tad late. I had missed Montrose and walked in just in time to hear Lindisfarne telling us all to 'have a wet on the wall'. Great tune and I really enjoyed the folk harmonies and pure musicianship displayed. Very soon after that the stage was being rearranged for Bad Company. I took the opportunity to find a better spot and found myself about half way down the pitch near the mixing board. Not a bad spot to see this new band.
I knew of Free and knew Paul Rogers had a great voice. I was surprised by Mick Ralphs though. Really tasty licks and sound. Not what I was expecting from someone out of Ian Hunter's band. Boz impressed me even more. I had never seen a musician play a fretless bass before. All in all, they laid down a great set and the crowd was appreciative considering most of the material was brand new! I hoped that Montrose was received the same way. I did ask someone what they thought of Montrose and the response was good. As for Bad Co., I made a point of buying the debut album and just about wore it out.
Next up was Lou Reed. To be honest, I have no idea what the other guy was talking about raving as he did about this odd creature. Yeah, dyed blonde hair but what everyone seems to have forgotten was the black iron cross on one side of his head. He raved about his majestic gestures and movements. What this was was turning sideways to the microphone and miming masturbating a three foot long cock. I am not a person who is easily offended but this guy managed it. He can't sing and his stage act was lewd and pointless. The one song that people seemed to like was the overplayed Walk On The Wildside. The crowd didn't like him, which was rather understandable. He was crap. There was a story that came out later that Reed didn't want to go on and that he had to be threatened with bodily harm before he did. The rumour was that it was Pete Townsend doing the threatening. Sorry, Pete. You could have done us all a favour and let the wanker escape!
Next up was the lady that I came to see; Maggie Bell. Powerful voice soaked in whiskey and cigarettes. To be honest, I don't know if she smokes or not, but that is the general effect. I am a huge Joplin fan and loved Stone The Crows. I was massively disappointed when she left the stage after only a few songs. The guitar player was having problems with his amp and it kept cutting out. No amount of kicking and punching the thing helped and she walked off in disgust. Too bad. What I had heard up to that point was great, crackling guitar notwithstanding.
Next up were Humble Pie. What a rockin' band! The set rocked from one end to the other. It seemed very short but that may have just been relativity. I do remember Steve Marriot coming to the mic and showing us his bleeding fingers and saying that this blood was for us, or something to that effect. I would very much have liked to have seen this band on their own as a headliner, but that was not in the cards. Great show and I would have liked to have seen more. Just think, if Reed had run away, we could have had more Pie. Ya gotta love havin' more Pie!

After what seemed an endless wait, The Who took the stage. And they didn't just take... They stormed on! I will never forget this moment. Pete Townsend charged out, hit a chord, threw his leg over his mic stand and fell to the floor. What an entrance!!! To be honest, The Who were not the band I had come to see. That was Maggie. But The Who were a major bonus. And what a bonus!!!
I think I should point out that during Maggie's short set I had moved much closer to the front and was one of those pelted with a variety of items. In the end, I was just a few layers back from the front just to the right of Pete Townsend. Roger Daltry was in great form as was the Ox, his fingers flying over the strings of his bass. Moonie was nothing short of amazing.
The Who were asked by the BBC to redo one of the songs. This is something that seems to have been forgotten. This may also be why the film looks a little dull in the beginning with Substitute i.e. not many antics by Pete and the missing tumble I mentioned. Mind you, I have never seen the video of this show and it would be a nice addition to my collection.
I remember Pete talking between songs about how the last time they had played at sunset was at Woodstock!
I remember buying a pint during the show and being ripped off by the vendor. It left me without enough money to get home! I therefore had to walk... From Charlton to Balham. A bit of a jaunt. I also remember being somewhat dehydrated. The expensive pint probably didn't help that. I did however run into a mate of mine and we made the stroll together, he leaving me at Streatham.
One of the reasons I remember this particular festival better than the many I have been to was that just a few weeks after this great show, I immigrated to Canada. Fortunately I have returned to civilization after semi-retiring. The other truly memorable show I attended, just a few months earlier, was Wishbone Ash at the Ally Pally just before Christmas, but that is another story.
Cheers!
Steve
---
My memories are

Humble Pie were fantastic, bad company were good.

The laser light show was a bit pathetic even for those times, just laser beams pointing in different directions.

We sat under cover but the people on the field went bright pink.

Regards
John
---
I have just come across your website and am completely impressed at the quality and amount of work it must take to undertake this kind of endeavor.

I was a 21 year traveller from Vernon, BC Canada at the time and had been travelling through Europe for 9 months at that time when I had the opportunity to take in the event. I ended up taking everything I had with me, including a large backpack including sleeping bags etc. and got to the grounds early in the day. I'm sure I wasn't sitting too far away from where one of the pictures was taken as I was sitting center right in the midfield, facing the stage.

I don't have anything to add on the set lists, and didn't have any feelings of being insecure while at the concert. The one thing that I do remember well was how loud The Who were. I eventually had to keep my head and body below the level of other people at the concert to avoid feeling sick from the pressure of the sound on my body,

It was a beautiful day, as many of the others have noted. I ended up sleeping just behind the stadium in a grassy area and taking the buses the next day into town.

All in all a wonderful experience, which I've enjoyed being able to tell people about for the last many years.

Regards

John Blatchford
Vancouver BC Canada
---
Hi,

I was on the big main terrace halfway up directly opposite the stage but with a real good view.

I seem to recollect Montrose switching off the sound halfway through a song but still playing and then after a short while switching back on again to great effect.

Also the Who came on as it was becoming dusk and in mid set by the time it was dark switching off the stage lighting and having the floodlights come on which was really effective as the stage was almost dark but the whole crowd was lit up. It was a sea of pink bodies as it was warm and a lot of us had taken shirts off and I looked behind me to see people seemingly go up forever on the terrace.

The BBC filmed the show and it was broadcast shortly afterwards and then again within a couple of years but probably not since (or not in it's entirety).

I think Pete Townsend didn't rate their performance too much but I thought it was fine.

Saw them again at Sheffield Arena about 10 years ago (with a free ticket) and wasn't keen on going as I thought Keith was the best drummer ever but Zak Starkey was incredible. ( he is !!!: Ed )

Regards,

John in Grimsby
---
When we went to the festival that day we had only been in the U.K. for a year, having arrived from Australia with great expectations. As a guitarist I had recently got a gig touring with Alvin Stardust, his 48 date English tour had only started in Birmingham on the 12th March, so I was lucky to get some time off to go and see some great music on 18th May.
London was still a big new place to us then and even getting to Charlton from Highbury where we lived was an experience, getting home again was to prove to be even more interesting!
My memory of the concert is a little hazy, and I sure am glad I took the photos as they certainly do bring back the feeling of the day. My vagueness may have something to do with the fact that we had split a tab of LSD between us, like you did in those days.... a mild dose, but still...
I remember loving it all, especially Humble Pie. We had always loved the Small Faces and seen them in Adelaide when they toured Australia. We had also seen Free when they toured Oz and were to become big fans of Bad Company... great to see their first gig.
I know for sure it was sunny by the paper hats we improvised, as seen in the pics. I also remember being a bit over it by the time the Who came on. It was dark by then, and I seem to remember seeing missiles silhouetted against the lights while the Who played. I don't remember venturing away from our safe spot high up in that enormous stand, but Terry tells me he remembers making his way down to the stage in a "swirling mass of people".... mind you he was tripping!
Perhaps one of our strongest memories is of trying to get home. By the time we made it to our connection, the tubes had stopped, and we were all busting to go to the toilet! Easy for the boys, but I think even the girls had to avail themselves of a secluded stairwell! I guess eventually we must have got a cab home.
The four of us who were there that day, now nearly 37 years ago, were two young couples who were best friends. Me (Tony) with Wendy, and Terry with his Stella, and the amazing thing is we are still together as couples and still best friends. That must be some sort of record!
And a great memory to have in common as well.
Tony F
Melbourne, Australia
---
You want memories of Charlton? We believe the gentleman walking through the crowd in the centre of the Chris Keegan photograph (him with the stripey top and sideburns) is our dear old mate Joe. Joe really was a gentleman and drove me, Ken and Bone to the concert that day. He died a couple of years ago and we all made the funeral except Ken who now lives in Oz and had forgotten that his passport had run out. When I saw that photograph on your website for the first time it was almost like having him back.

While my memory of the day was good, as others have said alcohol was banned so we'd had a few before we got there and I think the problem was that most others had too so they were out of their heads early. Possibly the ban was what caused the problems since some people had gone out of their way to get out of it before they got to the stadium. We were OK though because we had a good supply of herbal ciggies to see us through the day.

I remember being disappointed with Lou Reed. In my opinion he should never have got rid of Steve Hunter but other people obviously think otherwise. One of the highlights for me was a third chance to see Maggie Bell. I'd first seen her with Stone the Crows at Weeley in '71 and she was outstanding, solo at the Rainbow later and absolutely loved her voice and style. Unfortunately a few pissheads thought it was clever to ... try to give her a bad time. But Maggie, you always will be one of the best.

The Who were magnificent. I'd seen them a couple of times before (at The Oval I think was one of them), but this was special. I will always remember being spellbound in the darkened stadium while the opening bars of Baba O'Reilly rang around the stands. And Roger Daltry singing See Me, Feel Me ... unforgettable.

My personal memory was that I had one of my favourite T shirts on that day. Purple, gold and black but because it was so hot during the day I'd taken it off and some b*****d stole it. When night fell it got very cold and I had nothing but my jean jacket. My wife thinks the bloke with no shirt on behind Joe (in the picture mentioned above) is me, but I'm not sure because I don't remember being on the pitch although Joe always went for a wander when we went anywhere (usually at The Lyceum and The Roundhouse). Anyway when night fell I froze. But a day I'll remember for always and thanks for the photographs to make it all clearer.

Cheers, Rob.
---
A couple of friends and I, from North Carolina, took the train out to the show. We had picked up some Mateus wine and came to party. I remember a bunch of jerks behind us shouting 'sit down!' Someone threw a beer can, not the flimsy aluminum ones we have now, and caught me on the back of the head. I was furious and turned around to see who'd thrown the can. I remember like 100-250 people right behind me looking like 'what's he gonna do?' but not one of them laughing. I'm 6'3" about 190 at that time. Suddenly I realized how stupid the whole situation was, of course no one would throw something like that in the US at a concert unless they were on PCP! We got there as Bad Company was playing, great show. Humble Pie rocked! I remember Steve got pissed off because no one seemed to be that into it, but then the crowd got behind them. 'I don't need no doctor' was awesome! Of course the Who is my favorite, but we had to run to catch the last train back into London.
Dave
---
Actually a question who is with maggie Bell in the pic?(playing guitar) i was at charlton that day but we(my ex and i) we were way back in the crowd and had heard, rather than seen up to, Bad company, but got very uncomfortable with the heat and lack of hydration and food(was in my fourth month of second pregnancy) decided to leave the grounds and go up town to find a burger king. It dawned on us by then, that we had come to see the Who and were going to miss them,so made way back,only to show ticket and was refused entry.As we stood away our faces must have said it all and in a flash which can only consider a miracle, a guy thrust tickets in our hand and mubbled something like he didnt need them anymore.When we looked they were press passes! We or rather i was just waiting for any moment to have the hand on the old shoulder to say what you doing with those, but it never came and we sat, looking down on the who, and the crowd! So big belated thanks to that guy whoever you were.
Anne
---
It was a great show I remember Steve Marriot's reference to red Lebanese and how it brings you to your knees, funnily enough I had an ounce of the
the very same so I knew exactly what he was talking about!! Lou Reed was there in name only , "take a walk on the wild side" was barely recognisable.
The Who were brilliant even though Roger Daltry had microphone problems clearly indicated by the way he started smashing one of them into the side of one of the speaker cabinets and swearing at some poor misfortunate sod on the side of the stage! At that point in their career they were doing complete shows without encores, the problem was that no one told the audience who in turn showed their objection in no uncertainty by throwing any thing and every thing at the stage!
When all had settled down, the grounds manager came out to explain that the show had been a great success and that he was looking forward to holding more concerts in the future , but the Who had left the grounds .Some fan (quite a distance from the stage I may add) threw, what to me seemed to be a full can of coke and it hit the manager right in the middle of his forehead literally bringing him to his knees, 2 very brave roadies came out to pick him up and before he left the stage he managed to tell us that there would never be another concert at charlton as longas he lived . They are the facts if I remember them correctly .
Yours sincerely
Tim Bowles
---
Hi I'm old Rawli,

I was there in '74 I was 21, thin with shoulder length hair with a mountain of a man called Hadge (turned out to be good protection), we were bumpkins from Suffolk.
By the way, Boz Burrell, came from a village about ten minutes from me. I had been to several festivals before this and "BOG TRIPS" here weren't a patch on Weeley near Clacton (at least an hour through the crowd when halfway from the stage).

The things the old grey matter throws up are:-

Steve Marriott being stupendous, he was brilliant, small man, small plimsolls, huge voice. I think I knew and liked every song he did. Maggie Bell was good too but seemed a little out of place, (bog time), surrounded by some fairly heavy rock. Bad company were my favourites and I had seen them many, many times, so can't remember them too well. I was surprised that Lou Reeds backing vocals doing the "do ti do" stuff on walk on the wild side were guys that sounded like drag artists.

I agree with Townshend,I had never felt threatened at a festival before, but some of the crowd seemed downright evil. We were in the football stand, quite a few of the crowd were looking round for people to beat the shit out of, spending the whole gig with their backs to the stage. Hot dog stands were overturned, causing small fires and crowd burns. Some guys had been watching from the top of a double decker bus? at the back, this was rocked so violently that they fell off one by one. I must admit on the way back to the station I was called upon to hold Hadges' tasselled waistcoat quite a few times, once on the train we seemed to be going the other way to everyone else so it was much quieter.

All in all it was a great festival and a chance to see some brilliant bands.

Regards

Rawli.
---
I was at the concert. A crowd of us drove up from Eastbourne. I am not a drinker or drug taker but the crowd was very lively in that respect. The queue for the loo was about half an hour and food and soft drinks were scarce, I sold mine at a good profit having bought all the ki-ora the guy had.
The music was good especially Humble Pie, Lindisfarne, Bad Company and the Who. Lou Reed was so out of it and slurring that he got booed off pretty quickly after Walk on the Wild Side, with cushions and much else to hand being thrown. Maybe that is where Pete Townsend got the impression of a violent crowd from. I think the crowd were fine, just pissed off at Lou's lack of respect for the paying public. It's a pity, he was great normally.
It did rain in the morning a little, but it brightened up and dried everyone out (in the warmth sense) as the day progressed.
Best
Ian Comer
---
We need a lot more personal reports of this show, can you help ?

---
---
If you can help with information of any sort on this concert please Contact us