The Archive.

Best viewed at 1280 X 1024 res
---
Last update Dec 2007
---
The Knebworth Park Festivals.
Oh God, Not Another Boring Old Knebworth: September 9th 1978.

The Tubes, Frank Zappa, Peter Gabriel, Boomtown Rats, Rockpile, Wilko Johnson's Solid Senders
---
Band photos , recordings and setlists.
The Tubes
Get over it
What do you want from life?
Strung out on strings
Slipped my disco
Smoke (la vie en fumer)
untitled instrumental
Don't touch me there
Mondo bondage
Telecide excerpt
San Francisco
Getoverture


Terrorist of rock
I saw her standing there
Drum solo
You're no fun
Boy crazy
Stand up and shout
White punks (blues)
White punks on dope
E:Baba o'Reilly*
Kids are alright*

Audience recording 90 mins B+

photo© Parcan
Visit the Tubes Project site for the latest news on the Tubes documentary
Fascinating recording, the early parts are punctuated by shouts of "sit down you bunch of cunts" and "fucking sit down you animals " , so obviously a portion of the audience were standing and a portion resented it - typical British, why won't they stand up and dance !
Frank Zappa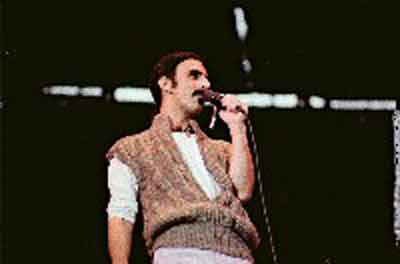 Zappa at Knebworth 1978 © Alan David Perry
- purchase photos from Knebworth 78 from his site
Rubber Slices (The Deathless Horsie)
Introduction and Soundcheck
Dancin' Fool
Easy Meat
Honey, Don't You Want a Man Like Me?
Keep it Greasey
Village of the Sun
Poor Suckers ["The Meek Shall Inherit Nothing"
City of Tiny Lites
A Pound for a Brown on the Bus
Bobby Brown
Conehead
Flakes (part 1)
Flakes (part 2)
Magic Fingers
Don't Eat the Yellow Snow
Nanook Rubs It
Saint Alfonzo's Pancake Breakfast
Father O'Blivion / Rollo
Bamboozled by Love

Personel:

Frank Zappa
Denny Walley
Ike Willis
Tommy Mars
Peter Wolf
Vinnie Colaiuta
Ed Mann
Arthur Barrow
Length: 90 min B TO B+

Audience recordings from four sources. The best is excellent in parts , being recorded on a Uher deck ,with only two breaks as the tape was flipped, audience noise is minimal, although the sound fluctuates a little due to wind . Some sources have dropouts and more noise and far less definition .
Peter Gabriel
CD - The Lamb Gets Fleeced At Knebworth
Audience B+

Intro
On The Air
Moribund The Burgermeister
Perspective
Flotsam And Jetsam
White Shadow
Here Comes The Flood
Waiting For The Big One
Whiter Shade Of Pale
Slowburn
Home Sweet Home
I Don't Remember
Solsbury Hill
Modern Love
The Lamb Lies Down On Broadway

Peter Gabriel at Knebworth 1978 © Alan David Perry

- purchase photos from Knebworth 78 from his site
---
Contents.
---
If you can add in any way to this material ,please Contact us.
---
A Midsummer Night's Dream -Knebworth 6-24-78
---