The Archive
---
View at 1280 x 1024 for best results .
Last update September 2010 . New photos Led Zeppelin !
---
The Knebworth Park Festivals.
Knebworth Park Concerts

August 4th & 11th 1979.
| | |
| --- | --- |
| Photo© Ken Walton 8-11-79 | |
We now have so many photos of this festival that they are spread across all site pages , if you want to see them all you need to visit ALL the pages- even the festival documents sections .
August 4th 1979.

Led Zeppelin, Todd Rundgren's Utopia, Southside Johnny and The Asbury Jukes,The New Commander Cody Band, Fairport Convention ,Chas and Dave.

August 11th 1979.

Led Zeppelin, New Barbarians, Todd Rundgren's Utopia , Southside Johnny and The Asbury Jukes,The New Commander Cody Band,Chas and Dave.

Master of ceremonies: Nicky Horne
The final Knebworth festival of the decade and also the final festival promoted by veteran promoter Freddie Bannister at Knebworth (or elsewhere for that matter ).The return to the UK of Led Zeppelin, after a four year hiatus, was to prove an artistic success but a financial disaster for the luckless promoter, who was , it appears , a victim of circumstances, not all of his own creating .

Although Zeppelin had still a BIG audience in the UK , there appears that there were not enough fans prepared to attend two concerts on consecutive weekends in sufficient numbers to make the second concert viable . Although over 100,000 punters attended the first concert , according to Bannister only 40,000 made it through the gates on the 11th (although some sources estimate it as high as 80,000). Whatever, far fewer people attended on the 11th and Zeppelin's management were in charge of the money .As a result of the overestimation of the popularity of Zeppelin by all concerned , big money was lost on the second weekend- but probably it was only Bannister who took a beating .

Just how many attended will probably always be a bone of contention. Figures of 250,000 on the 4th are being bandied about and the total estimate for both weekends is often given as 400,000. This is debatable , photos we have of the concert grounds on the second weekend clearly show large patches of unoccupied space , attendance for this weekend was definitely far less than on the first.

Freddie Bannister argues in his book that the projected figures given by Grant for attendance on the first weekend just do not add up. He quotes figures from the report by Mr Pruette , the licencing officer for the 1976 Stones concert held on the same sized site , which estimates one acre can reasonably be expected to take about 3,000 people ( Department of Environment Report on Pop Festivals ). To accomodate 250,000 persons therefore would require a site of more than 83 acres. The actual size of the concert site was 36.4 acres and this included the stage area .
Mr Pruette further stated that even with an estimate of 4,000 persons per acre, only 24 acres were densely occupied and 8 acres were lightly occupied , this gave a total of 109,000 people which was the number Freddie Bannister had given to Grant .

Has anyone considered the possibility that this is correct and that others involved are massaging the figures so that they complie with the ethos that "Zeppelin are the biggest band ever and have to break ALL records ? ".
Given the overblown mythology that surrounds the band , and given that their manager was by all accounts becoming much harder to deal with and tended to suspect almost everyone of dubious intentions towards his boys, perhaps this is a possibility that should at least be considered by anyone who wants to remain objective about this whole sorry affair. If the figures are what the Zep camp stated, how come Bannister's company went into liquidation?
Lets do some quick calculations, say 300,000 in total attended over both weekends at £7:50 each, that equates to £2,250,000 . If Zeppelin were paid one million, as some sources quote , it still leaves £1,250,000 in the kitty . The stage and sound system apparently cost around £100,000, Bannister mentions that he offered Ian Dury £100,000 in an attempt to pad the bill to get more people to attend, so say we take a ball park figure of another £500,000 for the rest of the bands (as none of them were MAJOR acts in their own right ) that still leaves £750,000 to cover the rest of the costs, it should have been possible to make a decent profit.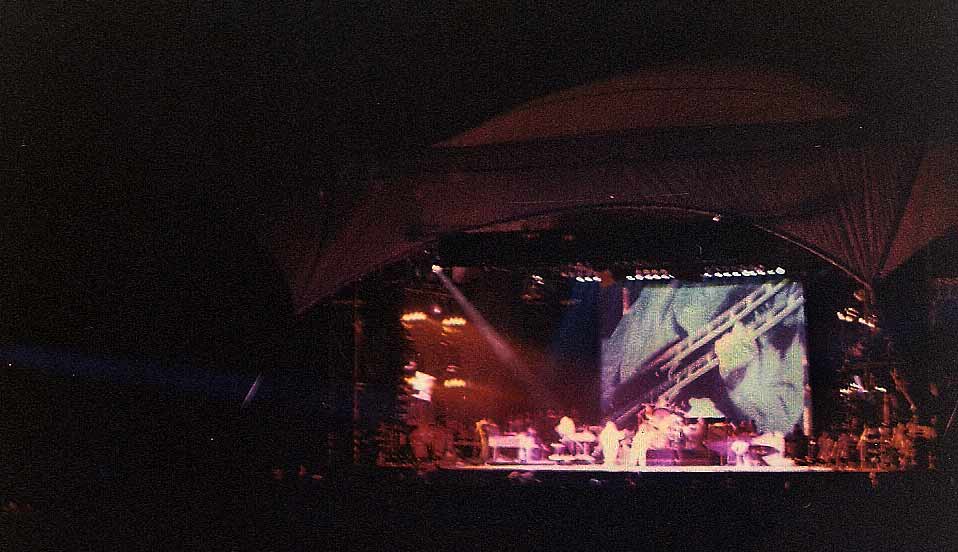 © Jacques Luce
However, if we take Bannister's own estimate of total paid attendance as 150,000 then the sum reduces by half and then we see that it might have been very hard to justify any profit , even if Zep had reduced their fee substantially, as they initially had proposed to do when weekend two looked like it would only attract a small crowd, as Freddie states in his book. Also, the million pound sum mentioned on some sites as Zep's fee doesn't bear scrutiny. The licence was for 100,000 people per show. At £7:50 a ticket that equates to £1.5 million take at the gate, deduct a million for Zep and there's not much left over to cover the other costs, policing, other acts, stage , sound system, the Cobbolds- it just doesn't make economic sense unless Bannister was deliberately planning to sell far more tickets each night than he was allowed to, which we doubt would have happened as he would have risked losing his licence to hold more events at the site. Also ,there was no way he could definitely know that he would attract 100,000 or more for the second show . its possible we suppose if he was desperate, but why would he have agreed to pay such a vast sum when he knew he could not have covered his costs unless he could pack an audience that was over twice the size of his agreed limit into a site that was designed to hold 100,000 ?
The sad truth is that nobody can definitively state how many attended, (we've taken our figures from Freddie Bannister estimates, Mr Pruette and lastly the festival welfare services, who give figures of 150,000/200,000 for the first weekend and 80,000 for the second - although they don't give any sources for their estimates ) . Its notoriously difficult to estimate numbers in any crowd and you can make any sorts of claims about crowd sizes depending on your motivation.We prefer to be conservative in our estimates rather then bandy about vast numbers because they sound good ! We will allow that there could have been a large number of gatecrashers ( a section of fence was breached on the first weekend ) and there is always the possibility of those on the gate letting people in for cash in hand rather than issuing tickets, but for those events to have collectively amounted to over double the agreed audience, we have to say....we don't buy it .......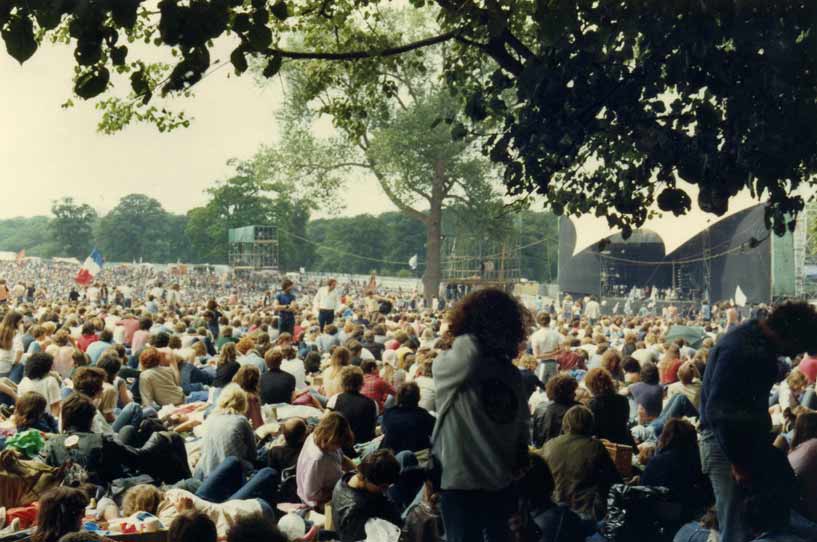 The crowd 8-4-79, go on start counting ....
Photo © Ove Stridh
There is no doubt that Zeppelin's management believed that they had been misled as to the number of tickets that were sold at the first show, ( the press were reporting an audience of around 200, 000, which is not unusual , as they always exaggerate as a matter of course and rarely let reality get in the way of a good story ) , so a gentlemen's' agreement between promoter and band to re-negotiate their fees for the second show if attendances were not looking good was dropped and Grant insisted in taking over the gate on the second concert to check ticket sales. This led to a great deal of unpleasantness between promoter and management . Bannister says that when he received the ticket receipts for the second show from the Zeppelin camp , they amounted to 40,000 attendees , including prepaid tickets .
The costs incurred with actually constructing the gigantic stage and lighting rig that Zeppelin specified, as well as keeping it intact for two weekends, plus the cleanup of the site twice and the additional costs that were needed to provide policing and security , were to prove the straw that broke the camels back. The financial loss suffered by Bannister led to the liquidation of the Bannister's company, as they had had to shell out substantial fees to both Zeppelin and the company who were providing the sound and lighting . They had needed the second weekend to be a success if they were to make any profit and as this did not occur they had to bow out of festival promotion, a great shame as Freddy Bannister had been one of the better UK promoters , tending to provide facilities for the crowd that were absent at a number of other similar ventures of the era.
Led Zep autographs contributed by one of the stage crew , John Harrison ©

In the past five years we have collected a lot of photos and memorabilia of the two weekends, but given the size of the crowd and the polularity of Led Zep, we really still need more personal accounts . This can only happen if we get this information from you .So far only a relative handful of personal accounts have trickled in , are the attendees all brain dead or have they simply forgotten how to write ?

Please use the links to add your experiences to the site. We look forward to hearing from you. Contact us
One of the photographers featured on this site, Pete Stiil ,took many high quality images of Led Zeppelin at the concerts, he subsequently sold prints of the show for a number of years, until he lost the original negatives. Naturally Pete is trying to obtain scans of the prints , if he sold you a set, he would love to hear from you
---
Hi all
You may be interested to know that my good friend and Tight But Loose editor, Dave Lewis, has marked the anniversary of the festival on his website, here:

You will also notice that Dave has published a book about Zeppelin at Knebworth called 'Then As It Was'. It features many many reminisences from the fans about that festival event, and I thought it might be worthy of a mention on your website?? More info here:

Cheers
Gary Davies
---
Contents.
---
If you can add in any way to this material ,please Contact us.
Offsite Links.
The events in this tangled chain can be read in Freddy Bannister's book, " There Must Be A Better Way " , which chronicles his adventures in promoting the giant concerts at Knebworth from 1974-79. More info about these concerts can also be found at the Knebworth House site and at Rip Gooch's site, which contains substantial portions of text from the now defunct book Knebworth Rock Festivals, by Chryssie Lytton Cobbold , and finally , at Kevin Shewan's Knebworth 79 pages .
---
Can we get a witness ?

We have been endeavouring to collect as many recordings of the artists that featured at these concerts as possible, so we can effectively review the performances, provide set lists and band line-ups. Any info displayed on these pages or which is sent to us for review remains the copyright of the contributor and the Archive makes NO PROFIT from its use. The intention is to also display as many personal histories of the festival as possible for the benefit of readers of the site and we welcome all written contributions, no matter how long or short.

If you can contribute in any way, with tapes, reviews , photos or personal histories, please Contact us

---

Knebworth Concerts 1974-86

Knebworth links
---