The Archive.
---
Updated July 2021-photos of Atomic Rooster and Roxy

The Great Western Express Festival.

Bardney . Lincolnshire.
May 26th-29th 1972.
---

The Festival Line-up.
I wasn't attracted to this festival at the time because I was not really a great fan of many of the artists who appeared on the bill and I had already spent whatever money I had on attending Bickershaw earlier on in the month . In retrospect, the number of artists appearing is pretty huge and features some bands that went on to become major artists in the latter half of the 70s and beyond, such as Genesis and Roxy Music ( left: their debut performance ) . There were also many worthy artists such as Rory Gallagher, Humble Pie and The Incredible String Band - , BUT all said and done , compared to festivals such as the Isle of Wight or Bath there were not that many big names that would draw fans from the far corners of the country to attend.

The Giants Of Tomorrow tent was somewhat inaccurately named. As far as I know none of the bands apart from Budgie went on to any degree of fame and fortune - although the relatively unknown Jade Warrior deserved far more success than they ever achieved . It may be that many of these bands did not perform in this tent , as one of the marquees is reported to have collapsed and been abandoned due to the high winds. Its also likely that the program of events was not adhered to strictly as happened at many festivals of the time , due to delays caused by the weather .
---
Timeline
Friday May 26th

Main stage

Alexis Korner

Doctor Ross

Buddy Miles

Rory Gallagher

Saturday May 27th

Main stage

Sunday May 28th

Main stage

Monday May 29th

Main stage

Jackson Heights

Atomic Rooster

Vinegar Joe

Sutherland Brothers

Status Quo

Don McLean

Humble Pie

Sha Na Na

Joe Cocker


Giants of Tomorrow Tent

Giants of Tomorrow Tent
Giants of Tomorrow Tent

Budgie

Walrus

Skin Alley

Tea and Sympathy

Mark Ashton

Capability Brown

Sunrise


Byzantium

Akido

Sleaze Band

Smith Perkins and Smith

Patto

Bitch

Jonesy

Good Habit

Demmick and Armstrong

Gnidrolog

Spreadeagle

Morgan

Magic Carpet

Mahatma Kane Jeeves

Jade Warrior

Curtis Maldoon

Folk Tent

Al Matthews

Derek Brimstone

C.O.B.

Silvo and Moses

Folk Tent:

Hamish Imlach

Harvey Andrews

Bridget St. John

Colin Scott

J.S.D. Band

Folk Tent:

Mick Softley

Anne Briggs

Jonathan Kelly

Boys of the Lough

*** Genesis actually performed on the day before , contrary to the programmed schedule.
Friday
Fridays nights lineup was a pretty spartan one , with no really big name bands featuring . This was perhaps fortunate as the smallish audience was on the receiving end of some of the worst weather . When Alexis Korner and band ( Peter Thorup , Ian Wallace, Boz and Mel Collins ) opened up his set was marred by heavy rain after only a few numbers. Alexis did not kick up a storm , but Dr Isiah Ross who followed him, essentially a one man band - managed to deliver the goods . Buddy Miles eight piece band delivered a blistering set that was noticeable for the tightness of the rhythm section, Buddy being complemented by Ronald Johnson on bass.
Rory Gallagher played a very popular acoustic set featuring numbers like Pistol Snapping Blues and Going to My Home Town and this brought the audience to life, proving that given the right mix of charisma , good songs and fine playing the weather becomes irrelevant ....
Saturday.
An audience of 25,000 showed up for Saturday, which would have disappointed the organisers. The poor weather continued to drench the audience , rain and high winds were battering the stage at times. The opening bands struggled to get through to the wet audience, huddling in their plastic wraps. The first ever performance by Roxy Music at a festival went pretty much unheralded , Steve Goodman received a luke warm response and even the great Albert Lee of Heads Hands and Feet could not rouse the audience to their collective feet. Even specially written numbers such as " Great Western Shuffle ' did not bring them to life.
Wishbone Ash © G Williamson

Wishbone Ash were generally festival crowd pleasers , as their twin guitar attack gave them an extra attack. They weren't allowed to do an encore due to lack of time but the crowd would have been happy to have had them back for more.

Rory Gallagher (replacing Helen Reddy who was unwell due to her imminent pregnancy ) played a short set as the opener for the evening session and once again , he did a sterling job . The Strawbs were next and they had a few sound problems which marred their set . Stone the Crows, minus guitarist Les Harvey, who had been electrocuted onstage a few weeks before in freak accident , were received rapturously by the audience. Let down at the last moment by Peter Green, who was supposed to take over Les's spot, the band were fortunate to have recruited Steve Howe of Yes , who stepped in and did a great job at two days notice. With Jon Anderson sitting in on backing vocals, Maggie Bell delivered a vocal tour de force, no doubt purging herself of the grief associated with the loss of Les through her impassioned performance.
Rod Stewart and the Faces could not manage to top the Crows, they went down well, but reports say this was a show that was more or less going through the motions ( as many Faces shows tended to be in this era ).
Joe Cocker doesn't know its rude to point.... but we forgive him:-) © Stuart Finch
Sunday.
Sunday was a bit better weather wise but during the night the folk tent had blown down and some of the acts booked to play there were rescheduled onto the main stage itself. More reports to come later .........

Clive Palmer : 'The place was decimated by a hurricane the night before; it smashed up all the caravans so there was no accommodation. They put everyone on for half-an-hour in succession on the day we were there. It was all muddy. Typical disaster festival.' Or, as the Lincolnshire Echo so eloquently put it on 27th May: 'Festival fans fight wind, rain in pop swamp.'


Hamish Imlach had been playing in Droitwich on Friday night and arrived at the site at 4am: 'I was supposed to have a caravan to sleep in and had the paperwork to get me through the gates. Thousands of people were still arriving. I got through but couldn't find anyone to direct me to the caravan, and ended up sleeping in the car with cement sacks over me until seven am. It was freezing and pissing with rain. I squelched through the mud to learn that the marquees had blown down, so we wouldn't be performing but we would still probably get our money.' However, the folk singers, the only ones with acoustic instruments, had a great session in the artists' bar, Mick Softley going round all the big stars with a cleaned-out ashtray to collect money for their drinks.

At nine am on Sunday word came round that the acoustic artists would be put on the main stage. Hamish wasn't keen. 'I was talking to Clive Palmer and he said his group were going to go on the main stage. I said, "Ach, if you go on I'll go on. We only had to do three numbers each anyway. I can do that even though I'm wrecked." We went up, eleven o'clock on a Sunday morning, the start of the official programme, and there was a fair crowd sitting there. They were all pissed off; soggy, harassed by the police, ripped off by everybody. I chose the right songs, in the right place at the right time. I got three encores, everybody going daft, Stanley Baker shaking me by the hand and offering me a ride in his helicopter!'

extract from "Cod Liver Oil and The Orange Juice "memoirs of Hamish Imlach.

Atomic Rooster and Chris Farlowe.
---
Recordings , film and setlists.
A bit fuzzy, but its Rory G ! © Stuart Finch

Some recordings did exist, may still do, tantalisingly a dude called John S contacted us a few years ago with tales of sets he had recorded , he wrote :

"I recorded all the tapes myself and they are average audience recordings typical of that era. You can hear the rain hitting plastic bin liner "coats" etc. in places. This adds to the atmosphere!"

Unfortunately he never got round to saying just who he had recorded . The last we heard was in 2005 when he said that digitising them was on his list of " to do's" . This could be one of those "what might have been" sort of moments as the sound quality on those tapes is not getting any better over the years and if god forbid, anything happens to this gentleman , no doubt the tapes will just get dropped in a bin by someone who is not aware of how rare they are.

Roxy Music © Mick Bevan
Setlists
Compiled from contemporary reports and audience members, almost none are complete.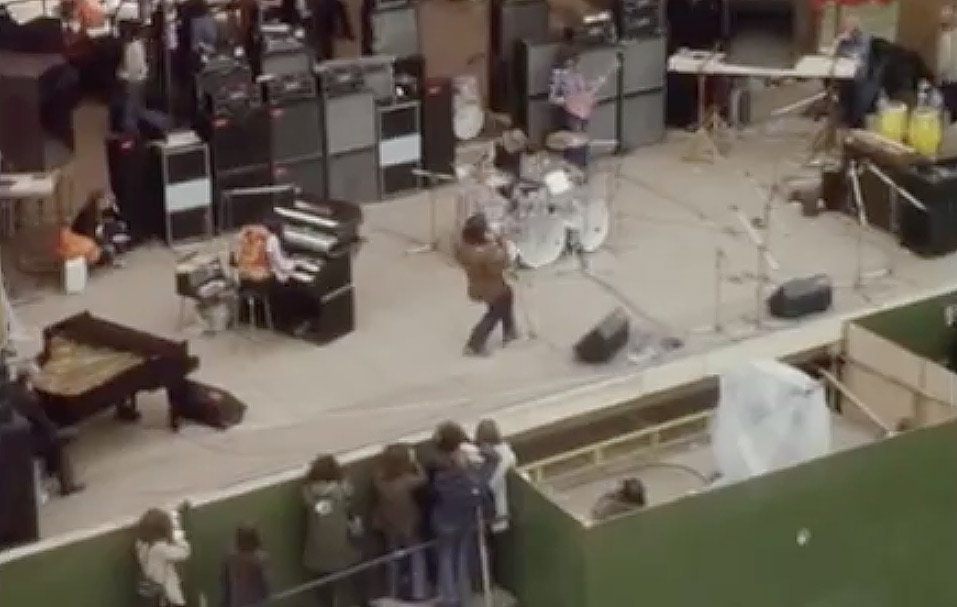 Atomic Rooster.
Friday May 26th
Pistol Snappin' Blues

Goin' To My Home Town

---

Saturday May 27th

Meal Ticket

Great Western Shuffle
Country Boy

The Warrior

Throw Down The Sword

Pilgrim

Phoenix

Higher Germany

Hangman and the Papist,

Benedictus

Queen of Dreams

Sheep,

Heavy Disguise

Tomorrow

Danger Zone

Fool on The Hill

Colin Scott

Here Comes The Sun
Peggy Sue ,
Do You Wanna Dance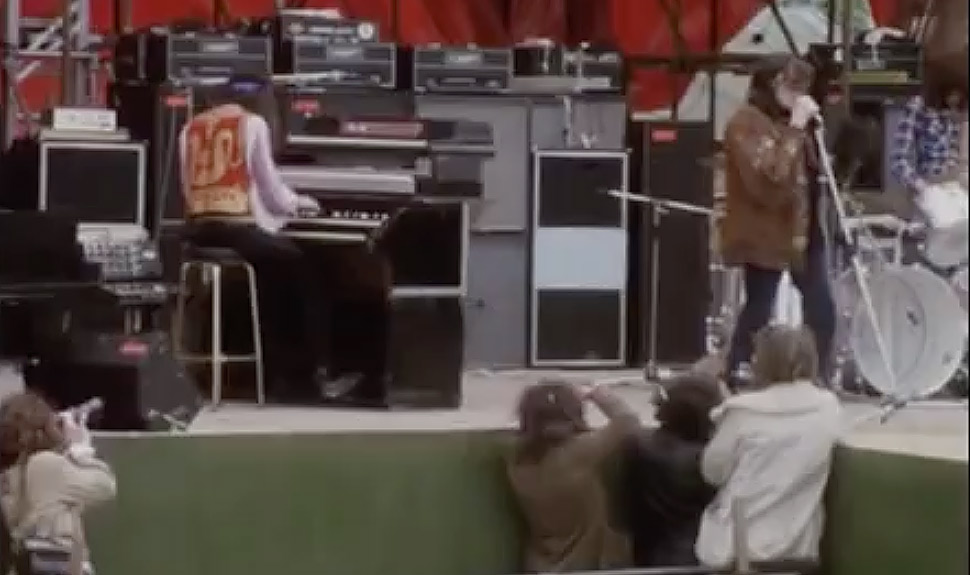 Atomic Rooster, Vincent Crane and Chris Farlowe.
---
Sunday May 28th
encore : Clear White Light

He Ain't Heavy Hes My Brother
You've Got A Friend
Reach Out And Touch Somebodies Hand

Madelaine

Ttrain Song

Ballad Of Cursed Anna

---

Monday May 29th
American Pie

Geordies Lost His Pinker

Vincent

Honky tonk Woman,

Hallejulah I Love Her So

Joe Cocker

Blackout Blues
Respect,
St James Infirmary
Early In The Morning,
Woman To Woman
The Letter
---
John finally did get round to doing something with one of his recordings , you can easily find this one by googling "Rory Gallagher Lincoln 1972"- its very good for its age, nice sound, not distant at all... well done John !
Details below

Rory Gallagher - Great Western Express Festival - Bardney Nr Lincoln UK Friday 26th May 1972

Rory Gallagher Vocals, Guitar
Wilgar Campbell Drums
Gerry McAvoy Bass Guitar


01 - Bob Harris intros etc
02 - Toredown
03 - Used to be
04 - Hoodoo woman
05 - Messing with the kid
06 - The Cuckoo
07 - Pistol Slapper Blues
08 - Going to my hometown
09 - In Your Town
10 - Could've had religion
11 - Bullfrog blues
12 - Laundromat (Encore)
13 - After show chatter

Audience master cassettes > HD > Audacity track splits > Flac frontend (level 6).
around 82mins

I feel that a bit of information is needed about this one.
It is just now 40 years ago that this festival took place.
The Great Western Express Festival was billed as the 'festival they could not stop' and was held at Bardney near Lincoln UK over the period Friday 26th May 1972 to Monday 29th May 1972. The advance ticket price of £4.50 got you four days worth of music including, Genesis, Rory Gallagher, Don McLean. the Beach Boys, the Faces, Joe Cocker, Monty Pythons Flying Circus etc.
Rory and band headlined the first night and also were on again on the Saturday (I also taped that performance) - in place of Helen Reddy who apparently was pregnant and unable to attend.
I travelled down late on the Thursday with a friend from Bristol and followed the long procession of like-minded folk in a convoy from the railway station to the site.
It was a spur of the moment decision and we arrived ill equipped - like many others - and spent most of the time sheltering under plastic sheets to keep dry/warm.
A friend who was unable to attend had asked me to tape some bands and bought me a tenners worth of Emitapes - quite low quality but all that could be afforded at that time.
I took my Phillips mono cassette recorder and taped a number of the bands for my friend including, Don McLean, The Beach Boys, Vinegar Joe etc.
The quality of these varies depending on how heavy the rain was falling, how drunk we were at that time, how many tinnies were being thrown at the can dump beside us etc.

This recording is not too bad taking everything into consideration. I digitised all these a few years back to try and combat further deterioration in the master tapes. I really could have done with a player with azimuth adjustment to do the transfer and have not done any processing at all to the sound. This recording was spread across a number of sides of C60's so you will be able to spot the joins.

I have included tracks 01 and 13 mainly for anyone who may have attended this festival as it makes for some interesting listening - Weeley another great festival from the year before gets a mention as does a mystery over a baby that had been 'lost'

I've never seen any other recording of this festival or Weeley recordings (other than T Rex and VDGG) - if anyone has any tucked away please dig them out. One day they could get tossed away as of no interest and lost forever

When I get around to it I will put up some further stuff from this festival.
John S
---
Film
We've found a reference to a TV program that was broadcast about the festival but the reference has no details whatsoever apart from the fact that it was produced by Anglian Television its up on youtube if you look for it
---

we have been endeavouring to collect audience or sbd tapes of the performances at this festival , so I can effectively review the performances, provide set lists and band line-ups. The intention is to also display as many personal histories of the festival as possible.
If you can contribute in any way, with tapes, reviews from the music press, photos or personal histories, please Contact us
---
.