The Archive.

Best viewed at 1920 X 1024 res
---
Last update June 2021
---
The Knebworth Park Festivals.

Knebworth Fair .

8-21-76.

The Rolling Stones, 10cc, Lynyrd Skynyrd, Todd Rundgren's Utopia , Hot Tuna , Don Harrison Band.
---
Recordings and setlists.
There are both audience and soundboard versions of the Stones set available. However, so far we haven't been able to find any evidence of Don Harrison 's performance being recorded for posterity.
The Rolling Stones .numerous boots exist and some of the show was also included on the Bannister box set.

Personnel:

Mick Jagger: Vocals, Piano, Harmonica and Guitar
Keith Richards: Guitar and Vocals
Ron Wood: Guitar and Vocals
Bill Wyman: Bass
Charlie Watts; Drums
Billy Preston: Piano, Organ, Clavinet, Synthesizer and Vocals
Ian Stewart: Piano
Ollie Brown: Percussion and Vocals
21st Aug 1976


Setlist:

Satisfaction
Ain't Too Proud to Beg
If You Can't Rock Me >
Get Off My Cloud
Hand of Fate
Around and Around
Little Red Rooster
Stray Cat Blues
Hey Negrita
Hot Stuff
Fool to Cry
Star Star


Source: Soundboard/Aud/Pro video


Setlist:

Let's Spend the Night Together
You Gotta Move
You Can't Always Get What You Want
Dead Flowers
Route 66
Wild Horses
Honkey Tonk Women
Tumbling Dice
Happy
Nothin' From Nothin'
Outta Space
Midnight Rambler ( very nice version )
It's Only Rock and Roll
Brown Sugar
Jumping Jack Flash

Encore :Street Fighting Man


Source: Soundboard/Aud/Pro vid
NB: We do not have copies of this show, nor do we know where you can get one.
These songs from Knebworth were also featured on a U.S TV report

Route 66
Hot Stuff.
You Gotta Move.
Wild Horses
Midnight Rambler
Lynyrd Skynyrd
Released in 2021Live at Knebworth '76 captures the legendary rockers onstage during gthe Knebworth festival appearance in England. The group's lineup at the time featured singer Ronnie Van Zant, guitarists gary Rossington, Allen Collins and Steve and Cassie Gaines, bassist Leon Wilkeson, drummerArtimus Pyle and keyboardist Billy Powell. Van Zant and Gaines and his sister would die the following year in the band'splne crash
Most but not all of these tracks are from Knebworth, for more info read the review by clicking on the text link on the left.

Pro Video the show was also featured on thsi earlier release..

Workin' for MCA
I Ain't the One
Saturday night special
Whisky rock a roller
Travellin' man
Searchin'
What's your name
That smell
Gimme three steps
Call me the breeze
T for Texas
Sweet Home Alabama
Freebird
Dixie

typically, no mention of the female singers the Honkettes.
Hot Tuna.

Jorma Kaukonen and Jack Cassady w/Bob Steeler

Come Back Baby
Hit Single #1
I See The Light
Rock Me Baby
Funky #7
Serpent Of Dreams
Invitation

Aud recording 60 mins

(this has now been added to the bannisters box set , no idea what the quality is like.)

Hot Tuna onstage at Knebworth © David Alan Perry
10CC

Une Nuit A Paris
The Worst Band In The World
Good Morning Judge
Silly Love
Don't Hang Up
Old Wild Men
The Wall Street Shuffle
Neanderthal Man - Run Baby Run
Ships Don't Disappear In The Night (Do They)?
I'm Mandy Fly Me
The Second Sitting For The Last Supper
I'm Not In Love
* * *
Rubber Bullets

Pro video footage exists of 10cc's set as well as audience tapes
Todd Rundgren's Utopia

Overture: Mountain Top And Sunrise
Communion With The Sun
Sunset Boulevard
Love Of The Common Man
Seven Rays
The Verb To Love
Emergency Splashdown
Heavy Metal Kids
Hamburger Hell
Hiroshima
Do Ya.

60 mins audience

Utopia onstage © Gary Bodenham
---
Hi there,

I was at Knebworth in 1976 - as the Assistant TV Director to Michael Lindsay-Hogg who was contracted to direct the TV coverage of the Stones part of the concert.

I think there were 7 TV cameras and late afternoon when Michael and the Vision Mixer had left the Outside Broadcast truck to get a drink I had the chance to direct the cameras when 10 CC played "I'm Not in Love". I think I did a good job since I knew the number so well.
A couple of guys in the crowd have mentioned having to wait for The Stones to come on stage early evening. This was not an intentional delay but a technical fault since I think someone decided that a lot of microphones were going to have to be re-plugged for recording purposes. When the re-plugging happened I think this stopped the Public Address system from working so all the mics had to be plugged back the way they were - hence the long time keeping the audience without anything to interest them.

By now the day was getting cold and dark and some people got angry but one young guy managed to get through Artist's Security and ran naked to the front of the "tongue" stage. I think I remember he dropped his clothes in a neat little pile by his feet.

One of the follow-spot operators must have thought "Hey, the show is starting at last!" and struck up his arc lamp - and the others followed.

Equipment such as this was used to record the visuals of the show.
Suddenly all the cameras were now getting pictures after an hour of blackness. The camera shots focussed on various parts of this young man's body - I can see his face in MCU as he smiled and closed his eyes. Another camera took a close-up which showed what he was doing with himself with his left hand.

I'm sure this guy was making a statement of some sort but after a mere 30 seconds he had finished his act and then, rather foolishly, jumped off the front of the stage - foolishly because the stage was built over a bit of a valley and I think the jump couldn't have been too kind on his ankles.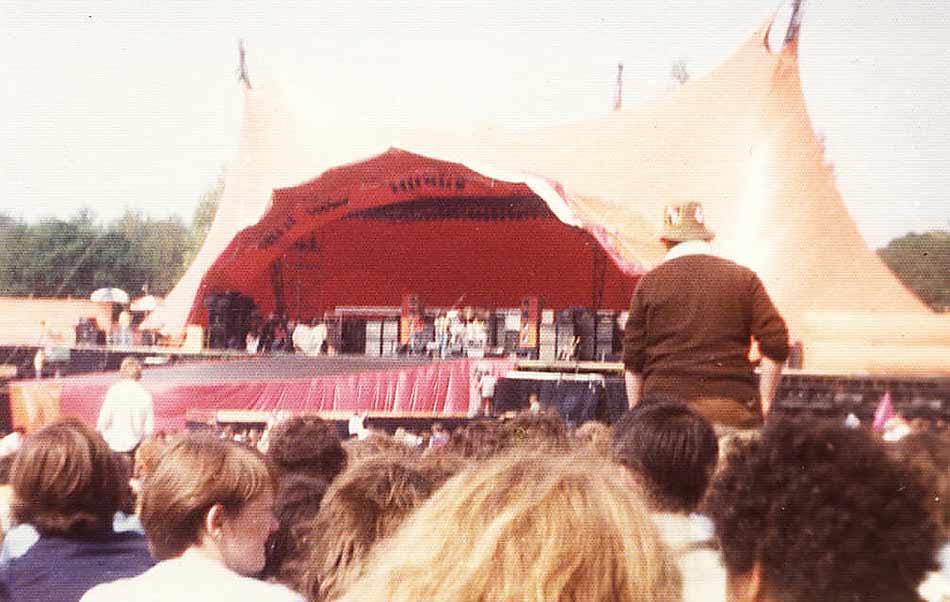 Hot Tuna onstage- note the presence of the camera operators. Whatever happened to the live footage ? © Roger Pickering
A day or two after the gig the local paper reported that "during a technical delay at Knebworth, a young man had entertained the crowd single-handedly." I always thought that was great journalism.
All the major acts were recorded and I remember editing together the great Lynyrd Skynyrd numbers.
I was a 2-inch videotape editor in those days.

I didn't get to see the Stones in the flesh on the day so I have no idea about their release intentions - or anyone else's because I was ignorant about sales/distribution of recorded materials in those days. I don't even know if VHS was generally available then. :-)

I hope that's of some use for your excellent website. I'd love to see some footage of the day - especially my recording of 10 CC's set.

All the best,
David Crossman.
---
If you can add in any way to this material ,please Contact us.
---