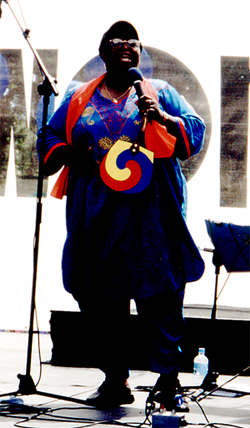 Stage 3. Sunday 2-18-01.
Dorinda Hafner announcing on stage three on Saturday after Giles Apap and ther Colurs of Invention had completed their set. Dorinda was the best of the announcers by a country mile , her bubbly personality and enthusiasm were so infectious, she makes you feel good !
Stage three is perhaps the best stage for the solo artists, like Bob Brozman and Richard Thompson, as usually the sound is excellent -although there were few occasions where top notes, ( such as the flutes of Flook ) were just atad too loud and became distorted . Its disadvantage is that it is a bit too close to stage one , -sound from this stage can drift over and spoil the act of a solo artist. However , this was avoided this year as the acts on stage one could not begin until stage three acts had finished . This prevented spund drift, but it also meant that the acts could not start until the others had finished on the other stage and this often led to them under running their allotted time .
Amongst the hot acts to appear on stage three were Soukous Ba Congo, Flook, Giles Apap, Richard Thompson , Rokio Traore , Csokolom , David Bridie and Bob Brozman . Crowds can build into the thousands and the natural amphitheatre is blessed with a a surrounding perimiter of trees that provide welcome shade. As with all the other stages , their positioning avoids the performers being directly in the sun , although this does not always protect the spectators as mcuh as one would like. .