The Archive.
Updated September 2009
---
The Fifteenth National Jazz ,Blues and Rock Festival.
Richfield Avenue.
Reading
August 22-24th 1975.
---
The 1975 Reading Festival.
The View from the mud : recollections of festival attendees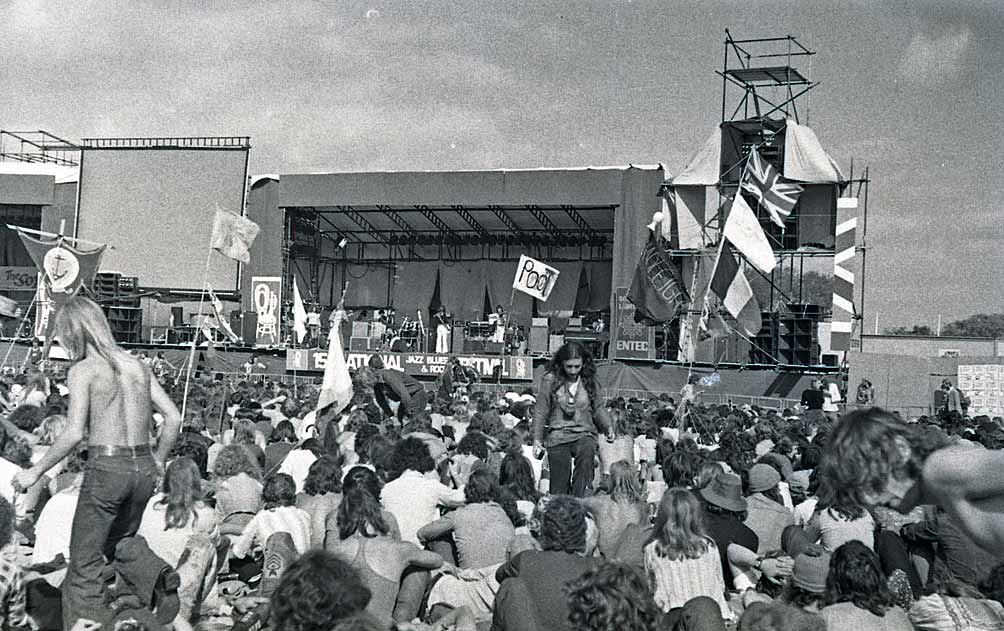 Reading 1975 © deargdoom57 used under creative commons license
Phil Hooper was at the 75 festival.....
Reading 75 was the biggest to date (unless this year had more) with 100k+ attending. I do not recall any can problems- I thought this became a real problem from 77 onwards.The line up was so strong and included Ozark Mt. Daredevils ,Y Los Trios Paranois and possibly R&L Thompson and Renaissance not mentioned on your list of performers .

The Yes set featured the first laser I had seen and a fantastic stage set completely different from that at QPR earlier that year.The organisers admitted after that they had had too strong a line-up and that Yes were too big for such a festival!

Phil

BABE RUTH : photo © Richard Novell
I've just seen your website while looking for info on Reading 75 - in case you're not aware of it, there's a double CD of Hawkwinds set on 22.8.75, 'Ode To A Crystal Set'.
David Blair
John McLaughlin photo © Chris Morris, click to see a larger version

Richard Novell wrote

So we come to 1975, which was the last Reading Festival I attended. The crowd was huge and mostly out of control. Of the bands, Yes were obviously the prestige act. They had a fantastic light show and a film projected onto a screen behind the performers. The movie was a kind of fantasy thing featuring, in part, a white horse running through a thunderstorm. Steve Howe's guitar wailed in time with the lightning. Followed by drums and gongs for the thunder. Very impressive. I liked Babe Ruth, Hawkwind, featuring their dancer, Stacia, Thin Lizzy, of course, Caravan, Heavy Metal Kids, Climax Blues Band, Dr Feelgood and Wishbone Ash. Wally, too, were impressive.

Dave Holmes remembers

In 1975, as a callow lad of fourteen, I was living with my family in Reading. It so happened that my Dad was Chief Environmental Health Officer for the local council, and so was in charge of measuring noise levels and making sure that the hot-dog stands weren't selling real dogs, that kind of thing. As a bonus (not a bribe, honest!), he used to get backstage passes for the family (most of which I was able to sell off to people queuing up to get in!) This wasn't the first festival I had been to - 1973 it was, which meant that the first band I ever saw, was, sadly, Strider ............ But I digress... I remember my Dad telling me that due to the local bye-laws, each night's entertainment had to finish by midnight, otherwise the organizers would have to pay a 1000 pounds a minute fine to the council.
During the day of the concert, as usual with festivals in those days, things started to run late, and by the time Yes came on about half-an hour behind schedule, I was quite concerned that the band might over-run (being an anxious kind of boy). They played quite a long set, and I became more and more anxious the longer they stayed on the stage. Finally, to my immense relief, they finished around five to twelve. I was all ready for the short walk home, when, to my horror, they re-appeared for an encore. Yes being Yes, they then launched into a song which appeared to last about fifteen minutes, my anxiety levels rising all the time. Finally it ended, only for them to embark on yet another mini-symphony. By this stage I was counting minute by minute the thousands that were accruing in fines. Being close to the stage in the specially fenced-off area for "VIP's", (which fortunately they no longer have at festivals), I had a clear view of the proceedings.
Imagine my horror (mixed with relief) when, at 12:23 as I recall, emerging from stage left, came the small, grey-suited and grey-haired figure of... my Dad! He walked straight up to Jon Anderson, mid-song, actually took the microphone off him, and made some kind of announcement to the audience about having to finish the concert. The rest of the band looked stunned and stopped playing. The stage lights went off, the crowd started booing and throwing cans of piss at the stage. That was the end of the set and the festival for the year. I didn't know what to do, I was dying of shame...
The only consolation I had as I made my way home, was that at least the fine could have been worse. Maybe I've mis-remembered this event, but I'd be interested to know if you know anything about it, to either confirm or deny it...

Dave Holmes
---
Kevin Weaver confirms just how bad the can fights had become by 1975

I have just seen your web page regarding the early Reading festivals, it brought back a lot of happy memories. The first festival I attended was '74, I certainly remember the can fights and the random shouts of 'Wally', not for the band I might add, but it was a tradition in concert halls and arenas in the 70's. I think it stemmed from a mother calling for her lost child, but that is only rumour.
In 75 I went prepared for the can fights armed with a crash helmet. I was in the middle of the arena, a pyramid of empty party 7 cans (remember them) had been built at the back of the arena so logically those at the front tried to demolish it with empty (sometimes half full) smaller cans.
Call me sad if you want but believe it or not I still have my T-shirt from that concert. ( right )

I remember Alex Harvey climbing over the scaffold of the stage but the year evades me. This was the year I was constantly woken at 06:00am by the Hari Krishna's running around the tents chanting their mantra's before diving into the Thames for their early morning swim. They did, however provide free food to those who were sick and tired of being ripped of by the vendors in the arena. God only knows what was in it. It was served from a dustbin lid and dolloped onto a piece of paper, Yuk.
All the best
Kevin Weaver
Can fight 1975 .

Photo ©Martin Starnes

Reading 75 was tired, commercial and really quite unpleasant. I'd had my fill of concept albums by then so seeing Yes with the full Roger Dean lightshow and giant fibreglass mushrooms flanking the stage was a joke rather than ecstatic. Looking back it summed up everything about the music industry that we came to hate and that resulted in Punk.

Julian Bond
---
I was at Reading 1975,strangely I can't remember anything of the alleged bottle fights.Neither can I remember anything about 100,000 turning up.I always thought that 30.000 was nearer the mark.Granted I was only 16 at the time and it was my 1st(and only 3 day festival).

What I can remember was that Lou Reed was to headline the sunday night,but pulled,probably due to the critical mauling given to "Metal Machine Music".
Ike And Tina Turner were then slated to headline,but a re-jig left Wishbone,The Albertos and Robin Trower as festival closers.

Memories: Hawkwind,Supertramp,Thin Lizzy, Robin Trower The Albertos and Wishbone Ash previewing about 4 songs from "Locked In".Not to mention Concorde flying over head during what I considered to be an excellent set by The Mahavishnu Orchestra,Peely playing "Nelly The Elephant" before Wishbone and those annoying "Watch Out There's An Humphrey About" .ads on the screens.Oh and it absolutely pissed it down during Yes.
Winty
---
I seem to remember in 75 a fair bit of rain on the Friday and Yes had the Saturday night with a really good laser light show throwing beams over the crowd. It got pretty warm on the Sunday and a few people got caught in the current swimming in the Thames going from one bank to the other and back and had to be fished out by the river police. Um beer and river make bad combinations.
Guy Rowe
---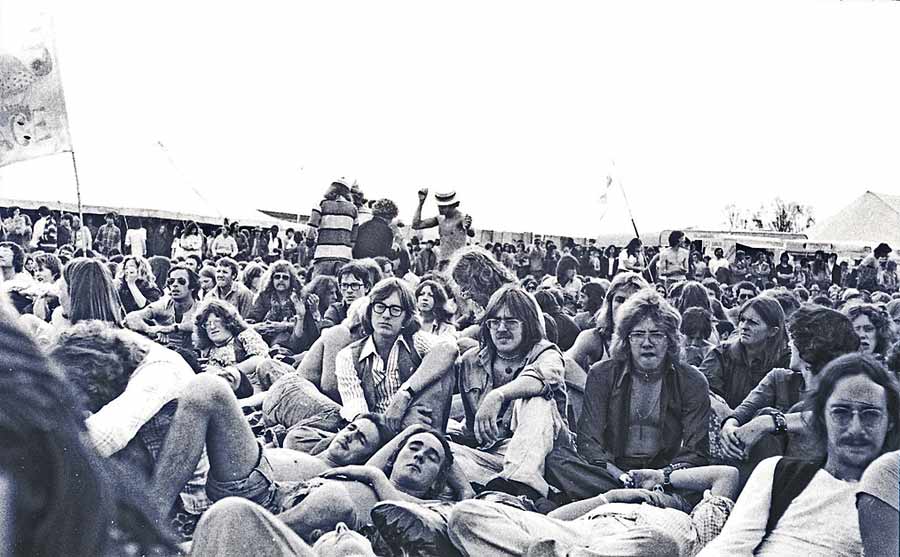 Reading 1975 crowd ,a sea of hair ! © deargdoom57 used under creative commons license
Next year saw us back at Reading, but things had changed, the entrance was in a different place. We had decided to beat the rip off prices and had brought our own wine. When we arrived we discovered that everyone was being searched and the wine was confiscated on the grounds that glass bottles were dangerous. I was furious so I went into the festival grounds and somehow found two large plastic containers; I think they were from an ice cream van. I washed them out and went back to my mate who was guarding the stolen wine. We claimed the wine back and several more bottles on the grounds that we were not taking glass into the arena. A wondrous victory. We got well pissed and scored some smoke as well.
There is a photo somewhere of me out of my head!! That I really must try to find.
Steve Austin
---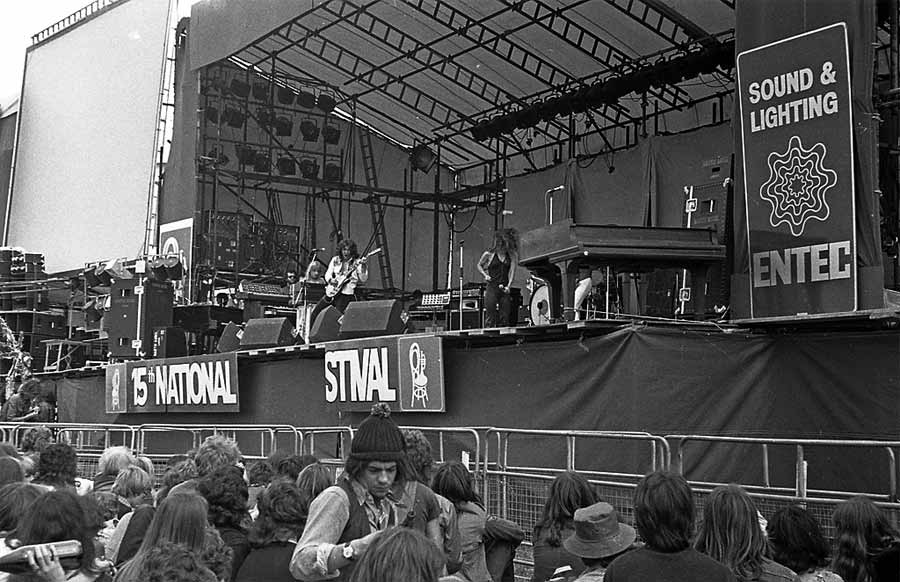 Babe Ruth Reading 1975 © deargdoom57 used under creative commons license
One anecdote you might appreciate concerns a friend at the 75 festival during the Yes set. We were in a pretty dense section of the crowd about a 100 metres from the stage and he'd scored some acid. He dropped to his knees, started vomiting and muttered something about needing to go to the toilets so off he went. As it was dark and pissing down, we assumed we wouldn't see him again . Astonishingly, with the green laser beams arching over our heads, he returned about 20 minutes later, still out of his head but feeling a little better for his excursion. It's a mystery to me how the hell he got anywhere near us given that we needed to take our bearings from flags during the daylight hours to navigate to base.
Allan F
---
1975 festival pages and links
---
The early festivals.
You can find out the complete line ups of the first festivals if you follow the links below .
Festivals 1965-1990
Most of these have fairly complete documentation .But new contributions of any sort are always welcome regarding any of the festivals.
---
This site is non profit making , its a site for die-hard fans- and run as a source of information for those interested in Rock music of the past .We are completely against the sale of bootlegged artefacts , especially musical ones .We attempt to obtain permission to use articles and photos wherever possible, but on occasions , due to the age and obscure origin of some items , we have not been able to ascertain the owner of the copyright .It is also possible that occasionally we are sent material from sources that assert that they own the copyright of material, but their claims are spurious - If you see any material on the site that you believe you own the copyright of - please send us an e-mail with proof that you have ownership of the image and we will remove the offending item from the site immediately.
Contact us