The Archive.
---
This page is best viewed at 800x600 res with Netscape Navigator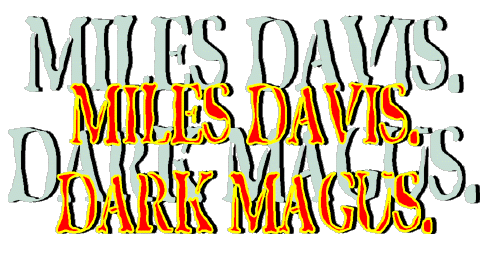 ---
Miles Davis in Australia.
1988 tour
Review of Miles Davis' Melbourne concert Sunday 5-1-88 from the Age Tuesday May 3rd. 1988.

Miles Davis held his trumpet aloft and a thoroughly satisfied crowd cheered wildly. That was at the start of the concert.

It was a night when the fans had come to pay homage to their idol , many of them content to say that they had been able to see and hear him in person . If he actually played anything that justified his reputation as a musical genius , that would be a bonus . And that is just what he delivered, two and a half hours of what was surely some of the most exciting , involving music likely to be heard at the Concert Hall.

The music was highly organized but also contained a fair amount of spontaneity . There was plenty of of interplay between the musicians and they all had their turn in the spotlight and plenty of room to move within the ensemble. But at every stage Davis was in complete control. Even when was soloing, he was conducting with short signals with his keyboard or trumpet. , urging his sidemen ot stretch out, leading the way for the group to build on the soloists ideas .
The bass guitarist Benny Reitveld, drummer Vincent Wellman and the brilliant percussionist Marilyn Mazur laid down all manner of funk grooves with great vigour and expertise. Adam Holzman and Robert Irving the third had little solo space on keyboards but made an important contribution in fleshing out the the sound, often to orchestral size. Apart from the leader the main soloists were Foley on four string guitar and Kenny Garrett on Alto sax and flute. Foley offered some dramatic forays , occasionally going over the top, but often revealing a firm sense of purpose. Garrett's alto solo's were appropriate to the setting, simple, fervent workout, in the R&B bag rather than following the busy bebop course that we might have expected from a recent Art Blakey sideman .
But of course it was Miles Davis we all wanted to hear and he was never out of the spotlight for long. He played plenty of trumpet , allowing us to savour that piercing tone , that rare melodic sense and that peerless capacity for profound understatement . On the faster pieces, Davis played with real fire, milking the excitement of the funk groves as astutely as he ever rode a groove back in the 50s.
And on tunes like "Time After Time " he showed that, whether his trumpet was muted or open, he could still play a ballad as delicately and captivatingly as ever. The music Miles played on the night was , as expected, an accessible brew that owed as much to pop attitudes as to the jazz tradition . There was only one pieces from his latest LP "Siesta" , but plenty of hook laden themes form the LP's " Tutu" and "You're Under Arrest "as well as some newer material.
The music was rhythmically powerful and sophisticated , but relatively thin in terms of harmony ( and at times melody ) .
This was never a problem when Miles was soloing., but was very evident during some of the other solos.
Still it is hard to imagine any fan other than the most blinkered nostalgist coming away disappointed. I mean Miles even spoke to the audience. : not often and barely audibly, but it was more than he's been known to offer anywhere else. Who could ask for anything more ?
Adrian Jackson.
---
Review of the Adelaide show.
Miles newspaper interview
---
Back to the main Miles Menu.