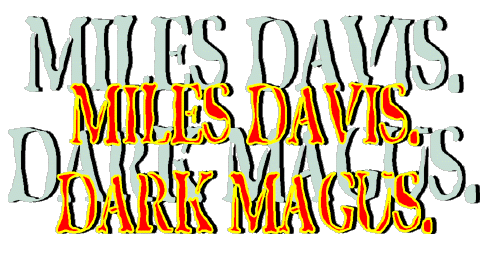 Miles Davis in Australia.
1988 tour
---
Thebarton Theatre. Adelaide. 30th April 1988
Miles Davis: trumpet ,keyboard
Kenny Garrett: alto, soprano , flute
Joe "Foley" McCreary: lead bass.
Robert Irving: Keys
Adam Holzman: Keys
Benny Rietveld: Bass
Ricky Wellman: Drums.
Marilyn Mazur : Percussion
To my knowledge, Miles only toured Australia once , in 1988, with one of his best bands of the later period. The tour took in three of the Australian capitals and I was fortunate enough to see the Adelaide concert, at the Thebarton Theatre in late April 88. This was a great show, although some people were surprised that Miles did not solo more. However, this was quite in keeping with his philosophy of ensemble playing . Miles surrounded himself with players who he could get off playing with , this was no star with support band , this was a tight, consummate professional unit who were capable of taking off into superb improvisations at the drop of a hat and Miles , as he often did, was quite happy to sit back and watch the guys blast off into the stratosphere,.
So , although Miles did not hog the limelight in his playing, what he DID play was, as always, very , very moving. At times, it seemed like the notes were being squeezed from within his very core, almost as if pressure was building up inside him and he had to expel the music out before he would burst. Dressed to kill in his silver threads, he was the very epitome of COOL. The house was full to the gills, the sound was impeccable and the applause was long and rapturous. I just wish I'd had my Sony D6 when I saw this show , as it has never appeared on any tape lists I've ever seen , so I presume its not been recorded.
| | |
| --- | --- |
| | One of the highlights of the night was the superb sax playing of Kenny Garrett- this cat is one of the few young players to have found his own voice . His solos are capable of moving me to tears with their intensity and feeling , if you haven't yet heard him play - look him up - he has a number of solo albums worth investigating . Foley's work on lead bass was also a buzz, as were the formidable keyboard skills of Adam Holtzman and Robert Irving - Miles always did like to have keys in his bands and the later groups were very heavy on synth and electric keyboard textures. The whole unit was propelled along by the tight funky bass work of Benny Reitveld and the powerhouse drumming of Miles nephew Ricky Wellman and augmented beautifully by the hugely talented Marilyn Mazur on percussion. |
---
This carping review appeared in the local newspaper.
Miles Davis Thebarton Theatre
It was intriguing just to see black American trumpeter Miles Davis in person. He looked smaller than he's ever seemed on television. However, there was less of something else than expected. Miles Davis lead his band through about two-and-a-half hours of music on Saturday night, the overriding feature of which was frenetic, driving rhythm. True to the style Davis has used since long before his jazz-rock days, the whole performance was based on tunes built around only one or two chords. What was surprising, however, was that Davis took so little of the heavy playing himself. Most of what was played took the following form: a thematic riff, or short, clipped melody often repeated several times, after which Miles would play a little before cueing a sideman to build the music to a surging, free-ranging climax. Often it was exciting - always when saxophonist Kenny Garrett took the lead, and usually when the lead was left to the scorching guitar (actually a bass tuned up) of Foley. His early blues efforts were electrifying, but the sameness of later Hendrix-influenced excursions made them a touch tedious.
Some of the concert's most thrilling momement came through the interaction of percussionist Marilyn Mazur and drummer Ricky Wellman. Meanwhile, Miles spent a lot of the heavy, sideman-featuring passages playing ensemble parts with his two key-boardists or tinkering with the synthesisers in front. Occasionally, when the music settled a little, Davis would make space for a statement on open horn and there were glimpses of the singing sound that has been so admired over the years. But no sooner had it begun, than it was gone - the ensemble mute was reinserted or Davis would cue someone else. It seemed, too, that Davis didn't quite have the volume. It was not that his band was too loud, although on at least one Foley-featuring occasion when it was, the Miles' horn didn't have the strength and body that live passages on some recent recording show it still possesses. We heard more of him during interludes in which he strolled to the front of the stage to perform ballads. These passages yielded some phrasing of extraordinary beauty, but they were always a little short and Miles sounded a shade thin. Everything Davis has ever done has attracted wide discussion and debate - no doubt this concert will, too. As wonderful as it was, less than the very best from someone who has set his own standards over the years was less than enough.
---
To which came this letter in reply
Richard Ogier's nit-picking review of the Miles Davis concert displayed an abysmal ignorance of the finest living jazzman. As one of the all-time greats of vernacular music - comparable to Scott Joplin and Louis Armstrong - Miles deserved better treatment than Ogier's petty exercise in fault-finding. The concert was breathtaking in its intensity and sublime in its musical excellence. Having witnessed scores of rock and jazz concerts over the years, I have no hesitation in asserting that the Miles Davis concert was the best I've ever seen. I certainly heard nothing but the highest praise from the other audience members.
NICK LAING, Eudunda.
---

Back to the main Miles Menu.