The Archive.

View at 1280 x 1020 min res
---
NB: this site is not affiliated in any way to the official Womadelaide organisation and is a non profit making tribute site documenting the history of the festival , no images or text used on this site should be distributed or reproduced for commercial purposes or without the permission of the contributors .
7-9th March 2003 .Botanic Park. Adelaide.
Grand Finale.
with Matthew Barley , Drum Drum, Los De Abajo , Ernest Ranglins Band , Bob Brozman , Zulya , Temple of Sound and a host of others .
Sunday 9th March Stage 1.
"In a world that doesn't make too much sense, music makes a lot of sense to us " Bob Brozman introducing Malaxico during the Finale .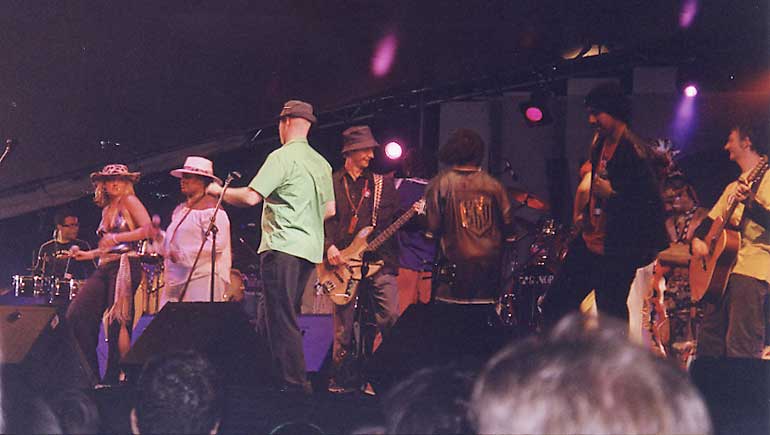 The Lowrider Jam © Ianto F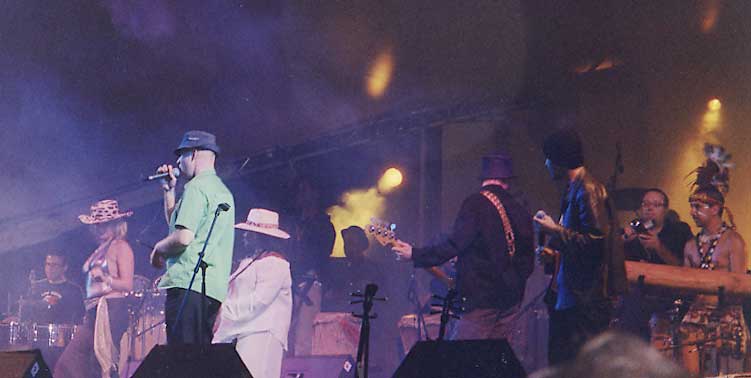 The first of the "cultural mix" concerts , which mutated into the All Star Jam in 2004 - by its very nature (about 40 musos from different genres creating a concert from scratch in less than 48 hours whilst busy performing as well) this show was not completely successful. In retrospect, the set was probably placed in the wrong slot as it failed to cook up the kind of explosion of energy that a top quality headliner would have done . As it was ,it was fun and at times moving , especially when Andy White read his poem for peace and we observed a minutes silence (the whole crowd went quiet apart from one drongo yelling "rock and roll" in the middle, but otherwise , that was the only blemish ).
Highlights in addition to those already mentioned were Lowrider, which was pretty funky , I felt pretty sorry for Messr's Brozman and Barley , who looked pretty lost at times trying to direct over 20 musicians as the jam session grew and grew . Members of Cheikh Lo's band were added to the drumming section , which became somewhat unwieldy after about 10 minutes, but then rescued itslef and achieved respectable heights . Its interesting to note that from this session came a collaboration between the Temple of Sound frontmen Neil Sparkes ,Count Dubulah and Los De Abajo. The brass from Los De Abjo really propelled the Lowrider Jam along and pulled it out of the mire a few times.
---
Setlist .
Song Of Catalonia . A minutes silence for peace. One Word Song (featuring Drum Drum ) , Beyond the Horizon (featuring Zulya ) , Don't Be Afraid (featuring Andy White ), Malaxico ( featuring Los De Abajo , Bob Brozman ) Reggae Instrumental ( featuring Ernest Ranglins band ) , Lowrider ( featuring Temple of Sound ).
Audience source 60 minutes.
If you have any photos or recollections you would like to add to this site, please don't hesitate to contact us via the main archive address . Just follow the link .